TP-Link's 1200 Mbps dual-band Wi-Fi 5 range extender, 'TP-Link RE305', is one of the better wireless range extenders I've tested in the last three years. It's a very powerful extender and can provide stronger, more resilient coverage than your typical Wi-Fi extender. It's not very powerful and feature-reach as TP-Link AX3000 and NETGEAR EX7700 extenders. Additionally, its one Ethernet port only supports 10/100 speed, not Gigabit Ethernet. Still, the TP-Link RE305 (approx. 25$, 2400 Rs) is affordable and perfect for small and medium-size homes. And it is also easy to set up and configure. And, in my tests, it provided a decent range, extending a signal up to about 70 feet in a home environment. That's not bad, though I'd like to have seen better
TP-Link RE305 Specifications
| | |
| --- | --- |
| Name | RT305, AC1200 |
| Speed | Wi-Fi 5, 5Ghz: 867Mbps, 2.4Ghz: 300Mbps |
| Coverage Area | Up to 2500 sq.ft, 70-75 feet |
| Ethernet Ports | 1 (100mbps) |
| Other Features | Extender, Repeater, Signal Booster, Access Point |
| Number of Antennas | 2 |
| Warranty | Two-year limited warranty |
Box Contents
Well, there is nothing much in the box to be discussed. You will get a basic setup guide along with the WiFi extender itself. It comes in a single white-colored option which looks quite elegant.
Look & Build
Now coming to the design and build, TP-Link has done an excellent job in making it compact and lightweight. It is a white colored box with two antennas on each side of the extender that can be rotated in any direction. It uses a standard three-pin plug to power itself up and can be plugged into any wall plug, just like a mosquito repellent device. TP-Link has done an excellent job with it by making small pores around the casing, allowing better heat dissipation. The device is quite portable and can be relocated to any room per your requirement.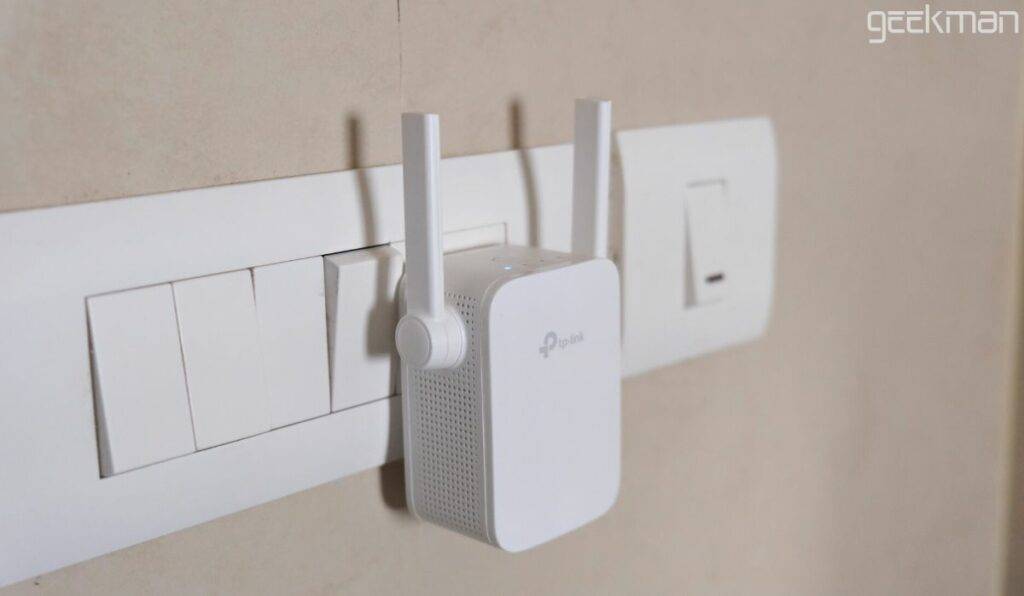 The TP-Link RE305 has a minimal yet elegant-looking design, making it look good with your interiors. You get a WPS button on the top of the extender along with four LED indicator lights, out of which two will let you know about the Power and Signal status; the other two will tell you the status of your 2.4 GHz and 5GHz, bands. You also get a reset button and an ethernet port at the bottom of your extender.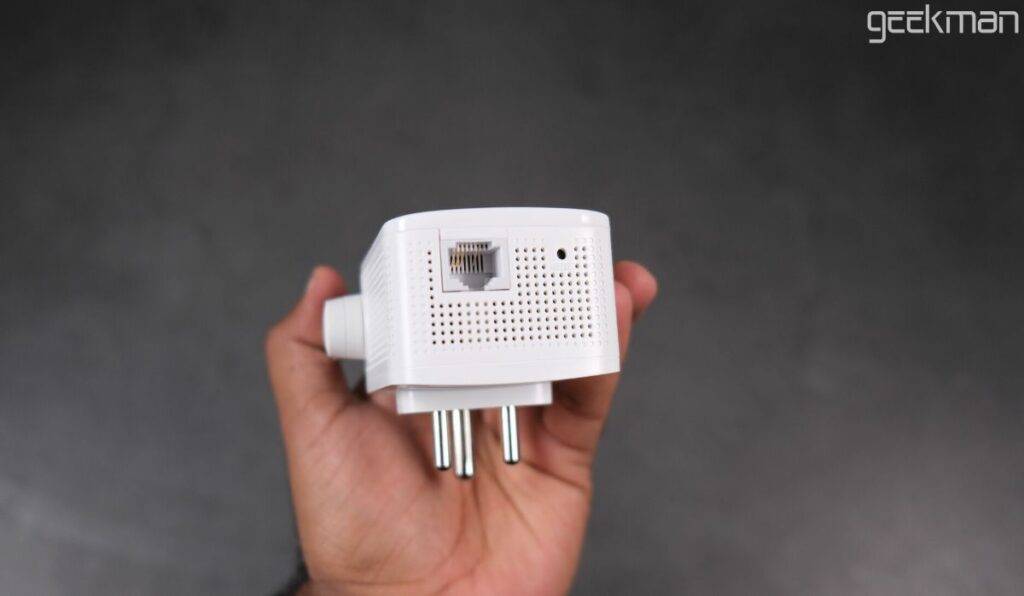 Features & Connectivity
The first thing I would like to mention about this device is the setup process. Setting up the TP-Link RE305 is relatively easy and barely takes a few minutes to complete. You just need to plug your device into the wall and connect your phone with the TP-Link tether app, and soon you will be able to set up your extender. You can even use the web interface to set it up as well. The good thing is that you get a signal indicator that lets you know whether the distance between your router and the extender is good or if you need to relocate it, which is quite helpful while setting up the device.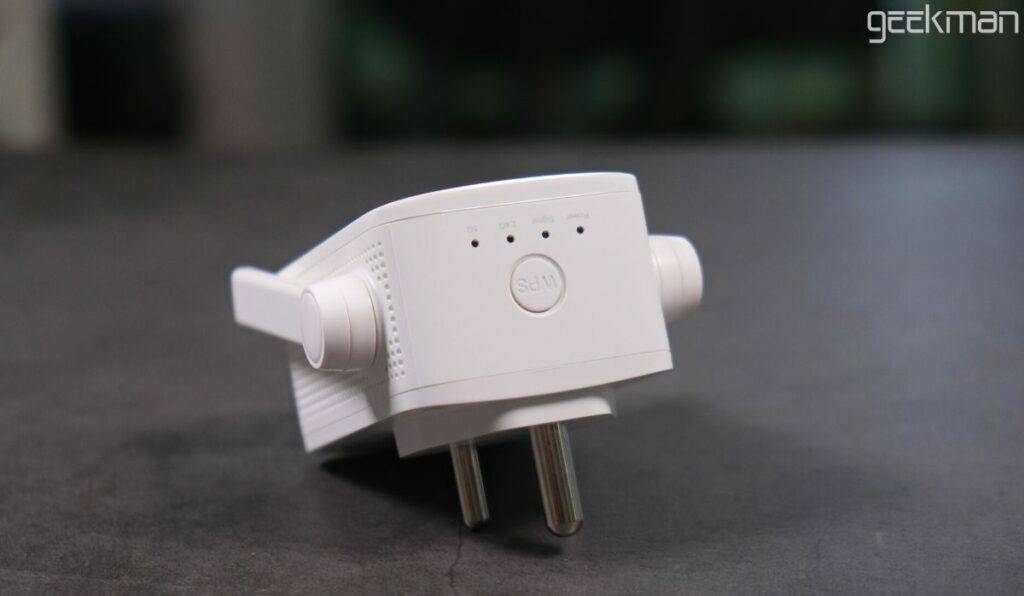 The app and the web interface are well optimized and quite easy to operate, which is what you would expect from a brand like TP-Link. Navigating the interface is quite easy, and you won't struggle even a bit to find any settings. You get all the basic features like OneMesh, HighSpeed Mode, and even scheduled power on and off, which is quite interesting. Yes, some advanced features are missing, but you can ignore that considering the price it offers.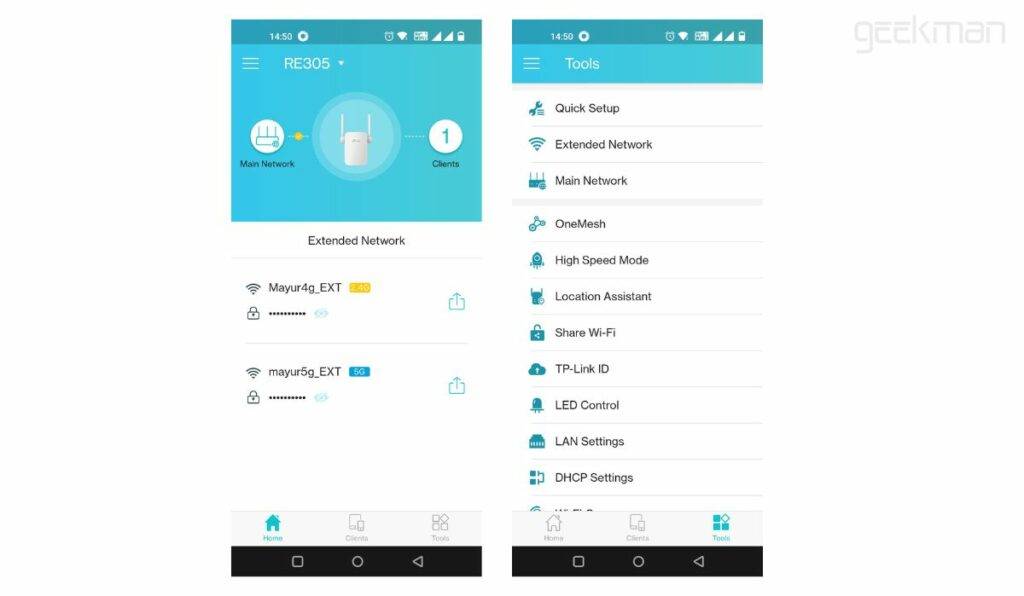 Performance
The dual-band extender can offer a max speed of up to 1200 Mbps with dual bands combined. Individually, the 2.4 GHz band can offer a speed of about 300 Mbps and the 5 GHz band can offer a max speed of up to 867 Mbps. I have tested out both the bands individually and found the performance pretty decent for a regular user. It easily covered a wide distance of about 2,500 square feet which is quite impressive for an extender at this price point. I initially thought that I would lose about 50-60% of the speeds in the outer parts of the house but I was quite impressed with the results.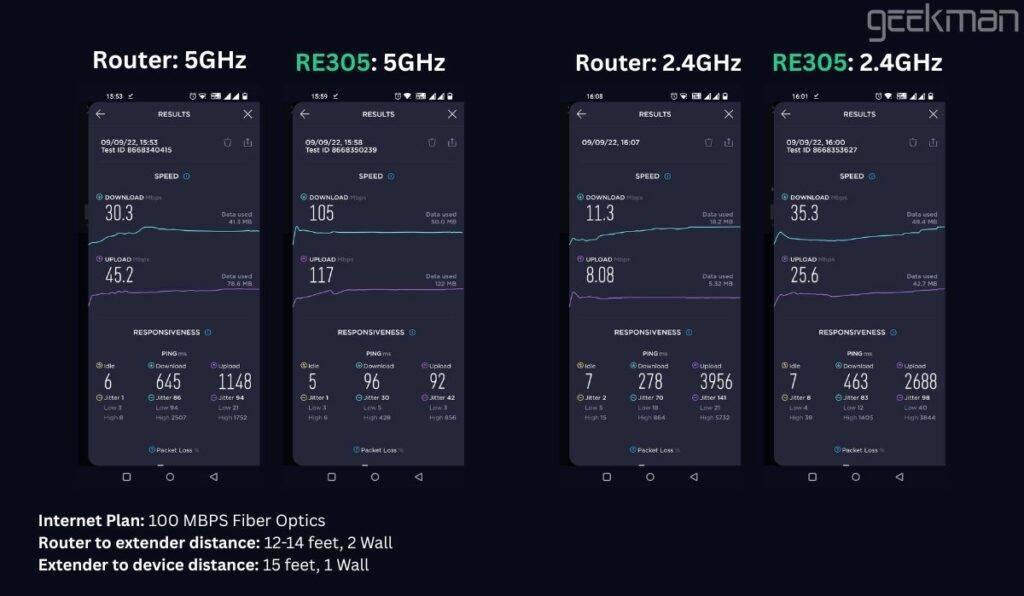 The ethernet port is not a Gigabit port which cannot be expected at this either but you can still enjoy a max speed of up to 100 Mbps easily. If you have a big house with an area of about 2,000 to 3,000 square feet, this device can easily cover your whole house with the 5 GHz band signals. The same can be said for those who have a two-story house.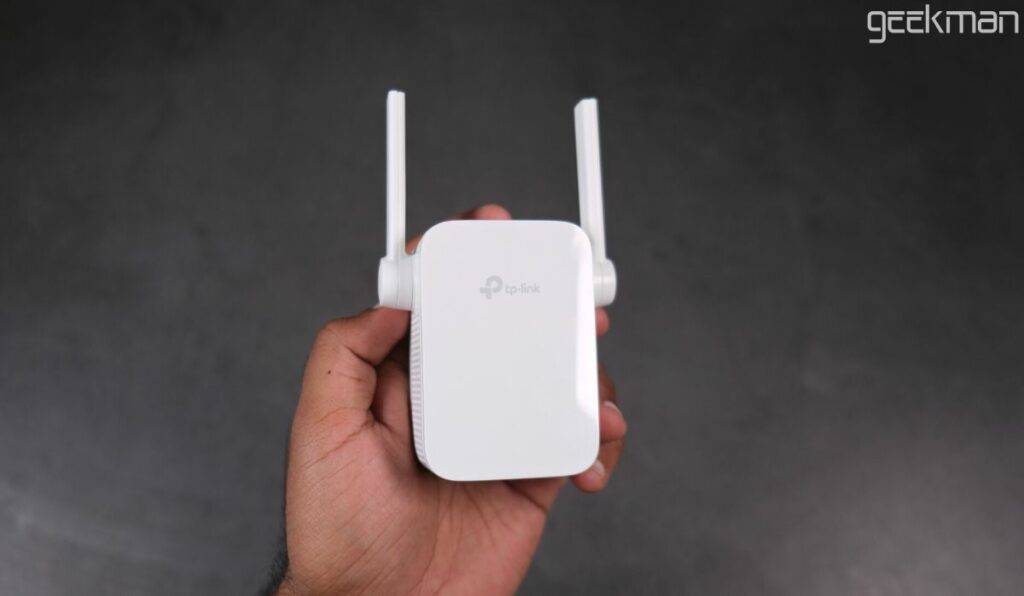 TP-Link RE305 Worth Buy?
Finally, is TP-Link RE305 a worth considering product?
Well, the answer would be yes for most of the users. If you live in a house with a total area of about 3,000 square feet and need an extender that can cover your whole house, then this is a pretty good option. On the other hand, if you want a high-performance extender for gaming tasks or connecting numerous devices simultaneously, then you should look up some other options like the TP-Link AX3000, TP-Link AX1800, or TP-Link AC1750. Otherwise, this device has more than enough to offer for everyday users.
Finally, if you have any queries or suggestions regarding this topic or any other topic, feel free to drop them down in the comments section below, and I will get back to you as soon as possible. Thanks for reading.
Also Check: Best WiFi Range Extenders In India

TP-Link RE305 Review In Hindi
Also Read: