Samsung Galaxy Fit e Specification:
Display: 0.74″, 128 × 64 pixels, PMOLED
Connectivity : Bluetooth 5.0 (LE)
Sensors: heart rate monitor, accelerometer
Battery: 70 mAh
Dimensions: 40.2 × 16 × 10.9 mm
Weight: 15 g
Inside Box
The Samsung Galaxy Fit e comes in a small box with concise design. Inside there is the main module itself, already with the strap, as well as the charging dock. There you also get some paperwork including manual and warranty card.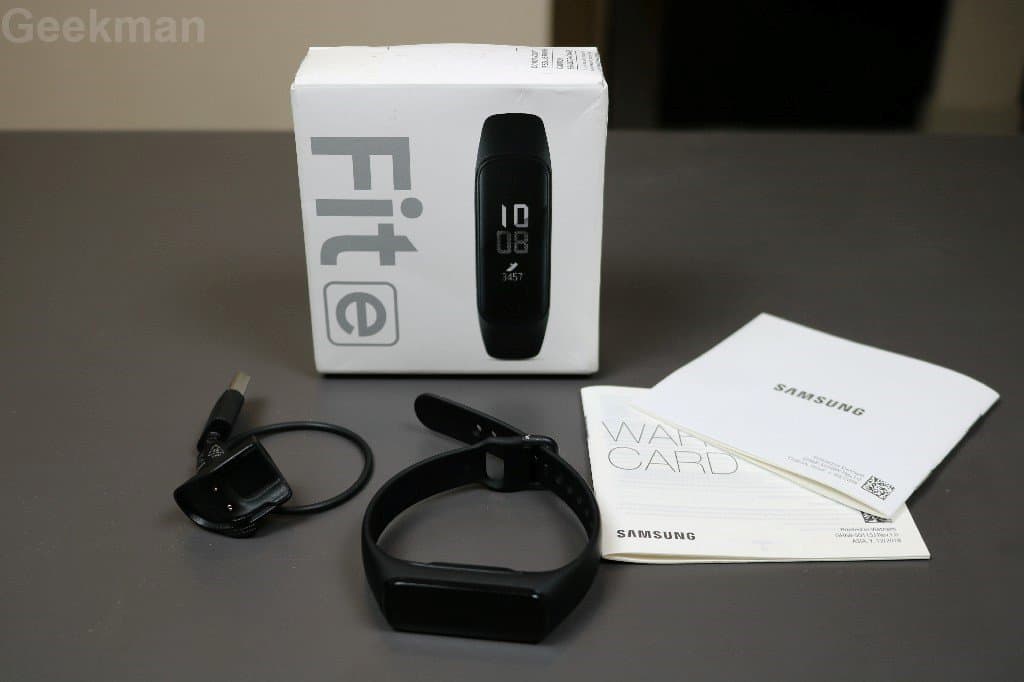 Design, Build, Display and Comfort
In this price point, you hardly expect the fitness tracker with the luxurious look and premium build. But the Galaxy Fit e is actually not that bad. In fact, I was a little impressed with the overall build and design.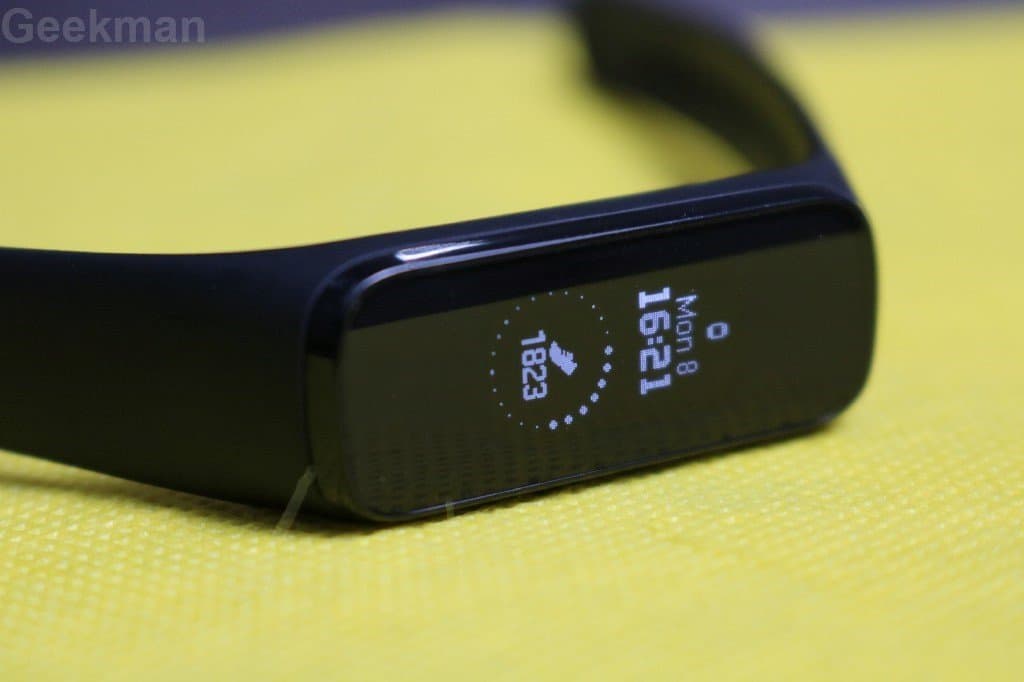 It looks simple and similar to any other similar product. Narrow, small size, with a completely black front panel. Nothing extraordinary, but it looks good. On the front, It has a small 0.74 inches display that lets you glance at all the necessary info. Yes, the display is small compared to other bands, but still It enough for easy reading of the time and progress made.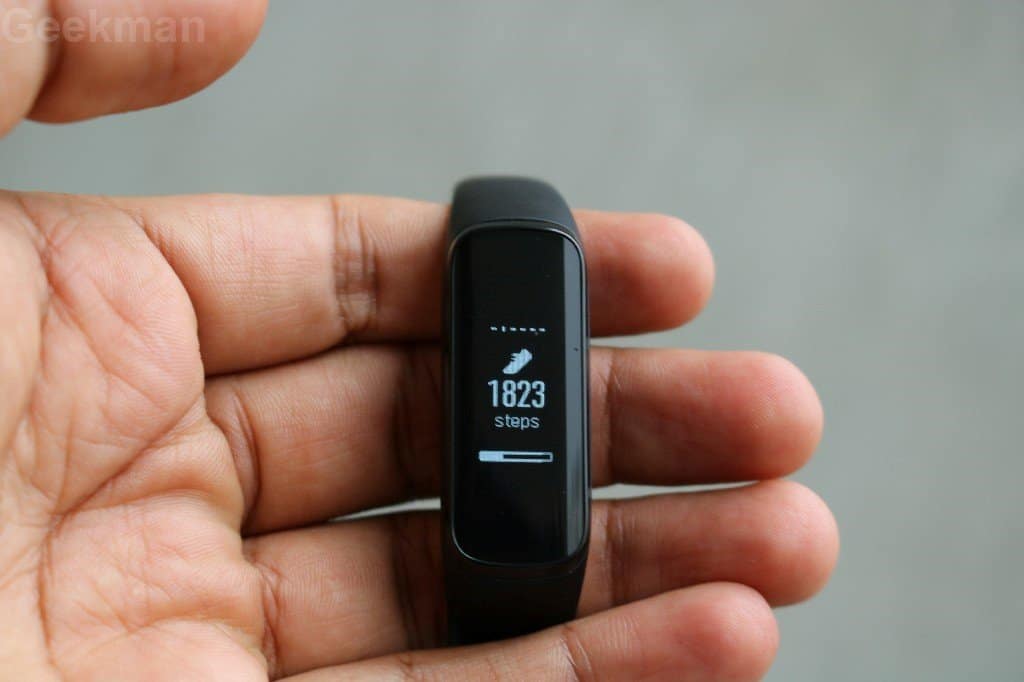 The display is not a touchscreen, so to activate the display, you must make a lifting gesture or double tap on the body (works more reliably). The brightness of the screen in the room is enough you can easily read the information without any difficulties even under sunlight. There is no auto-brightness control, but you can lower its level through the companion application. Overall, the display quality is really decent compared to the price point.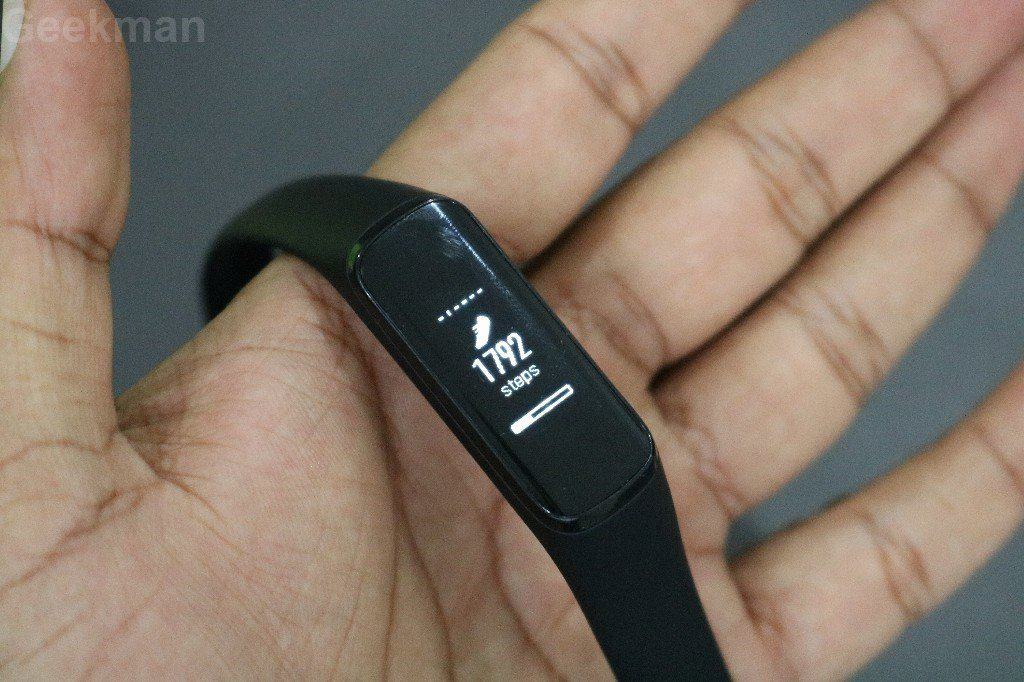 On the backside, there is a large platform with a heart rate monitor, two contacts for charging and markings. On the edges are the grooves made for mounting a fitness tracker in the charging station.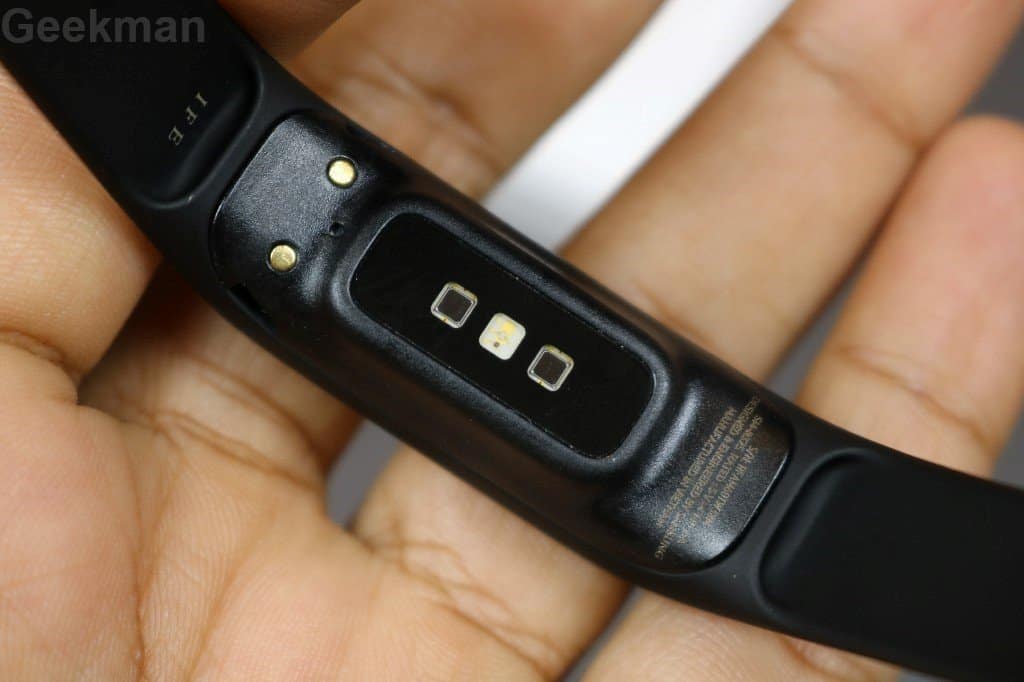 The silicone strap that ships with the Galaxy Fit is high quality for a device at this price point — The strap is neat, soft and pleasant to the touch.
The Galaxy Fit E is also durable. It has a 5ATM water-resistance rating, meaning it can withstand being submerged under 165 feet of water and is safe for swimming and showering.
One of the things I'd like to point out is how comfortable it is. The Samsung Galaxy Fit e is very comfortable because of its lightweight design (15g). You will easily forget to have it on your wrist after a few minutes.
Battery life
The Samsung claims that it will last up to 7 days of use with 70 mAh battery. Yes, it possible If you disable most of the functions. But in real use, the fitness tracker is enough for 3-4 days. You get more battery life if you disable pulse detection and notification.
Interface
The Samsung Galaxy Fit e offer all the info on display, which we need on the go. A first screen serves as a watch face, as usual. Behind the watch is the number of steps taken, calories burned, the last sleep, weather, calendar and pulse. The order of these subsequent screens can be changed and removed by the app. It also notifies about calls by showing the number and name of the caller with vibration, not only calls & message but also other app notifications be displayed here.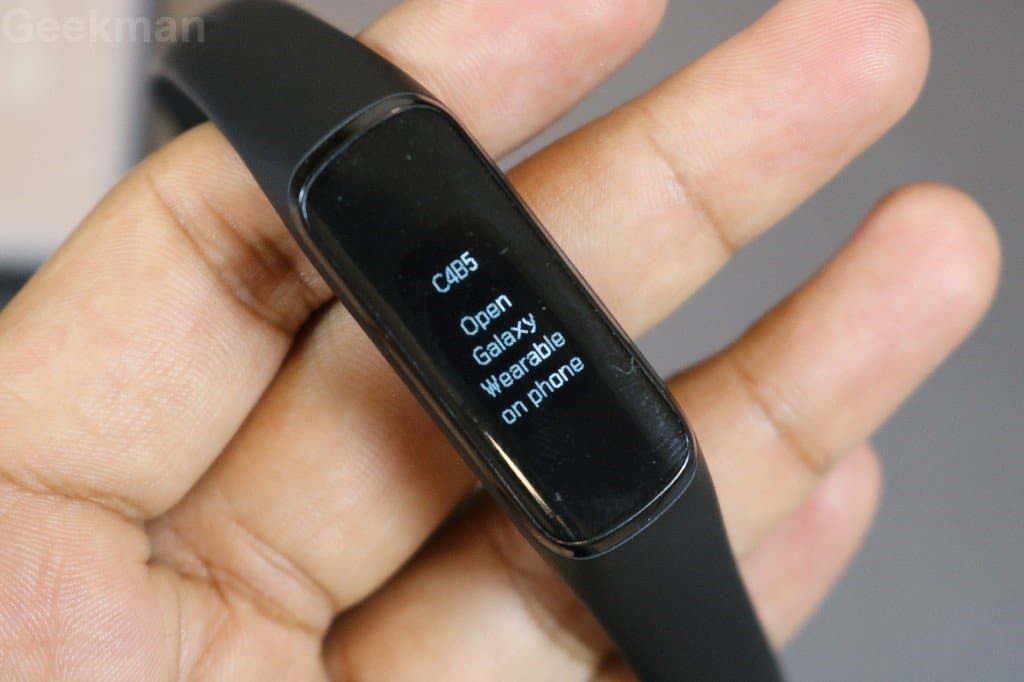 Connectivity & Application
If you are an owner of a new Samsung smartphone, expect perfect compatibility, since you do not need to download anything. Just get the tracker and if it is charged, you can quickly connect it and configure it in the Galaxy Wearable application. But, if you try to use it with a smartphone of another brand, then you need to download two applications. Including Galaxy Wearable and Samsung Health apps.
The connection prosses is very simple: just open the Galaxy Wearable app on your android phone, select the Galaxy Fit-e from the list of available devices and it will automatically start searching for your fitness band. Once paired, you can navigate through the app's various settings. Including, alarm, notification control, watch faces, weather and widgets control.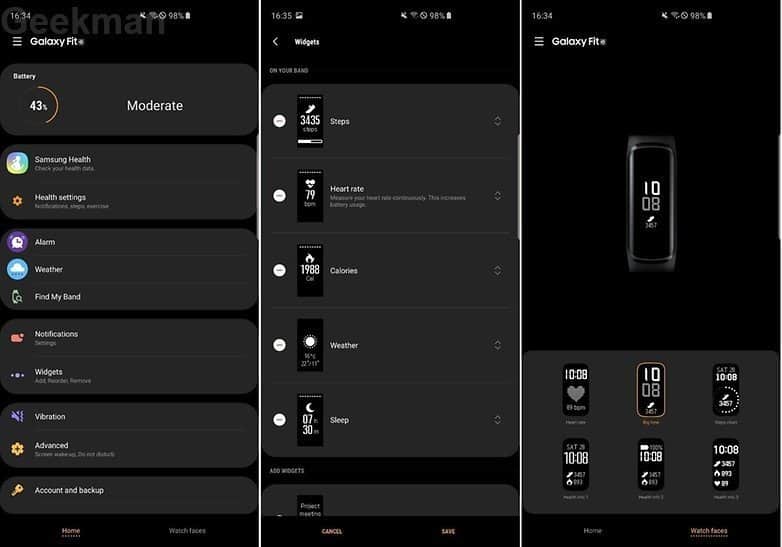 When it comes to monitoring your physical activity, you need to open the second app Samsung Health. Where you can track all the activities, including steps, active time, sleep time, food, water, weight and heart rate.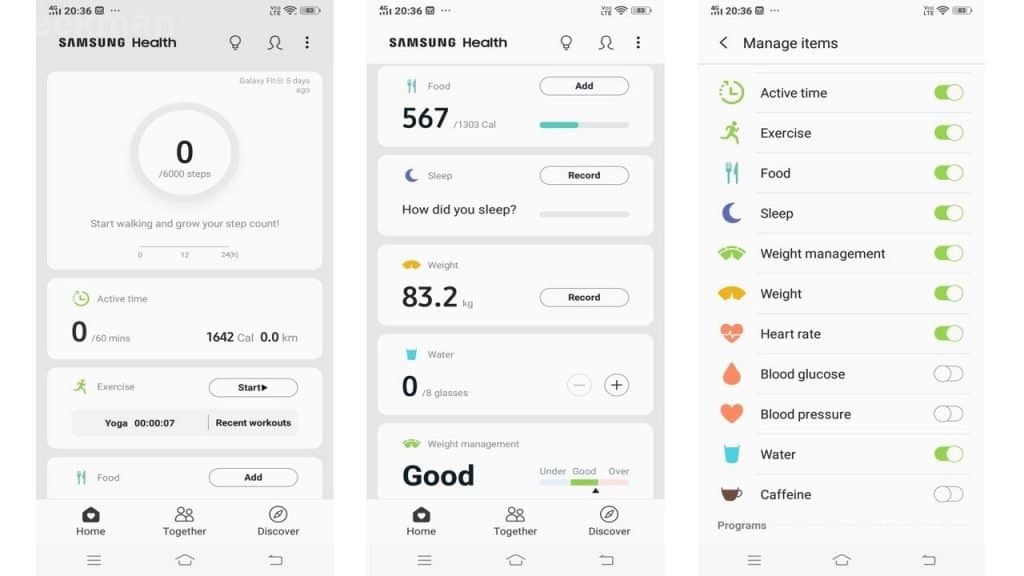 Tracking accuracy
When it comes to accuracy, I had no complaints. It does the basics of step tracking and seems accurate enough during my testing (closely matching the records kept by mi band 3 or Honor band 3).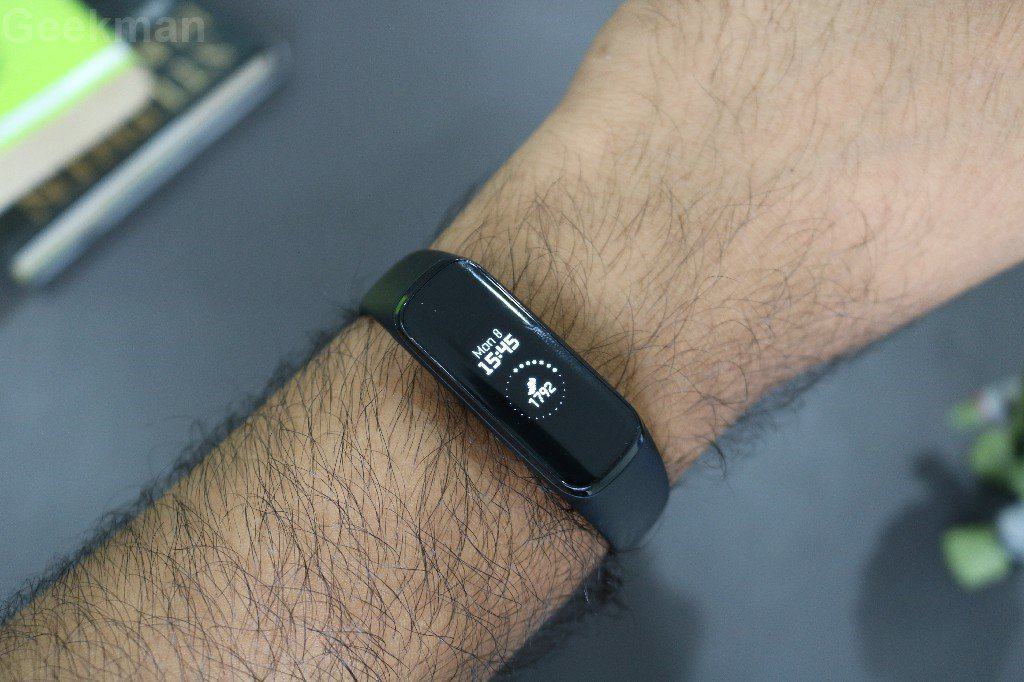 Moving on to the heart rate tracking, I think the Galaxy Fit e does a decent job. Obviously, there's no way that these heart rate trackers on the fitness bands are anywhere close to the real heart rate monitoring devices when it comes to accuracy, so don't depend on these reading for critical situations.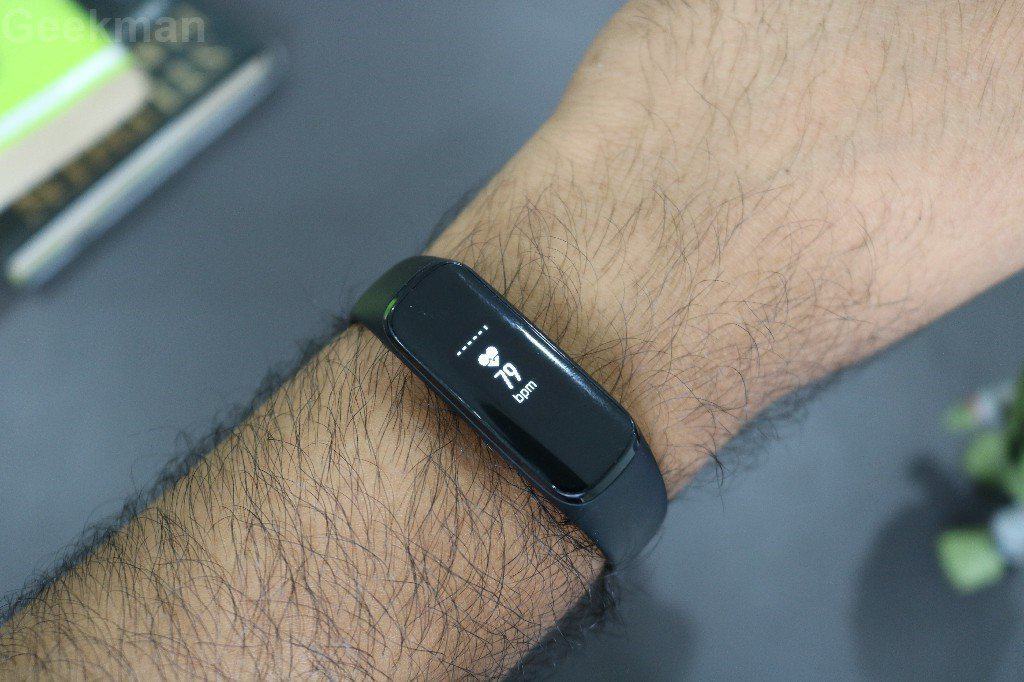 Like the steps tracking, I found the sleep tracking accurate enough as far as I could tell – certainly in terms of total hours banked. The sleep tracking detail is almost same as other fitness bands at the given price point.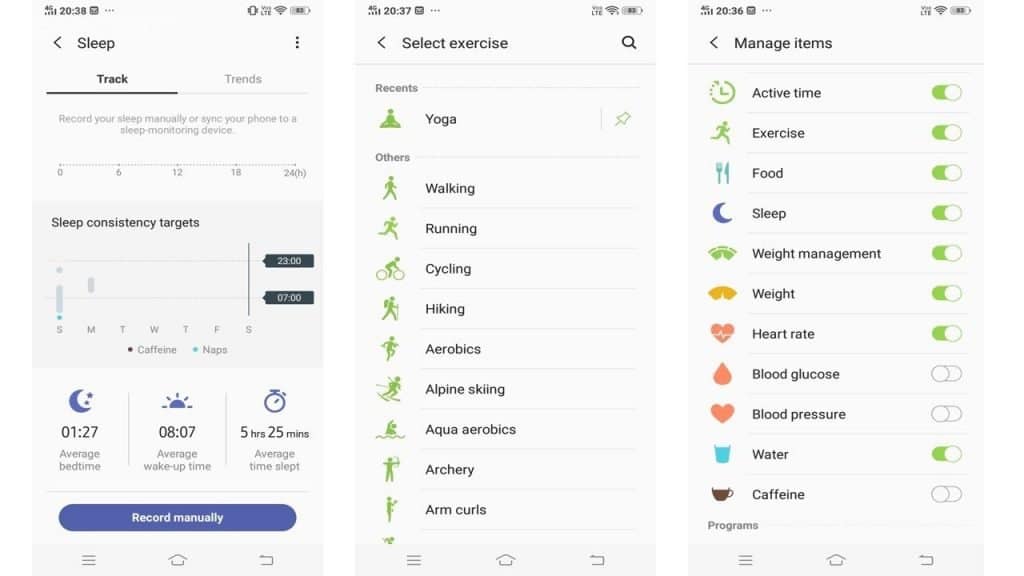 The Galaxy Fit e can also track close to 90 different activities. Including, running, Yoga, Jumba, Swimming and Cycling.
The fitness tracker doesn't come with inbuilt GPS, but using your smartphone GPS you will get accurate steps and distance information under walk and running activity.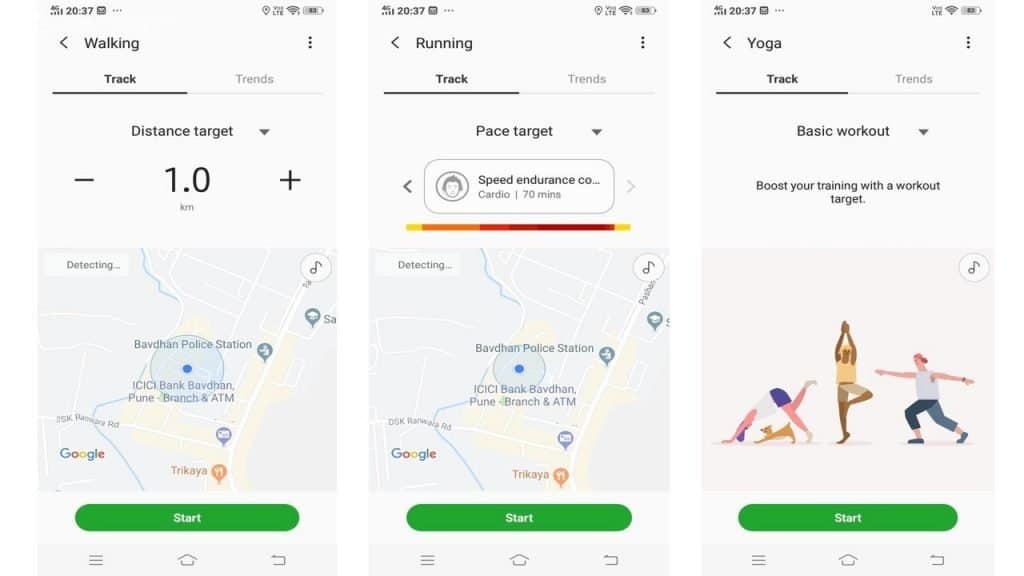 Food & Weight management features help you to live a healthy life. Here you need to just enter your food intake information and you will get all the nutrition information including carb, protein, and fat quantity. And according to your activity, it will tell you that what you are eating is healthy or not. It also shows you how much fat, protein, and carbs you need to include in your meal. So, it really good features for those who are in the weight loss programme.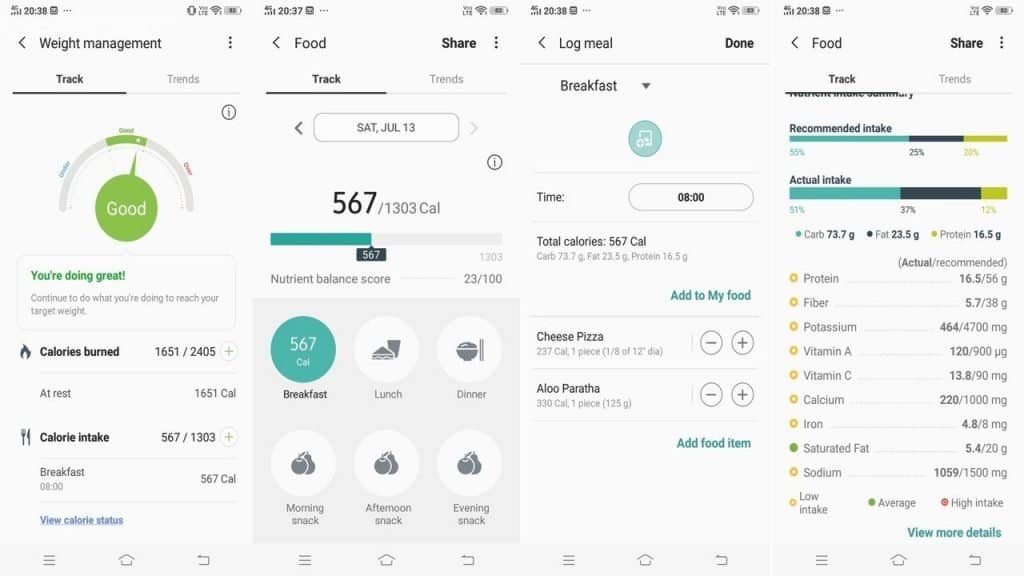 Here you find some valuable article about healthy food, exercise programme, and some other health tips.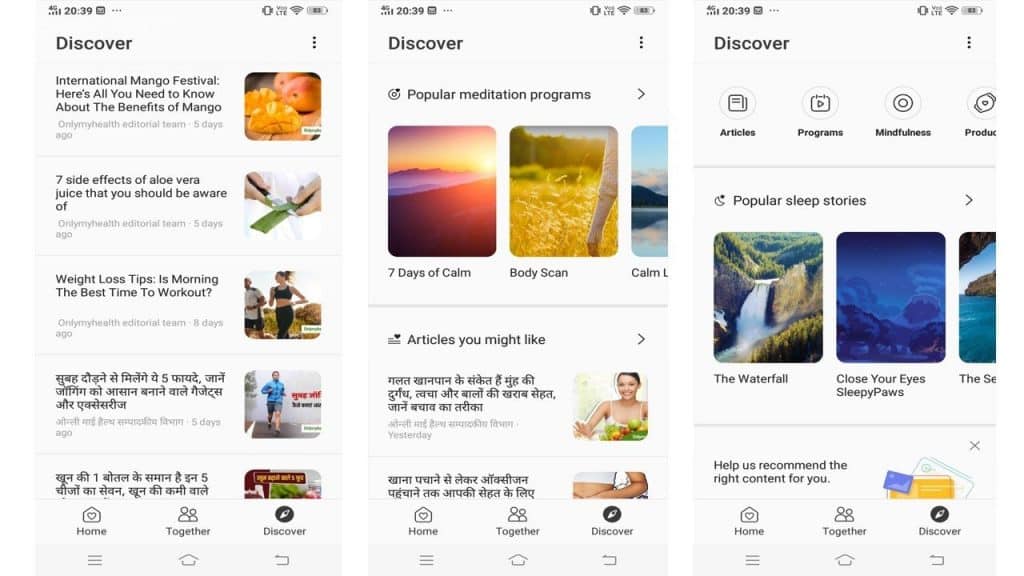 Overall, I would say that the Samsung Galaxy Fit e can take care of all the basic fitness activities for you. And with Food and weight management features you can also control your diet and live a healthy life, which is a bonus point of this Samsung fitness app.
Verdict
The Samsung Galaxy Fit e is a very good fitness tracker at this price. There are lots of fitness bands in the market that offer similar functions for less, but you get an awful lot here for your money.
The apps are polished and very user-friendly and come with lots of health-related features. Detection of physical activity, sleep, heart rate and the calculation of steps are almost perfect, with a very low margin of error. The accuracy is almost the same as other bands in this price range, including Mi band 3, but here you get the huge advantage of Samsung Fit app, which is quite good compared to its competitors.
Overall, If you want decent fitness tracking at a very affordable price, then the Galaxy Fit e is a really good option for you. More info please check the full review on my Youtube channel: Geekman.
Samsung Galaxy Fit E Hindi Review
Buy now