The new Realme TechLife Watch R100 offers an excellent set of features for its price, including a large 1.32-inch circular dial color touchscreen display, IP68 design, 24-hour heart rate tracking, SpO2 measuring, and Alexa voice assistant support. It also comes with a speaker and microphone for voice calling capabilities.
Going by its specifications, it looks very promising, isn't it? But does it perform as well as it looks on paper? Find out in my review.
Realme TechLife Watch R100 Specifications
| | |
| --- | --- |
| Display | 1.32-inch (3.35 cm) TFT LCD touchscreen, 360 x 360 pixels, 450 nits brightness |
| GPS | No |
| Strap | 22mm, Silicone |
| Water-resistance | IP68 |
| Bluetooth | 5.2 |
| Support | Android 6.0+ or iOS 9.0+ |
| Sensors | Heart rate sensor, SpO2 sensor, accelerometer, gyroscope |
| Battery | 380 mAH, Up to 7 days |
| Colour | Black, Grey |
| Weight | 46G |

Box Content
Realme TechLife Watch R100
Magnetic charging cable
User manual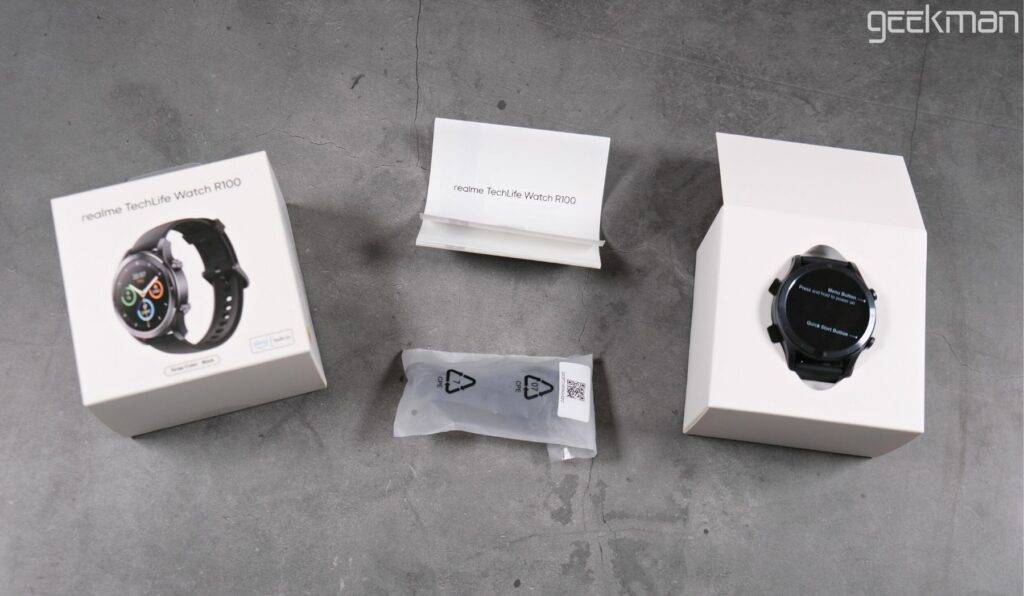 Design, Build & Comfort
Starting with the design, the Realme TechLife Watch R100 has a circular dial design surrounded by a premium-feeling aluminum bezel, which reminds me of the first Samsung Galaxy Watch. It has a matte finish metallic design and a 46 mm dial that looks quite similar to Realme Watch S. Yes, there is some downgrade in build quality compared to Watch S, like the sides are plastic, not fully metallic. But still, this watch looks very stylish and premium compared to other round shape smartwatches in this price range.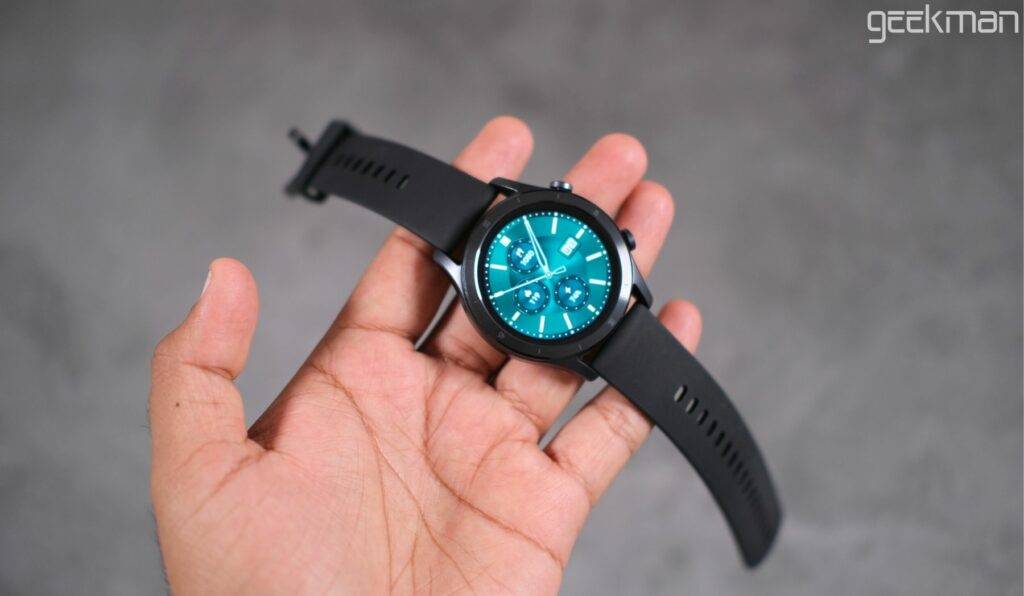 The TechLife Watch R100 has an IP68 water-resistant design, which means it can resist water and dust up to certain limits, so you can take it for a swim and shower or take it along in the rains. The strap has a lightweight 22mm interchangeable silicon strap that is made of skin-friendly material, and the quality of the strap is good. For testing, I wore this watch for the full day, and I found that watch is very comfortable. The Realme TechLife Watch R100 is certainly light in weight, weighing just 46 grams, so you don't need to worry about bulkiness. Apart from this, you can easily remove the stock strap belt and try some new aftermarket strap belts.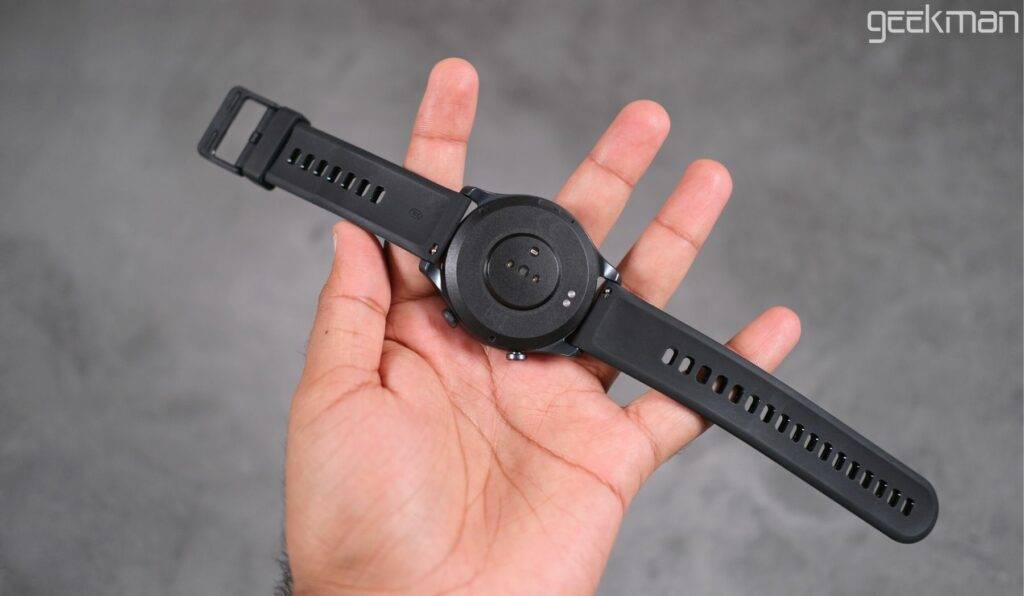 There are two buttons on the right side. The top one is the home button that takes you to the home screen on a single tap, and the double tap takes you to the main menu. While the second button is to access the sports modes. Whereas the second button is for accessing sports modes.
The left side of the watch also has a loudspeaker and a microphone, both used for Bluetooth calling and Alexa. On the back, you can see the continuous heart rate and SpO2 sensors and charging pins with a USB magnetic charger that sticks in.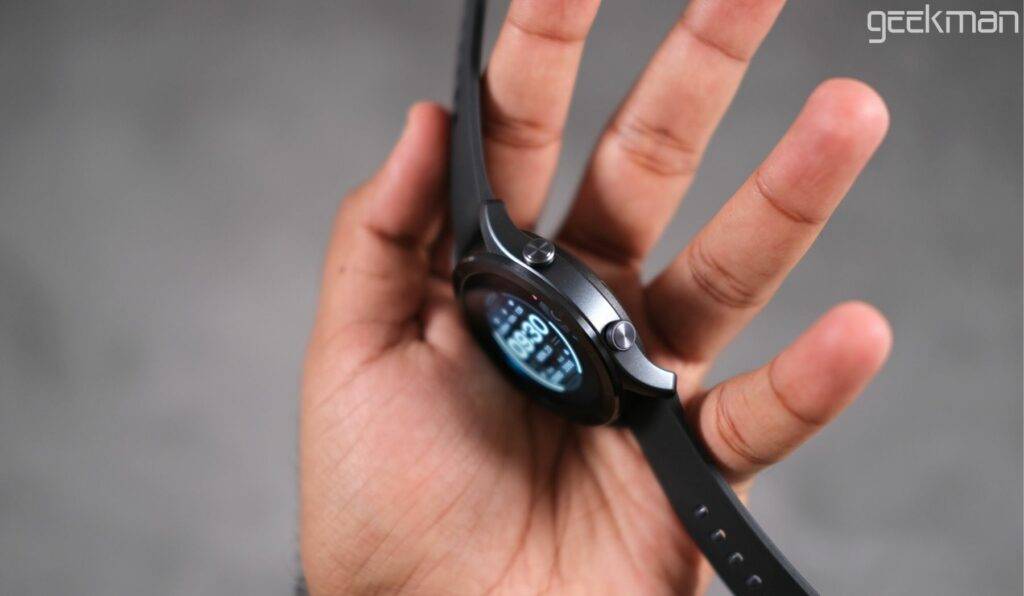 Display
Coming to the display, the Watch R100 comes with a 1.32-inch circular LCD display with a resolution of 360×360 and 450 nits brightness. First of all, the 1.32-inch screen is big enough to see all the information at a glance, and I think it's the ideal size for a round shape smartwatch.
The display resolution is also good, the 360×360 resolution and 450 nits brightness are good enough to see the individual pixels and bright enough to be legible under harsh sunlight, even small icons and text look clear and sharp.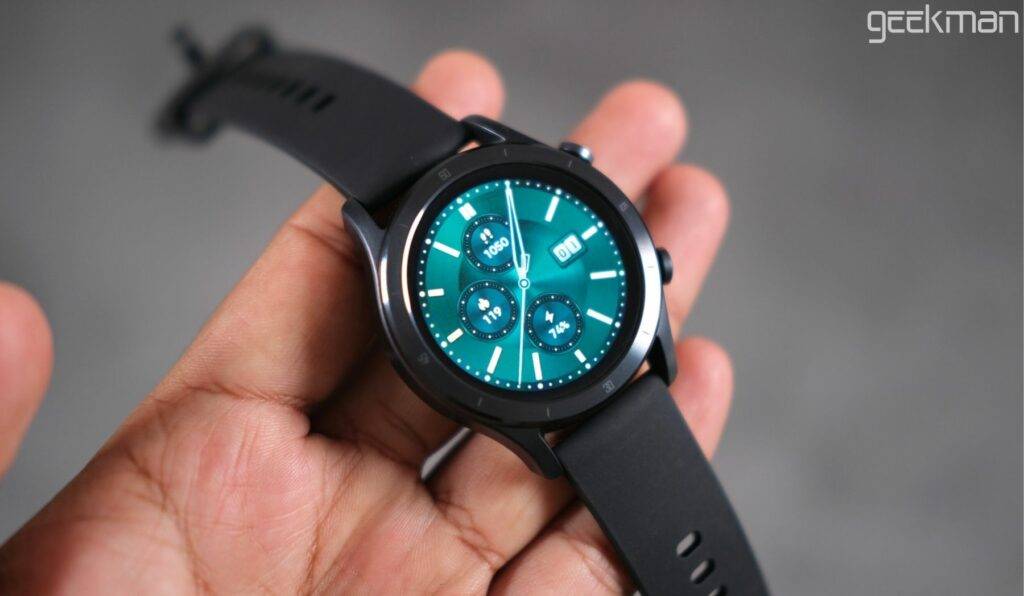 Of course, there are some drawbacks on the display side. First of all, the color reproduction is not very accurate, and the colors look a little bit washed. And because it's an LCD panel, it's not very vibrant, and you'll not enjoy the black color on watch faces at night because of the light bleed (black looks gray). However, it's extremely hard to find something better at this price, and I think you can accept this display quality with this features combo.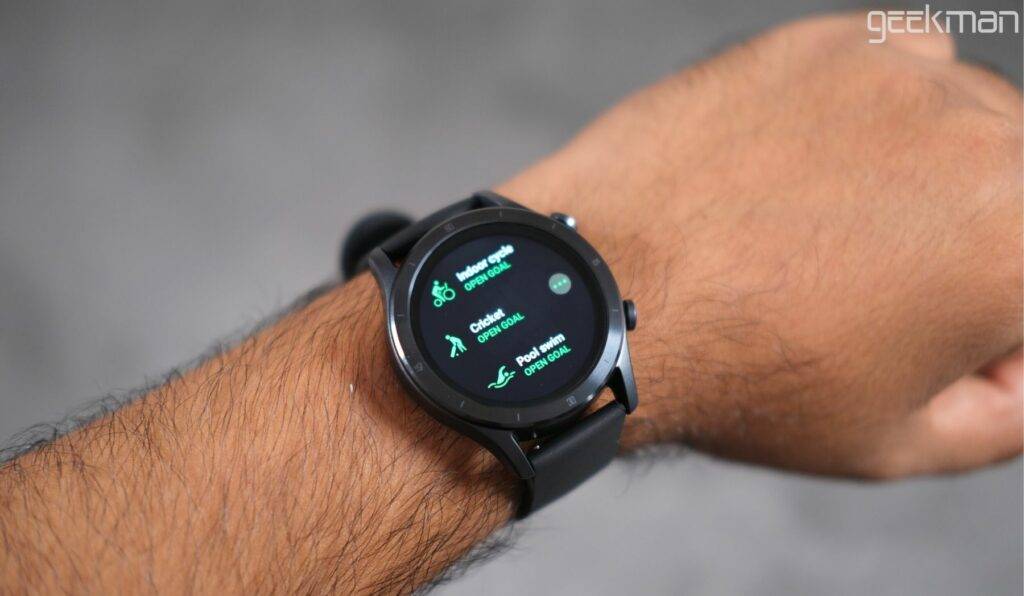 Apart from this, you can adjust the brightness up to 5 levels, and you can also enable the auto-brightness option from the app. Yes, the R100 does not comes with an always-on display feature.
Coming to watch faces, you will get 7-8 preloaded watch faces inside the watch. However, there are 100 plus additional watch faces on Realme Wear app that you can easily download and set in the smartwatch.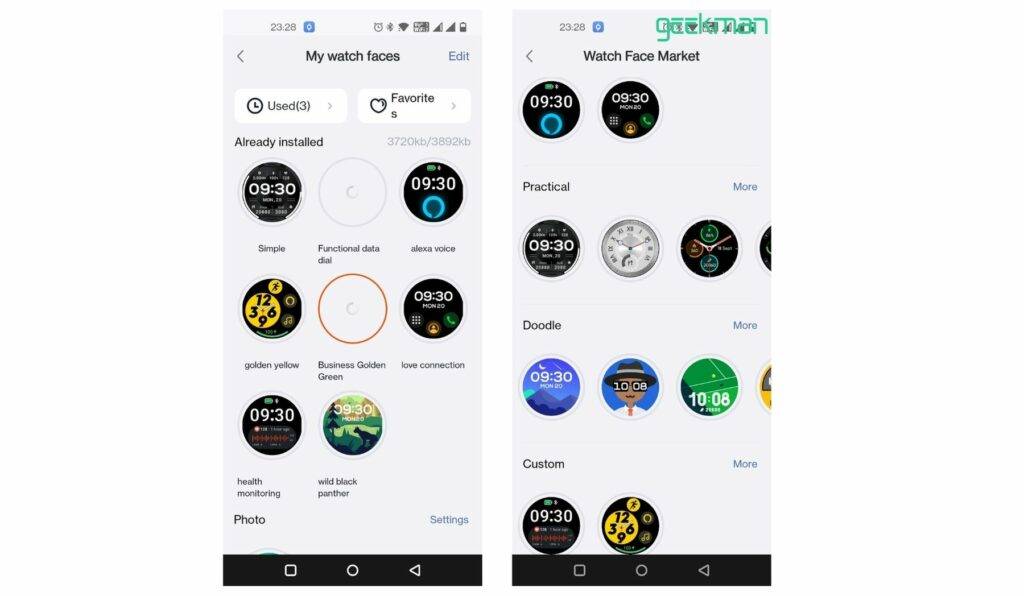 The watch faces are cool; some are informative and colorful, and others are just decorative. Yes, you can set a custom watch face with your photo and some minor customization.
Features & Ui
The Realme TechLife Watch R100 offers a customized smartwatch interface, similar to other recent Realme watches. But I like to add that the watch doesn't have any powerful chipset, so there is some lag on watch Ui, and it also struggles in showing smooth animations.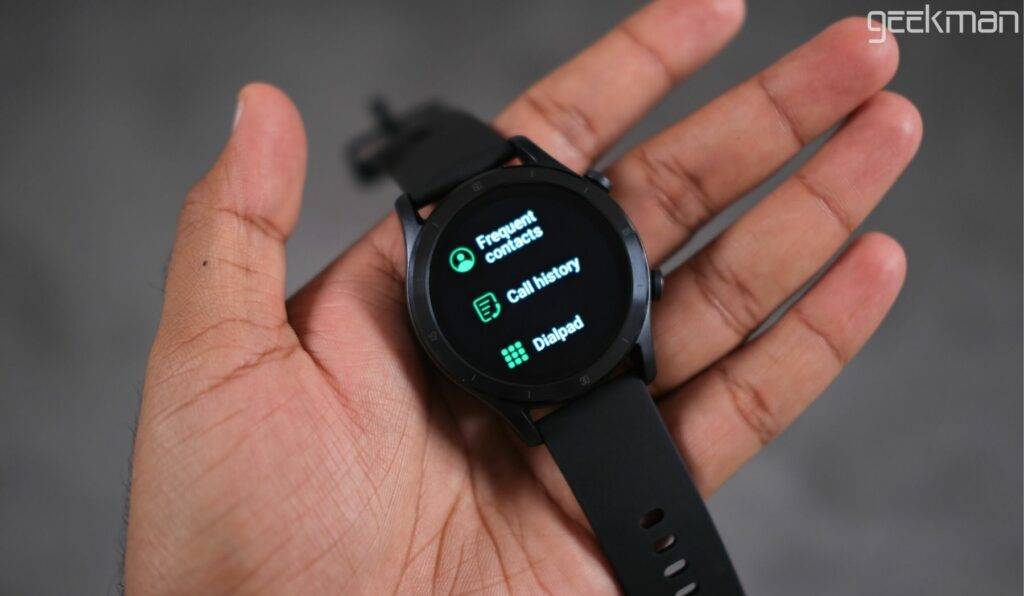 The watch packs a punch of health and fitness features along with Bluetooth calling. It shows you your daily activity traking, along with continues heart rate, Spo2, stress, and sleep traking. Apart from this, it also offer you app and message notifications from your phone, along with 100 plus sports mode, alarm, weather report, stopwatch, music control, and find my phone.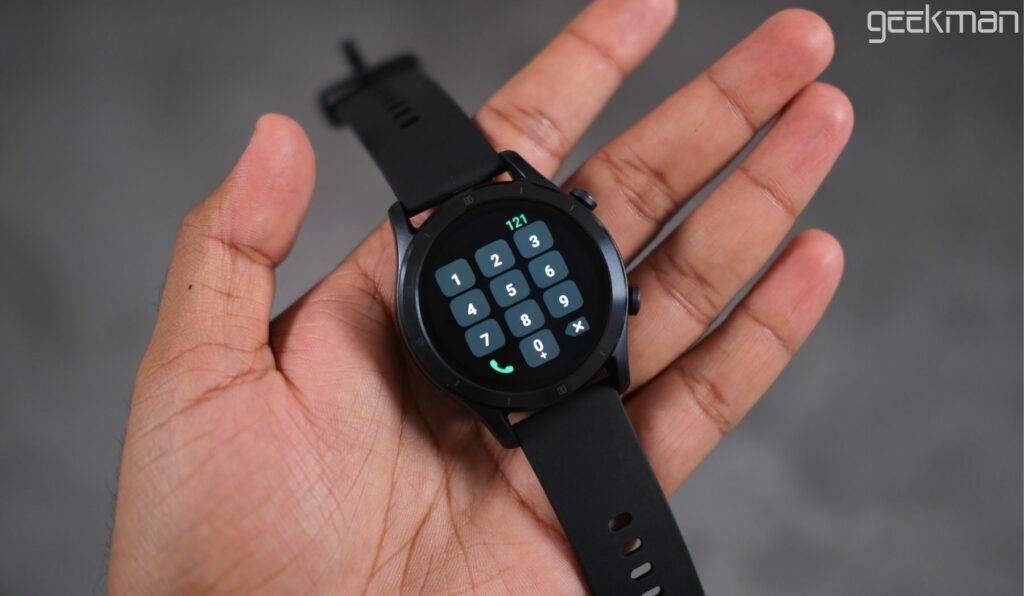 Now, let's talk about the most useful features of the Watch R100 is that it has a inbuilt speaker and a microphone, which allows the watch to be used for calls. I really surprised with the call quality, the microphone and speaker quality is really good, even batter then some budget smartphone. The person on both side of the call were able to hear each other properly. The only problem I want to report that the speaker volume is not very loud, so there is some struggle on call at noisy outdoor environment. However, that's true with most smartwatches, and that's reason Bluetooh calling is not my priority.
Realme Wear App
The Realme Watch R100 uses the Realme Wear companion app. that available on android and iOS both. The app is very easy to use and very well optimized. The app shows all the fitness related data collected by the watch, including steps, calories burnt, sleep data, latest workout stats, heart rate, and more.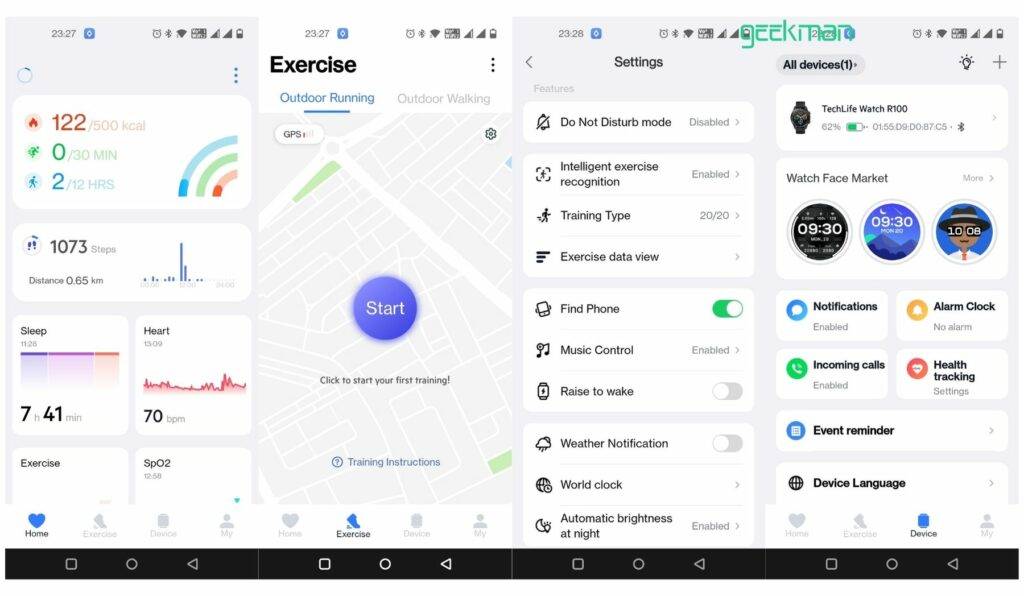 The app also allow you to use phone GPS for accurate outdoor traking. Apart from this,watch setting page offer you all the necessary watch related setting and customization. However, the app don't have option to sync your data to realme servers so that you can't get back the data if you switch to a new smartphone. It also lacks Google fit or Strava sync for workouts.
Realme TechLife Watch R100 Accuracy
The R100 comes with an optical heart rate sensor, accelerometer, and SpO2 sensor. However, the watch dont' have inbuilt GPS. Due to the lack of GPS, it cannot track outdoor activities as accurately as the smartwatches with GPS.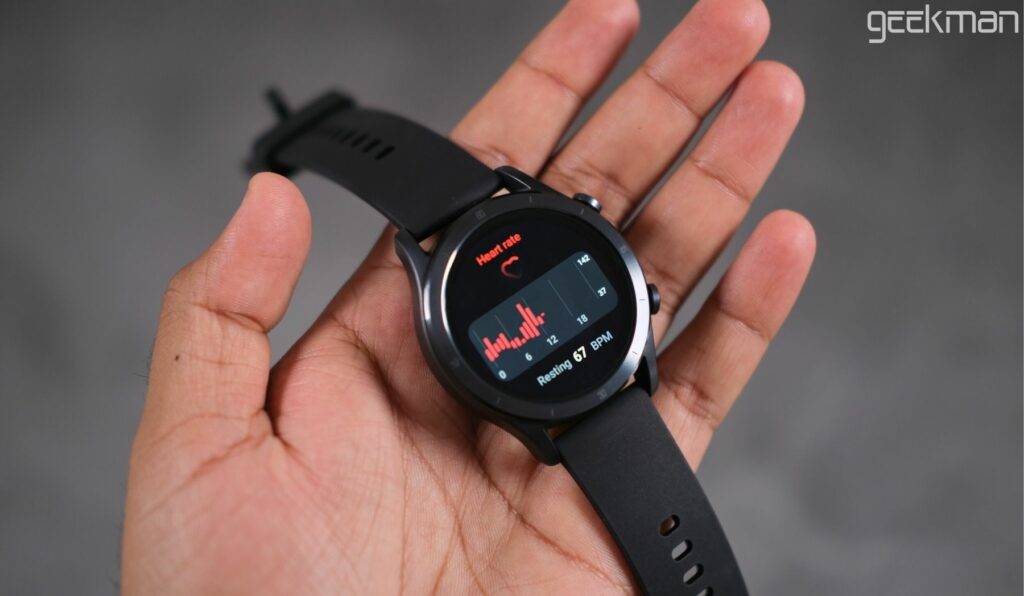 I tested this watch along with my AmazFit and Samsung Galaxy watch. According to my testing, I can say that the accuracy is decent. The heart rate and sleep traking work are very promising. While the smartwatch isn't very good at tracking daily workouts and sports activity. But still, its accuracy is better than many other budget smartwatches.
Battery
The Realme TechLife Watch R100 (380 mAh) promises up to 7 days of battery life, and given the kind of sensors the Watch R100 packs, it makes sense. But the actual battery life varies depending on your usage. If you increase the display-on time, set the full brightness, use a heart rate monitor/Spo2/stress traking frequently, call, and all the notifications are turned on, then battery time may be less than seven days. But at typical use, you can easily get a one-week battery backup.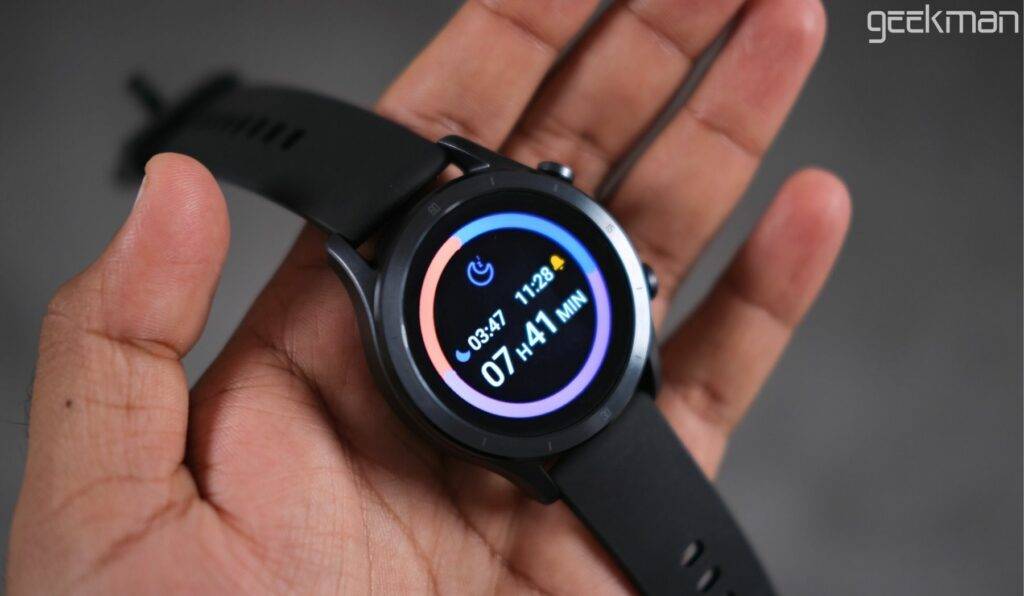 Verdict
Overall, the Realme TechLife Watch R100 is a good smartwatch for the price of Rs. 3999. It offers a stylish premium-looking design, bright quality display, IP68 certification, good battery life, and, most importantly, the ability to call. Additionally, the watch lets you check the notifications, control music, set and snooze alarms, find your phone, check your heart rate and SpO2 levels, and track sports and fitness activities with decent accuracy. The sports activity and daily activity traking data did not seem very accurate, but still good compared to most of the other smartwatches in this price range.
If accuracy is your priority and Bluetooth calling isn't required, then you can go with AmazFit Bip 3, Bip U, or Redmi Watch 2 Lite. If you need a GPS-enabled smartwatch, then you should check AmazFit Bip 3 Pro and Redmi Watch 2 Lite.
Realme TechLife Watch R100 Hindi Review
Also Read: