In the present time, budget smartwatches and fitness bands are at a peak in India. After the launch of the Apple iWatch, most companies are focusing more on smart wearables. Recently Realme launched their two smartwatches Realme Watch S and Realme Watch S Pro.
If you are a first-time smart wearable user or want a budget-friendly smartwatch, Realme watch S can be a good option. On the other hand, if you're a regular watch user and want better build quality, bright display, inbuilt GPS, and a classy look, then you should go with Realme Watch S Pro.
If you have a budget of under Rs 5000, then the Realme Watch S is the best option. In this post, I will review the Realme Watch S, which comes with almost similar features compared to its predecessor. Let's find out all the things that help us decide whether it's worth buying or not?
Realme Watch S Specs:
| | |
| --- | --- |
| Display: | 1.3 inch IPS LCD screen with 360×360 pixel, 278ppi pixel density, auto-brightness, 2.5D Gorilla Glass 3 protection. |
| Connectivity: | Bluetooth 5.0, Compatible with Android 5.0+ |
| Sensors: | PPG optical heart rate sensor, SpO2 sensor, Rotor Vibration Motor, 3-axis accelerometer, Photosensitive Sensor. |
| Sports Modes: | Outdoor Run, Walk, Indoor Run, Cricket, Outdoor Cycle, Strength Training, Football, Basketball, Badminton, Yoga, Aerobic Capacity, Indoor Cycle, Table Tennis, Stationary Bike, Rowing Machine and Elliptical. |
| Fitness Features: | Real-time heart rate monitor, Blood Oxygen level (SpO2) monitor, Sleep Tracking, Sports Tracking, Step Counter, Meditation. |
| Other features: | Idle Alert, Drink Reminder, Smart Notifications, Phone Finder, Weather Forecast, Music and Camera Control. |
| Rating: | IP68 rating |
| Straps: | Detachable silicon straps |
| Battery: | 390 mAh |
| Dimensions: | 47 x 12 x 260 mm |
| Weight: | 49 g |
Design & Build
I really liked the design and built quality of the Realme Watch S. The watch's traditional round shape, along with the tachymeter, gives you a more premium and eye-catching look.
Not just that, the Realme Watch S also uses more premium materials, a better screen and altogether something that looks much better on the wrist. It has a 46mm gunmetal aluminium made frame casing with two buttons on the right edge that controls all of its functions.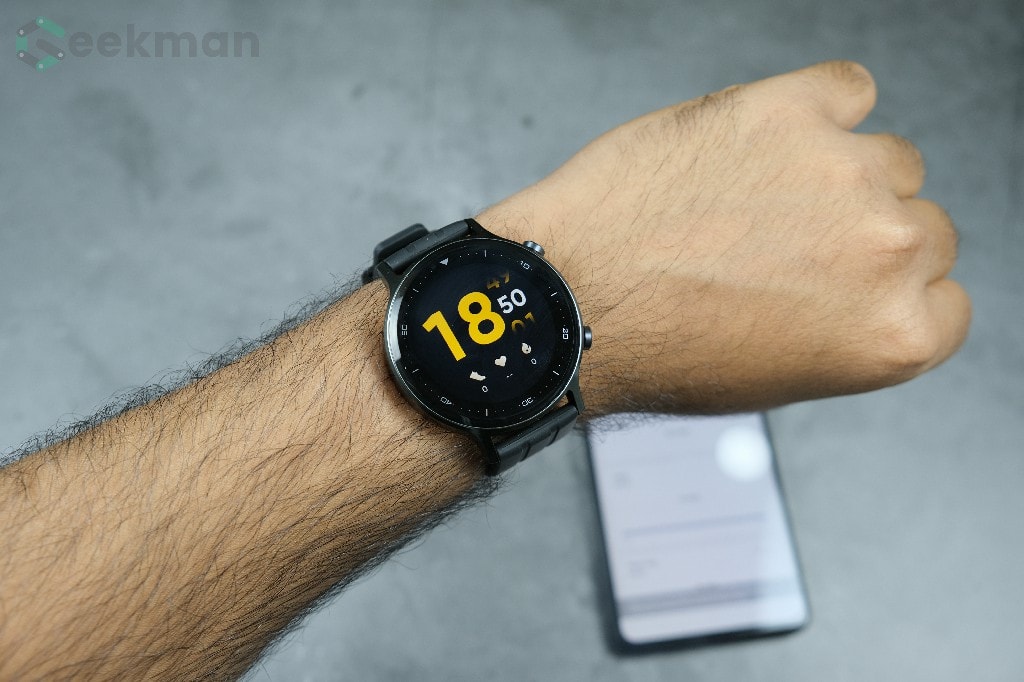 It has a matte black plastic back that houses sensors and charging pins. There is 22mm silicone straps that the watch comes with feel comfy and durable. You can choose between different colour options for the strap – black, green, blue, and burnt orange, as per your preferences.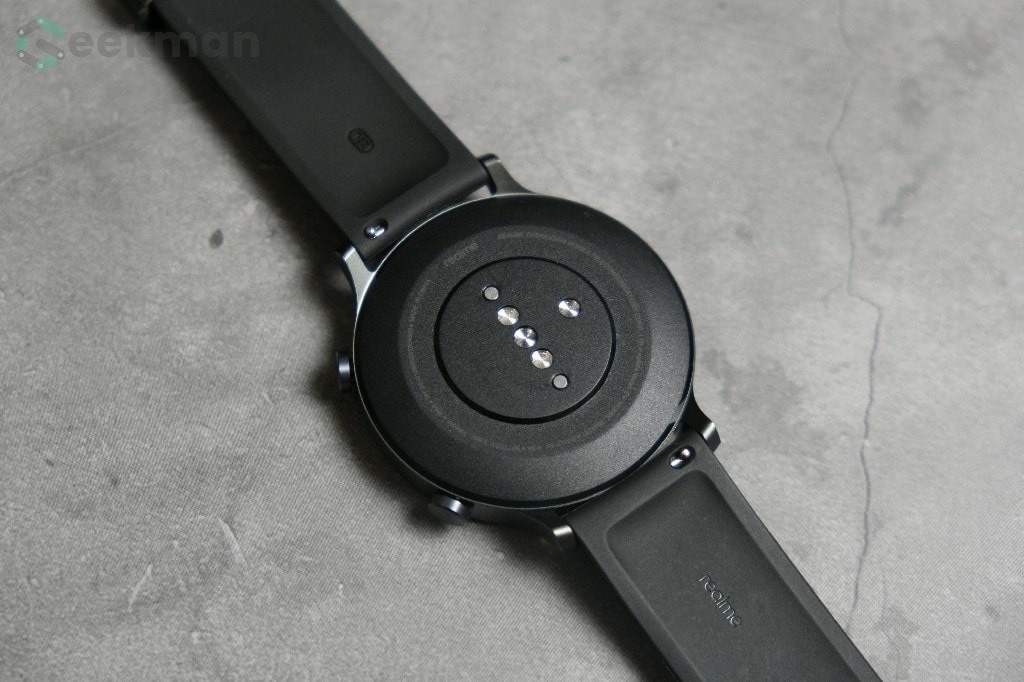 Another best part is that the watch is very lightweight. It's actually a bit heavier than its predecessor at 49 grams but still sits very comfortable on your wrist because of good weight distribution. It also comes with an IP68 rating, which makes it water-resistant up to 1.5 meters. We can't say it's fully waterproof, but it can easily handle the normal liquid spills, rain, and sweat.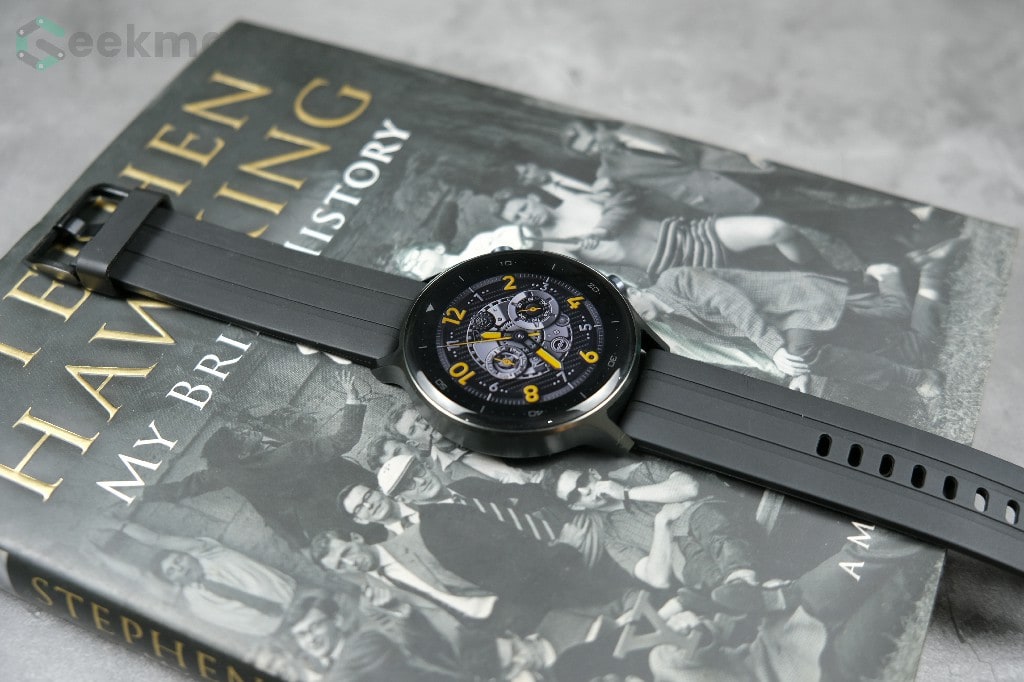 On the other side, if you want a sportier feel, then you can also buy the Realme Watch S Master Edition designed by the famous Korean Pop Artist Graflex, which will surely give you a decent sporty look. Overall I have no complaints about the design and build.
Display
Now coming to the display, it has a 1.3 inch IPS LCD screen that offers you 360 x 360-pixel resolution and 278ppi pixel density. The display quality is quite good, there are no issues with legibility, and the panel displayed accurate colours.
The round shape dial is similar to other smartwatches, but somehow I feel the diameter is a little bigger, helping you easily touch controls. The bezel is also very less, and there is not large chin on one side like its predecessor. To protect the watch display, Realme added 2.5 curved corning Gorilla Glass 3, making it a robust product.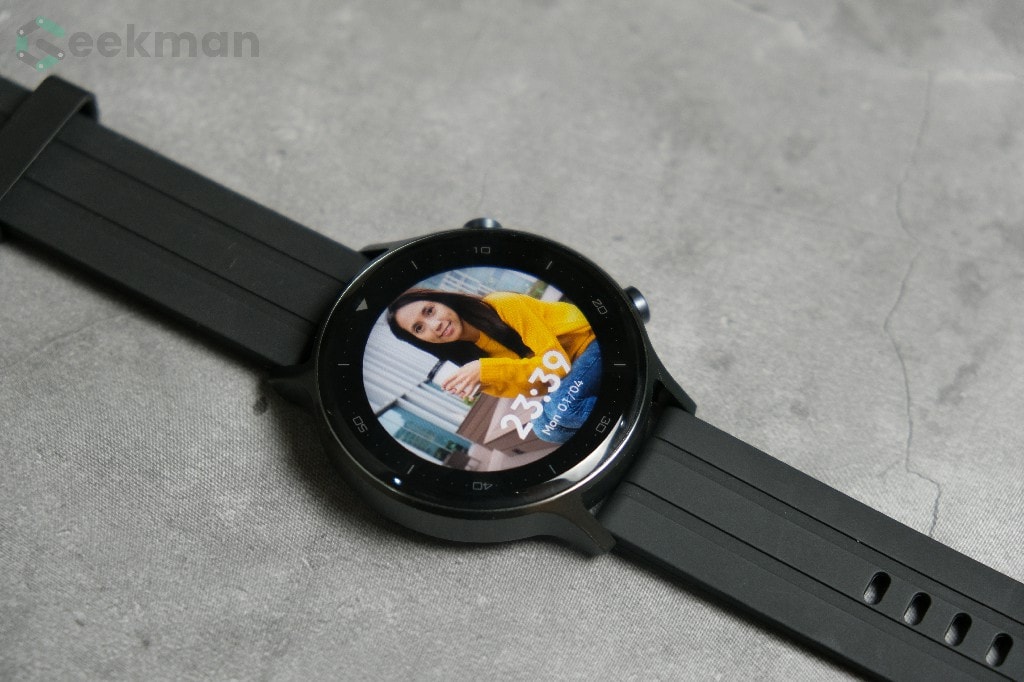 What I like the most about this smart watch because is its auto-brightness sensor, which was not present in the previous Realme watch. Whenever you go outside or dark area, it will automatically adjust its brightness according to the background lighting, which helps you clearly see the display. You can also set the brightness between 5 levels manually.
Now comes to the watch faces. It has 7 inbuilt watch faces that can be directly accessed from the watch. The good thing is that you will get 100+ watch faces in the Realme link app, and you can even create your own customized watch faces which suit your style.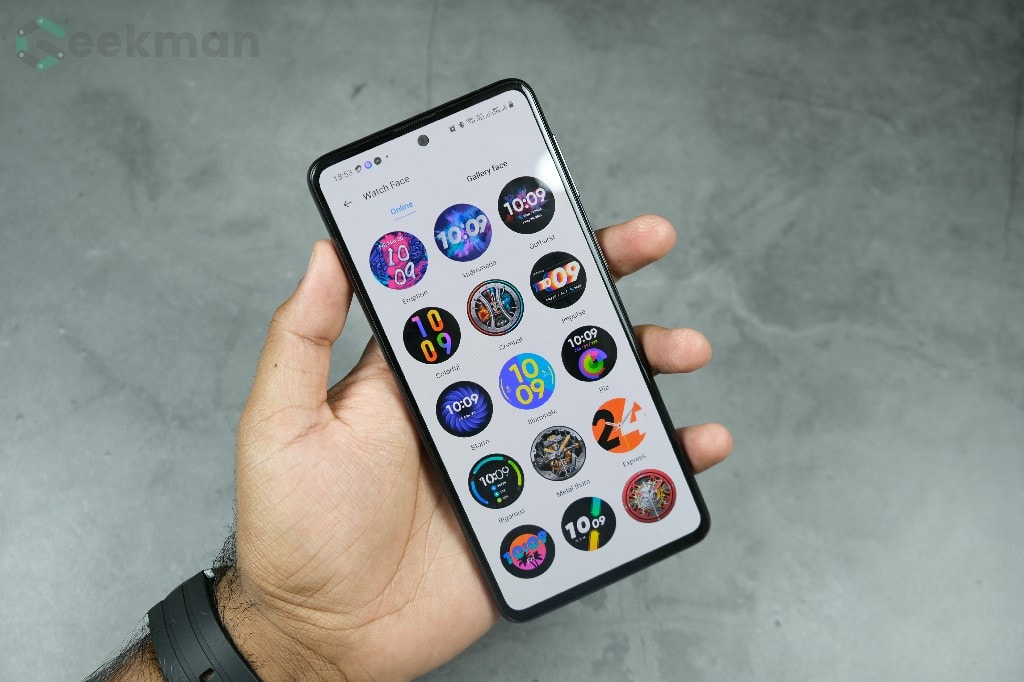 Battery
The battery life of Realme Watch S is pretty satisfying. You will get around 9 days of battery life on regular usage with a huge 390 mAH battery. However, you can increase the time to up to 12 days by enabling the Power Saving mode, night mode and reducing the brightness and usage.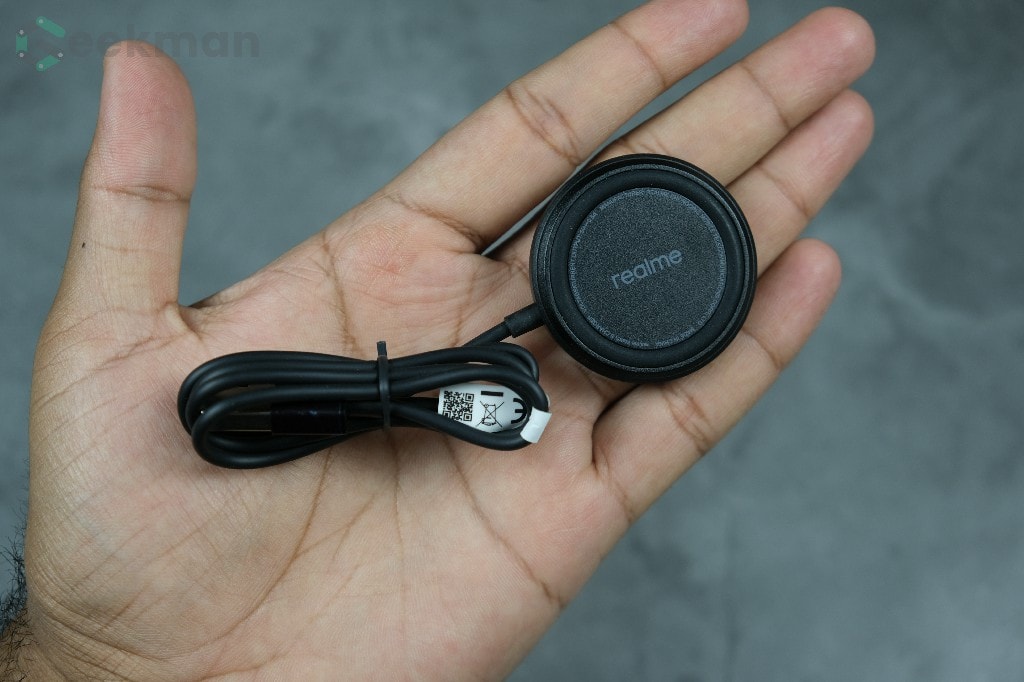 For your ease, Realme added a simple yet unique charging system. You need to put the charger on the watch's backside, and it will automatically adjust its charging points on the back surface. Gone are the days when you need to put the band out from the strap to charge. The Watch S gets charged in just 2 hours, and you can use your power bank, mobile charger, or laptop to charge the watch.
Software & UI
The Realme Watch S used barebones UI and came with 14 inbuilt apps. You need to download the Realme Link app on your smartphone to pair the smartwatch. The setup is speedy and doesn't require anything special. Just follow the required procedure, and you will end up connecting the smartwatch with your smartphone.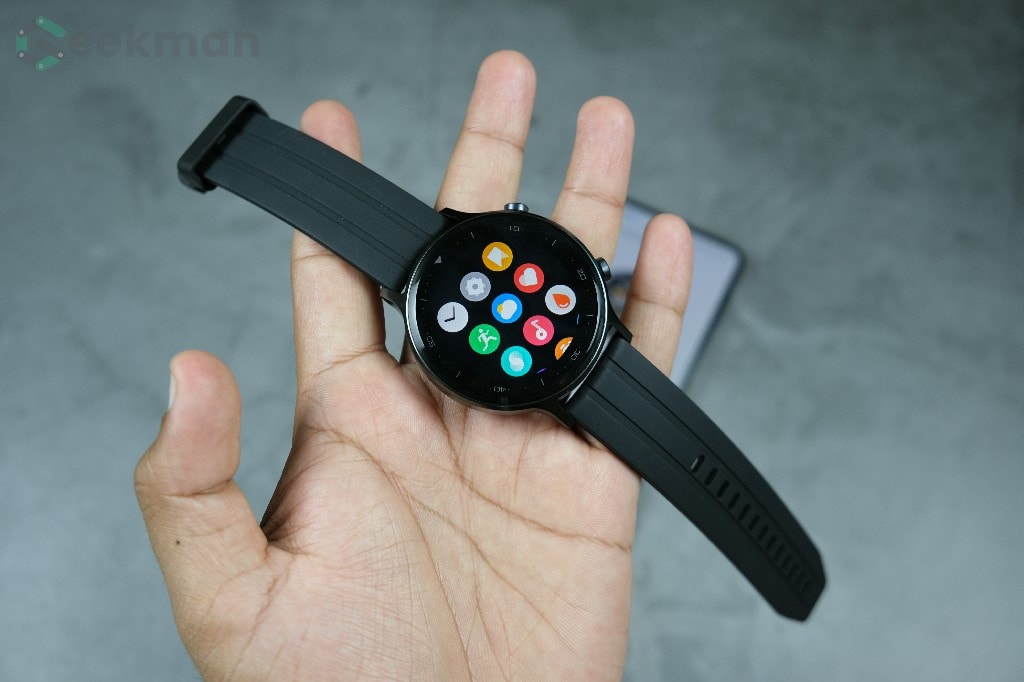 The watch S navigation is pretty straight forward: swipe up to raise the app drawer, and swipe down to show all the notifications. Swiping on the sides shows the various health and fitness screens (Heart Rate, SpO2, Meditation, Sleep data, and one-day activity data), weather, music control, find the phone as well as quick toggles.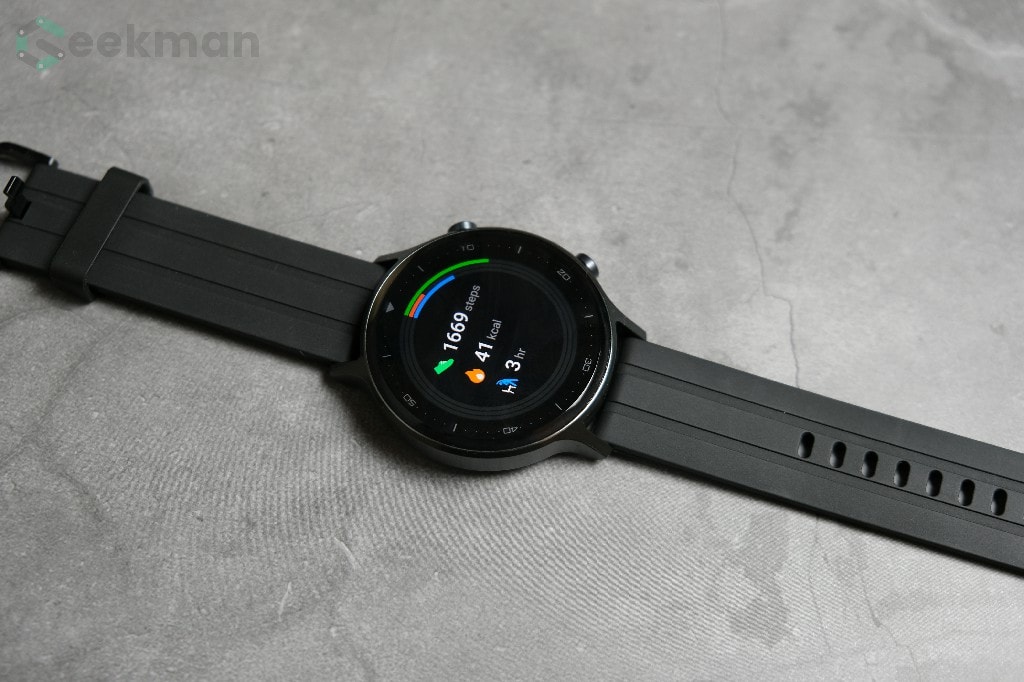 As for inbuilt watch features, you can check all your incoming messages or other important notification on your smart watch screen. It can show up to 10 notifications at a time. The only thing it lacks is that you can see the notification but can't reply to them. In my usage, the notification syncing was unpleasant, with days-old alerts still lying around, even after they were cleared from the phone. Otherwise, they are well-optimized for this screen and show a fair bit of content. You can also attend the incoming calls via the watch.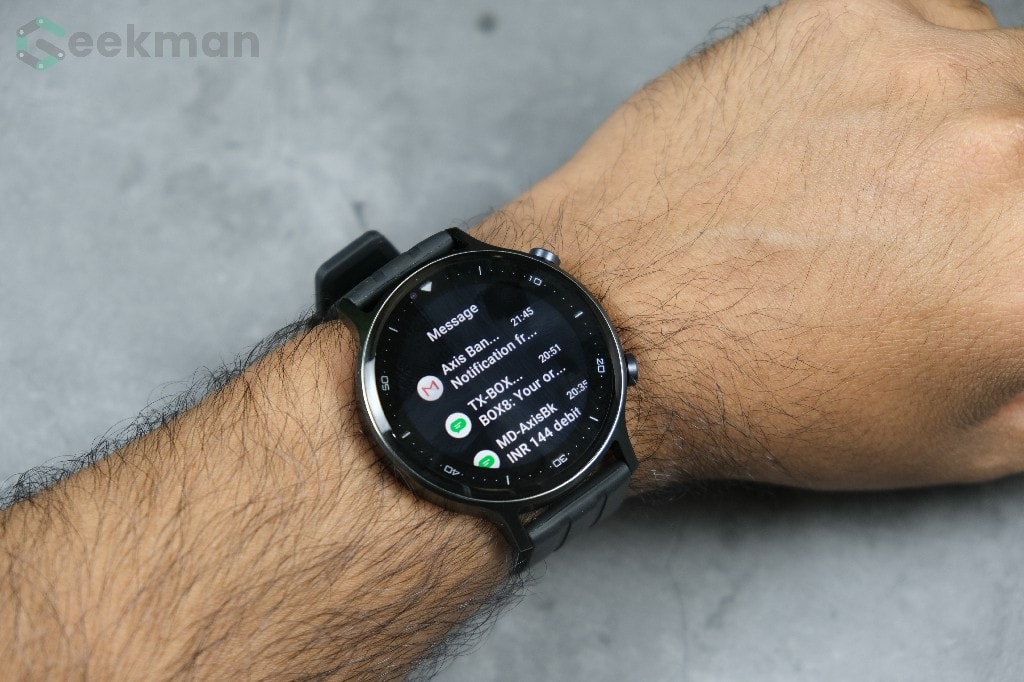 The music control screen starts appearing when you playing and music or movie on phone, and this also includes YouTube and Netflix. Though, an option to launch apps from the watch would have been handy.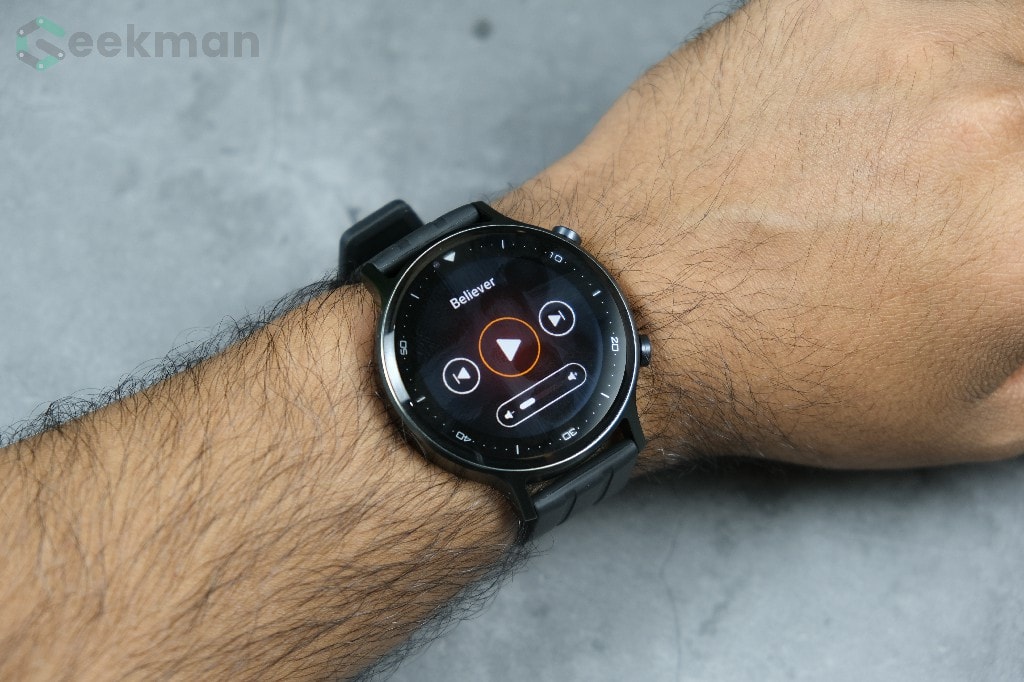 Fitness Features & Performance
I think this time Realme cares about its customer, and that's why they added some great features such as Continuous Heart Rate and SpO2 monitoring. The Realme watch also tracks your sleep and gives a detailed breakdown of the app of REM, light sleep, deep sleep, and awake period. You can check records on both the watch and your smartphone.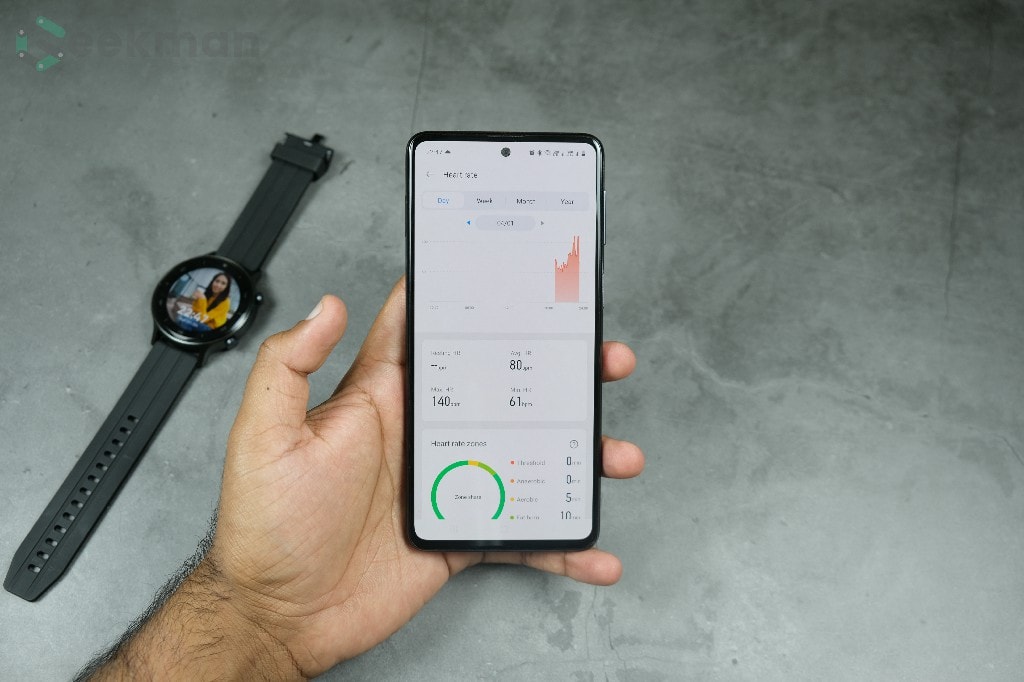 You also get a detailed record of heart rate, blood oxygen, steps, and exercise log on the app and watch screen. Although there's no built-in GPS on the watch, you can use your phone's GPS which gives a good analysis of your walk or run.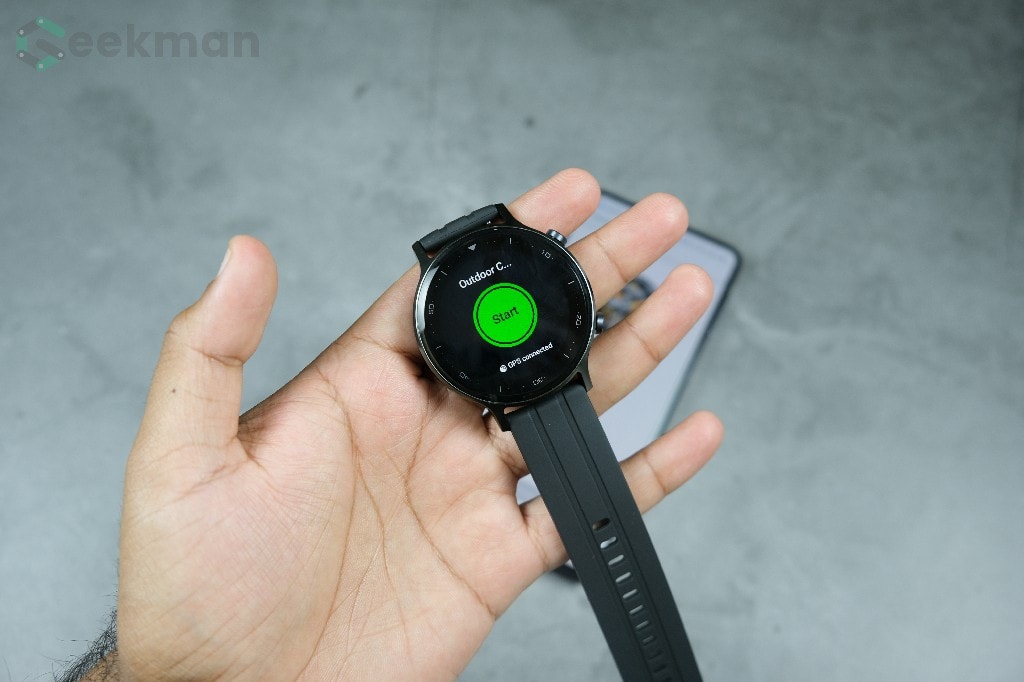 If you are more concerned about sports mode or required inbuilt GPS, then you should go with the Realme Watch S Pro. Overall, all of these fitness monitors work quite well and I didn't face many issues using them.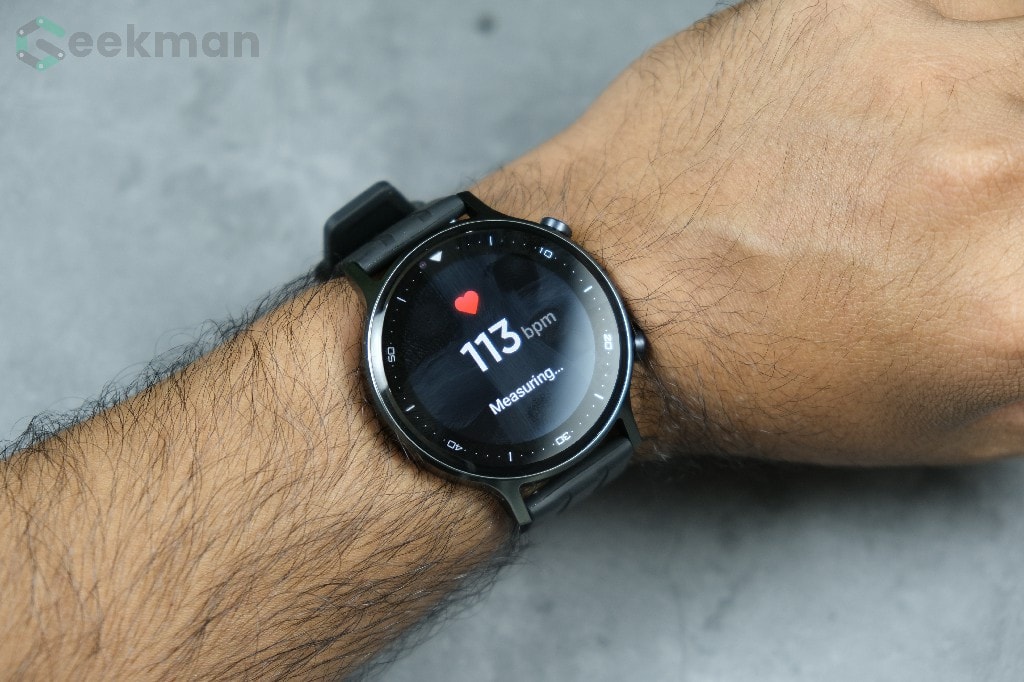 It has a special meditation feature, which is pretty useful in the lockdown period. You can check the weather directly from your Smartwatch and set alarms and timer, making it totally worth buying.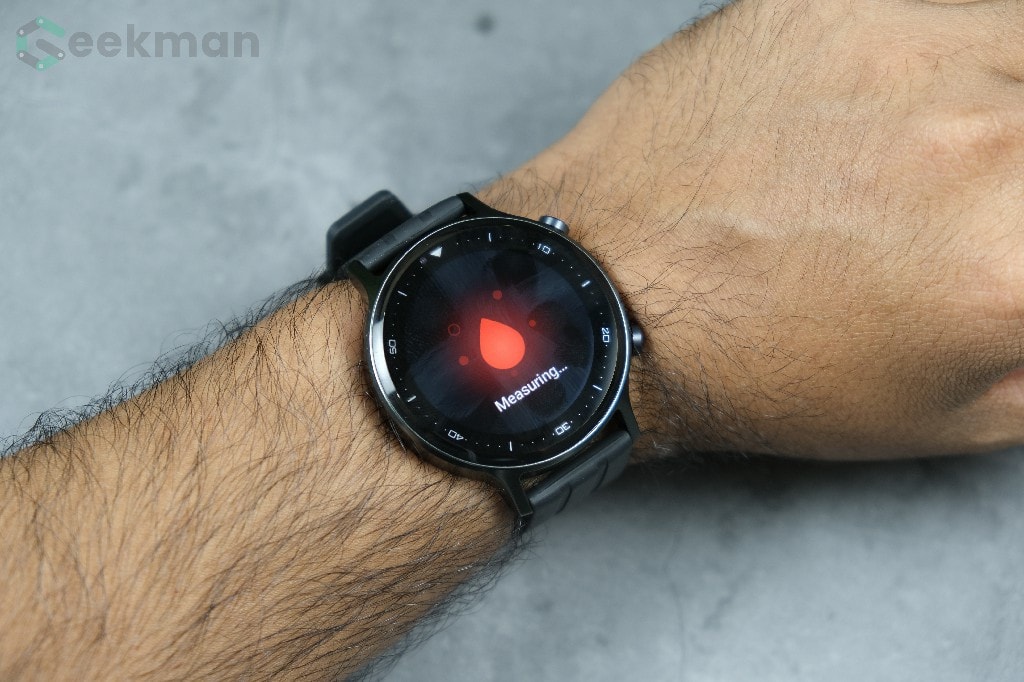 Now coming to the fitness option and accuracy, the Realme Watch S has a typical 3-axis accelerometer to track steps and reps as well as assist in sleep monitoring. You will get all the basic fitness and sports-related options and some new features. It has over 16+ different sports modes for outdoor and indoor activities such as running, yoga, and cricket. However, except for running and walking, all other modes are not much useful.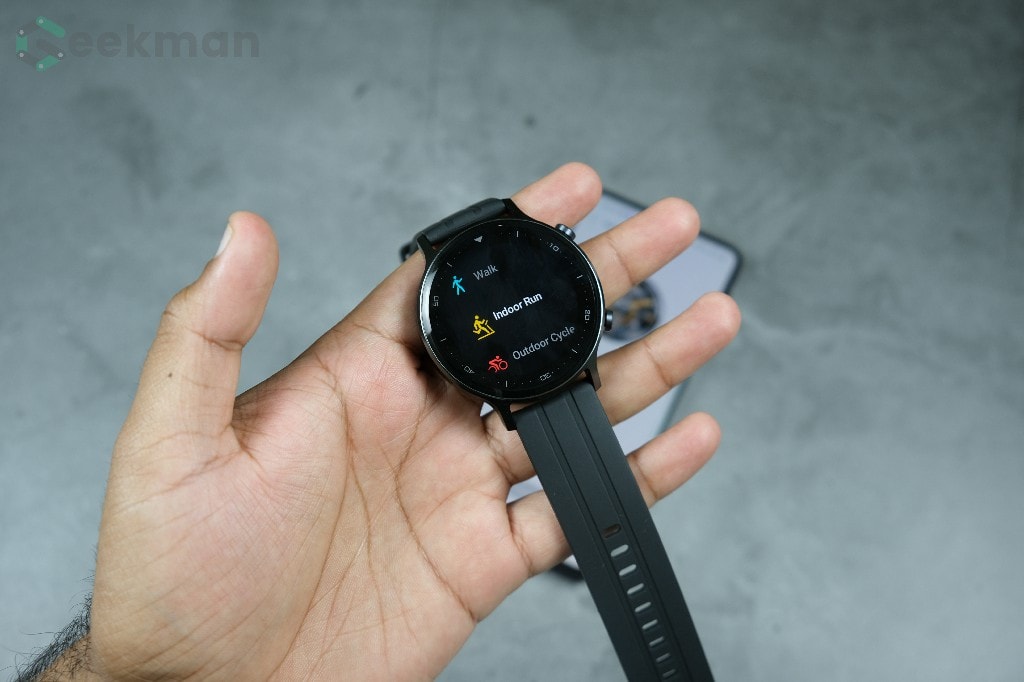 Final Word
Overall I can say that if you want a good-looking and budget-friendly smartwatch, then Realme Watch S is a great choice for you. It doesn't need regular charging and looks way better than fancy fitness bands on your wrist.
The ability to change the straps as per your looks makes it totally worth the price. The only thing it lacks is the inbuilt GPS and IPX7 Waterproof rating. In short, It's an ideal choice for 5000 Rs budget and regular user. But If you do many sports activities, daily running and walking, then increase your budget and, go with the Realme Watch S Pro or any other premium smartwatches. For more info please check the full review on our Youtube Channel: Geekman.

Also Read: