Realme recently launched Realme Buds Q2, which is the successor to the previous Realme Buds Q. The Realme Buds Q2 has been priced slightly higher than the previous generation, but the features completely justify the price point it comes at. The price and the features are the reason to call it the best TWS earbuds coming at a budget price point. Realme Buds Q2 offers various features, which is hard to see in TWS Earbuds coming at a price point that they come in.
If you planning to buy this TWS, then This Realme Buds Q2 Review article will help you with making the correct decision. Here we will be discussing various aspects, features, pros, and cons, our final thought, to help you decide whether they are good for you or not.
Box Content
At first glance, the box packaging looks premium to me. Talking about the box content, you get the usual items within the box that you get with every TWS earbuds. You will see-
2 ear tips of different sizes
USB Type-C cable
User Manual
Earbuds
That's what you get inside the box.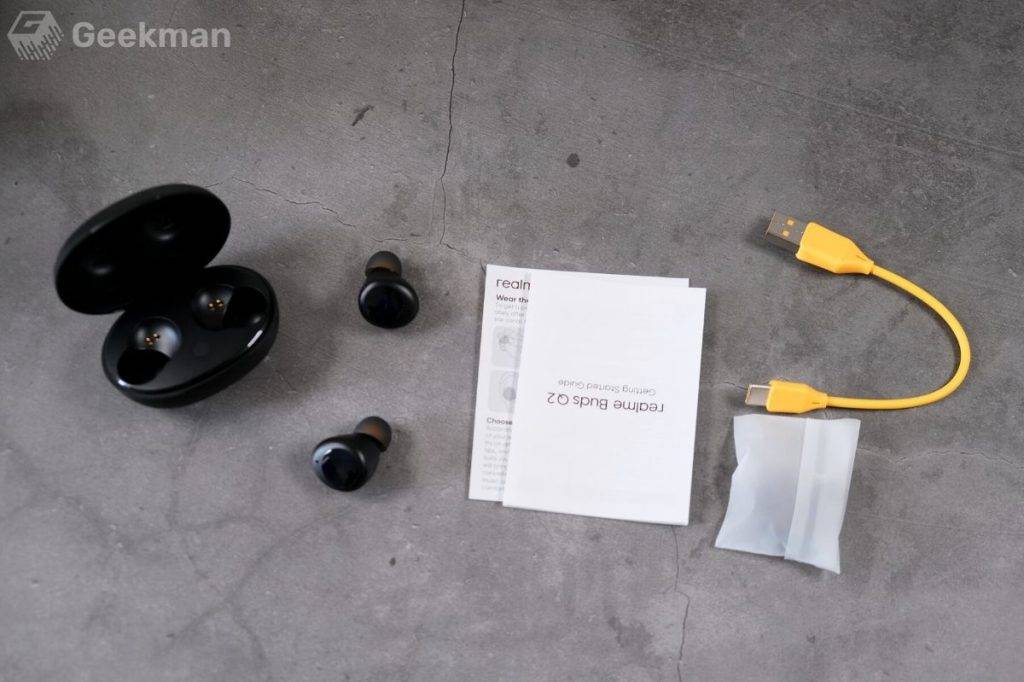 Design, Build & Comfort
The design is quite similar to the old Realme Buds Q. I like the compact design of the case, which is quite handy to carry anywhere. The case isn't bulky, and can easily fit in your jeans pocket, and you can carry it anywhere with you. With that being said, Realme Buds Q2 does feel premium. The case has a matte finish, which looks and feels premium, but yes, it gets scratch easily, so you will have to keep it away from sharp objects and keep it carefully to prevent it from scratching. The design for sure does feel premium, but the build quality is average like the previous Realme Buds Q2.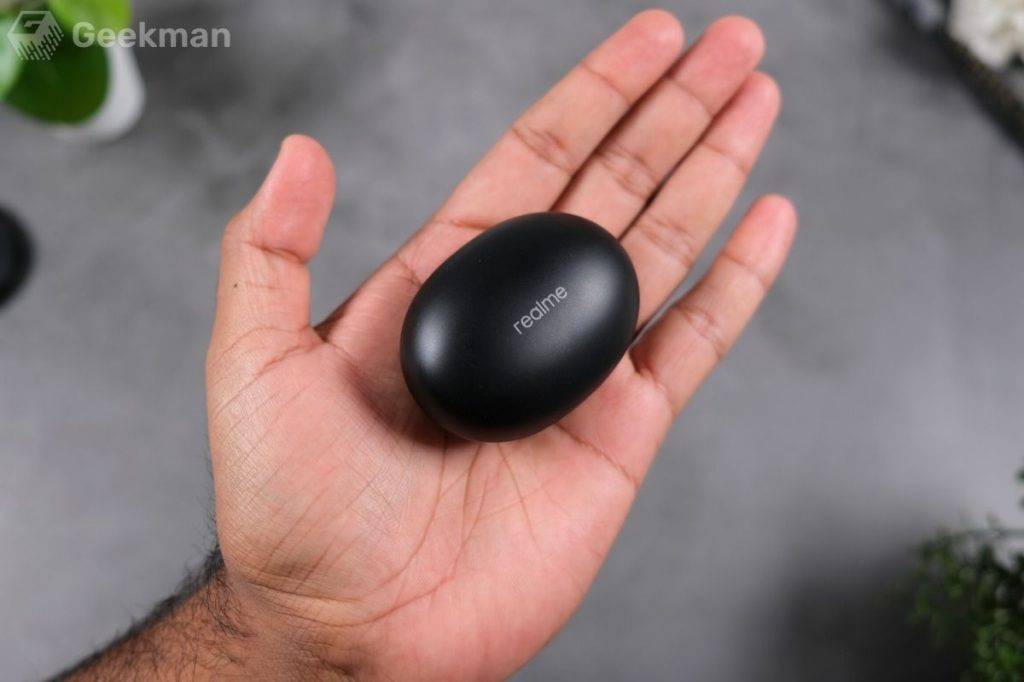 There is a small LED light in the front, which indicates the battery status. Green light means battery more than 20% and the red light means battery less than 20%. There is a multifunction button inside the box, which can be used to reset the Earbuds.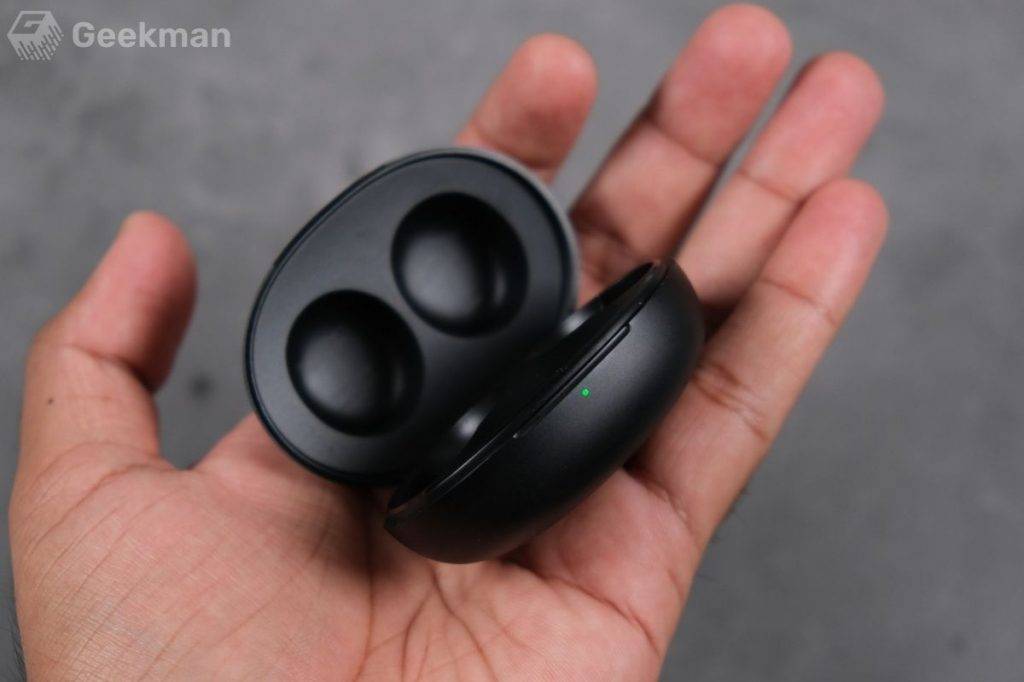 The earpiece itself light in weight and is slightly bigger than the Buds Q, but they are quite comfortable. You won't feel any kind of discomfort when wearing the earpiece for a long time. I tried using it for 2-3 hours continuously, and I didn't feel any problem at all while wearing it. The ear tips are tangled from the front, which maintains a secure grip while you wear them. The TWS Earbuds are IPX5 waterproof rated, so you can wear them while working out, and sweat won't cause any problem.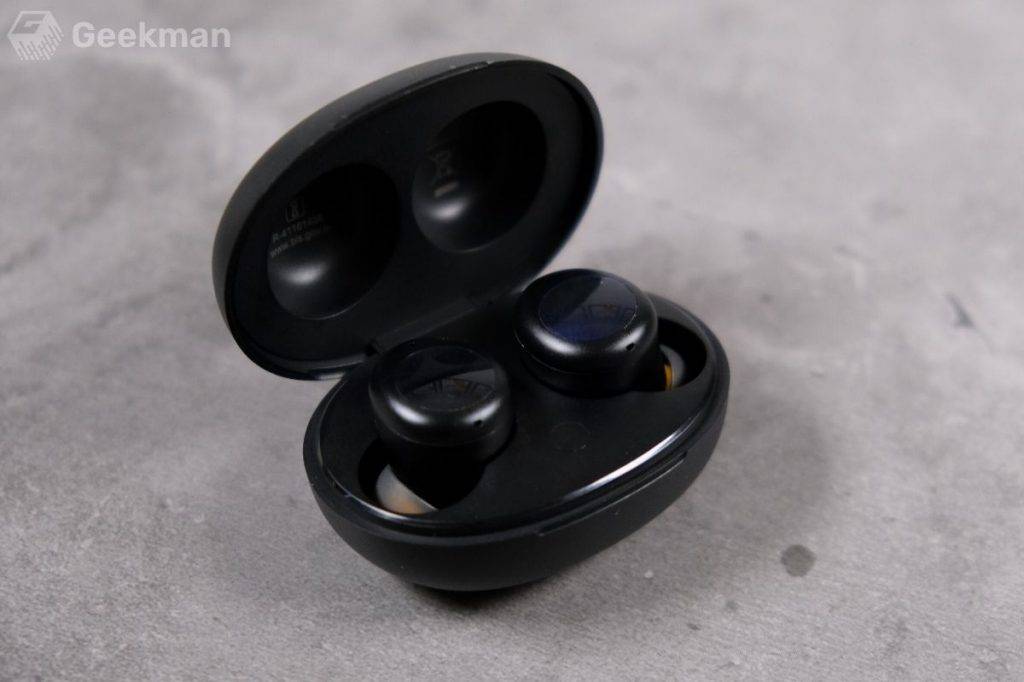 The front side of each earpiece has a reflective area which is the touch-sensitive zone for the controls. The company called this reflective lamination the 'gleaming lamination technology', which means these zones reflect varying colors at different angles. Another thing that you will notice is, the touch area is quite large enough to make it easier for you to control the earbuds. You can control music playback, active noise cancellation (ANC), and transparency modes, as well as voice assistant, which is possible to control using touch gestures.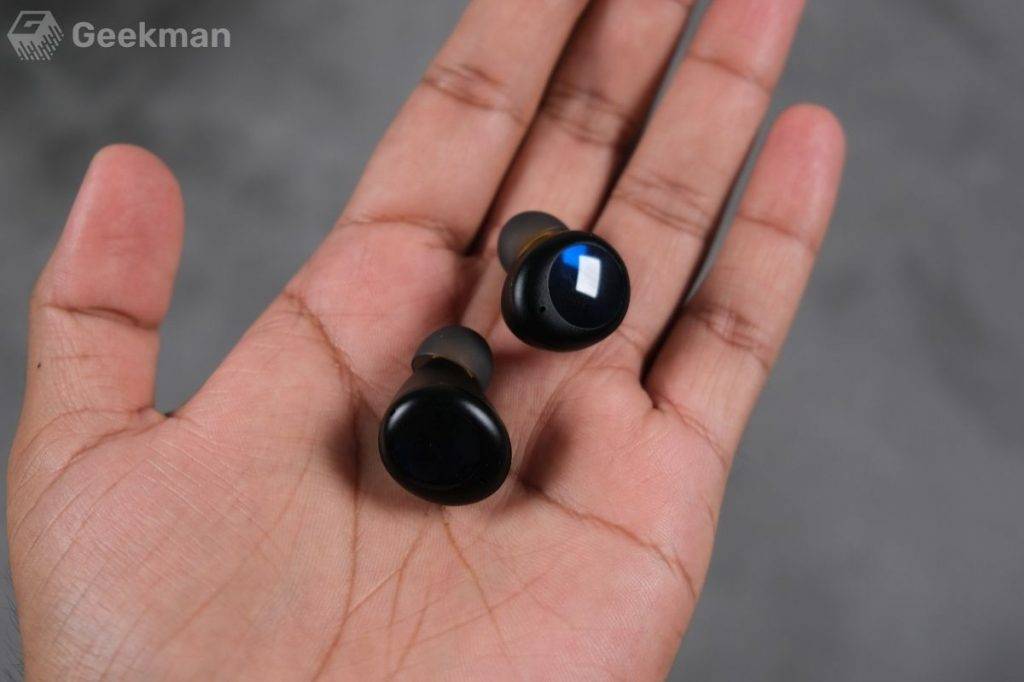 Connectivity And Control (Realme Link App)
Realme Buds Q2 comes with Bluetooth 5.2 support and it also supports AAC and SBC codec. You get better connectivity on Buds Q2 because of the support for Bluetooth 5.2. All you have to do is pair the earbuds to your phone, and ensure the Bluetooth on your phone is on, to have faster connectivity. When you take the earbuds out of the case, you will see a connection popup and the earbuds will get connected to your phone in no time.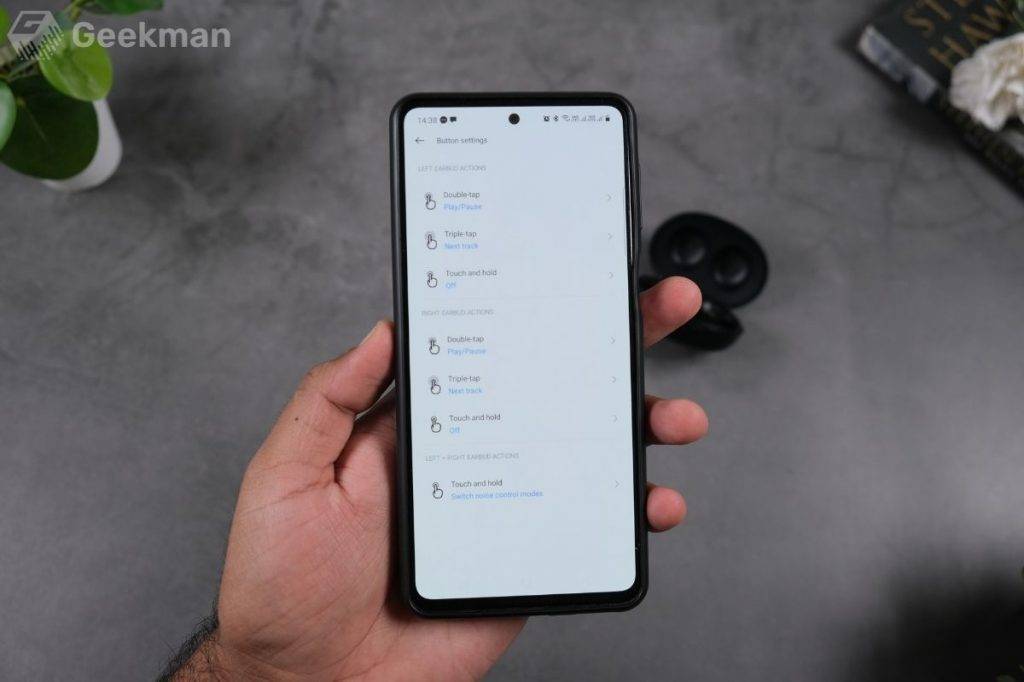 What's more to it? You can assign controls to your Buds through the Realme Link App. All you have to do is download the Realme Link app to your phone. You can download it to your Android phone from Google PlayStore. If you are using an iPhone, then you can download this app from the Apple App Store. Download and install the app, and connect your earbuds to the app, and you will be able to control them with the help of the app. This is the feature that you won't see generally in the earbuds coming at this price. Kudos to Realme Buds Q2 for bringing this feature to budget TWS earphones.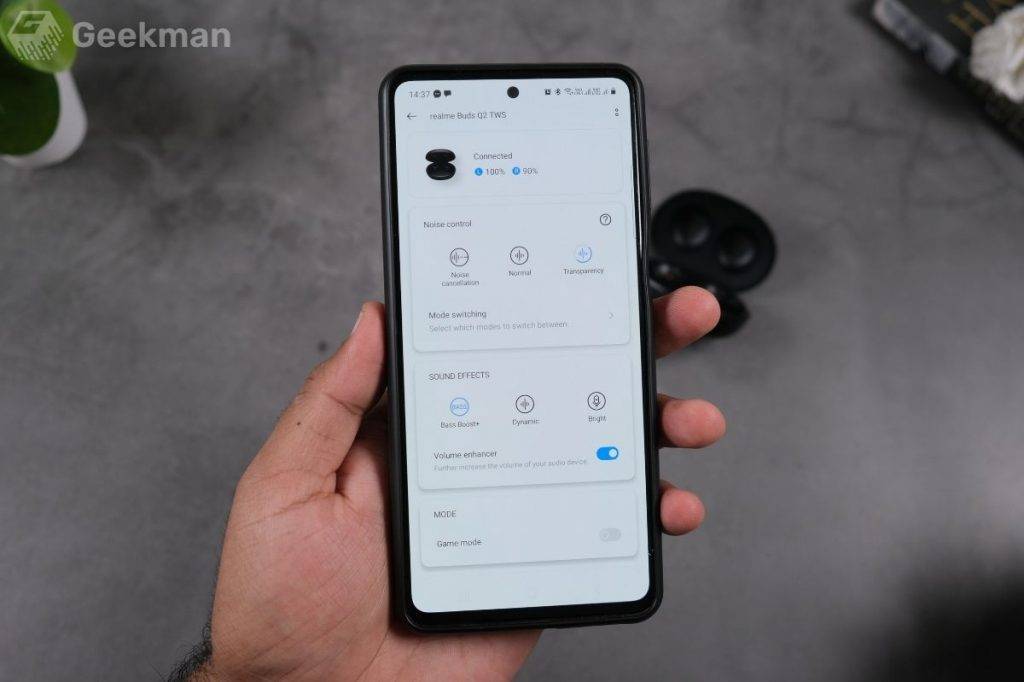 The earbuds have a low latency of up to 88ms. For regular gaming, this is a good earbud, but if you are a professional gamer, then not only Realme Buds Q2 but any other buds won't be a choice for you.
Battery And Charging
The case of these true wireless earbuds comes with a 400mAH battery and each earbud has a battery of 40mAH. The company claims the Buds Q2 to provide 28h of playback time, but as per my testing, it gave playback time of 17-18h if listening on 80% volume. The single earpiece offers approx four and a half-hour of playback time. This is with active noise cancellation. However, if you keep that off, then you can expect more playback time.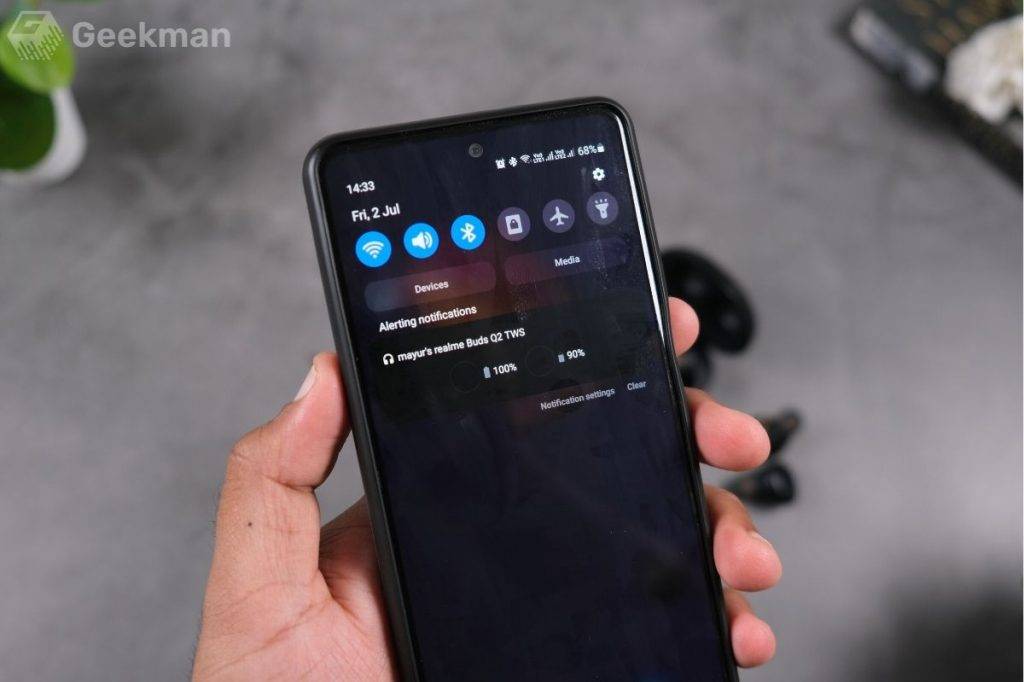 Microphone & Active Noise Cancellation
The quality of the microphone on Realme Buds Q2 is average. The company claims the earbuds have ENC but I didn't find it to be beneficial to me. The earbuds work fine in indoor usage, but when wearing them in a crowded area, the Buds Q2 may capture some background noise.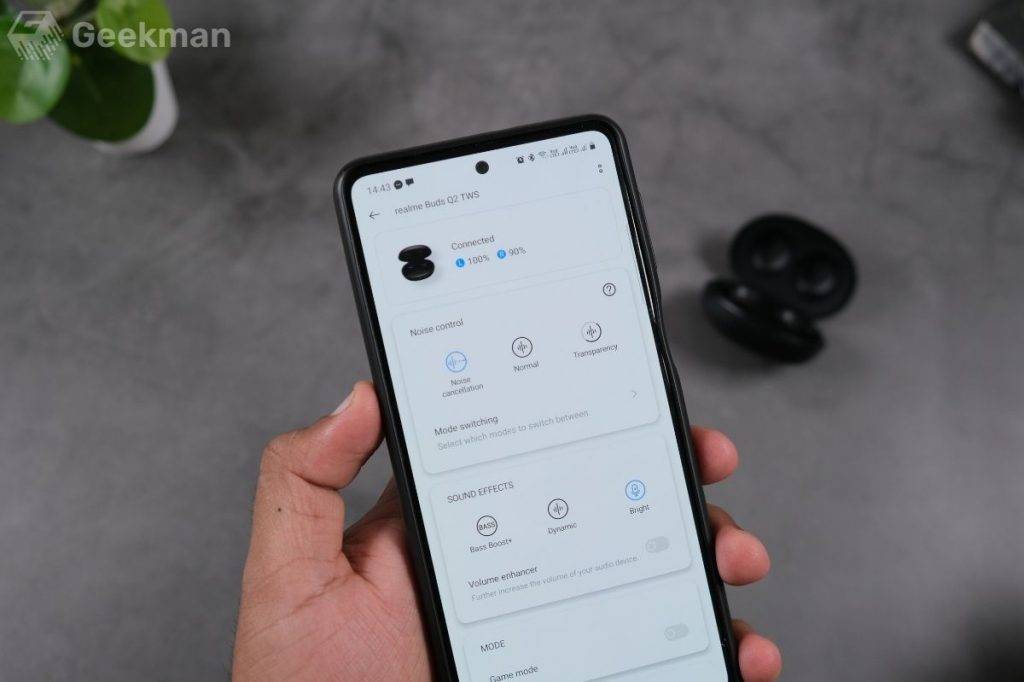 Sound Quality
Sound quality is another major aspect of the earbuds, that one must consider before buying the earbuds. Comparing it with the sound quality of the previous Buds Q, there is an improvement in the sound quality. Considering the price range of the earphone, it does offer better sound quality than most earbuds in this range. However, I felt the sound quality of OPPO W31 and W11 to be better than this one.
You won't see a wide soundstage on this one, but the volume is a bit high, because of which you may find nodes to have high sound. However, if you listen to music at around 60-70%, then you won't feel the nodes to be high. The 10mm audio drivers and active noise cancellation, accompany the clean volume. Bass is in good amount, because of which the treble and vocal don't feel overpowered.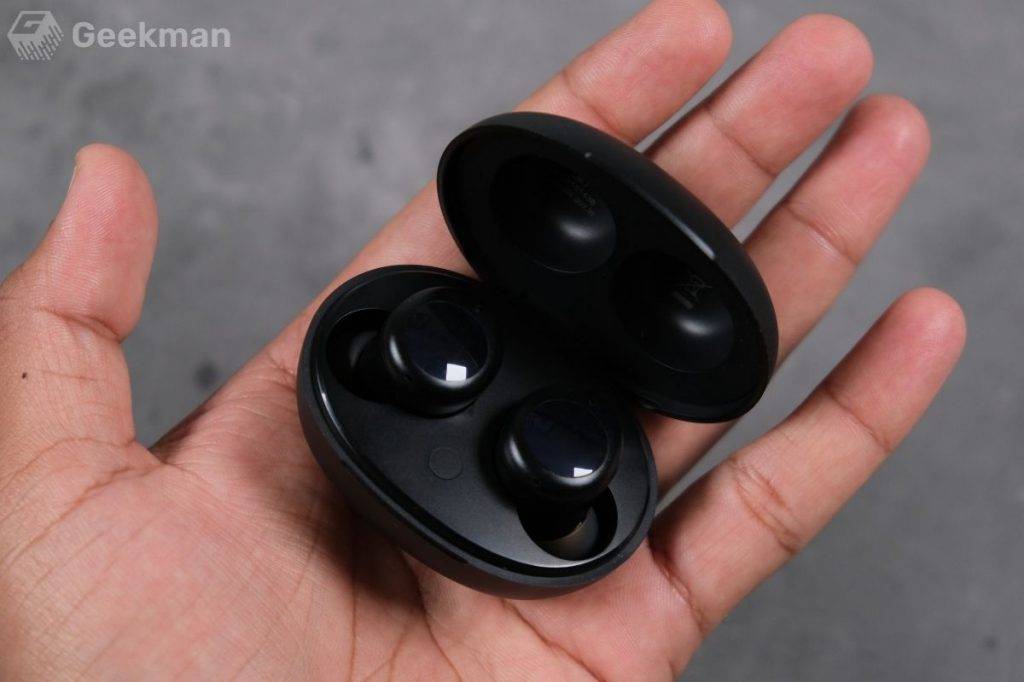 You can say the sound is overall balanced on this one. However, if you want to feel more bass, then you can enable bass boost mode. There are three modes, bright, dynamic, and base boost. You can choose the mode as per your preference. I have been listening to music and watching movies while wearing Realme Buds Q2, and the sound quality is overall decent on this one.
Final Words
Realme Buds Q2 is what you can call true value for money. Coming at a budget price they do offer various features that you don't get to see in other TWS in this range. However, if sound quality is the concern, then OPPO W11 and W31 offer slightly better sound quality than Realme Buds Q2, but they lack in terms of features (ANC & Good battery life). Overall, it's a good True Wireless Earbuds that you can buy in this price range. You can go for these earbuds without any second thought and you won't regret your decision. It is one of the best value-for-money TWS earbuds in the 3000 price segment.
Also, check Realme Buds Q2 Review (Hindi) on our Youtube channel Geekman.
Buy Now:
Also Read: