Philips BT1212/15 Unboxing
The packaging of this trimmer is very decent and small compared to other Philips trimmers. We get a user manual, Cleaning brush, USB charging cord, and three different combs (1mm, 5mm, and 7mm) with this trimmer. For more info please visit our youtube channel Geekman.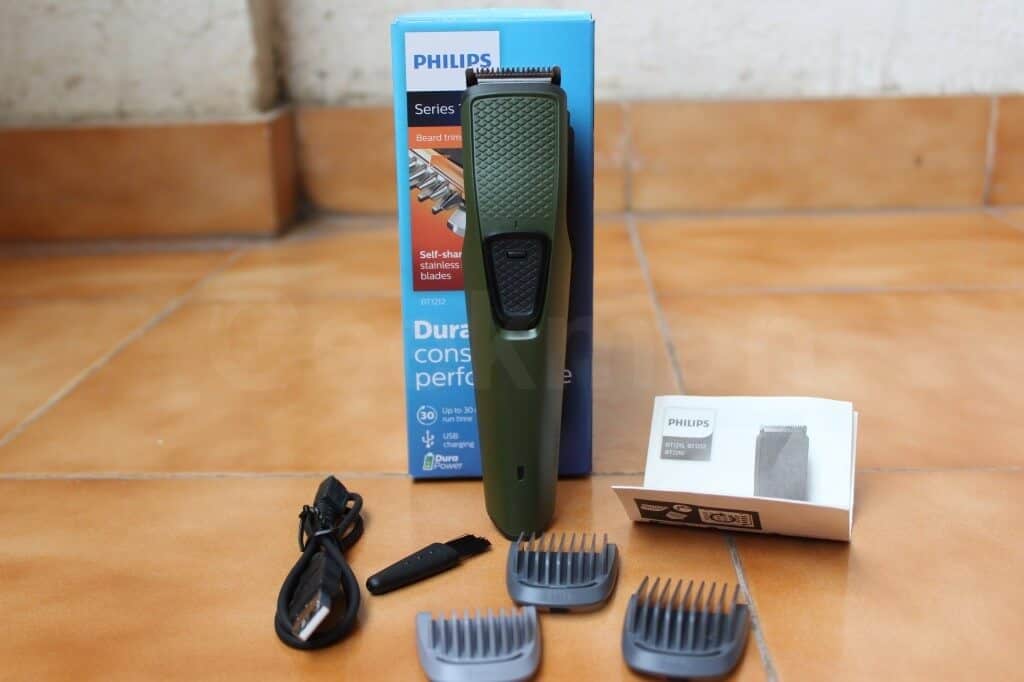 Design and build, and Comfort
On the design front, Philips BT1212/15 looks very classy and unique. It looks very slim and compact. I am very impressed with the color combination, green and gray colors give a classy feel to this trimmer. On the top side, it has a nice textured design, a Power On/Off button in middle, and a Yellow led indicator light for charging indication. There is a Philips logo on the right side and input/output info on the bottom side.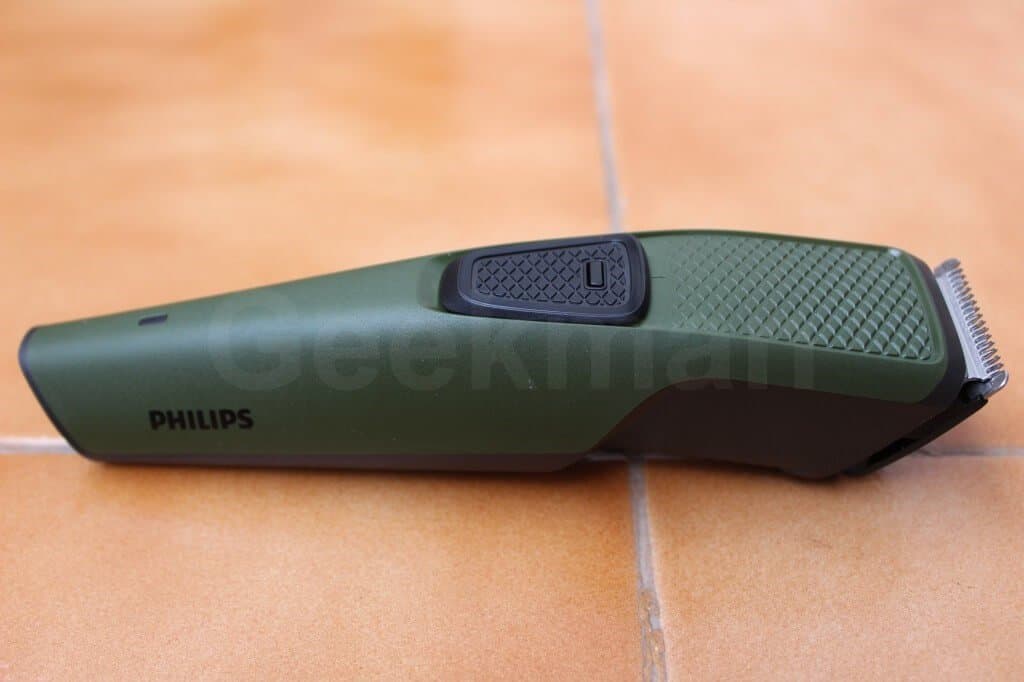 When coming to build quality, it made of good quality plastic with a matt finishing. The best part is that it has a self-sharpening blade, so it automatically sharp when you use this trimmer. The blade is robust and can be easily removed in order to clean. The company provides small and decent USB cables but you can also use your own smartphone charger to charge this trimmer. And one more thing, Philips BT1212/15 is very lightweight and comfortable because of its unique design and 95g weight.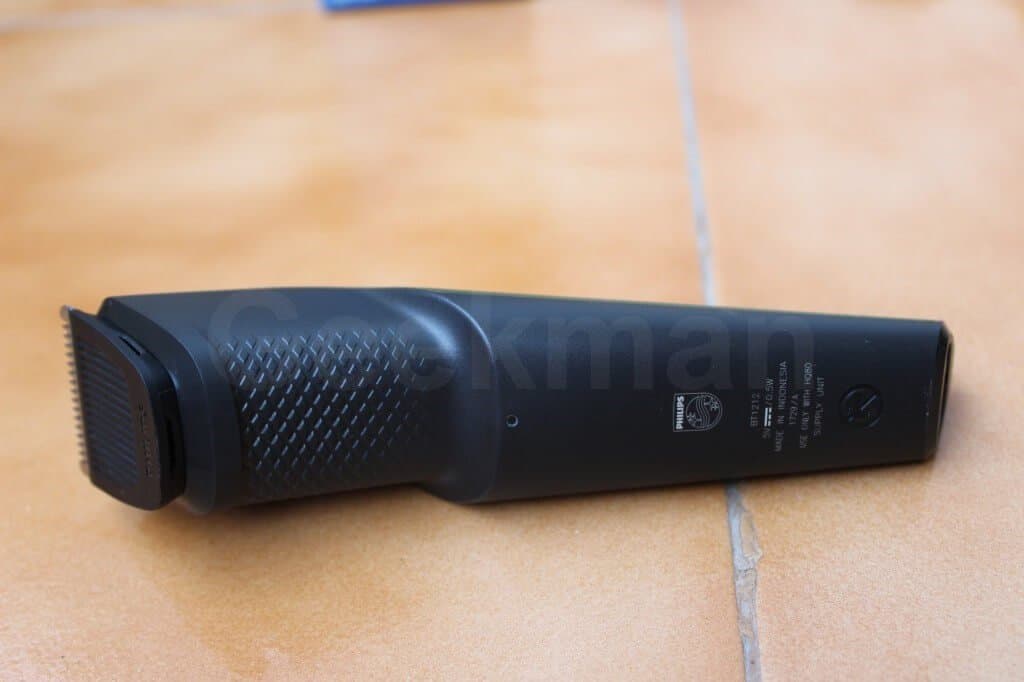 Performance and Use
The Philips Bt1212 gives a smoother and closer trim experience, because of a good quality blade. There is no burns or irritation were felt after the use, be it on the face or the body. You can trim your hair using three different size combs (1mm, 5mm, 7mm). If you need a 0.5mm clean shave, then use it without a comb. You can use this trimmer for the beard as well as removing some unwanted body hair.
You don't need to apply any oil before trimming. Also, the Philips BT1212/15 is easily washable. Just remove the blade area and clean with the given brush or water. Please be ensure the blade is dry before you attach to the trimmer because the trimmer body is not waterproof.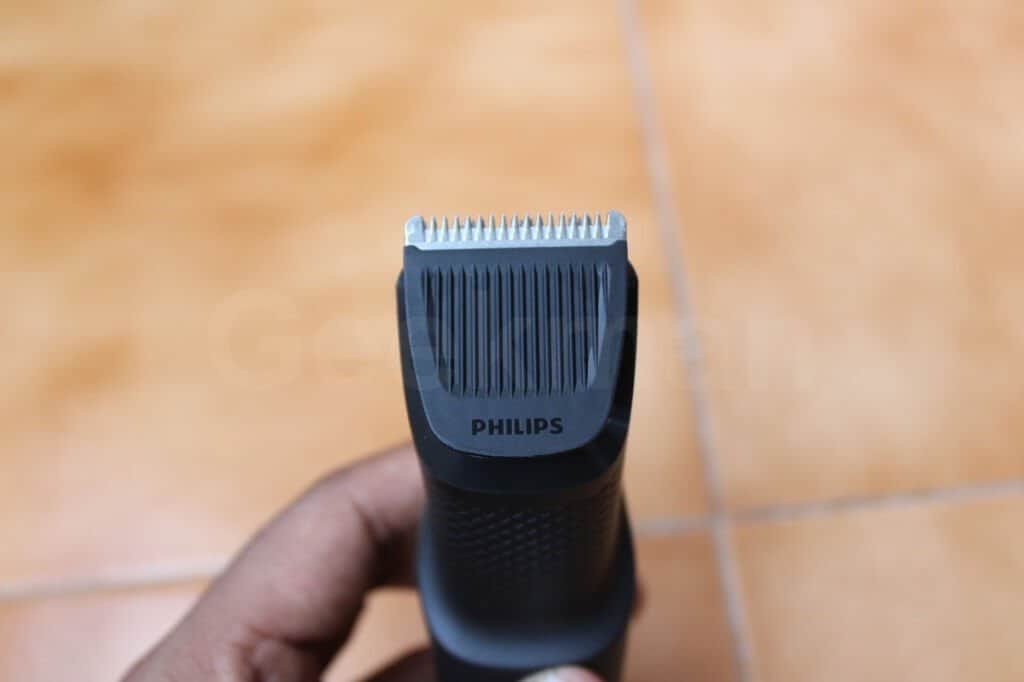 When coming to battery performance, you get 35 minutes of cordless use after a full charge for 8 hours. Actually, the charging time depends on your charger, if you use a turbo or a fast charger, then it takes less time. I highly recommend this trimmer for the traveler because you can charge this trimmer using a power bank, laptop, and normal phone charger. You can also use this trimmer while charging but I don't recommend this for safety.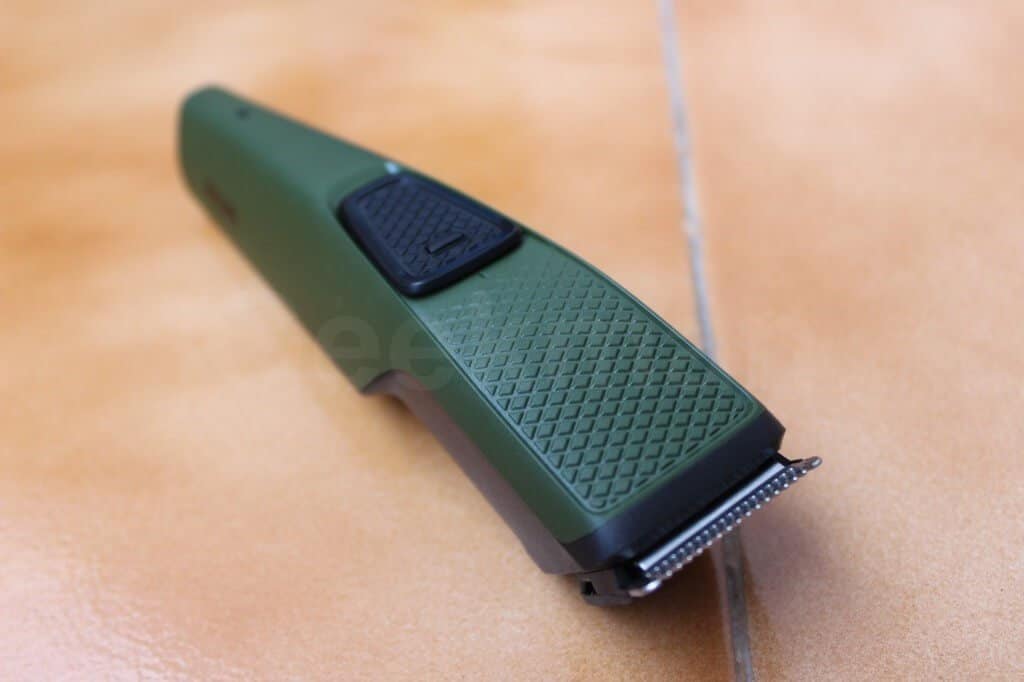 Final word, What I liked and Disliked
Overall, the Philips BT1212/15 is valuable for money trimmer with a comfortable design and build quality, Performance of this trimmer also good with a sharp blade and it gives a very smooth experience. So basically, I don't find any major disadvantage in this trimmer compared to price. The only thing I don't like about this trimmer, there is no inbuilt length controller and we only get 1, 5, 7 mm settings. If you need more trim settings, then this trimmer is not for you. Buy Philips QT4001 in this price range. If you need a trimmer for traveling or office look, then buy this without a doubt. For more info please check my list ' Top 5 best trimmer under 1000 Rs'.
Photo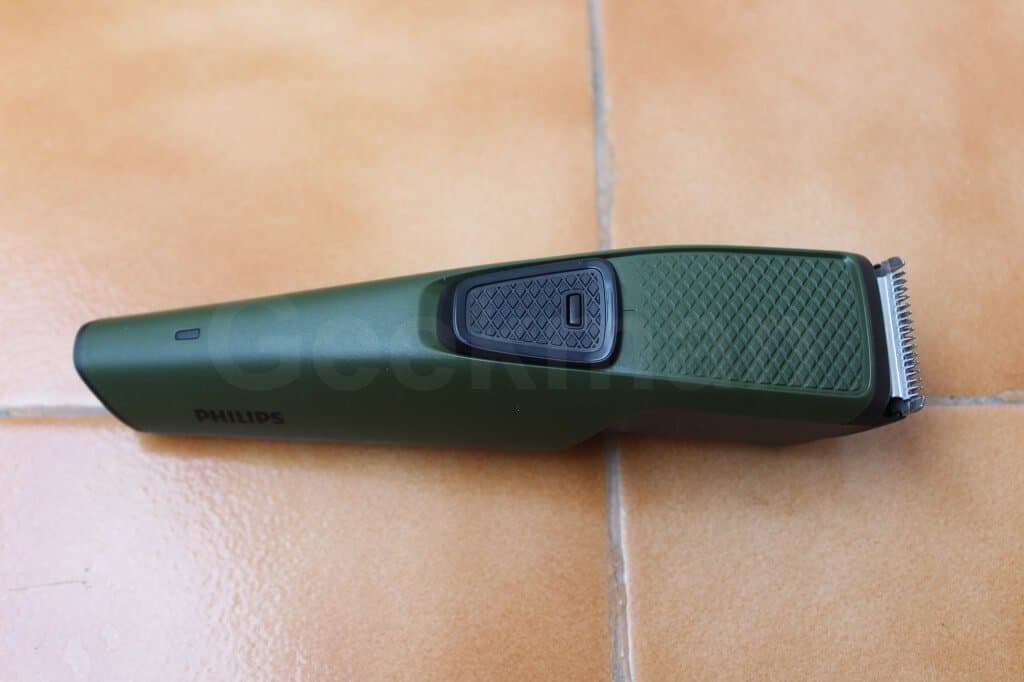 Buy Now