After launching tons of true wireless earbuds and headphones, Noise launched its latest true wireless earbuds ' Noise Shots X5 Charge ' in the Indian market recently. After using it for over one week, here is the review of the true wireless earbuds.
Box Content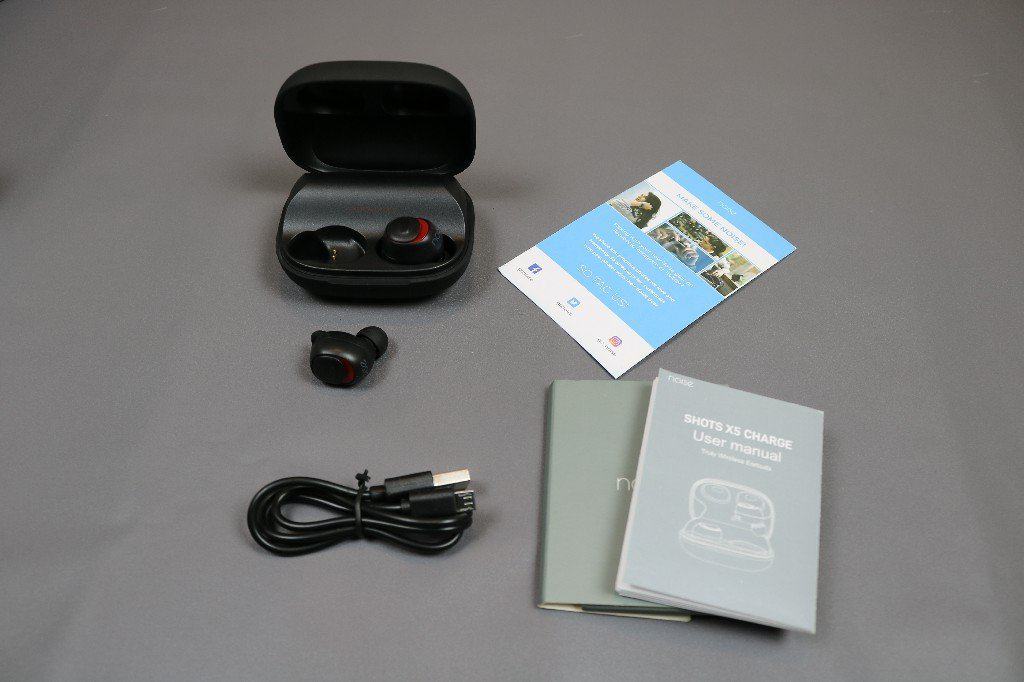 User manual
Warranty Card
Truly wireless earbuds
Charging case
USB-A to micro USB cable
2 pair of extra ear tips
Noise Shots X5 Charge Specifications
Before we go any further with the review, let's check out the specification:
Colour Options: Black & Red, White & Red, Black & Gray, Blue & Yellow
Connectivity: Bluetooth 5.0
Speaker drivers: 6mm
Profiles Supported: HFP, HSP, A2DP, AVRCP AAC, TWS
Sensitivity: 90db
Impedance: 16
Mic sensitivity: 42db
Wireless working range: 10m
Battery (Earbuds): 60mAh each
Charging case battery: 2,200mAh
Compatibility: Android and iOS
Water Resistance: IP5X (sweat proof)
Weight: 5g each
Charging of weight: 90g
Dimensions (Earbuds): 2.28 x 1.78 x 2.63 sq cm
Dimensions (Charging Case): 7.71 x 6.13 x 3.85 cm
Design, Build & Comfort
If you followed the Noise brand before, then you know this brand is very popular for its eye-catching products. And the Noise Shots X5 Charge follow the same trend. After looking this I can easily say it is one of the better-looking wireless headset available in this price range.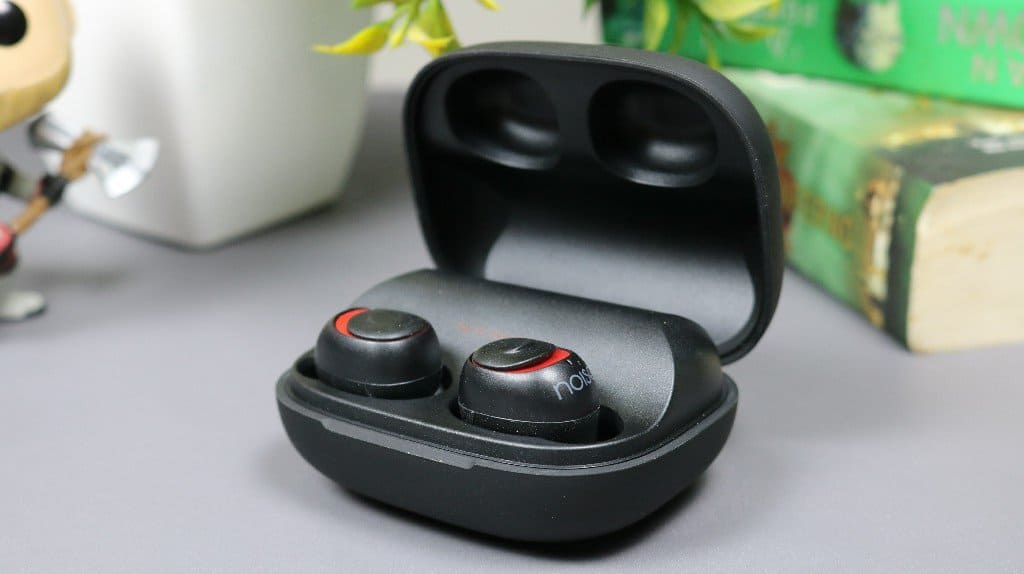 Coming to the charging cum carrying case, I really like design and build of this case. The round body and matte finish combo look really attractive and premium. Materially, the case is made out of good quality plastic, which according to me feels solid and strong.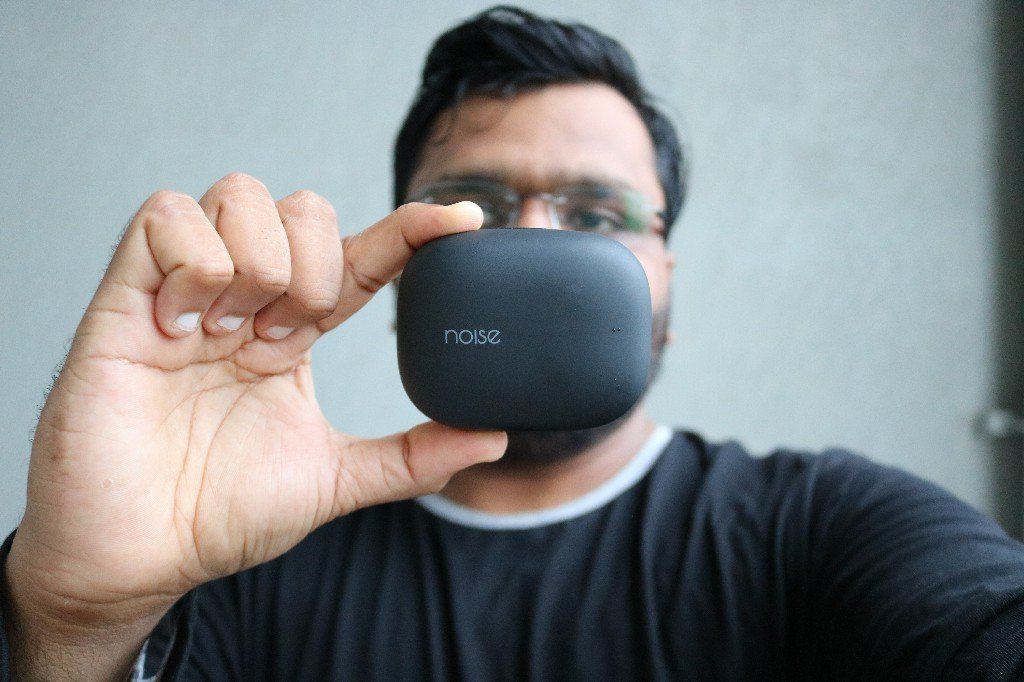 But the charging case is quite bulky because of 2000 mAH battery, so you can't carry the case in your pocket for sure. However, I didn't really mind the bulk or its bigger size on regular use. I got used to carrying it around in my backpack and since it also acts as a portable power bank. You have a USB-A output on the backside which can charge other devices.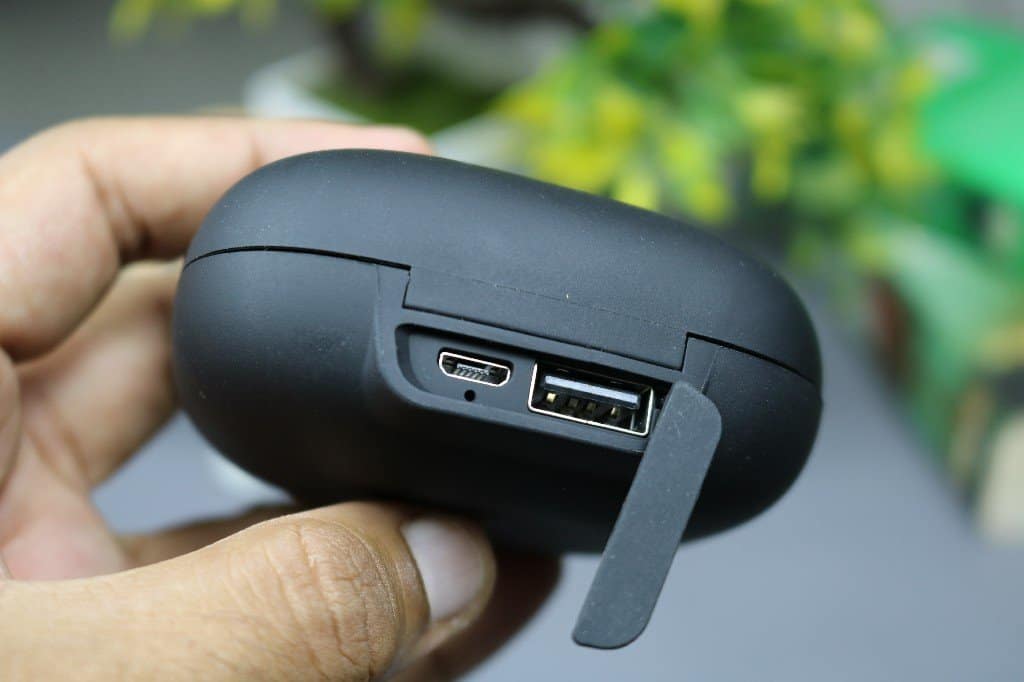 Starting with the design of the earbuds, the Noise Shots X5 Charge has a familiar design as the other wireless earbuds. The Black and Red colour combination looks quite pleasant and give a little bit sporty feal. But if you don't like this colour combination, then you also have three other colour options.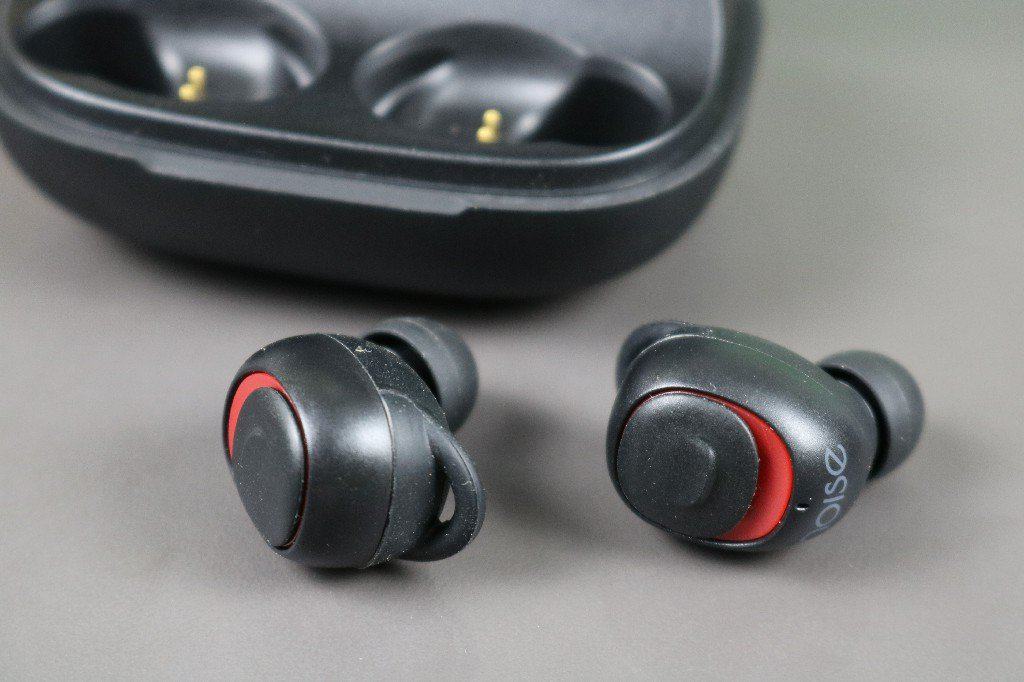 I have to say the build quality of the earbuds really justifies the price tag. Both earpieces come with an integrated physical button when it comes to interactions with the earbuds. It also equipped with a silicone ear tip and an O-hook for a secure fit. And It worth mentioning that the earbuds are IPX5 water resistance, you can also use it while raining.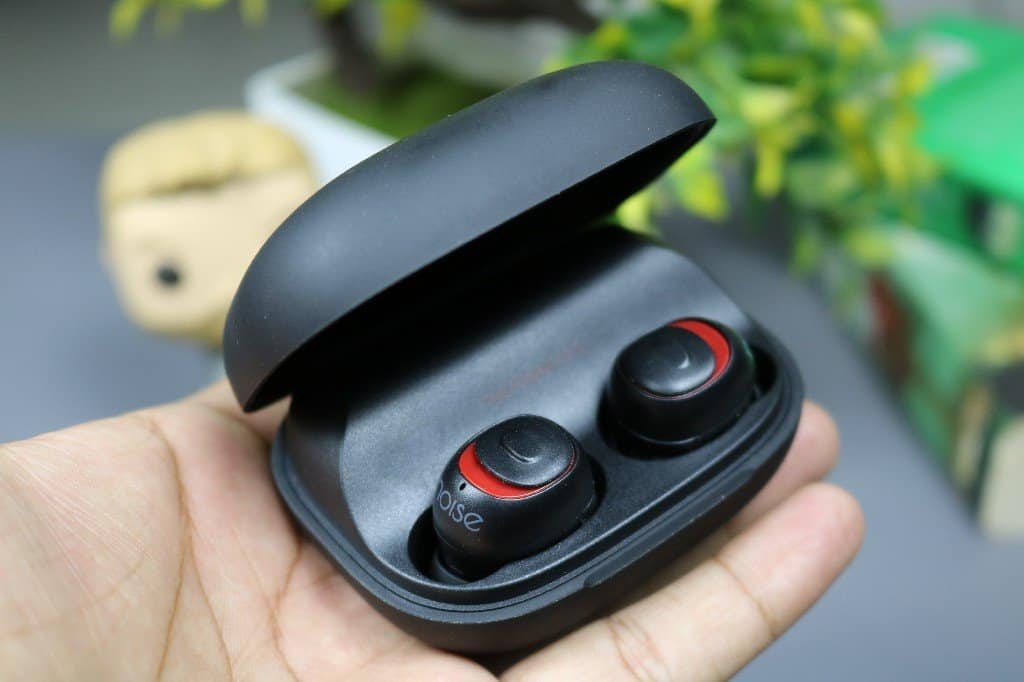 The earbuds are tiny, not too bulky, and fit perfectly and snugly in your ear. They are also extremely comfortable and you can able to use them for multiple hours. I used the earphones during gyming and jogging, not once did they slip out of my ears by accident.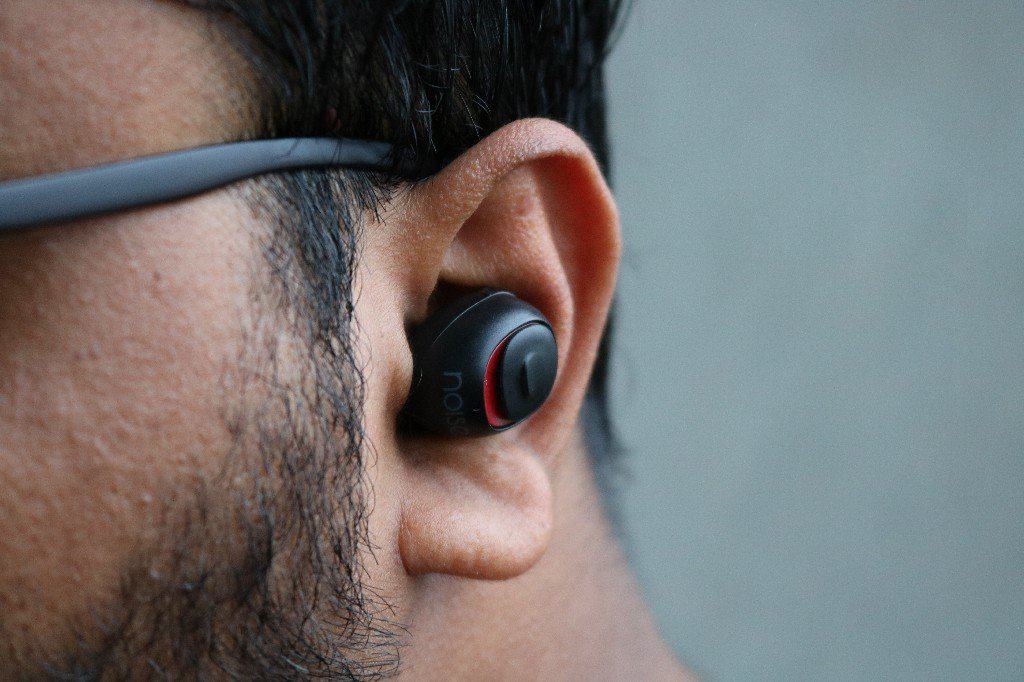 Connectivity, Pairing, and Controls
The best thing is that the Noise Shots X5 Charge support Bluetooth 5.0, which gives stable transmission and offer low power consumption. Because of the latest Bluetooth technology, the earbuds have automatic paring capability. So, once you have connected it with your smartphone, there will be no need to connect it back a second time, it will be connected automatically as soon as it gets out of the box.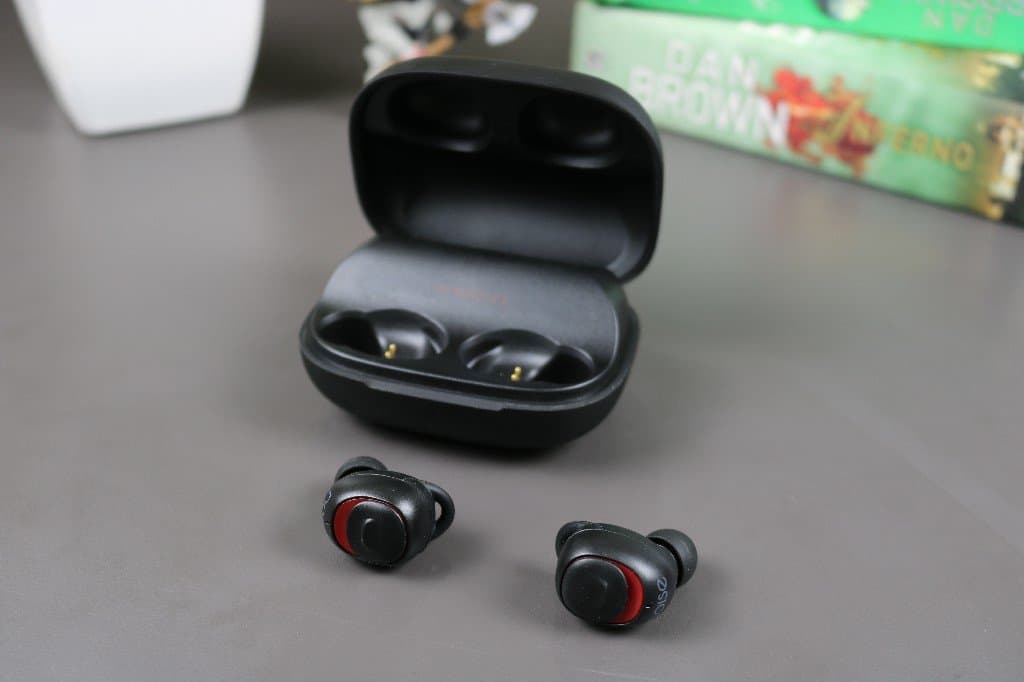 Just like any other true wireless earbuds, pairing these earbuds is not much of a task. The Noise Shots X5 support both Android and IOS. Just turn on Bluetooth on your phone and take them out earbuds from the case, and they will power on automatically and will also pair with your phone within seconds. And when you're done using them, you can just put these back into their case, and these will power off and will start charging.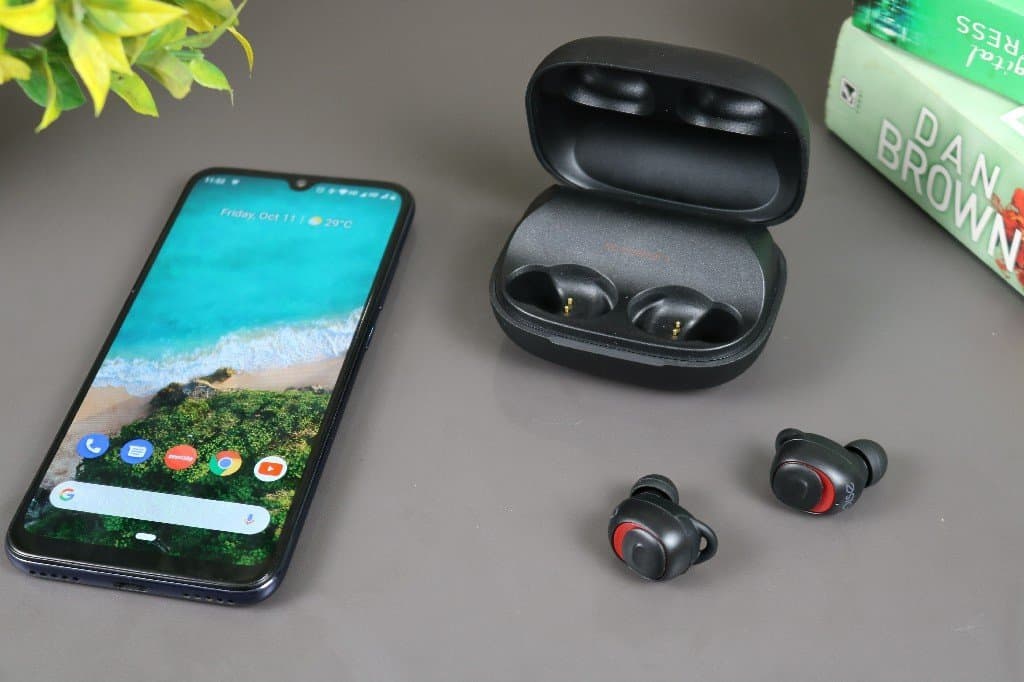 Both earpieces come with an integrated physical button when it comes to interactions with the earbuds. By pressing it once, you can play/pause music or answer/hang up a phone call. Moreover, if you want to decline a phone call, simply hold this button. you can also open Siri and Google Assistant using this button.
It's worth mentioning that long press on right earbud will make you jump to the next song while long-press on left side earbud it takes you to the previous song. The button feedback was good, and the area is a bit generous if you have medium-sized fingers.
Mic
The Noise Shots X5 Charge omes with good quality noise-cancelling microphone, that offer great calling experience. It offers mono as well as a stereo calling experience, it means these truly wireless earbuds allow you to receive calls and listen to the caller through both the earbuds.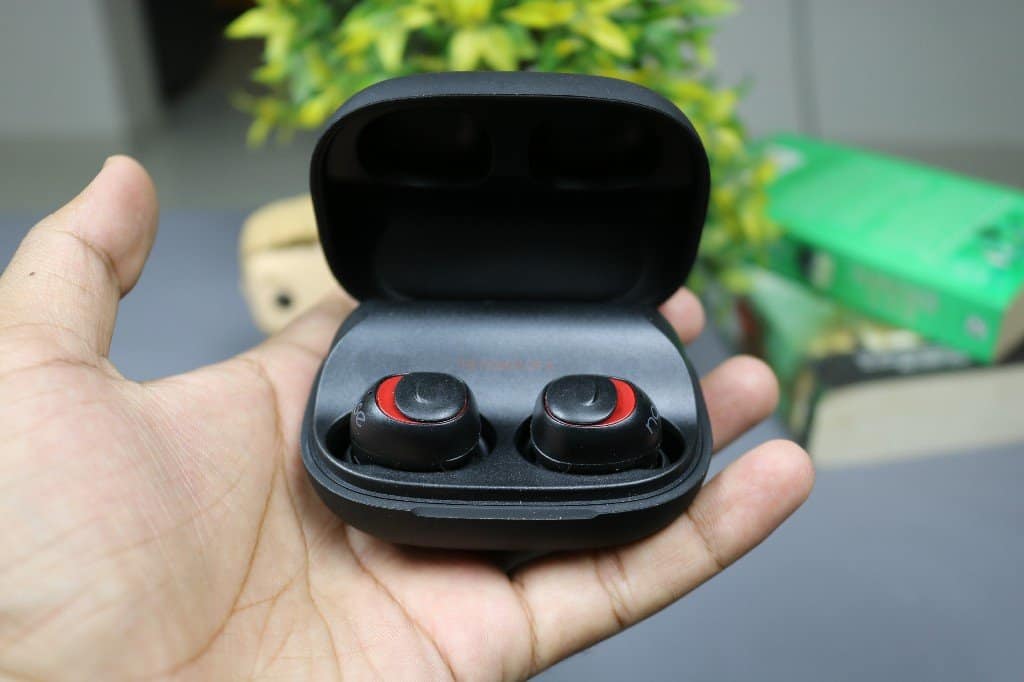 Battery life
With the 60mAh battery on the headset, the company promises about 4 hours playback time on a single full charge, and I think they are right. I've been using these truly wireless earbuds for 4-5 days and they lasted me for about 3.5 hours of continuous music playback. but the case with huge 2200 mAH battery can charge the earbuds several times, giving a total of around 50+ hours of playback before the case need charging. Yes, the case juices up the Noise Shots X5 earbuds a whopping approx 13 times.
You can simply pop the earbuds back into its case and put them to charge (via the magnetic connectors on the inside), but it takes about 1 hour and 30 minutes to get them back to 100% charge. And the charging case takes approx 3 hours to fully charge itself.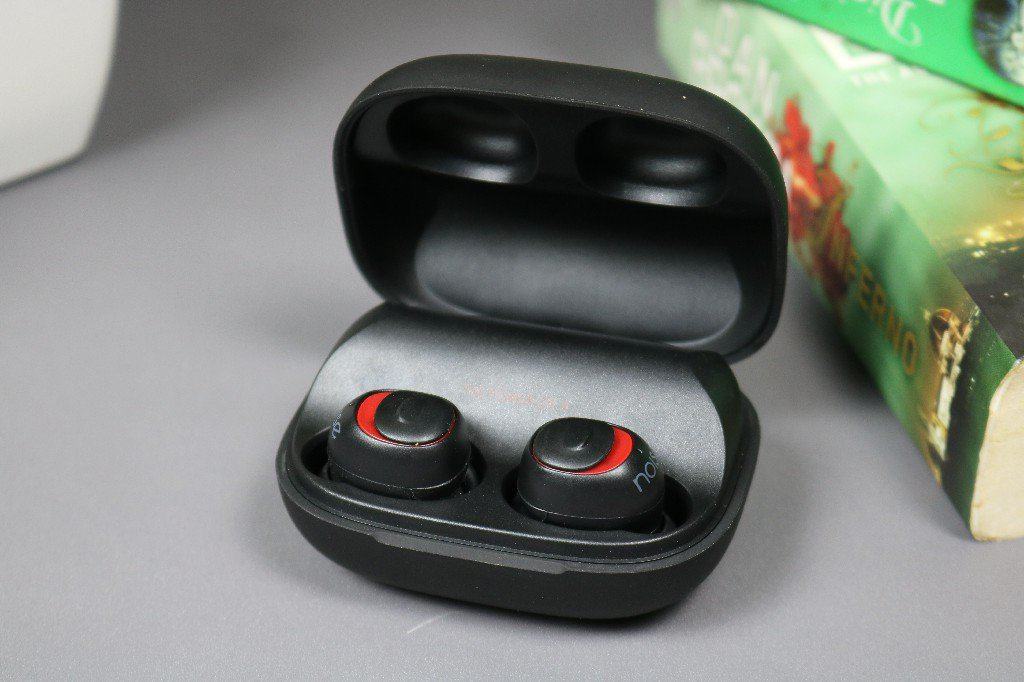 Another best thing is that you can also use this case as a power bank. It has a USB port on backside, which allow you to juice up your phone on the go, which surprisingly did come in handy for when my battery ran low at times.
The case has small LED indicators light beside the micro USB port, which notify about the earbud charging. Whereas, When you charge the case the orange LED light start blinking. This LED notifies about the charging percentage of the case. If it blinks once within 2 seconds, the charge percentage is 0-25%. If it blinks twice, it is 50% whereas thrice for 75%.
Audio Quality
The Noise Shots X5 Charge packs a 6mm dynamic driver unit to provide a wide sound field. It can transfer sound by using AAC Bluetooth codec only and lacks high-quality aptX codec support. Moving on to the sound quality, I have no complaints whatsoever. The AAC codec helps in preserving the original sound.
Honestly, I am quite surprised with overall audio quality, I didn't really expect these wireless earbuds to sound as good as they really do. The Noise Shots X5 sound really good compared to its price point. The overall audio output is decently loud and clear. It delivers well-balanced audio, with rich and full sound where neither the high nor the low is totally blown out of proportion.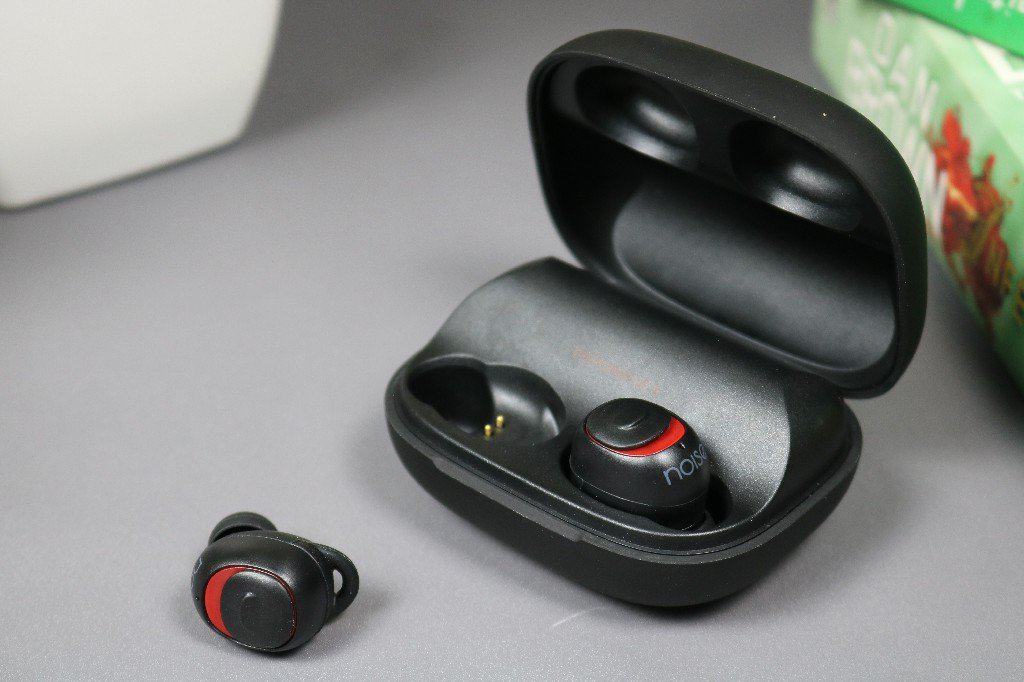 The best thing is that it provided you with a crisp and clear sound with great performance across highs, mids and low, which is very rare in earbuds with this price tag. Another best thing is that it has the right amount of Bass sound with punchy effect, so the vocal and treble are not overpowered. You can easily hear every node cleary. But in some music tracks, the treble sound gives distortions at 100 per cent volume, which is the only down point about the sound quality of these earbuds.
The audio is also well balanced between the right and left earbud. There is no noticeable lag in the sound between the left and right earbud. So overall, The audio quality offered by this noise earbuds is quite good and I am happy to say that these truly wireless earbuds can keep up with Indian users tastes well.
Final word
Overall, These Noise Truly Wireless Earbuds are all about the combination of good sound quality, battery life, and wireless reliability. For the price tag of Rs. 4,999, it is an excellent value in the truly wireless earbuds segment. Since it does the basics well, Shots X5 is easy to recommend for those who want to get started with truly wireless earbuds. You can get it from GoNoise official website, as well as Amazon India.
Noise Shots X5 Charge Buy now