I've used and reviewed quite a lot of wireless neckband earphones, mostly because I really like checking out new wireless earphones almost all the time; it's an obsession. So, when I saw these new neckband earphones on Amazon called 'MadRabbit Bass-on Wireless Pro', I just had to check them out.
After spending significant time with it, I have a lot to talk about the MadRabbit Bass-on Wireless Pro. I'll demand your attention to start with the specifications of the Bass-on Wireless Pro and what comes in the packaging, after which I'll talk about more of its hidden talents.
MadRabbit Bass-on Wireless Pro Specs
Colour: Black
Connectivity: 5.0
Driver Size: 12mm
Frequency Range: 20–20,000Hz
Battery: Up to 18H (70% volume), Fast Charging
Weight: 36g
Warranty: 1 Year
Box Content
The neckband comes packed inside a hard carton box – inside the box, all the items are well distributed in a secure placing. Overall, its packaging is also given in a way that offers a premium feel while opening the box. Check the detailed unboxing & review on our Youtube Channel: Geekman.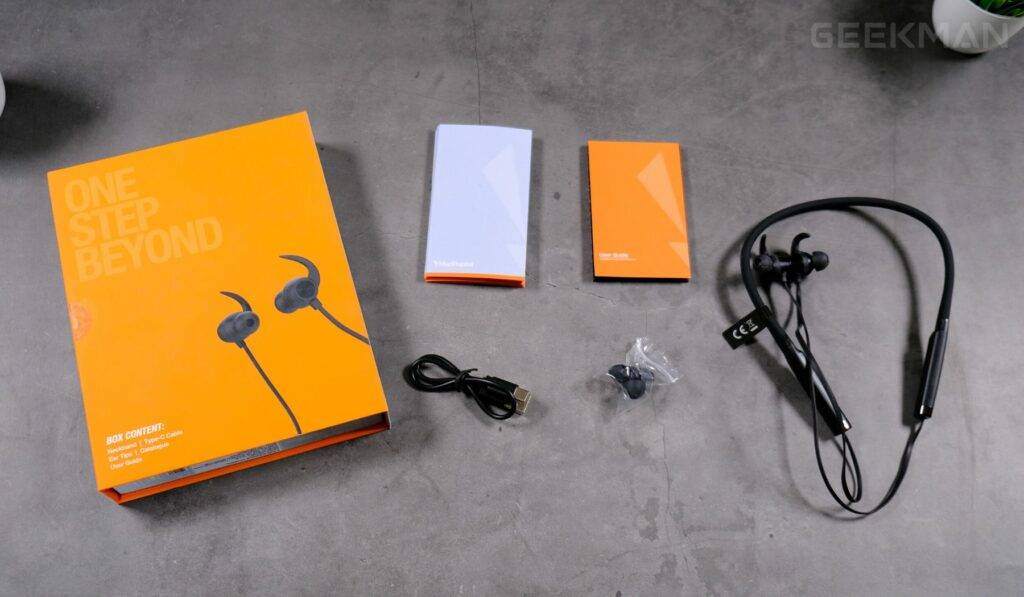 USB Type-C charging cable
Manual and warranty card
2 pairs of ear tips
MadRabbit Bass-on Wireless Pro Earphones
Design & Build
As far as the form design factor is concerned, the Bass-on Wireless Pro is your run-of-the-mill neckband earphone, which is good. The Bass-on Wireless Pro managed to stay out of the way, and I didn't find myself wanting to take them off every time I stopped listening to music. Part of that is because the neckband is not too 'out-there' when you have them around your neck. This is the perfect neckband blueprint every brand must follow for a comfortable experience and a good look.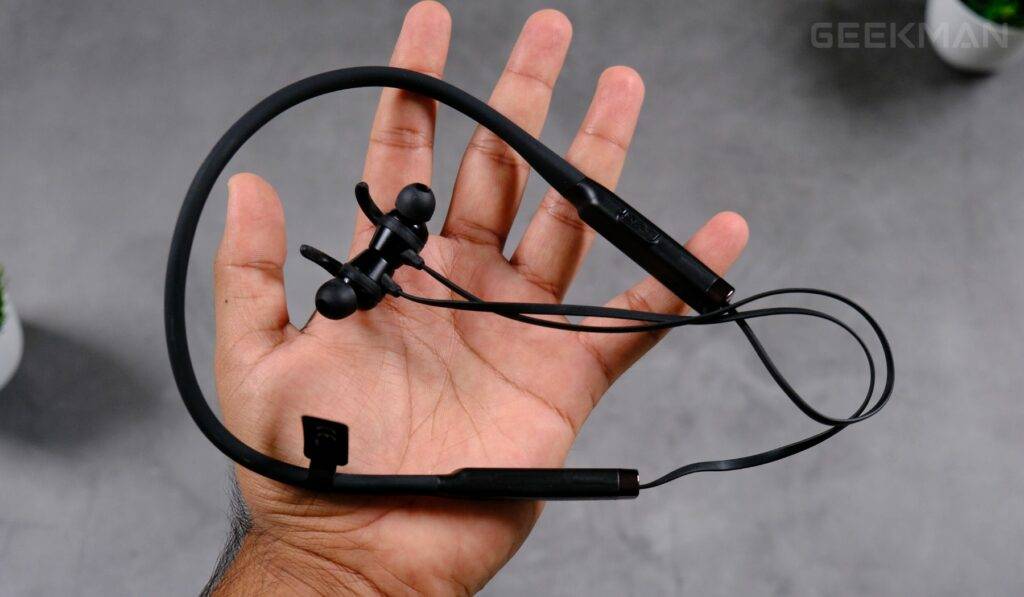 The MadRabbit Bass-on Wireless Pro has a simple design that is similar to most other neckband wireless headsets. The same thin flat cable connects the ear tips and the neckband. The neckband is silicone-made, very soft, and flexible. The minimum branding and lack of unnecessary color add-ons are the main reasons behind the premium look of this neckband ("simple and clean is a new premium").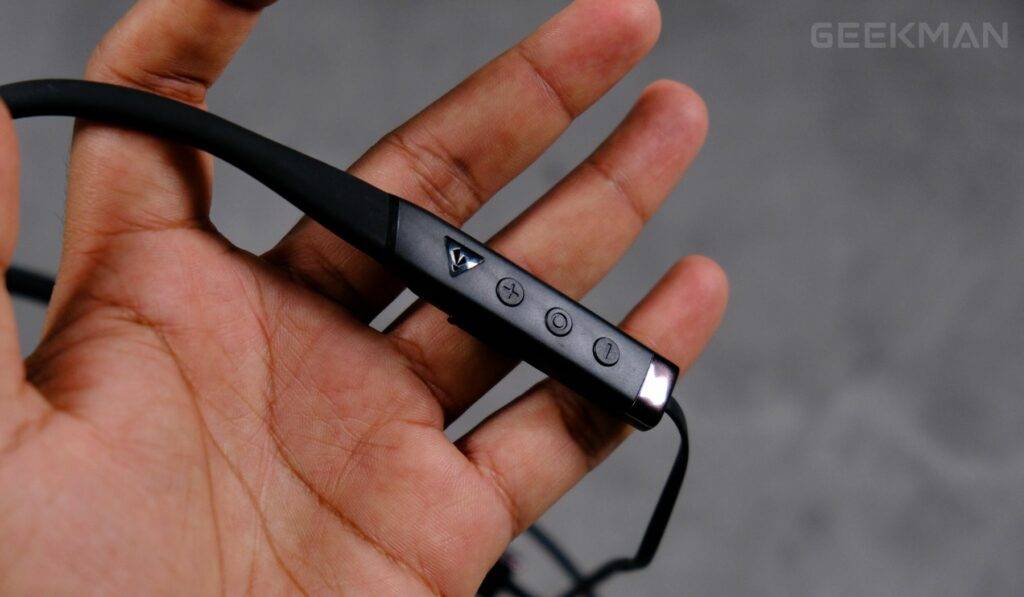 It terminates in two chunky chambers with cables jutting out their ends. The right chamber host minimal branding. While the right chamber host the three multifunction buttons, a microphone, an unique LED indicator light in the MadRabbit logo shape, and a Type-C charging port. The charging port is covered by a flap, and the neckband has an IPX5 waterproof rating. So you don't need to worry about sweat, dust, and light rain.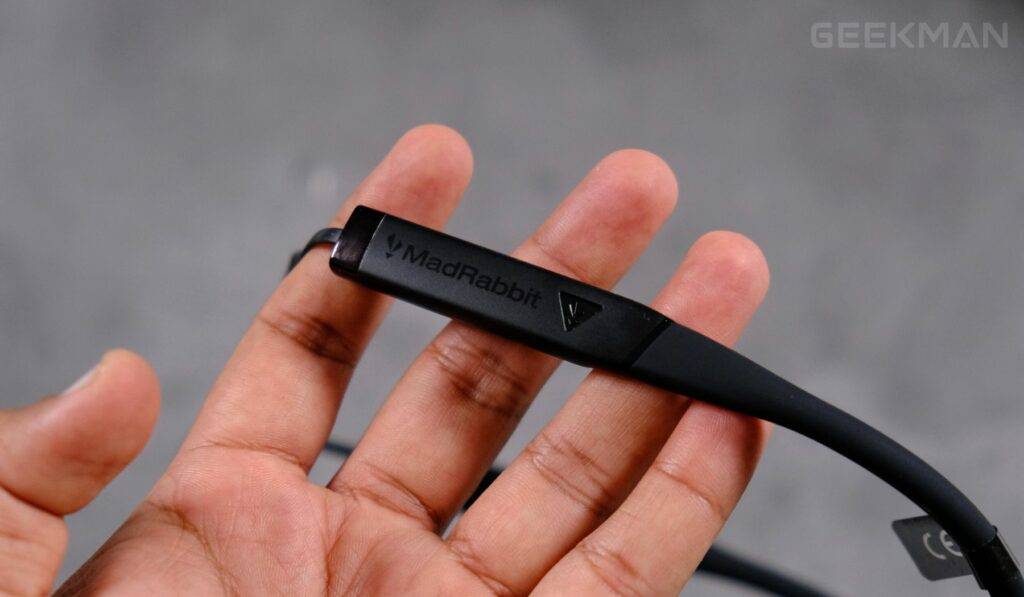 The buds are made of metal and look very stylish. The backside of the earbuds is magnetic, so when they're hanging around your neck, they just snap together, instead of getting all over the place. I love that. It also supports magnetic controls, so it automatically turns off when you snap together and quickly turns on when snapping off. This same setting also applies to ongoing calls.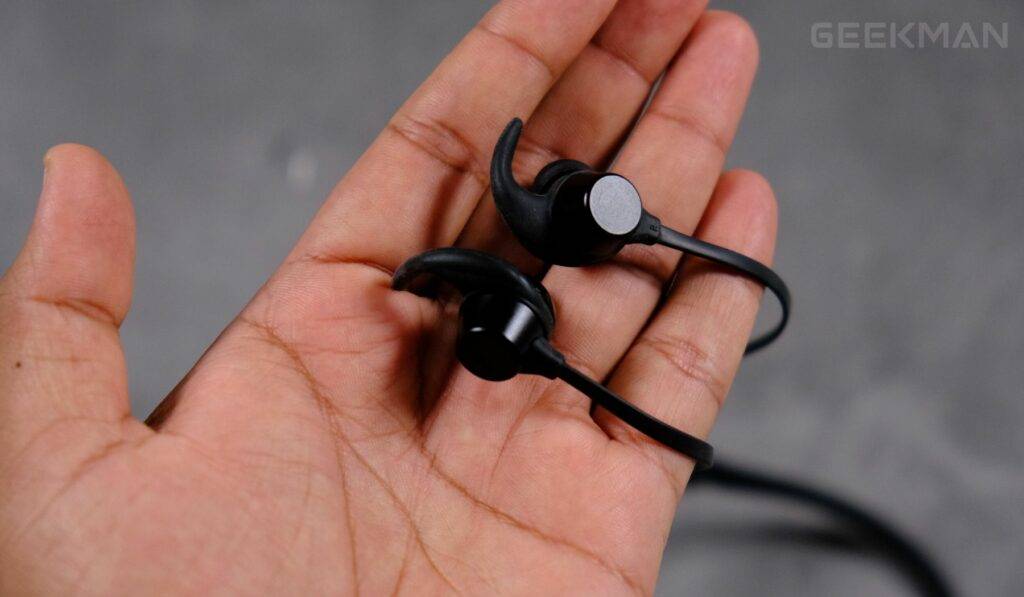 The build feels sturdy as well, and even though it's nowhere near what you'll get on expensive wireless earphones, it's better than what you'll find on most neckband earphones in this price range, which is awesome. In every other way, the MadRabbit Bass-on Wireless Pro is a very well-designed and sturdily-built pair of neckband earphones that I really like.
Comfort
Talking about the comfort and fit of this neckband, the MadRabbit Wireless Pro didn't let me down. The puffy and thick neckband is very comfortable to wear. Not only this, it doesn't make the back of your neck sweaty, which was my primary fear. In fact, you can hide them under a jacket collar without any issues as there's no irritation on the skin, as can happen with certain neckband earphones.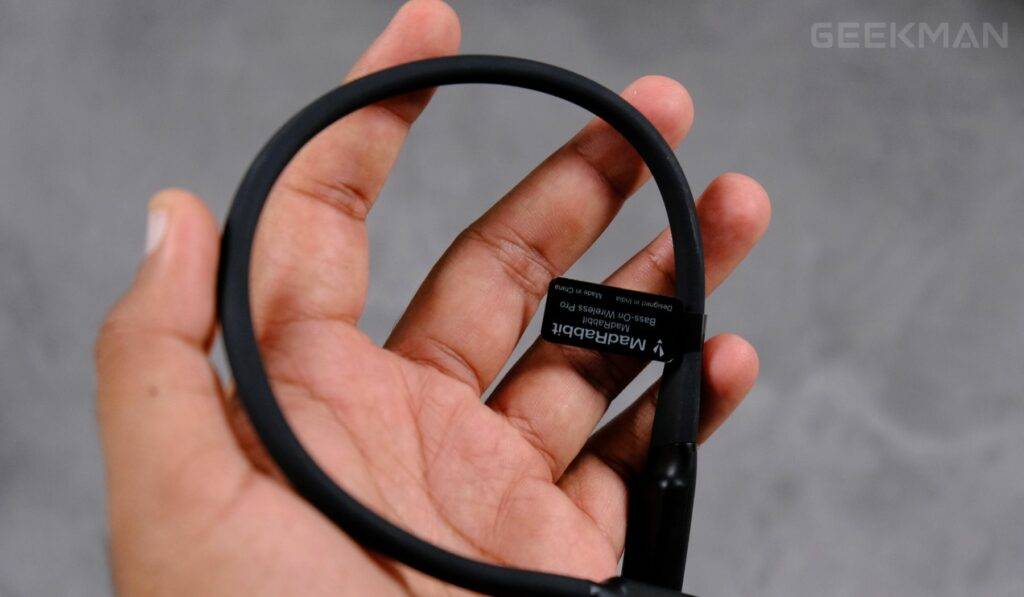 Another reason behind the comfort is the lightweight build; the total weight is only 36g. The earpieces are also comfortable, enter the ear canal, and sit there comfortably, without much movement or flexing. The fit is secure enough that you don't need winglets for added assurance. Over long periods of use, there's no fatigue with this neckband.
Connectivity & Gaming Mode
Regarding connectivity, the MadRabbit Bass-On Wireless Pro uses Bluetooth v5.0, which is not the latest but pretty much a standard on Bluetooth headsets in this price range. The one thing that's missing here is support for any higher codec, it only supports standard SBC and AAC codecs, and these days it is rare to see headsets with aptX or any other higher codec in this price range. If the Bass-On Wireless Pro had any advanced codec support, then it would have been a game changer in this price range.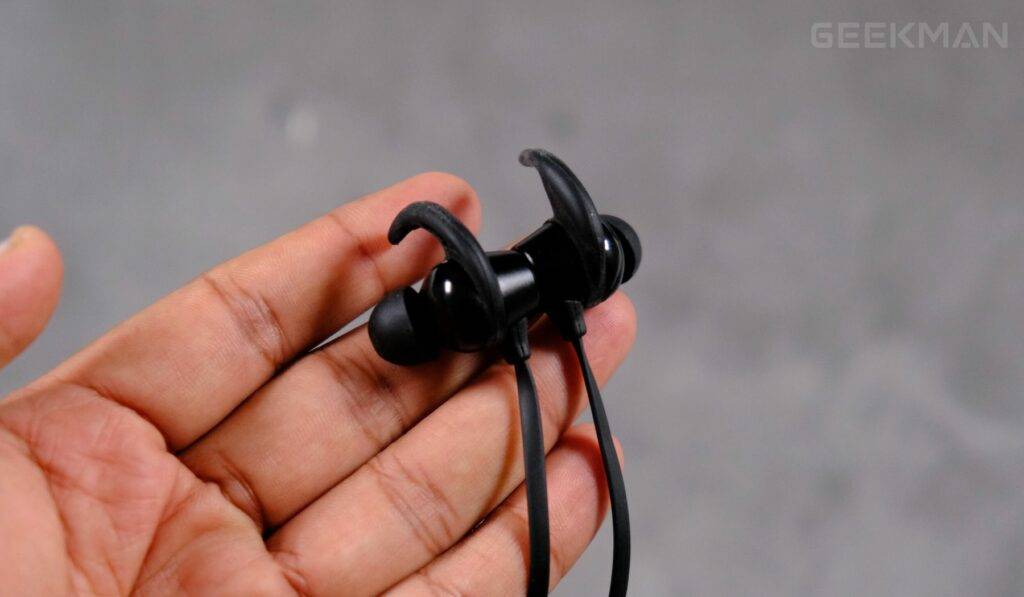 But don't worry, without any advanced codec support, the MadRabbit Bass-On Wireless Pro maintains a good strong, and stable connection with the device, and the claimed 10m of connection distance is almost to the point. The neckband also comes with dual-paring capability, so you can switch to another device in a matter of seconds.
Even though it only has SBC & AAC, the low-latency gaming mode is useful when gaming since it reduces the latency down to 50ms, according to the company's internal testing. It is also easy to enter the gaming mode when you double-press the power button. You get a notification when you enter and exit the mode.
Microphone
The Bass-on Wireless Pro's microphone also does a good job and captures clear audio with very few background noises. Yes, you would get a decent amount of background noise when using it outdoors, but you can still use it for calls, gaming, and meetings without any issues.
Battery
The MadRabbit did not mention the battery size but claims to last up to 20 hours of continuous playback; however, in my testing, I found the results are quite good. With a full 100% charge to start with, the neckband lasts around 15-16 hours, playing music at around 70% volume. It also supports fast charging with USB Type-C, and if there was one claim I found to be completely true, it was the 10 hours of playback on a 10-minute charge.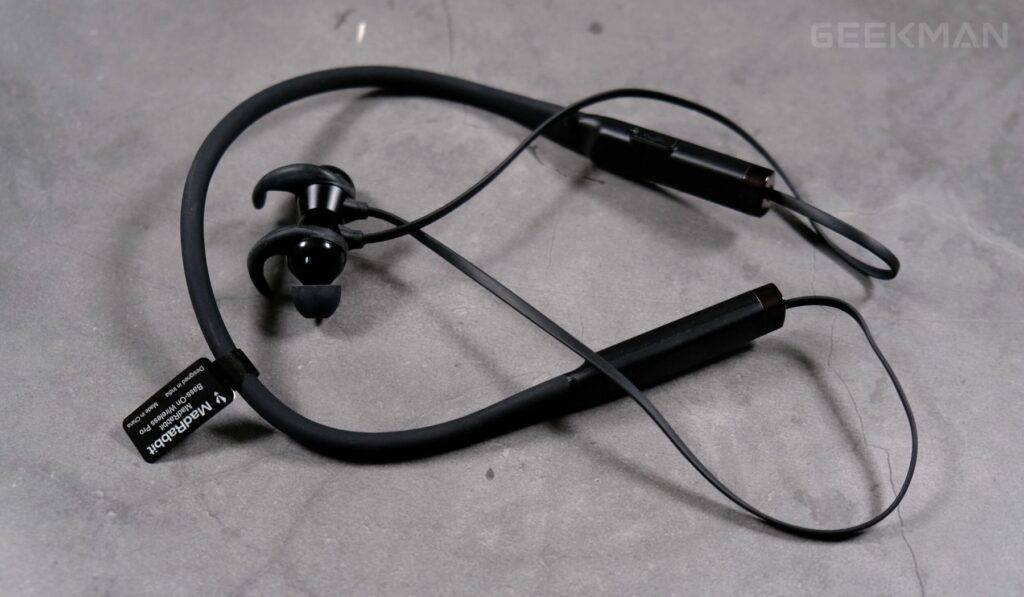 Sound Quality
Coming to one of the most important aspects of any pair of earphones you'll ever buy — is the audio quality. The MadRabbit Bass-On Wireless Pro offers a fairly decent audio quality with boosted Bass. The large 12mm driver is well enough to handle this amount of Bass. If you like high Bass in your audio, then you will love this neckband. I tried many Basshead wireless earphones in this price range (Noise, Boat, Oneplus), but this seems above them.
Another good thing is that the high Bass only overpowers the other frequency a little. Yes, it does a little; every high-bass earphone does, but not much, as we see in most other Basshead earphones in this price range. The upper and mid-bass response is really high and punchy, with a good amount of texture. The lower Bass seems to lack clarity and texture, but it's a very common thing at this price range; you can't get everything perfect at this price point.
Overall, if you want balanced or proper V-shaped tuning, then these aren't the only wireless earphones you can consider. But if you are a bass lover, then you will definitely like this neckband. The MadRabbit Bass-on Wireless Pro is truly made for bass lovers.
MadRabbit Bass-On Wireless Pro Worth Buy?
The MadRabbit Bass-On Wireless Pro is a pretty amazing pair of Bluetooth earphones that get quite a lot right. It has decent sound quality with boosted bass, build quality is better than most of their competition, it's lightweight and doesn't bounce around when you're walking, IPX5 rated, so you can work out without worrying about sweat messing them up. The battery backup is also decent and the neckband also supports low-latency gaming mode. True, there's no advanced codec support, and the BT version is not the latest, but the MadRabbit Bass-On Wireless Pro is definitely one of the best wireless neckband earphones for bass lovers, at this price.
Review Video Hindi
Also Read: