Writing headphone and earphone reviews can be both enjoyable and challenging. After all, sound quality is a very subjective thing for people. Not everyone likes the same type of sound output as I might, and that makes it harder to write with conclusive evidence about why I like this headphone or not like it. The KejbyKej AV900 makes this even more difficult because they do quite a lot of things well, and they are, in fact, a really good pair of wireless headphones. However, there are a few things that I wish were better.
KejbyKej AV900 Specs
Type
Overhead
Connectivity
Bluetooth 5.0, Aux 3.5mm
ANC
Yes, 18dB- 20dB
Microphone
Yes
Drivers
40mm
Battery Life
Up to 12-14 hours (without ANC)
Up to 8-9 hours (with ANC)
Warranty
1 Year
What Inside Box?
I typically don't waste time on product unboxing, but with these headphones, there are several items that might be important for you to know about. Firstly, there is a user manual in the box. There is a micro USB charging cable. Unfortunately, it doesn't support USB Type-C, but the brand promise that it will launch a Type-C variant soon.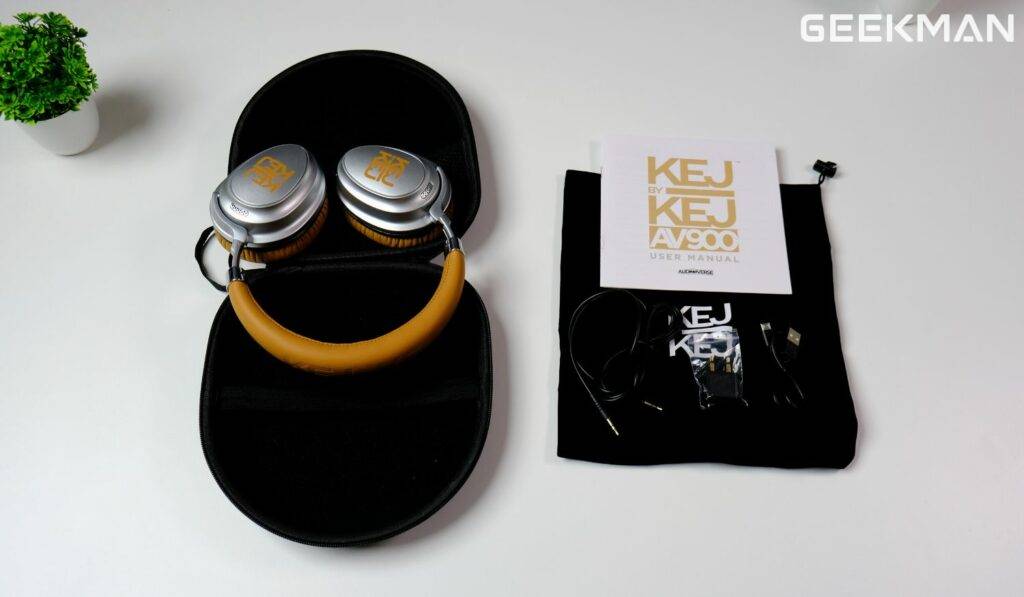 Additionally, a 3.5mm male-to-male cable is provided, allowing you to use these headphones as both wireless and wired, which is a convenient feature. Another useful inclusion is the dual mono airplane adapter, which is particularly beneficial if you frequently travel by plane. They have also included a high-quality soft storage pouch and a hard storage case, which is essential for frequent travelers. Usually, most brands don't provide it, so you would have to purchase it separately. Yep! You saved some coins here – I'm expecting a party invitation.
Ohh, how could I forget the star of the show? Our headphones, ' KejbyKej AV900 ' – Are in a Beige and Silver color.
Design, Build & Comfort
The first thing that impressed me about the KejbyKej AV900 is their design and build quality. They've got that "wow" factor, oozing premium vibes like a celebrity on a red carpet. When you compare them to other wireless headphones in the same price range, they stand out with their own unique charm. It's like they have a secret potion of luxury that hits you right in the first impression. And can we talk about the color combo? Silver and beige, baby! It's like they teamed up to give you that extra dose of swanky elegance. But hey, if that's not your jam, don't fret! They've got a black option, too.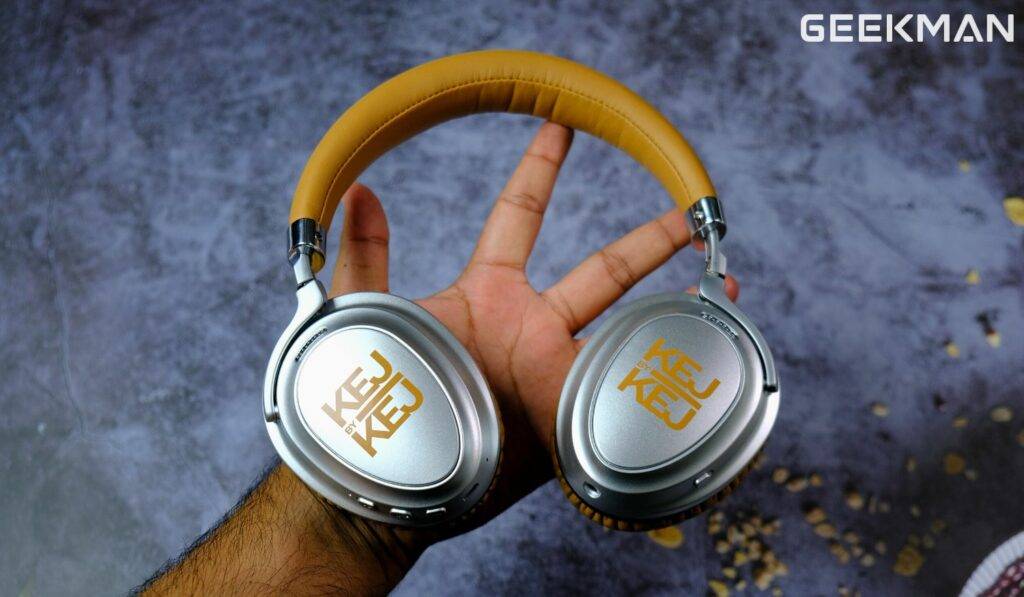 In terms of build quality, it's quite good as well. It has the right amount of metal in various places, such as the headband and size adjustment hinges, which gives them a strong and durable feel. They are definitely not prone to easily breaking or snapping. The AV900 is built to withstand the wildest dance parties and spontaneous air guitar sessions.
But here's the cherry on top—it's also your ultimate travel buddy! Yup, they are not just good-looking; practical too. You can fold these headphones not once but in two different ways. It's like they're saying, "Hey, bring us along on your daily adventures, and we'll fold ourselves up nice and compact for you." So whether you're commuting to work or jet-setting around the globe, the KejbyKej AV900 has got your back, ready to rock your world wherever you go.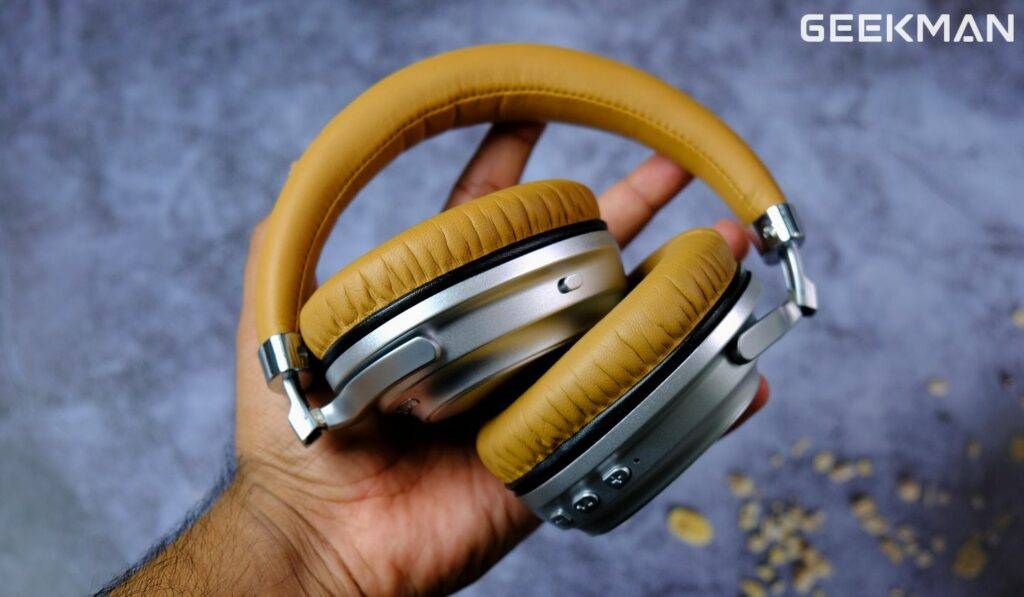 When it comes to the ear cups of the AV900, it may seem like they are made of metal, but that's not the case. They are actually made of plastic, and it's just the color that gives them that metal-like appearance. And you know what? That's actually a good thing! If they were made of metal, they would weigh a ton and feel like wearing a medieval helmet.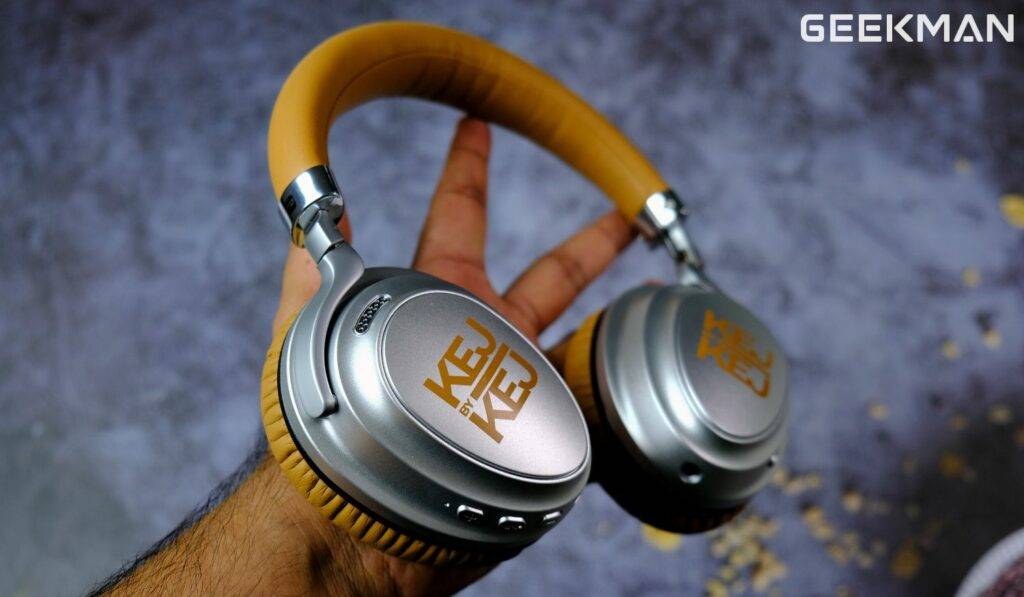 Comfort is their middle name, and they wear that name with pride.
I've been using the KejbyKej AV900 wireless headphones as my daily driver for the past 3-4 days, and so far, I have no complaints about their comfort. One reason for this is that they are lightweight despite having a solid build. Another reason is the softness of the ear cushions. Additionally, the driver unit has soft padding, which is a rarity in the headphone world, at least at this price point! This helps alleviate any pressure on the ears. So, these are the main reasons for their comfort.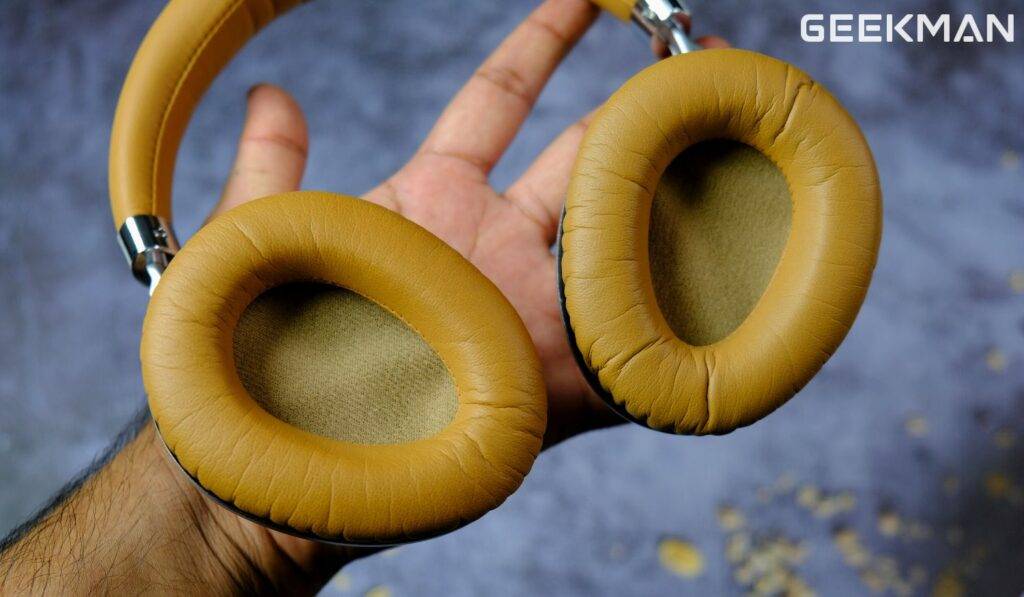 Furthermore, the headband area is also fully coated with the same soft material, ensuring that there is no uncomfortable pressure on the top of the head. So, in addition to sound quality, comfort is also crucial, and these headphones excel in that aspect.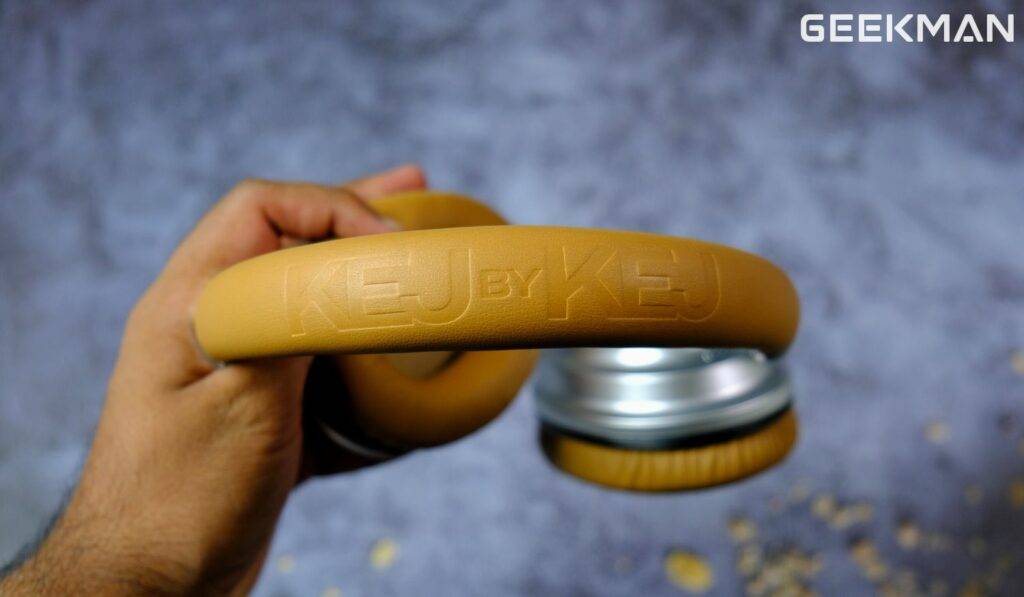 Buttons and Ports
Now, let's talk about the user experience. Three multifunction buttons on the headphones' right side allow you to control your music playback and incoming calls. Next to the buttons, there is a micro USB charging port. Oh, and don't forget the LED indicator light and microphone, all conveniently located in the same vicinity.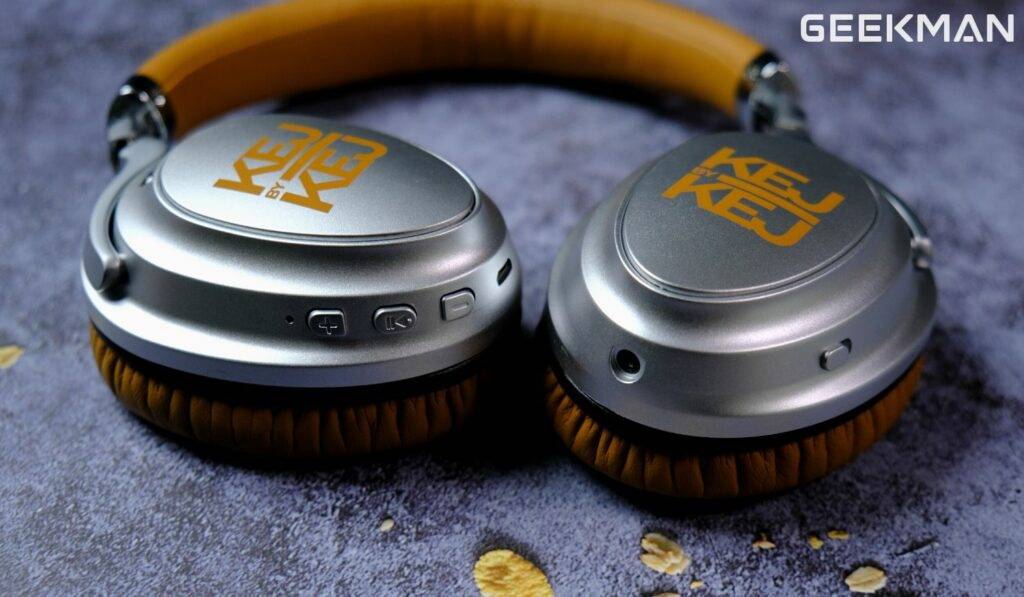 On the left earcup, you'll discover a 3.5mm port for those times when you want to go old school and plug in a wired connection. And there's a nifty physical switch to turn the ANC (Active Noise Cancellation) on or off. To make things even easy, a tiny blue indicator light is winking at you to let you know whether ANC is active or taking a break.
And guess what? You can use the ANC feature on these headphones without turning them on. It's like having a personal sleep companion during long flights or whenever you need some peaceful shut-eye.
ANC
Let's discuss the ANC performance of the KejbyKej AV900. Actually, the ANC is decent. It can reduce noise by up to 20dB; while it may not reach the pinnacle of ANC greatness, but it still does a respectable job. If you're a frequent traveler, whether it's by plane, bus, or train, this ANC feature will come in handy as a trusty sidekick. It's like a bonus feature for this headphone.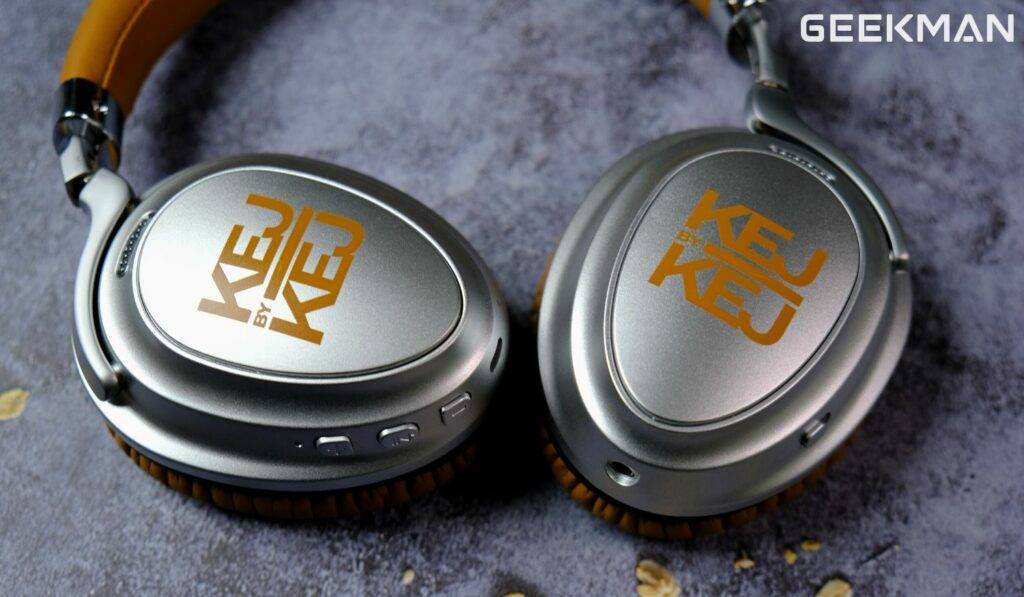 It's worth noting that the main audience for KejbyKej AV900 is audiophile users who may not be head-over-heels in love with ANC. They tend to use it sparingly, as ANC can sometimes impact the pristine sound quality they crave. However, even when ANC is active, you might still catch a faint whisper of low background noise, especially when the music track is silent or soft. That's normal for most ANC headphones at this price; we can't complain.
Connectivity
I didn't face any problems regarding connectivity and range with these headphones. It comes with Bluetooth 5.0, allowing easy connections with iPhone, Android, PC, and smart TVs without any issues related to range or connection. It doesn't support dual pairing, but it has an auto-off option. Additionally, it also has the option for wired connections. Yes, you can use these headphones in wired mode without a battery.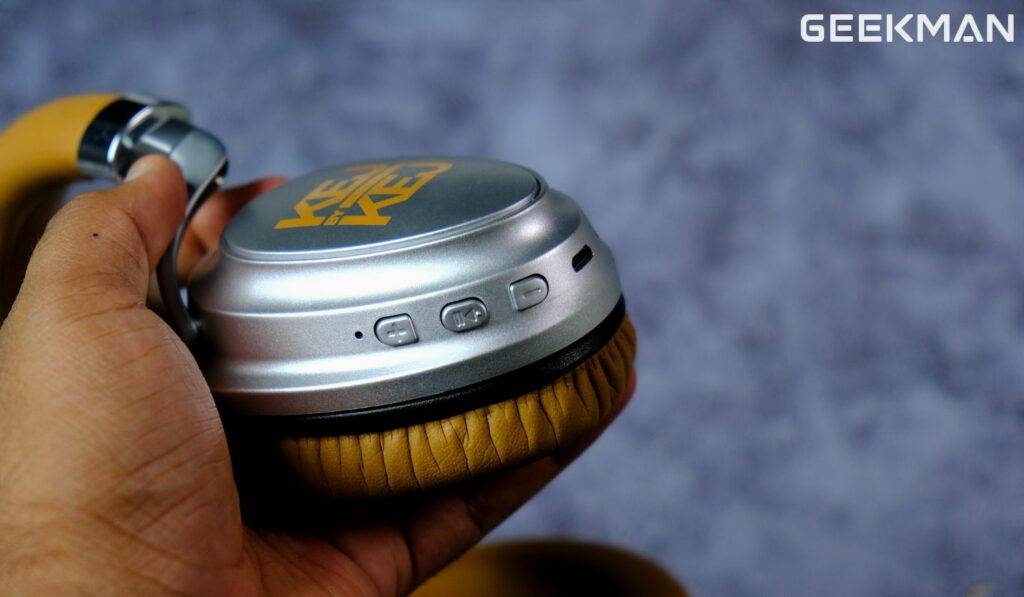 Battery & Mic
The KejbyKej AV900 is equipped with a 400mAh battery that promises up to 20 hours of playback time. However, in real-world usage, at 50% volume with ANC off, you can expect around 12 to 14 hours of playback time. If ANC is turned on, the playback time reduces to approximately 8-9 hours. I understand that some people might find this to be low, but it is an average number, and most wireless headphones in this price range deliver similar performance. It also supports fast charging, allowing you to fully charge it in about 1.5 hours, which is indeed accurate.
The microphone of these headphones is considered average and may not meet high expectations. These headphones may not be the best option if you are specifically looking for wireless headphones with a good microphone.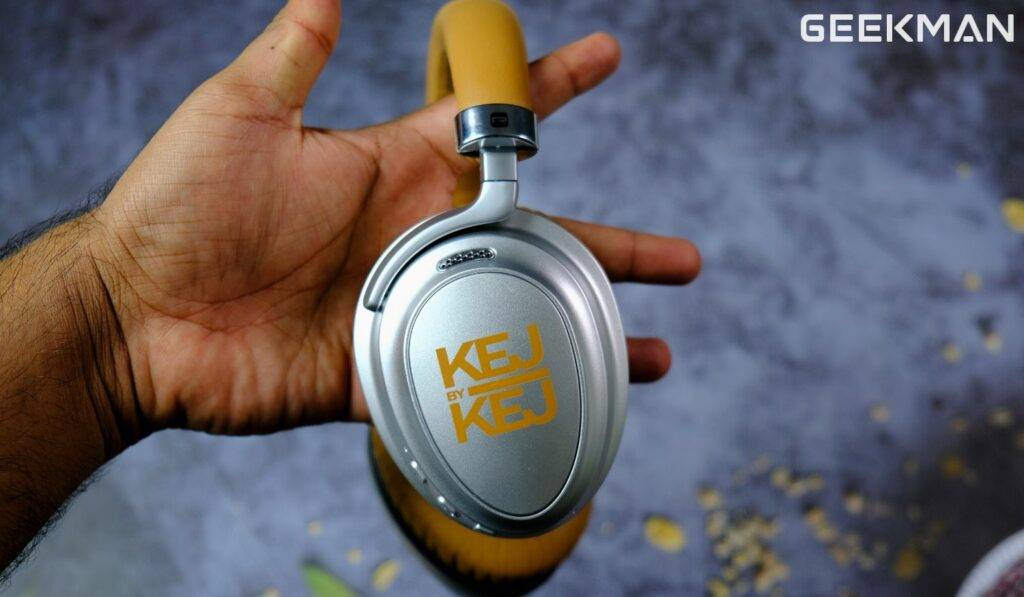 Sound Quality
The sound quality of the KejbyKej AV900 has been meticulously tuned by Ricky Kej, a highly acclaimed and three-time Grammy-winning artist in the music industry. This is why I was excited to test its audio performance. I tested these headphones with various devices, including an iPhone, an Android phone with a DAC, and a PC. Overall, the audio quality proved to be promising, showcasing the expertise behind the audio tuning of this headset.
The overall tuning of the AV900 is natural, somewhat similar to a V-shaped tuning; you can say this is a mix combo of studio monitoring and regular headphones. However, it should be noted that it does not fall into the category of professional monitoring headphones because the overall tuning is not balanced, and even the brand didn't market that way. It has been tuned to target a wide user base (V or U-shaped tuning).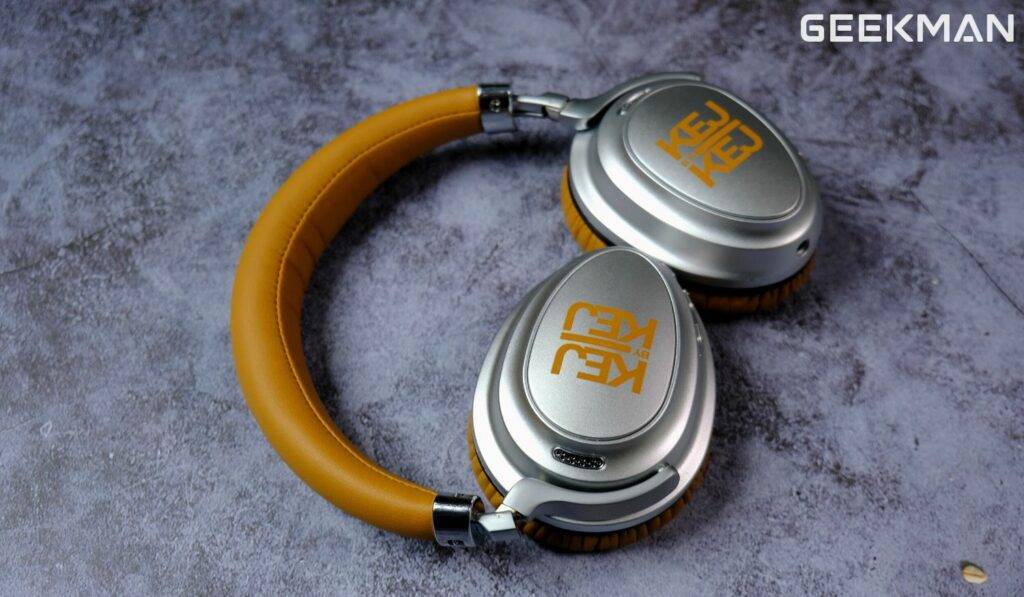 When it comes to lower frequencies, the bass response is really good, deep, and very detailed. It manages low bass particularly well, giving audio tracks a modern and vibrant feel. I'm glad that the low frequencies haven't been excessively stretched to the point where other sounds get overpowered or their presence blurred. The KejbyKej AV900 has been finely tuned in that aspect. The mid and high frequencies have good control over the audio.
There is one thing that I felt could have been improved, but I must mention that I am not an audio expert, so there may be some disadvantages that I am not aware of. However, I believe that the 5 to 8 kHz frequency range could have been extended a bit further to make high-pitched sounds more vibrant and clear. In some tracks, I felt that higher vocals and certain high-pitched instruments lacked a bit of detail.
Apart from this, these headphones' soundstage and sound separation are impressive, surpassing even some higher-priced models. I also had the opportunity to listen to some live concerts with these headphones, and the sound direction and soundstage were quite enjoyable. You can clearly feel the difference in sound direction and individual instruments.
Overall, the sound quality from the KejbyKej AV900 is good. This is the kind of sound you can expect from a good pair of wireless headphones priced at Rs. 10,000!
KejbyKej AV900: Should You Buy?
The sound quality is the primary reason to consider purchasing the KejbyKej AV900. They are well-tuned and offer a level of audio quality that is often hard to find in this price range. Comparisons of these headphones with others can be challenging, as three strong contenders in the same price range are Sennheiser HD 458, Skullcandy Hesh ANC, and Sony WH-CH720N. In certain aspects of sound quality Sennheiser HD458 and Sony WH-CH720N do a better job then this one, but I said certain aspects, not all! I think KejbyKej AV900 managed lower frequency (Bass) compared to these two. I think there isn't a significant difference in sound quality between them, but there may be variations in features, design, and price.
Ultimately, it depends on your preferences. If you are seeking a decent wireless headphone option with a stylish design, excellent comfort, and good sound quality with good bass, then the KejbyKej AV900 can be an ideal choice.
Alternative
Also Read: