The IGear Galaxy is a unique portable Bluetooth speaker available at a budget-friendly price. It's a compact 10W speaker with a 360-degree design that lets you bring your favorite tunes with you on the go, and it has a unique 360-degree LED light that can set the mood wherever you go. It is also loaded with a bass radiator and FM Radio. But does it hold up compared to other options? Let's find out.
About this IGear Galaxy review: We tested the IGear Galaxy over a period of 1 week. Geekman Team purchased this product for review.
IGear Galaxy Specs
| | |
| --- | --- |
| Output | 10W |
| Connectivity Options | Bluetooth 5.3, FM Radio, SD Card |
| Light | 7 Colors |
| Controls | Music, Volume, Call, FM |
| Other Features | TWS Mode, Bass Raditor |
| Battery | Up to 9h |
| Warranty | 1 Year |
Design & Build
This speaker is seriously impressive in terms of design. It's both stylish and attractive, making it a real head-turner. And the build quality? Really good for this price. I was blown away by how solid this thing felt in my hands. Just picking it up was enough to tell me this was a premium-build speaker.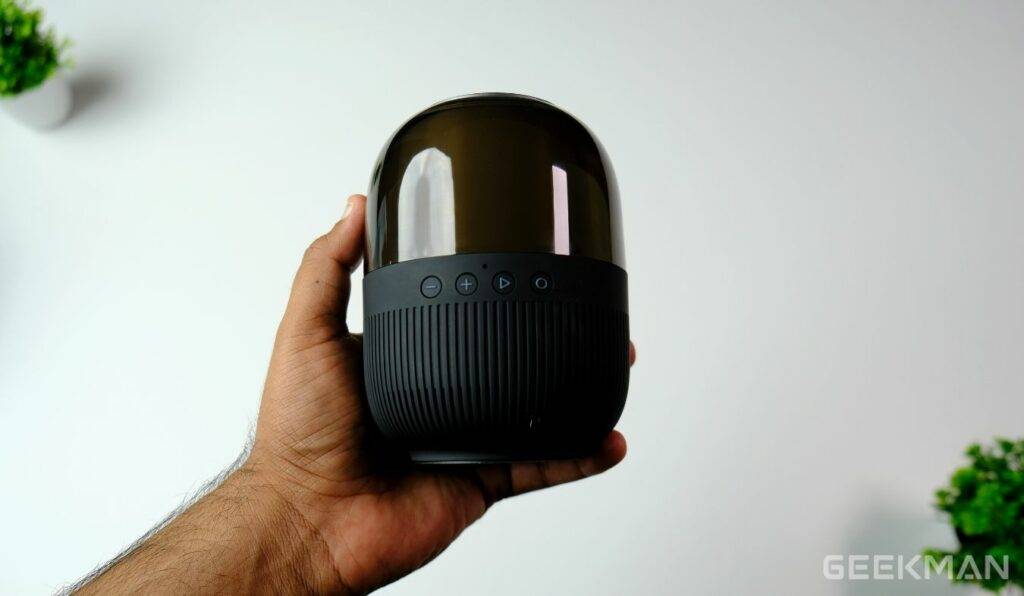 There are a lot of Bluetooth speakers out there with a similar design, but this one definitely stands out because of its premium vibe. The design-wise iGear Galaxy is split into two parts. The lower half is made of solid black plastic, but it still looks and feels super luxe thanks to its soft, rubber-like finish. Even the control buttons have that soft touch, which gives a tactile feel while pressing.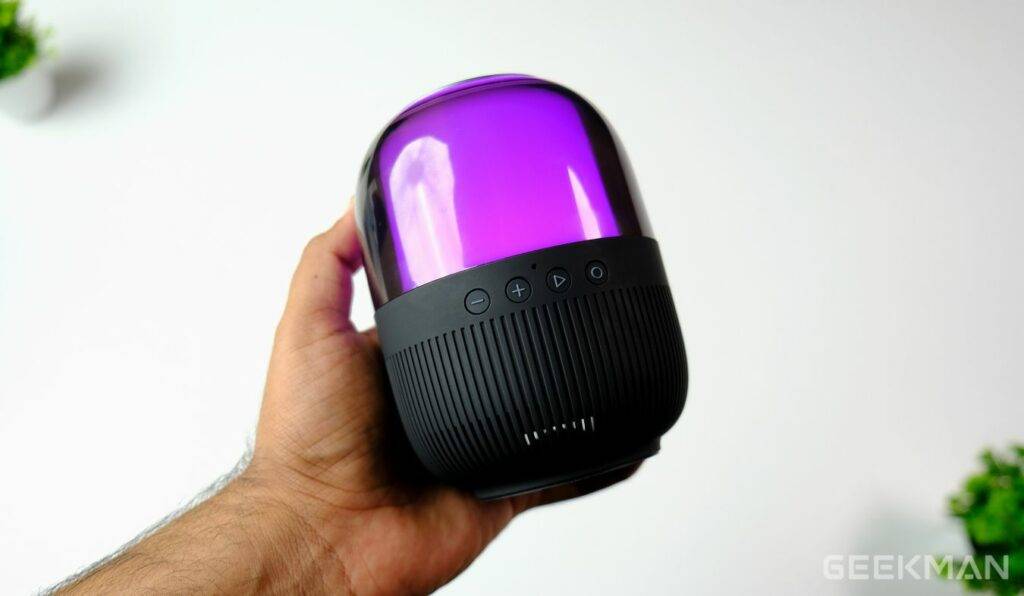 The upper half section is semi-transparent black that lights up when the speaker is on. On the top is a bass radiator with an LED ring light; whenever any bass-heavy music track is played, it looks very cool with vibration and light. It's like a party on your desk!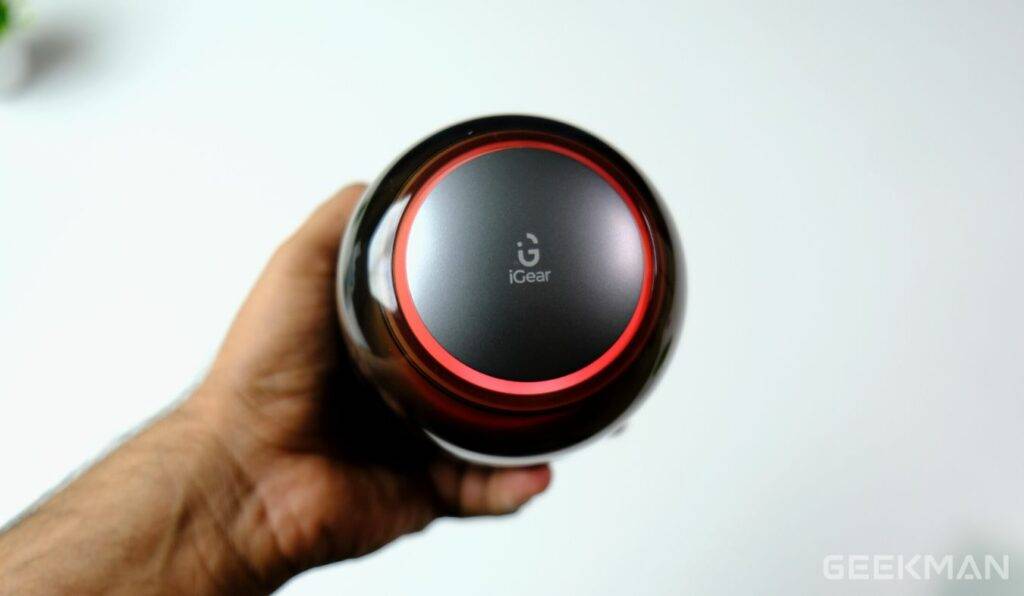 Okay, so let's talk about the lights on this speaker because we know you're curious. First of all, we're not dealing with RGB here, but let's be real – we can't expect true RGB at this price point. However, the speaker offers four different light modes with 7 diffrent colors. Yes, you also have the option to turn off the light to save the battery. Apart from that, there are separate static light modes for blue and yellow. There is also a mix of random light effects in seven different colors. However, one light mode only works while music is playing; it blick in diffrent colors (7 separate colors).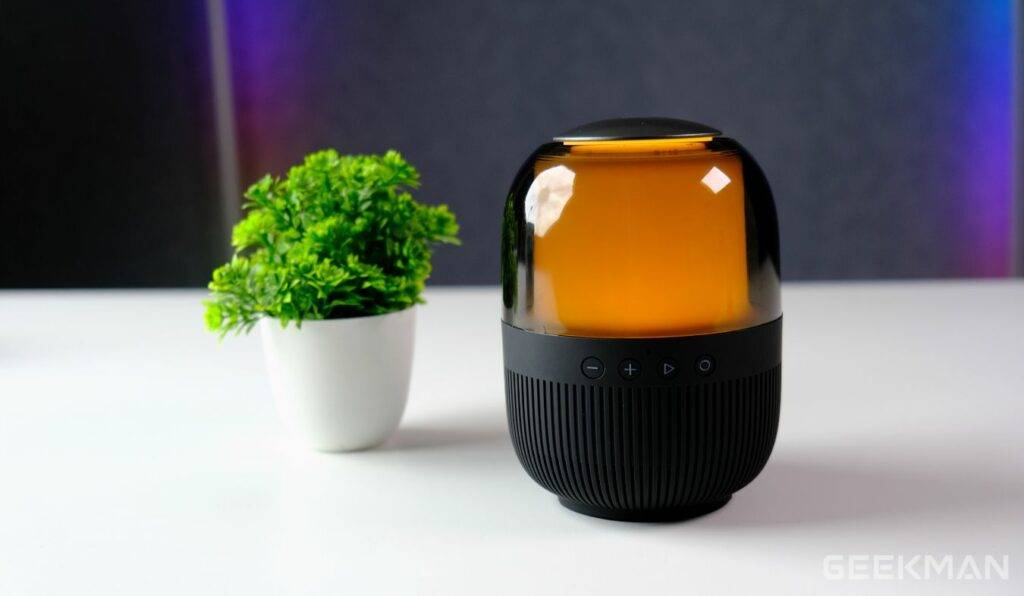 The lights on this speaker are not excessively bright, so there's no need to worry about them feeling cheap. The lighting is minimal and adds a pleasant touch. It can also be used as a night lamp or a decorative desk piece.
Features
Moving on to some other key features, this speaker comes with the latest Bluetooth 5.3, ensuring seamless connectivity and an extended range. It also supports TWS mode, allowing you to pair two speakers together for a 2.0 system-like experience.
In addition to that, it has convenient features like auto pairing and auto-off. Furthermore, it is equipped with a built-in microphone, enabling you to attend phone calls directly and have conversations through the speaker itself.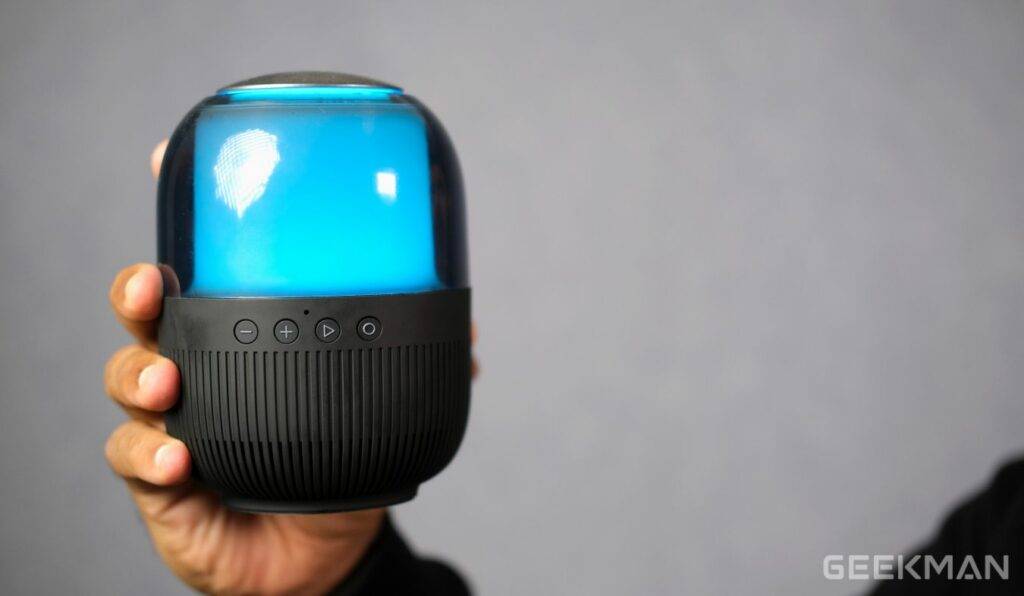 Moreover, this speaker includes a microSD card slot, providing another convenient way to use it. And the most interesting feature not commonly found in speakers of this design is the FM radio support. Although it lacks a dedicated antenna, the USB Type-C charging cable that comes with it can serve as an antenna, ensuring good-quality reception in FM mode. It may not be the easiest feature to use, but it is a valuable bonus feature nonetheless.
Battery
The battery backup of this speaker is decent. It cannot be described as excellent, but it is also not poor. The company promises up to 10 hours of playback time, but in real-world usage, at around 70% volume, you can expect approximately 5-6 hours of playback time. It takes approximately 2 hours to charge the speaker fully. Overall, the battery backup is average.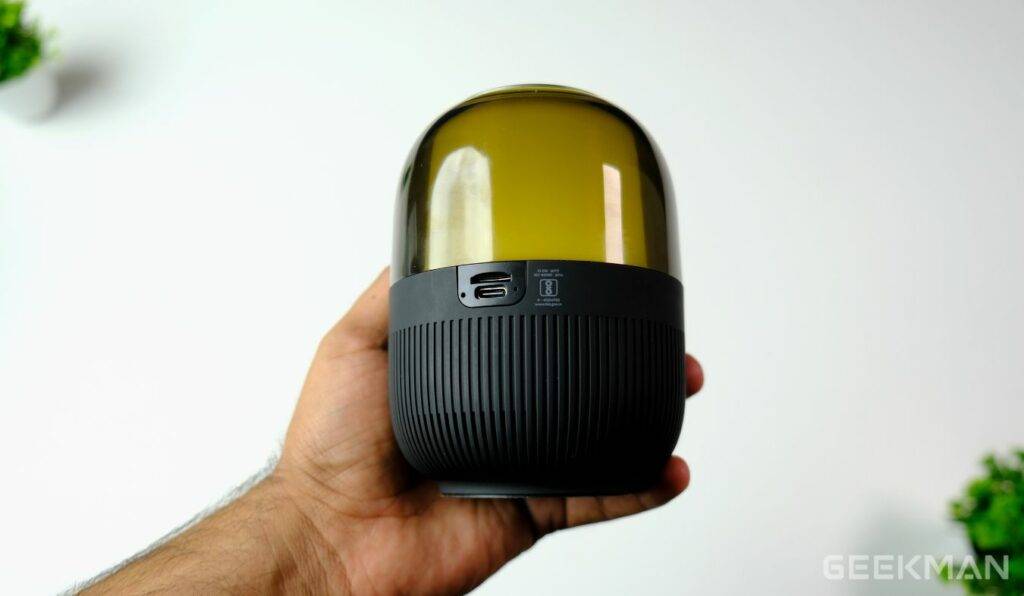 What About Sound Quality?
Now let's talk about the sound quality. With a 10W output, the overall sound, especially the bass response, appears quite promising. It's not often that you find such good bass response in Bluetooth speakers with a 10W output. The advantage is the bass radiator, which delivers a boomy bass response. The speaker's standing design also provides a 360-degree sound effect, enhancing the overall experience.
Moreover, the sound quality is quite loud, making it suitable for outdoor use and parties. Furthermore, thanks to the 360-degree design, you can enjoy a satisfying audio experience. Another positive aspect is that the speaker exhibits minimal audio distortion even at total volume, typically seen in the budget segment but not with Igear Galaxy.
However, there are a few negatives to consider. The treble is not excessively sharp, which can be a downside for some. Additionally, the control over mid and high vocal frequencies is not as pronounced in the audio output. But it's OK; we can expect perfect audio tuning at this price range. Overall, the audio tuning is enjoyable and good for the price.
Worth To Buy iGear Galaxy?
Considering its price and size, the sound quality of this IGear Galaxy is quite good. There are no major drawbacks if we consider the price point. There are a few minor compromises, such as average battery backup or no solid dust and water protection. However, its unique design and good sound quality are the main reasons to buy IGear Galaxy.
If you wish, you can buy this wireless speaker as it stands out as a unique product. It will certainly be included in Geekman's list of best Bluetooth speakers under 2000 Rs. If you have any questions about this IGear Galaxy, please ask in the comments section.
Also Read: