Boat, a well-known Indian consumer electronics brand has recently released a new smartwatch called the ' Boat Matrix ' in the Indian market. This new watch is the first smartwatch by Boat to feature an always-on AMOLED display which is the biggest USP of the smartwatch.
The Boat is now not a new player in the smartwatch segment and has launched numerous watches in the past, we have seen and reviewed multiple watches and to be honest, the experience was not that good but the Boat Matrix seems different from its predecessors.
The Boat Matrix is available in the Indian market for a price of around Rs. 3,999 and in this article today, I will be reviewing the Boat Matrix and sharing my experience with this newly launched smartwatch.
So let's not waste much of our time and quickly start with the box contents.
Box Contents
Starting with the box contents, firstly you will get some paperwork like the user manual, warranty card, and some other leaflets. Then you will get a Boat branding sticker that you can stick wherever you want and then a magnetic charging cable that snaps to the back of your watch to charge it up when it runs out of juice. Lastly, you will get the smartwatch itself that can be in Pitch Black, Ocean Blue, and Twilight Grey colours. For more info, please check the detailed review video of Boat Matrix on our Youtube channel Geekman.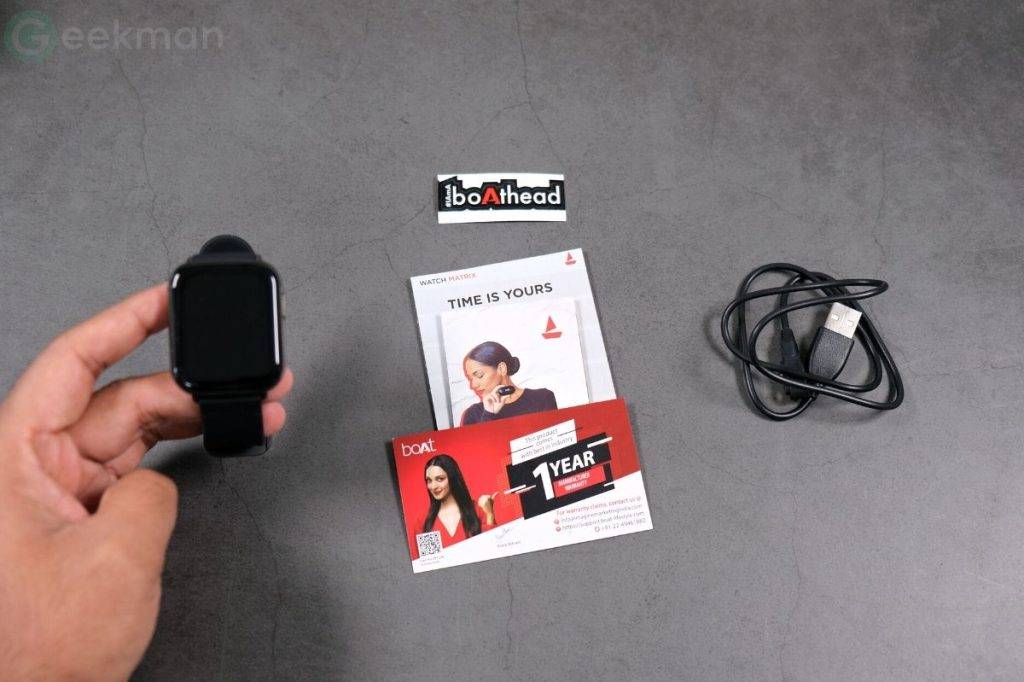 Build & Design
Now coming on to the build quality and design of the Matrix, Boat has spent a good amount of time with the build and design. You can feel how well this watch is built the moment you pick it up in your hands. The watch has a metal chassis that feels very premium while the back has a plastic casing that houses the sensors. It has two detachable straps that are made of high-quality material and are pretty comfortable to wear.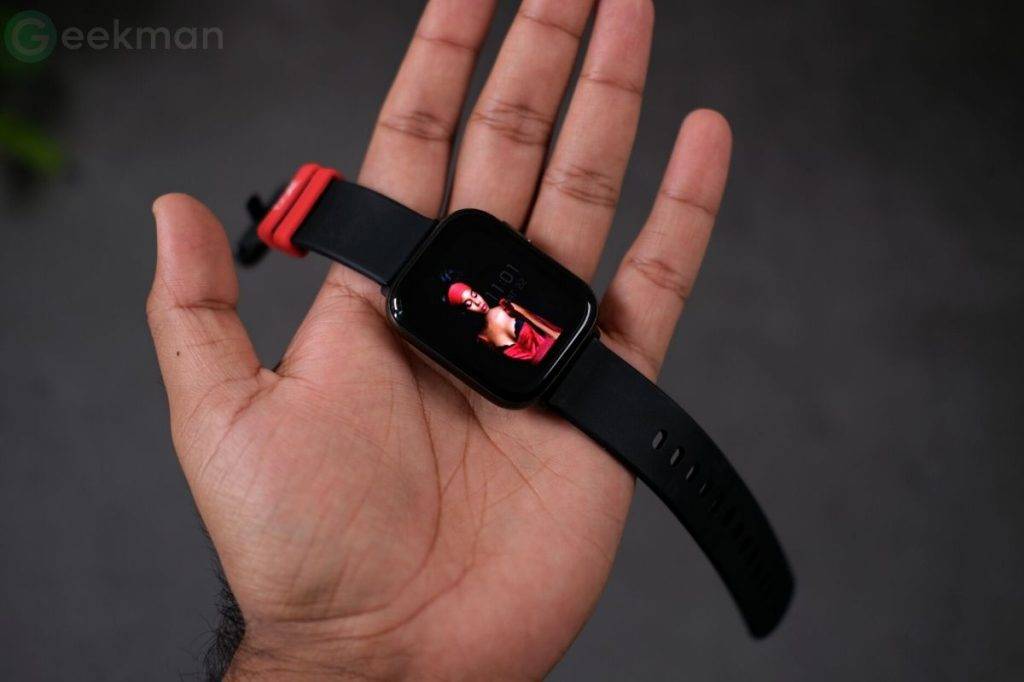 Overall the watch is pretty lightweight and weighs only 42 grams making the watch comfortable and good-looking at the same time. I used the watch for a few days and in my experience, it didn't bother me at all. If you're someone like me who has to spend around 10-12 hours working on their computer, I can assure you that comfort will not be an issue with this watch.
The watch is 3 ATM water-resistant which means you would not need to worry about dust and a few water splashes. You can easily take it for a shower or in rain but not in the swimming pools.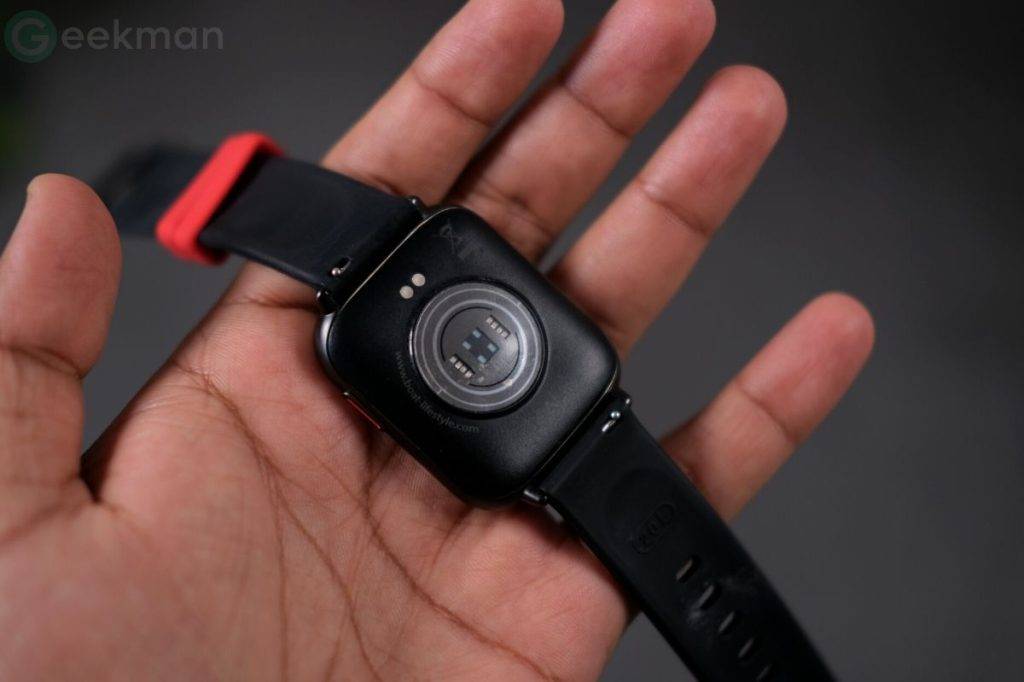 Display
Coming onto the display, Boat has tried out something new with the display that they have never done before, yes, I am talking about its AMOLED display. The Boat Matrix houses a 1.65 inch AMOLED display with a capacitive touchscreen which makes it the first smartwatch from Boat with an AMOLED display.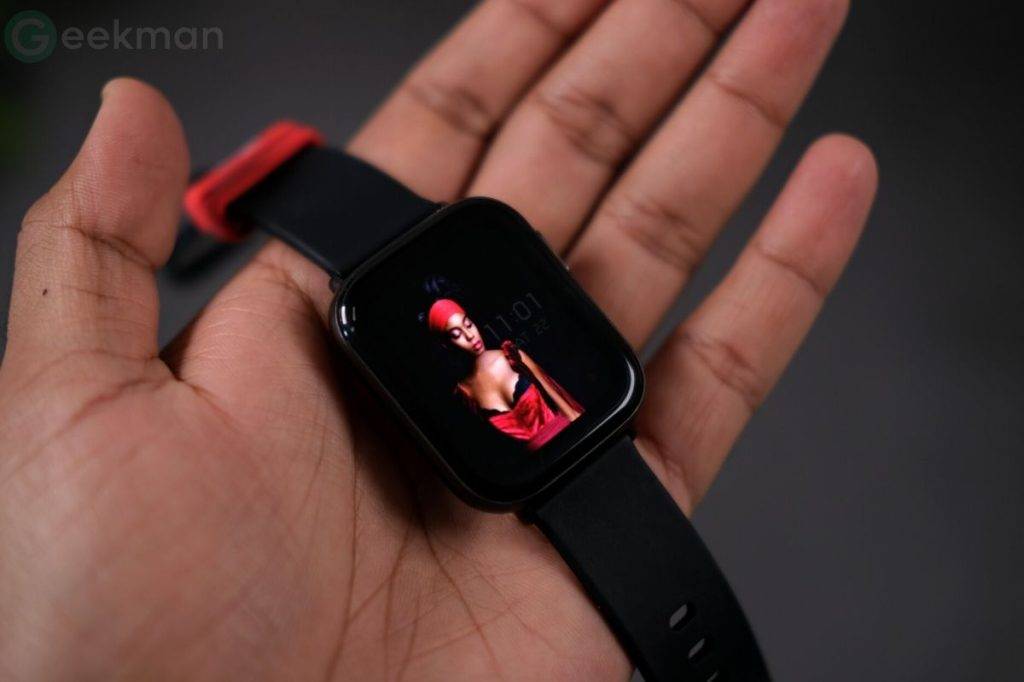 The display also has a 2.5 D curved design and has very narrow bezels which give an elegant look to the watch. Even though Boat has not mentioned any details about the display resolution or its peak brightness, the display is pretty bright and does a good job of reproducing the colours. The display does not have a very high resolution and it can be felt when looked closely but it is acceptable for its price.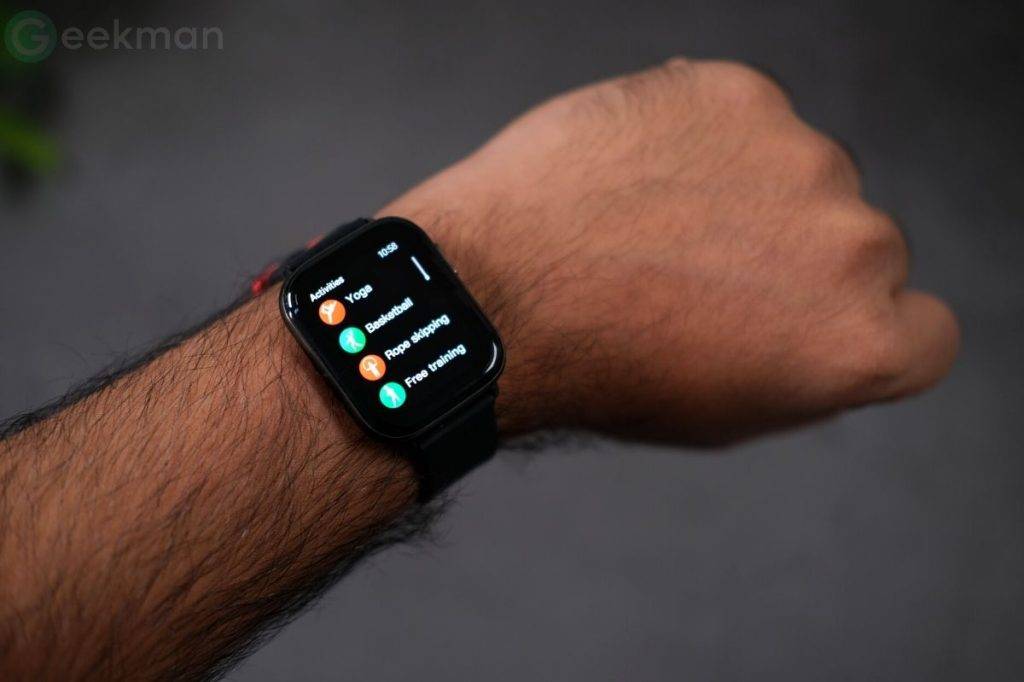 Features
Now let's talk about the features of the Boat Matrix. One of the most talked-about features of the watch is the always-on display feature which you can use with the digital and analog watch faces. Talking about the watch faces, you will get 4 inbuilt watch faces and lots of more cloud-based watch faces from its compatible app. You can even set custom watch faces from the same compatible app.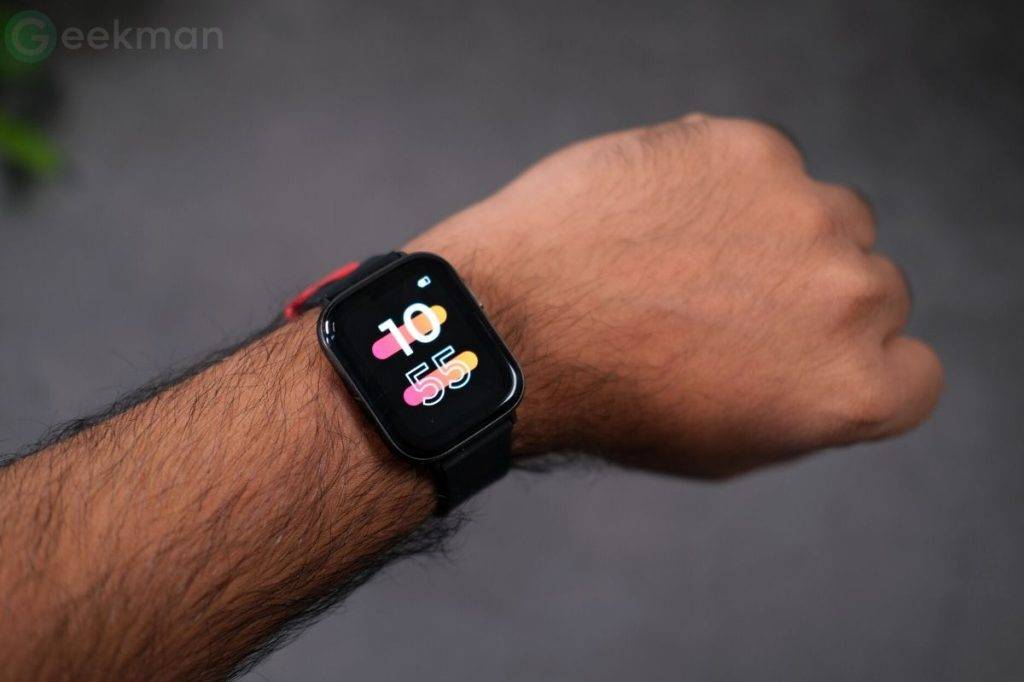 The watch is compatible with iOS and Android phones and has its compatible app called Boat Crest which is available on Google Play Store and iOS App Store.
This watch is loaded with a bundle of health-related features that makes it a perfect choice for health-conscious folks. It has calorie and distance tracking, daily activity tracking, continuous heart-rate tracking, and even SPO2 tracking.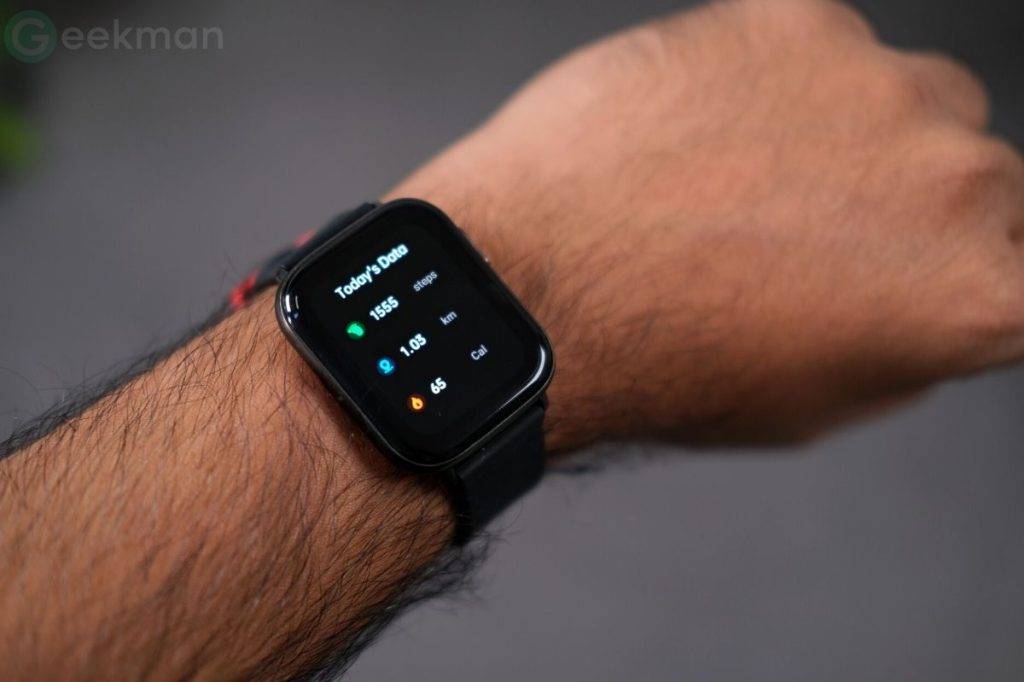 It even has 11 different sports modes so you can track down all your physical activities throughout your day. The watch lacks a GPS tracker which some other watches in the same price segment as the Realme Watch 2 Pro offers but they are pretty slow and are very far from how a good GPS-enabled watch should be.
The watch also has basic features like women's wellness tracking, breath training, music controls, camera controls, stopwatch, and alarm that comes in very handy in daily lives. When connected to Bluetooth, this watch can also display notifications from your smartphone including the incoming call notifications that you can even choose to reject directly from your wrist.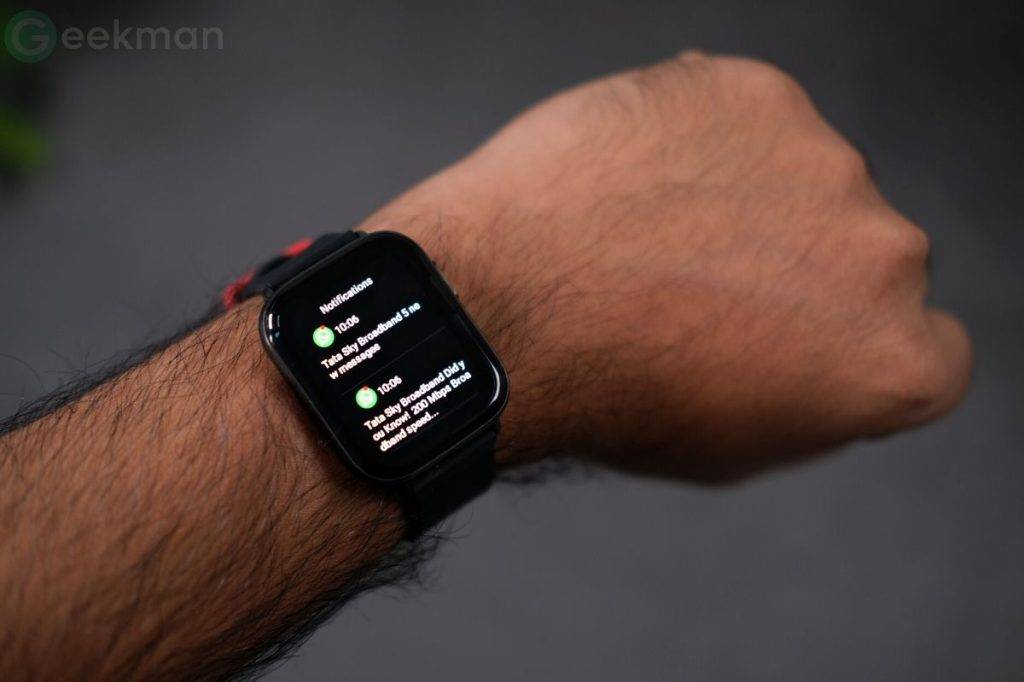 User Interface
Now coming on to the user interface, the Matrix has a minimal and easy-to-use interface. You get a button on the right side of the watch which not only works as the screen on/off button but also as a back button.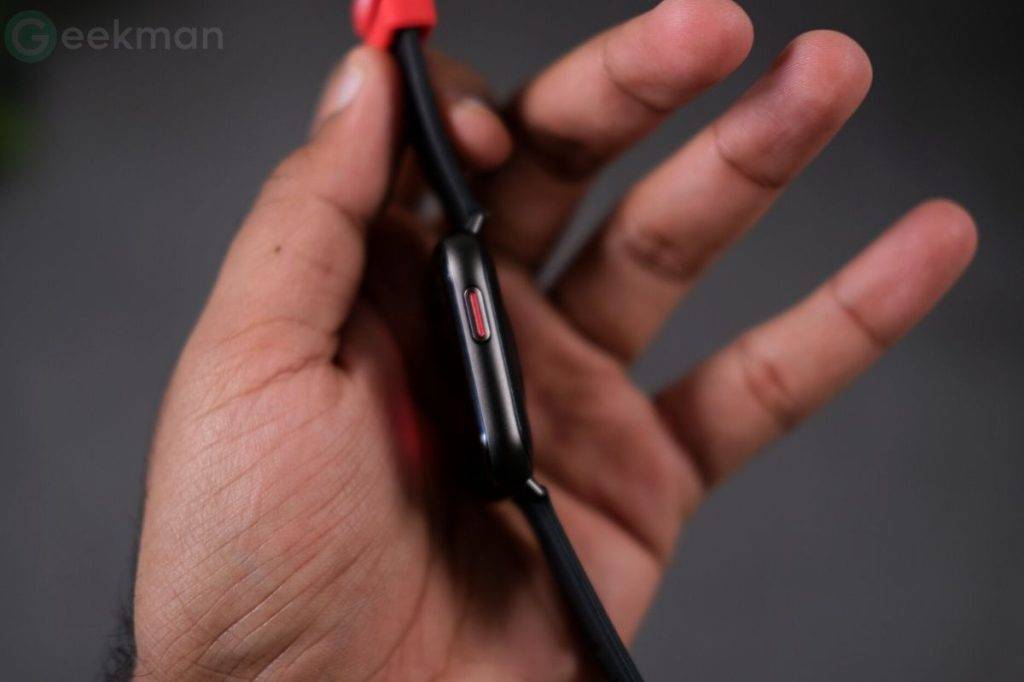 The touchscreen works very well with the watch and is pretty responsive although there is a noticeable amount of lag in the interface that is acceptable for its price.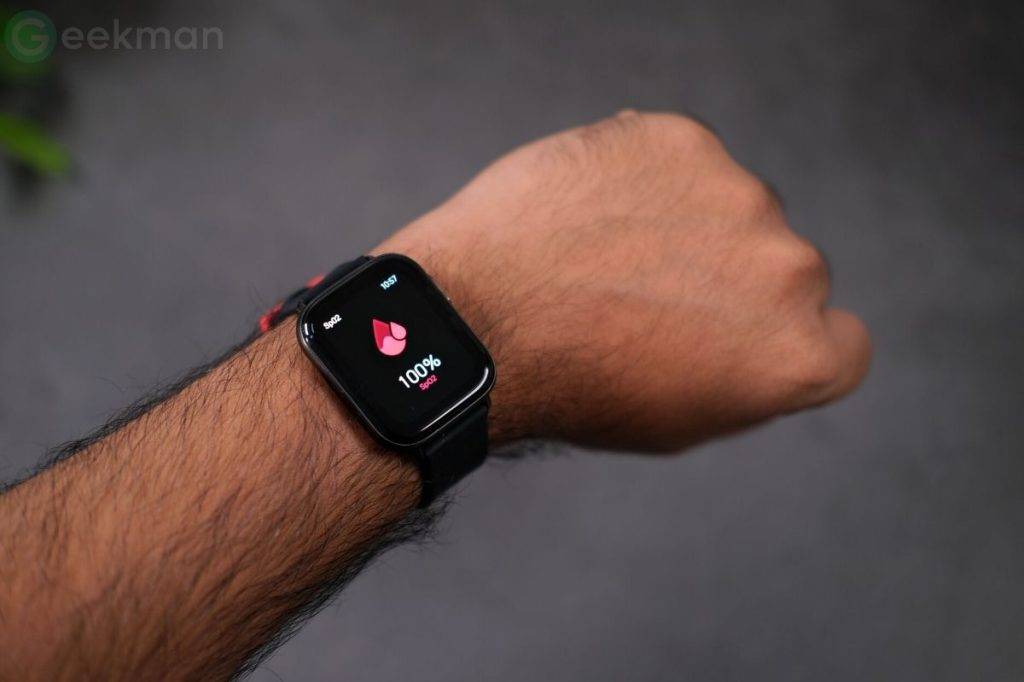 The app takes no time to pair with your smartwatch and quickly pairs itself up using Bluetooth without any issues. It also does an impressive job of synchronizing the tracked data and maintains a good connection with the watch, unlike other budget watches that get disconnected after a while.
Boat has done a good job with this app as well when compared to its previous compatible apps, it is very stable, has a very clean and minimal user interface, and shows all the useful information without any hassles.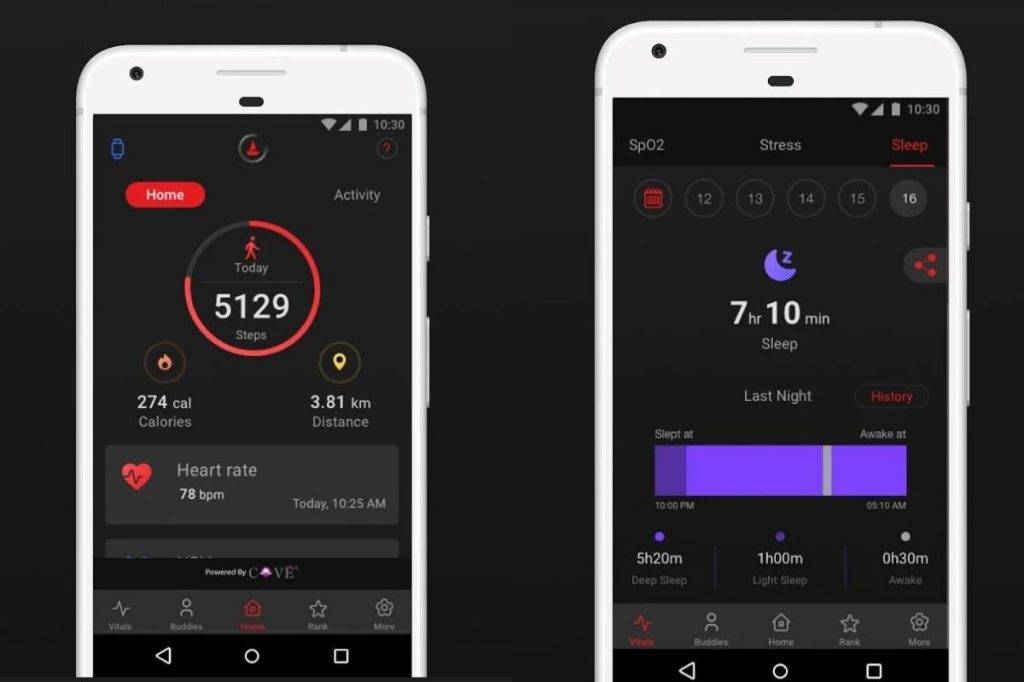 Accuracy & Battery
Now coming to the accuracy of the watch, I have tested this watch for a few days and I found the data pretty accurate. The steps tracking worked very well and the data was fairly accurate. The heart rate, SPO2, and sleep tracking also performed very well and offered trustable readings.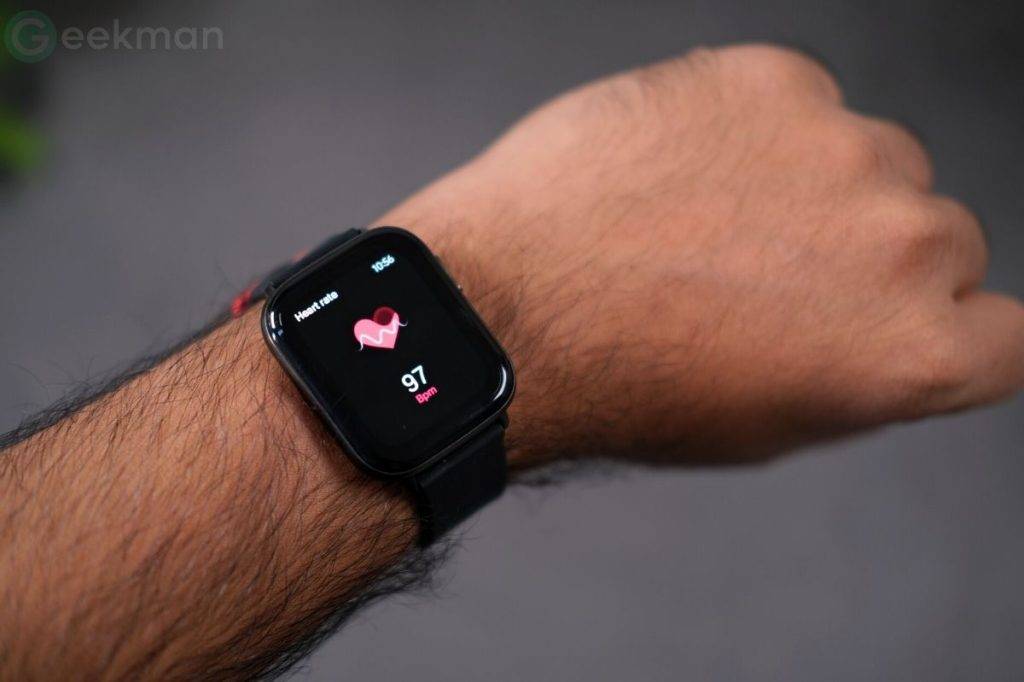 Coming to the battery, Boat offers a 260 mAh battery that the company says can last for up to 7 days. These numbers sound good enough although you may need to turn off most of the power-consuming features like always-on display and the continuous heart tracking to get close to these.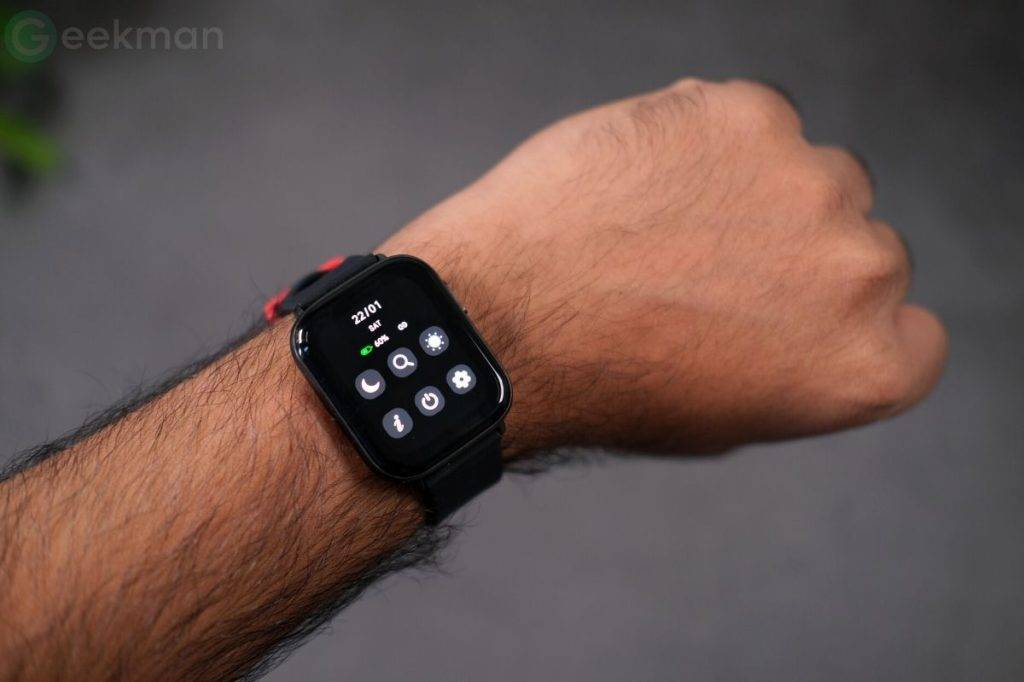 On the actual grounds, the smartwatch lasted for about 2 days with the continuous heart rate monitoring, always-on display turned on, and with the brightness kept to its peak. This number may sound a little disappointing to you but believe me, it's not that bad when looking at the features it backed.
Verdict
Now at last, should you buy the Boat Matrix or you should be looking out for some better alternatives?
Well, I pretty much liked the Boat Matrix, it has a stylish design, has a good build quality, decent display quality, smart features like always-on display and all the basic fitness tracking features that you could need in your day-to-day lives.
If you are looking for a good smartwatch under the budget of Rs. 5,000, then I would say, this is surely a good option to go for. This is surely the best smartwatch that Boat has to offer and would not fail to impress you with its features and capabilities.
Boat Matrix Review In Hindi
Also Read: