AMD just launched its first mobile gaming processor with a 3D V-Cache. AMD already launched a 3D V-Cache enable desktop processor last year, and soon you'll be able to pick up a laptop with a 3D V-Cache CPU.
AMD has unveiled the first mobile processor with its 3D V-Cache technology, the Ryzen 9 7945HX3D, architecture based on AMD Zen 4; this gaming CPU boasts 16 cores and 32 threads and a boost clock speed of an impressive 5.4GHz. Thanks to 3D V-Cache technology, the new Ryzen 9 7945X3D has an extra 64MB of L3 cache, for a total of 144MB. This extra large cache improved the frame rate of games and overall processing capabilities. With AMD claims an average improvement of around 15% compared to the non-3D V-cache chipset. According to AMD, this is the world's fastest mobile gaming processor for now.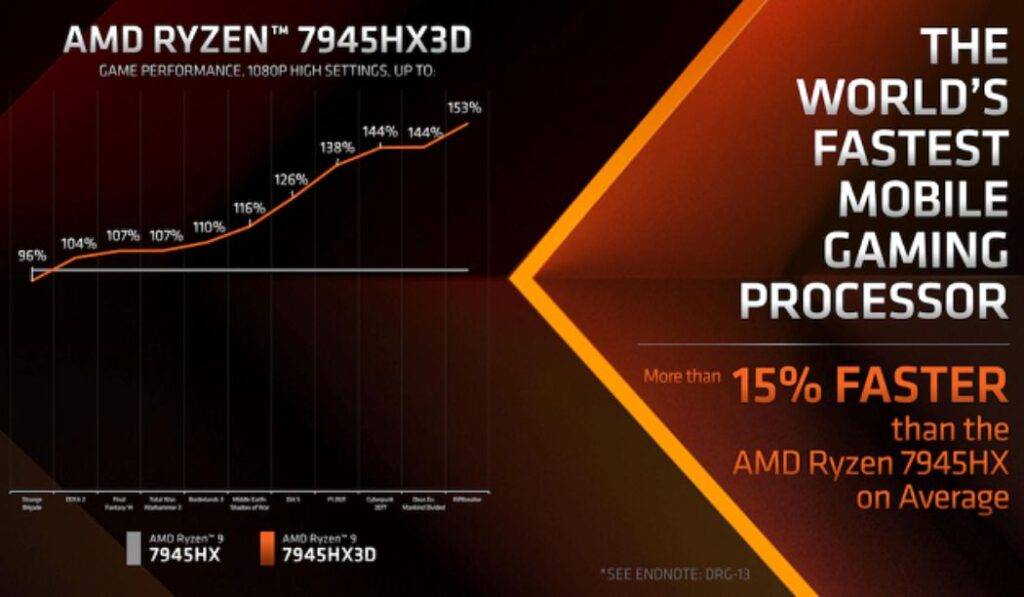 The Ryzen 9 7945HX3D is a modified version of the Ryzen 9 7945HX laptop processor, with the notable addition of a full 64MB of L3 cache bonded on top of one of its eight-core chipsets. Despite the extra cache, the TDP remains within the range of 55 to 75W, ensuring efficient power consumption without sacrificing performance.
The introduction of 3D V-Cache in laptops with the Ryzen 9 7945HX3D represents a step in the right direction. The performance boost provided by the additional L3 cache is more noticeable at lower thermal design power (TDP) levels and clock speeds, making gaming laptops an ideal platform for this 3D V-Cache technology.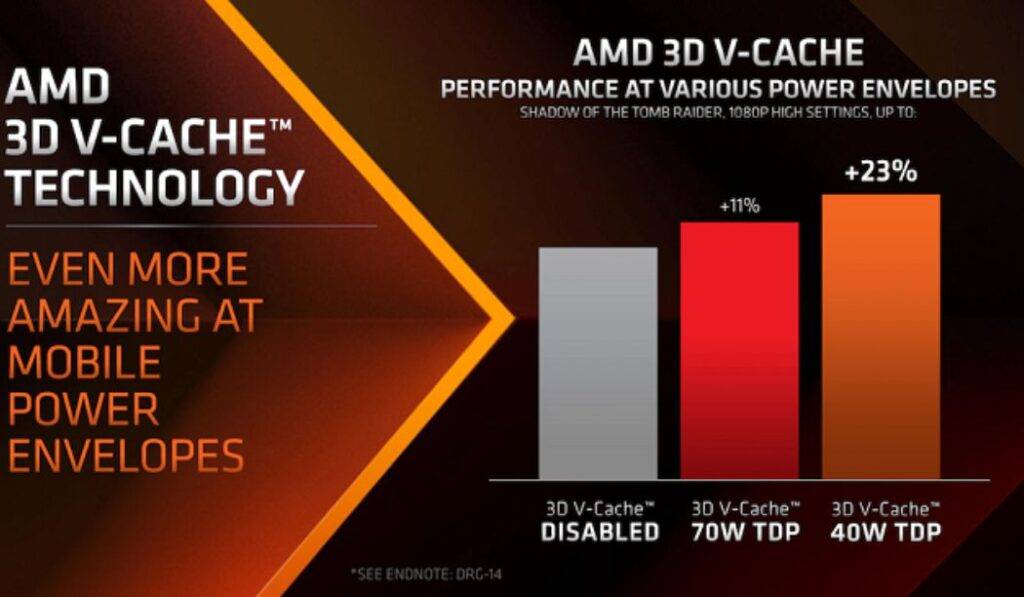 The ASUS ROG Strix SCAR 17 X3D has been unveiled as the first laptop to feature the new Ryzen 9 7945HX3D processor and is likely to be AMD's launch partner for this new mobile CPU.
AMD Ryzen 9 7945HX3D Specifications
Platform: Laptop (Mobile CPU)
CPU Architecture: Zen 4
CPU Cores: 16
Threads Support: 32
Max. Boost Clock: Up to 5.4GHz
Base Clock Speed: 2.3GHz
L1 Cache: 1MB
L2 Cache: 16MB
L3 Cache: 128MB
Default TDP: 55W
OS Support: Windows 10 & 11 – 64-Bit Edition; RHEL x86 64-Bit and Ubuntu x86 64-Bit
Processor Technology for CPU Cores: TSMC 5nm FinFET
AMD Configurable TDP (cTDP): 55-75W
CPU Socket: FL1
PCI Express Version: PCIe 5.0
System Memory Type: DDR5
Max. Memory: 64GB
Memory Channels: 2
Graphics Model: AMD Radeon 610M
Graphics Core Count: 2
Graphics Frequency: 2200 MHz
AMD EXPO Memory Overclocking Technology, Multithreading
NVMe Support: Boot, RAID0, RAID1, RAID10
Also Read: