Ambrane is back in the market with yet another massive power bank with a huge battery capacity, the Ambrane Stylo Boost. Well, we have seen power banks with massive battery capacities; a recent one of them would be the Ambrane Stylo Max which packed a giant 50,000 mAH battery pack inside of it. So what's special about the Ambrane Style Boost, which comes with a 40000 mAH capacity?
Well, that's why we are here. Today, I will share my experience with the Ambrane Stylo Boost 40000 mAH Powerbank. Let's start without any further ado!
Ambrane Stylo Boost 40000 mAh Power Bank Specifications
| | |
| --- | --- |
| Capacity | 40000 mAh, 148Wh |
| Ports | 1 x USB Type-C Input & Output, 2 x USB Type-A Output |
| Input | 60W max. Type-C |
| Output | 65W max. (Type-C), 20W max. (Type-A) |
| Other Features | PD Power Support, Quick Charge 3.0, 9 Saftey Layers |
| Weight | 840g |
| Warranty | 6 months |
Box Contents
In the box, firstly, we get a USB Type-C to Type-C cable, which is quite a surprise as most other power banks don't pack one, so you will have to buy one separately. Other than that, you get a few guides and warranty papers. Finally, you get the power bank which is available in Green and Blue Colors.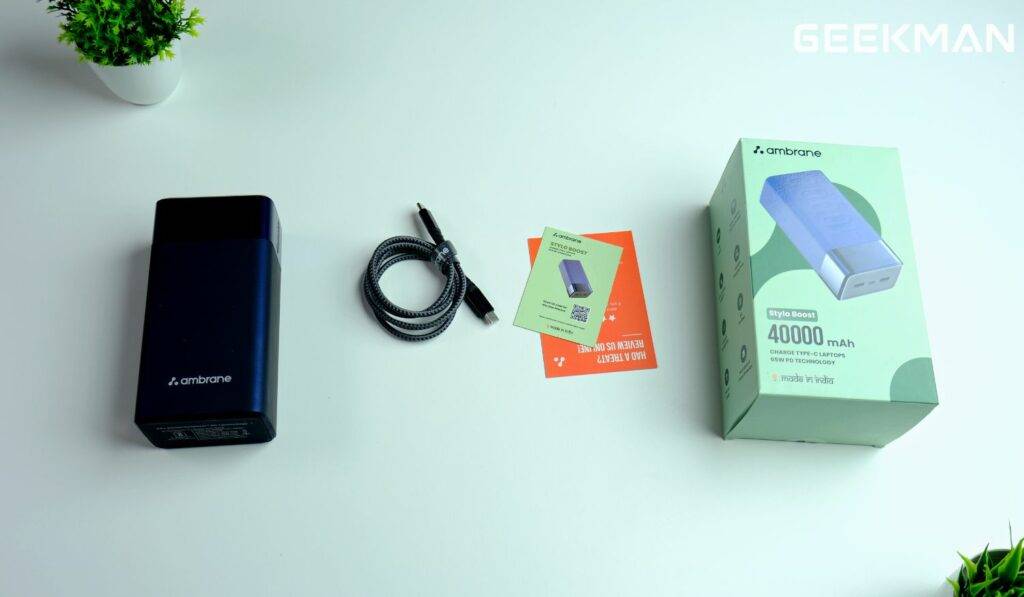 Design & Build
Let's start with the design and build of the power bank. The design of the power bank is quite minimal, which makes it look good. The build quality is impressive despite having a fully plastic body. It is made up of good quality plastic, feels solid in hands, and does not feel cheap. You get a matte finish on the body that looks good but easily catches dust and oil marks, so you will need to clean it up often. On the right-hand side, you get a power button along with a power indicator that tells about the battery status.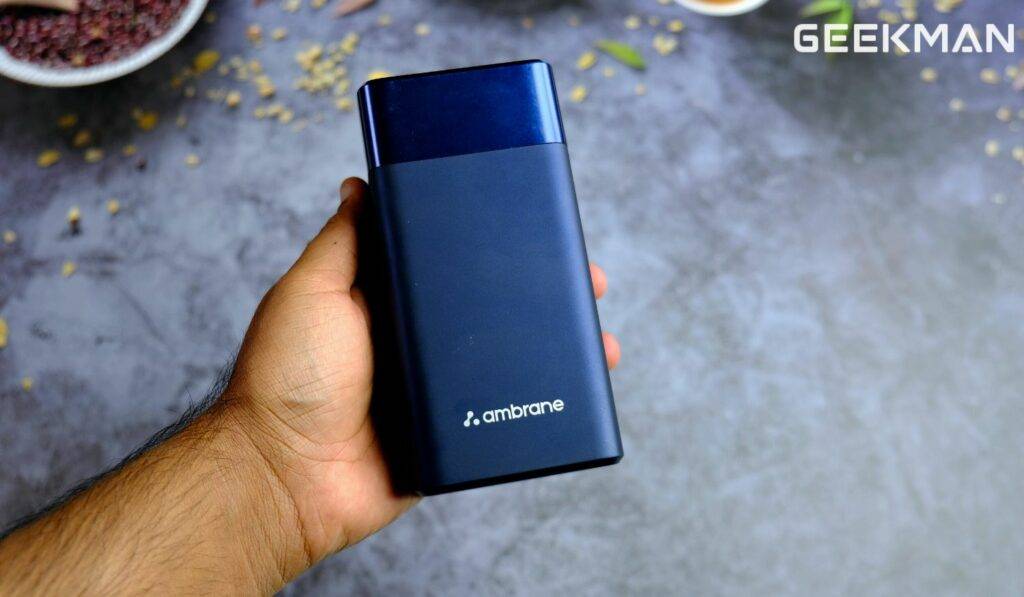 This power bank houses a giant 40,000 mAH battery pack, one of its prime selling points. As they say, "With Big Powers, Comes Big Responsibilities," which is the exact same case with the Ambrane Stylo Boost as this huge battery adds a really good amount of weight to the power bank, making it weigh about 840 grams which can make it quite a hassle to carry around. If you are someone who travels a lot, I don't think you will want to carry something this bulky around.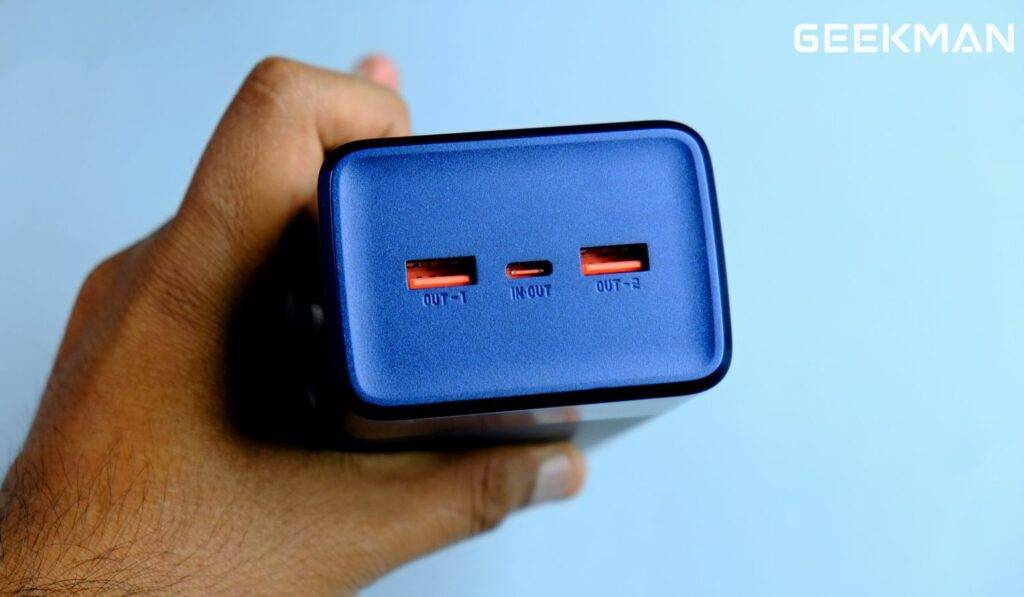 Also, you won't be able to carry this while Air traveling as most airports won't allow carrying a power bank with more battery capacity than 20,000 mAH. But if you are ready to put those aside, I bet the features will surely excite you. So let's have a look at the features.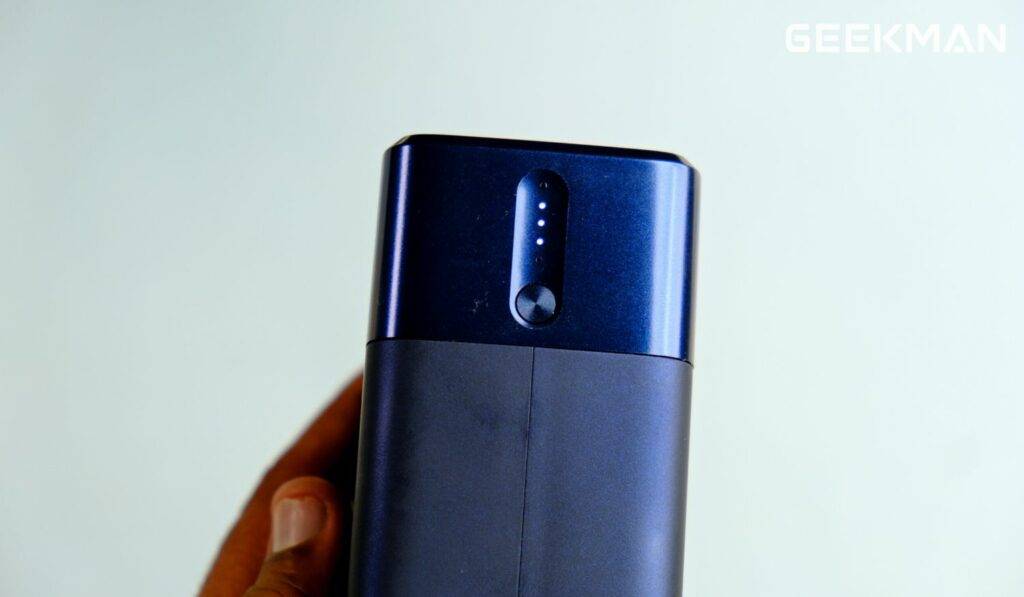 Features & Battery
To start with, you get 65W fast charging with Quick Charge 3.0 support, making it India's fastest-charging power bank. It charges your devices quickly and can also charge itself in approximately 5 hours, which is pretty quick for a power bank of this capacity. As for output ports, you get three total output ports. You get a main USB Type- C port, which can deliver a max power output of 65W. The quick charge works exceptionally well, and it fully charged my 5,000 mAH smartphone in about 30 minutes.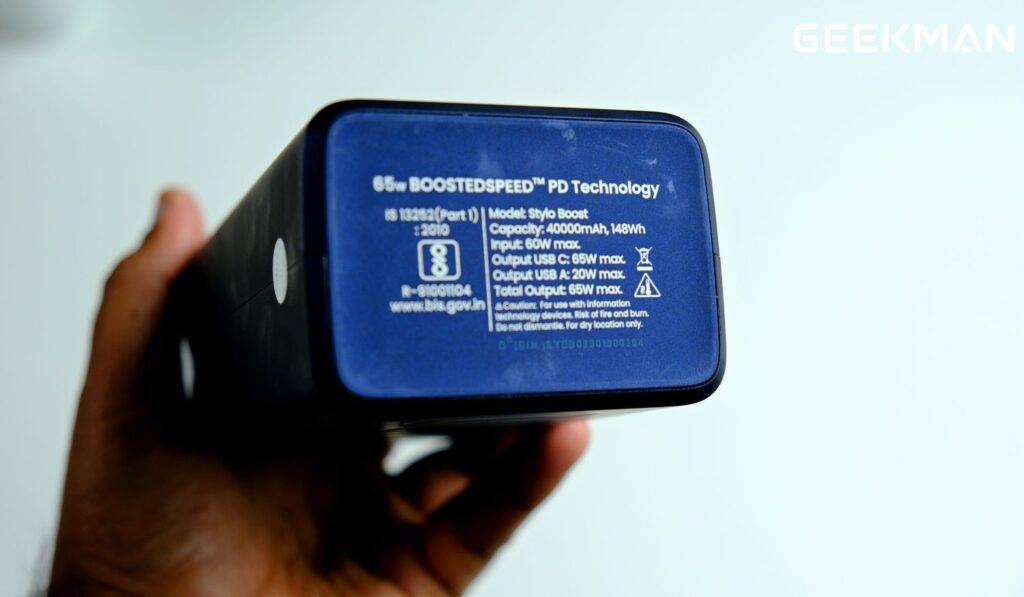 Meanwhile, the other two ports are USB Type-A ports that can deliver a max power output of about 20W, and the fun part is you can use all three ports simultaneously. Of course, the charging speed would be divided, but you can still plug in all your devices simultaneously. The fun does not end there; if you have a USB Type-C powered laptop, you can hook it up to the power bank, and it can charge that as well.
Besides that, the power bank follows all safety standards and has all safety features, including overcharging protection, overload protection, and even short circuit protection, so you can safely use it without fearing its capacity. The battery is capable enough to fully charge your laptop once and fully charge your smartphone not once or twice but at least five times.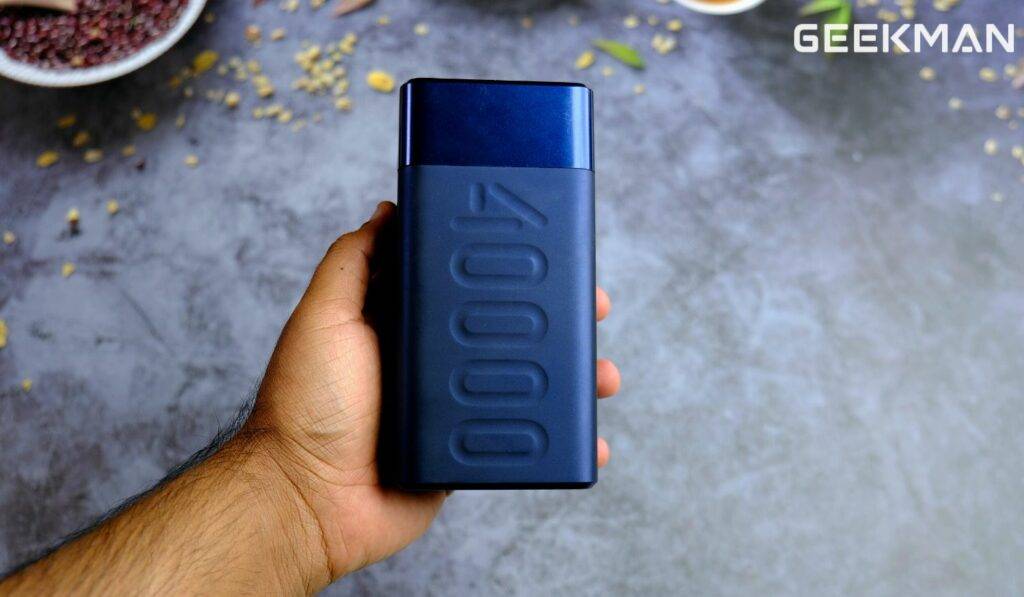 Although there is no slow power delivery mode for charging your low-power input devices like smartwatches or TWS, you can still charge them, as these devices already have a power controller on their boards.
Verdict
Finally, who should consider buying the Ambrane Stylo Boost?
If you are looking for a high-capacity power bank with fast charging support, this is exactly what you are looking for. This is the only power bank in the market with 65W power output (for now), and the battery capacity is also massive, making it a perfect choice for charging your devices multiple times. Although you should know that you won't be able to carry it everywhere with its bulky weight, traveling on flights with this won't be possible either. But if you are fine with that, the Ambrane Stylo Boost is worth the price.
For those who have to travel with the power bank or have to take air travel very often, you can check out the MI Power Bank Hypersonic 20000 mAH, which comes with 50W fast charging support, or you can check out our list of the Best Power Banks in India.
That would be all from my side on the Ambrane Style Boost Power Bank review. If you have any queries or suggestions, feel free to drop them down in the comments, and I will get back to you as soon as possible. Thanks for reading.
Ambrane Stylo Boost 40000 mAh Review In Hindi
Alternative:
Also Read: