Are you looking to buy a decent pair of a budget earphones under 500 Rs, the AmazonBasics is something you should definitely consider. It delivers a bit more than what you would expect from best earphones in this price range. Here you find Full Review of AmazonBasic earphones with every minor detail. Read this article and know it worthy or not. If you have any questions about these headphones, please comment on Post, and you also ask questions on Youtube.
AmazonBasics In-Ear Headphones Unboxing
The Packaging of this earphone is very basic. We get three different sized ear caps with earphones in the box. If you like to watch AmazonBasics In-Ear Headphones Unboxing video, Please visit my youtube channel Geekman.
Design & Build, and Comfort
The design of these earphones is very basic as his name. It looks like a capsule with a unique design. Build quality of this earphones is quite OK compared to price. You have three colour options with these earphones, Black, White, and Blue. The build quality is not so good, but it doesn't affect sound quality. That's why I like these earphones. The Silicon earcaps of this earphone are very soft, so you can enjoy your favourite music and movie for long hours. When coming to comfort, it very comfortable because of lightweight and unique design. Seriously, These headphones are very comfortable.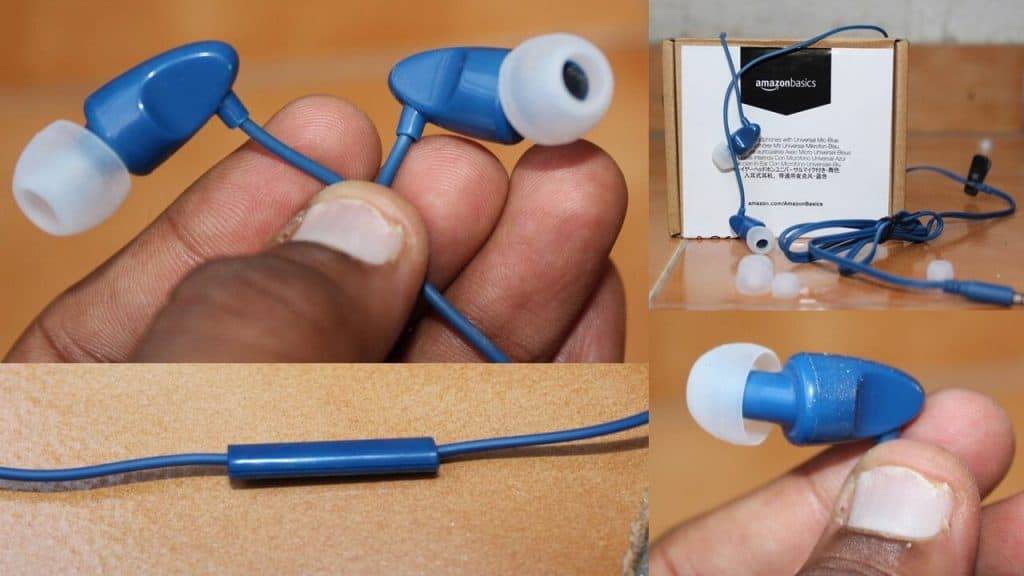 The AmazonBasics In-Ear Headphones comes with a microphone with single-button remote. There is one button on the microphone, which single click you can pick up or reject calls. You can also control the music track with this button. The wire of these earphones is 1.2m long, so you can easily hold your phone in a lower pocket. A cable quality of this earphones is very decent but don't worry, I checked it doesn't breakable easily.
It also comes with cable clips, so you can easily clip the cord to your shirt or jacket. I am very impressed with the noise cancellation of these AmazonBasics earphones, You can't hear any background noise even in crowd and traffic. Overall, I am satisfied with the design and build quality compared to what I pay.
Audio quality
When coming to sound quality, you will definitely satisfied with the overall audio output of these Amazon earphones. The Audio output is very clear and loud with balanced effect. The Bass, Vocal, and treble sound also good compared to price point. If you listen to EDM, Pop, and metallic music tracks in these earphones, then you love it. Overall, I say these AmazonBasic in-ear headphones are value for money on point of sound quality. There are also some disadvantages in audio But ignore it, because we can't expect all things at this price range.
I also reviewed some famous earphones in this price range including, Philips SHQ1200/10, Sound One 616, and boAt BassHeads 225.
Final Word
I know you have the question can I buy these earphones or not. Buy these earphones without a doubt, if you looking earphones with a microphone under 500 Rs. More info please check my Review video on my youtube channel Geekman. More info please read our list of Top 5 best earphones under 500 Rs.
Buy now