I've been using smartwatches and fitness bands for years now, and very infrequently have I come across something that genuinely excited me. The YHE BP Doctor Pro ($299) is one of the few smartwatches that I was quite interested in checking out. After all, the BP Doctor Pro is not an ordinary smartwatch, it's a medical-grade smartwatch with an air valve that inflates to monitor your blood pressure.
It's an interesting addition, as high blood pressure can be difficult to ascertain without tests and lead to heart attacks or strokes. So, it's really necessity to monitor it on a regular basis because it's a matter of life or death. So, in that case, you can buy the YHE BP Doctor Pro, which can be a good alternative to medical-grade blood pressure devices.
After spending significant time with it, I have a lot to talk about the BP Doctor Pro. I'll demand your attention to start with the specifications of the smartwatch and what comes in the packaging, after which I'll talk about more of its hidden talents.
YHE BP Doctor Pro Specifications
| | |
| --- | --- |
| Display | AMOLED 1.4″ glass touchscreen, 320 x 360 resolution |
| GPS | No |
| CPU | 208MHz MTK processor, 256MB memory |
| Water-resistance | – |
| Bluetooth | BLE 4.2 |
| Support | Android 6.0+ or iOS 9.0+ |
| Sensors | PPG Heart rate sensor, Triaxial accelerometer, Gyroscope, Pressure sensor |
| Battery | 180mAh, 4-6 days with light use |
| Body | Medical grade 316L stainless steel |
| Weight | – |
What's in the Box
First off, let's take a look at the contents of the box here.
BP Doctor Pro Smartwatch (Black color)
USB Charging cable with charging dock
Instruction Manual and welcome letter
Wrist sizing template
The box itself is pretty much what you'd expect, although I do like the almost lego-like way it opens up when you take the watch out of it.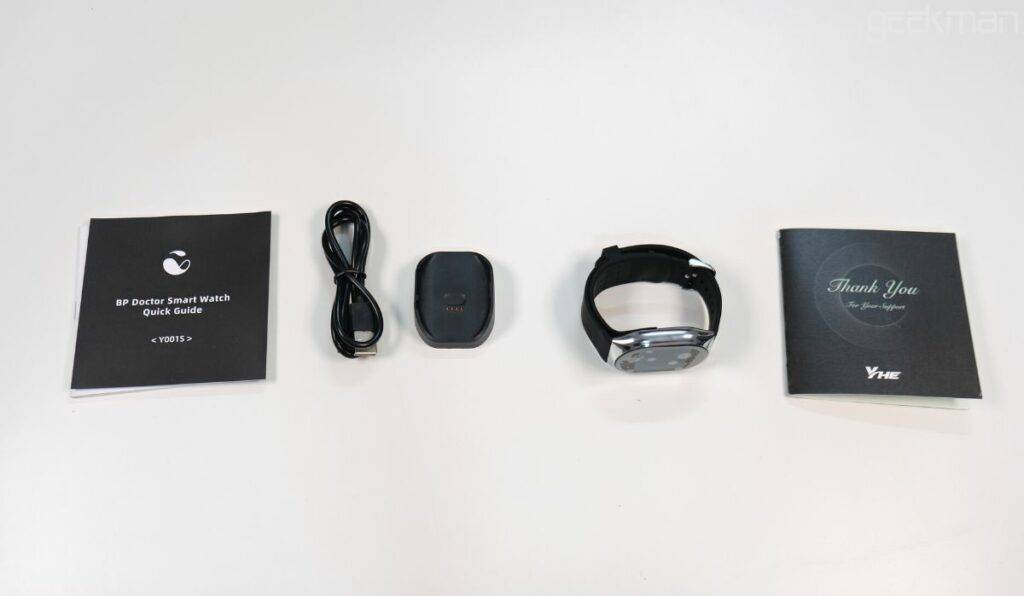 Design & Build
In terms of design, Wearwiz has gone for the simple and practical look on the YHE BP Doctor Pro. Unlike the Apple Watch and other latest smartwatches, it doesn't have an elegant and compact look, but the design is certainly pleasant enough. At first impression, I was worried that the watch would look bulky on my slim wrists, but it actually sits quite nicely and feels comfortable to wear.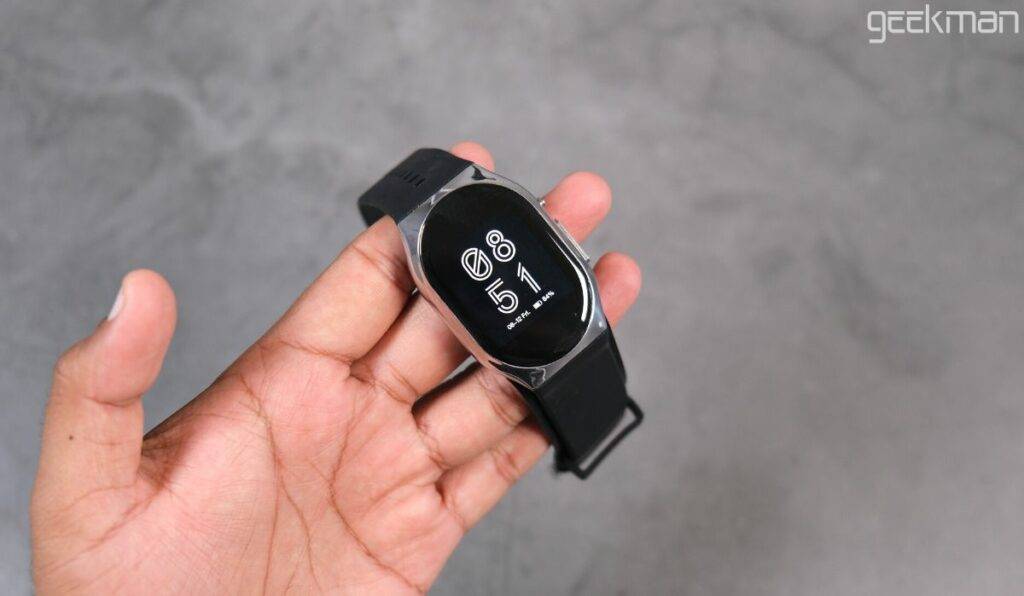 The build quality of the YHE BP Doctor Pro is also very solid. The smartwatch has military-grade stainless steel chassis that is guaranteed to be durable. The main display area is enclosed in an oval-shaped glass-covered face with a square 1.4inch touchscreen AMOLED panel.
There's a pair of buttons on the right side, a small on/off button (also works as a back button), and a larger multifunction button.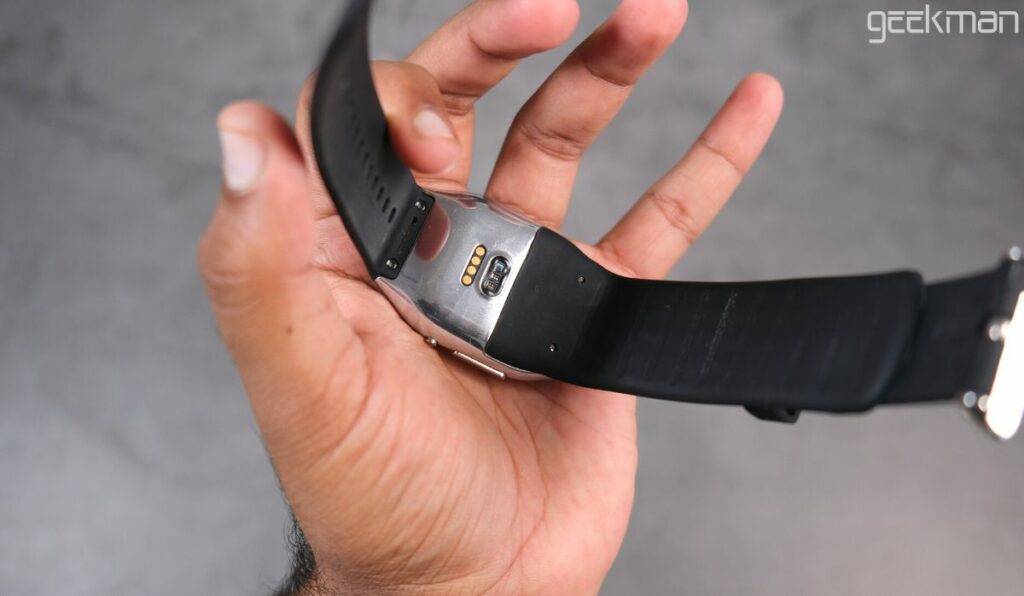 The underside has the triaxial accelerometer, a gyroscope, and 30mm-wide silicon wrist strap, and an inflatable cuff to gauge your blood pressure. The inflatable cuff squeezes your wrist and allows the YHE BP Doctor Pro to measure the pressure of the blood flowing through your veins and arteries. It can be a little disconcerting at first, but this physical aspect of the approach means you should get accurate readings.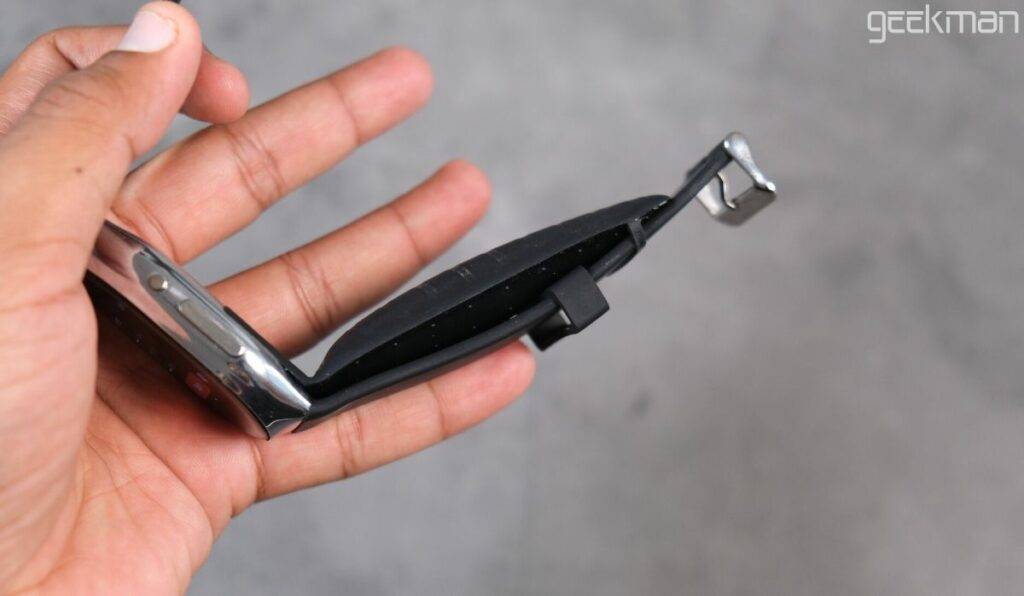 The inflatable cuff is positioned as a crescent covering only half of the inner wrist. It is physically attached to the back of the watch with a very narrow silicone loop. I am not convinced it's going to last that long, which is a slight concern. Although no official IP ratings are given to it, I think taking a few water splashes should be fine. But I suggest you drop all your plans to shower with this on.
Display
Now the next best thing about the BP Doctor Pro is its good and bright display. It has a 1.41-inch AMOLED touch screen square shape display with 320 x 360 pixels resolution. Being an AMOLED panel, the screen does a really good job with colors and contrast, and everything looks very pretty on this display.
Unlike other modern smartwatches, the display is small, with large bezels around. Yes, it looks very packed, but it doesn't make it difficult to read.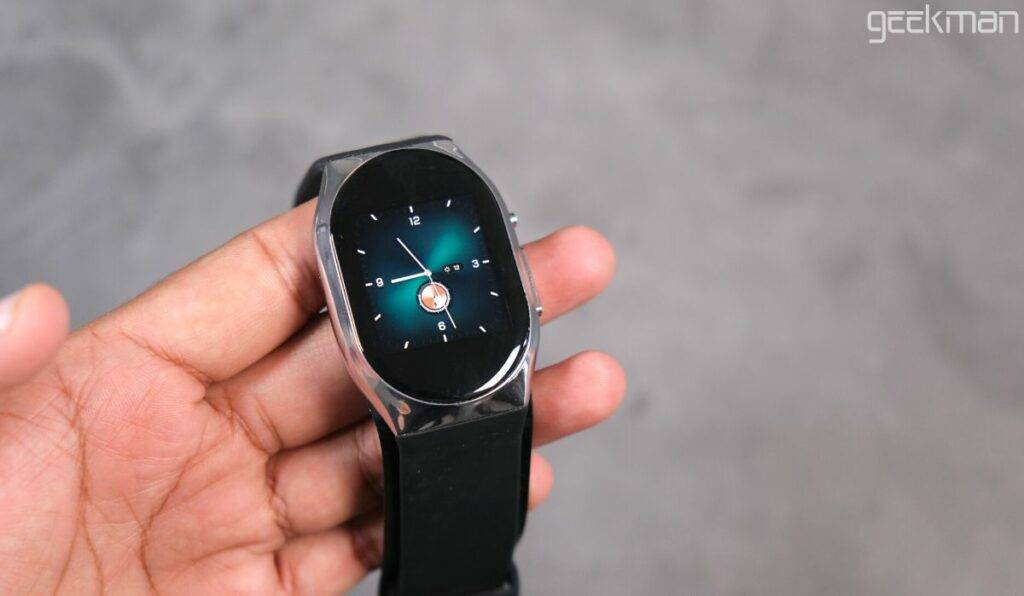 Talking about the watch faces, you will have about 3-4 preloaded watch faces that you can change directly from the watch. If the built-in watch faces are not impressive enough, you can even choose from a bunch of watch faces available in the companion app.
Apart from this, the YHE BP Doctor Pro also offers always-on display support with 20 seconds of on-screen time and five levels of brightness.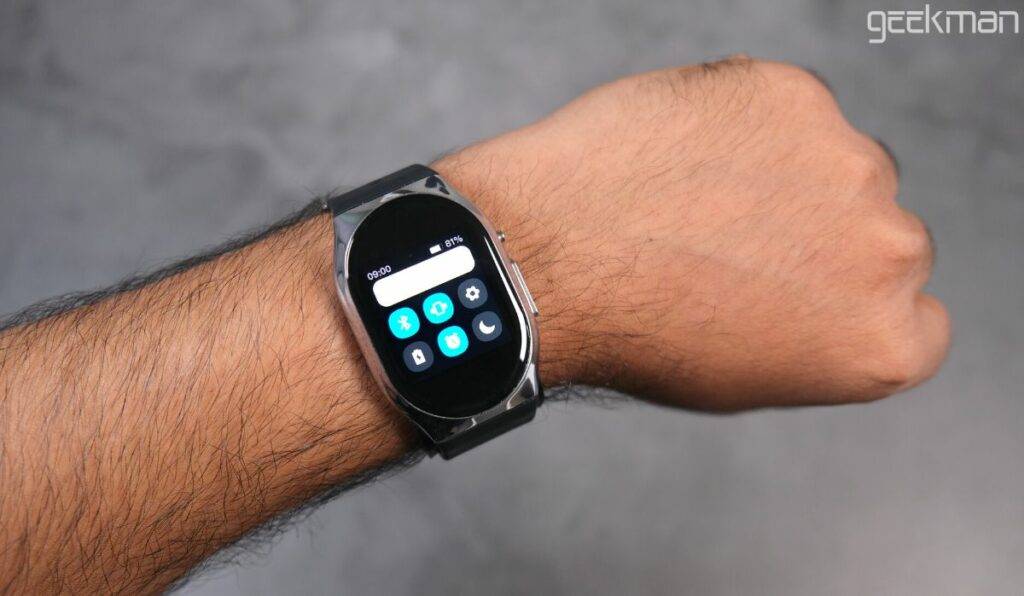 Watch Interface
Coming to the interface, the watch UI is very clean and easy to use, similar to most of the other smartwatches and fitness bands. It comes with its own software that works fluently without any issues. It is full of colorful visuals and graphs that look very good with the design.
The first screen acts as the watch face; several can choose from it via the application. The display is AMOLED, so the watch faces and info card look very bright. Unfortunately, the main display area is very small and hard to read.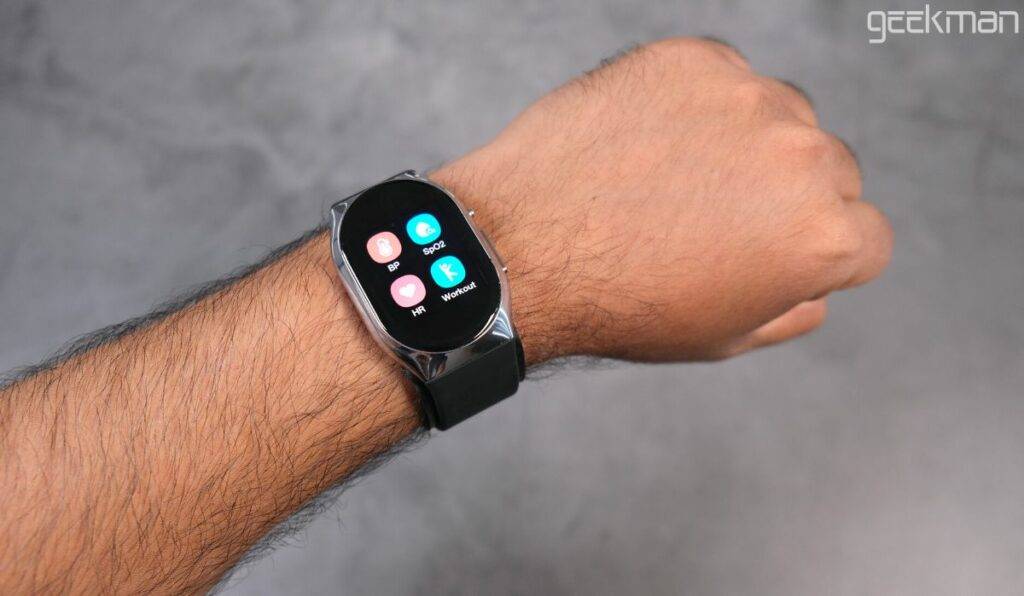 Apart from this, you can easily access the quick setting menu and notification page using swiping up and down. While the left and right swipes offer the daily activity records along with blood pressure, heart rate, sleep tracking, Heart Rate Variability (HRV), and SPo2 tracking. For other options, you'll have to press the long button on the right side of the casing.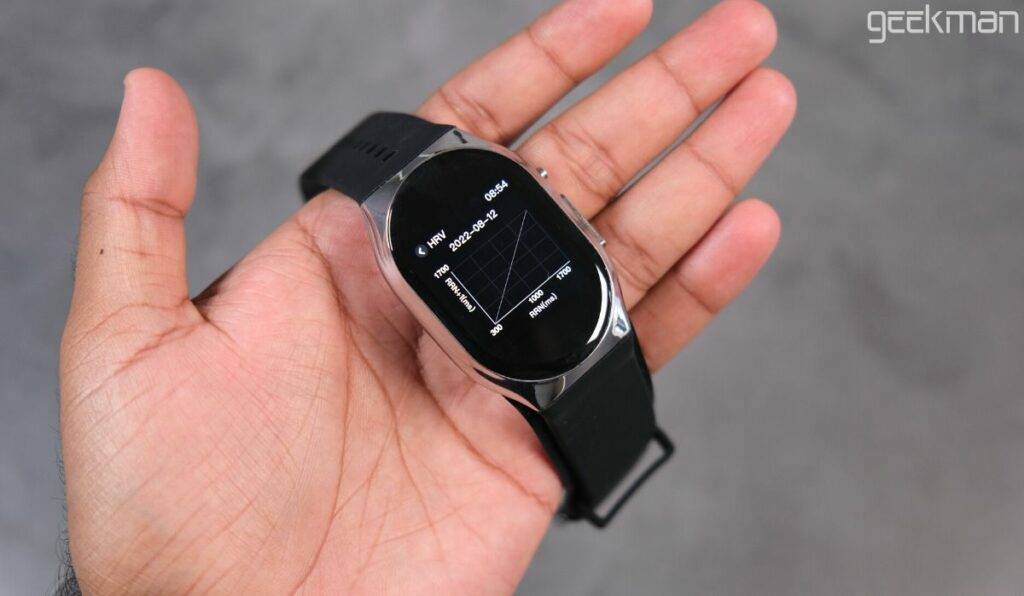 BPDoctor Plus App
The BP Doctor Pro uses the BPDoctor Plus companion app, which is available on android and iOS. The app is very easy to use and very well optimized. The app shows all the health-related data collected by the watch, including Blood Pressure, Heart Rate, Daily Sleep, Spo2, Heart Rate Variability (HRV), and daily activity tracking.
Apart from this, the profile page offers you all the necessary watch-related settings and customization.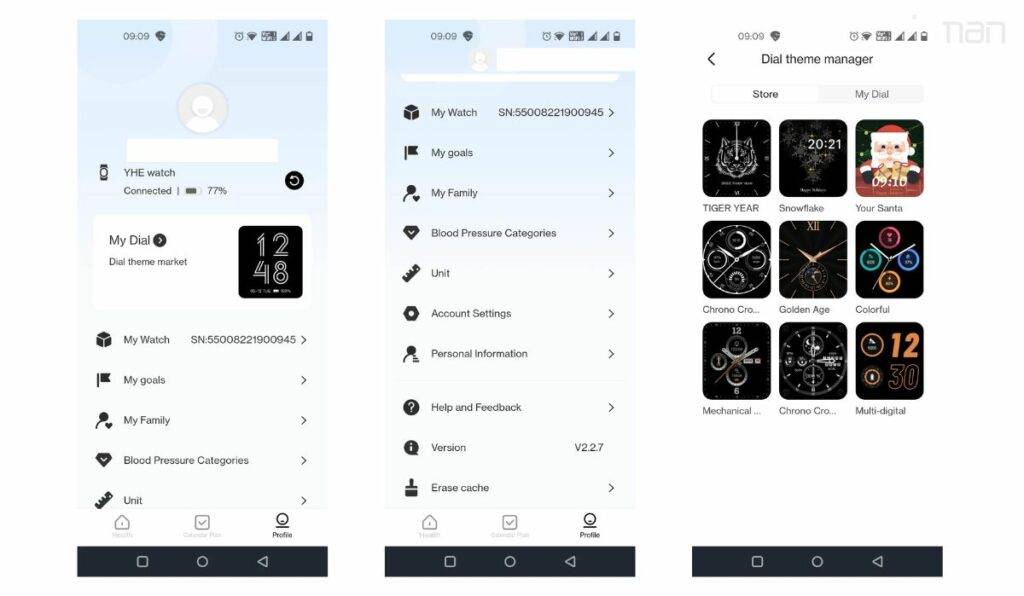 Feature and Accuracy
The YHE BP Doctor Pro comes with all the basic health and fitness-related features with some standard smartwatch functions. There is no doubt that blood pressure is the prime selling point of this watch, so let's start with that first.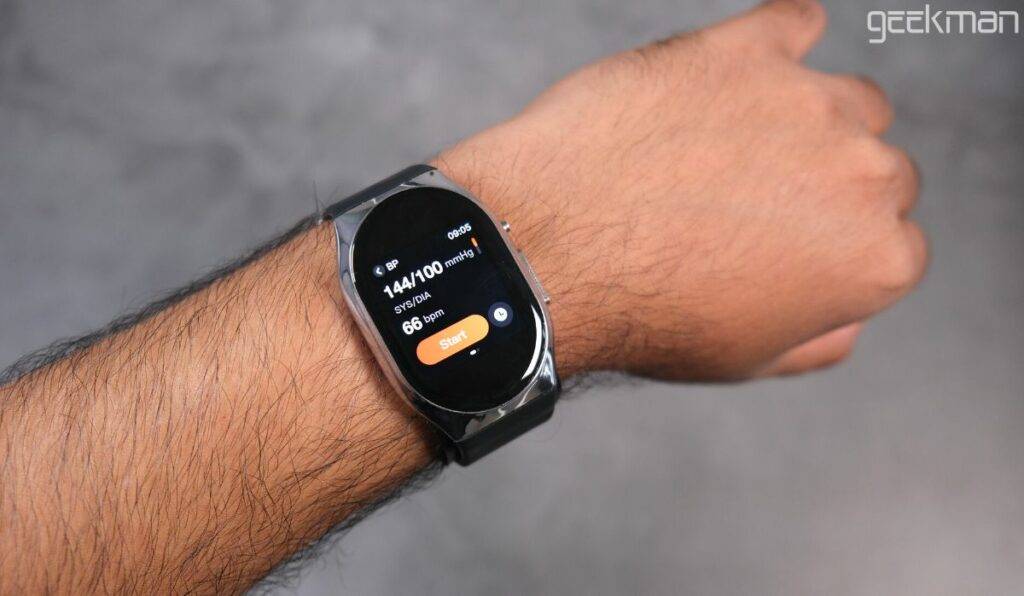 I think I don't need to explain to you why you need to check your blood pressure frequently. You need to monitor your blood pressure regularly to avoid health risks if you have any serious heart-related problems, hypertension, kidney disease, or stroke. So, this feature is really a game changer for smartwatches; you don't need to carry a separate desktop blood pressure monitor.
As I said earlier, The BP Doctor Pro comes with inflating section within its strap belt, which constricts around the area just above your wrist. This allows the watch better to picture your blood pressure via its various sensors.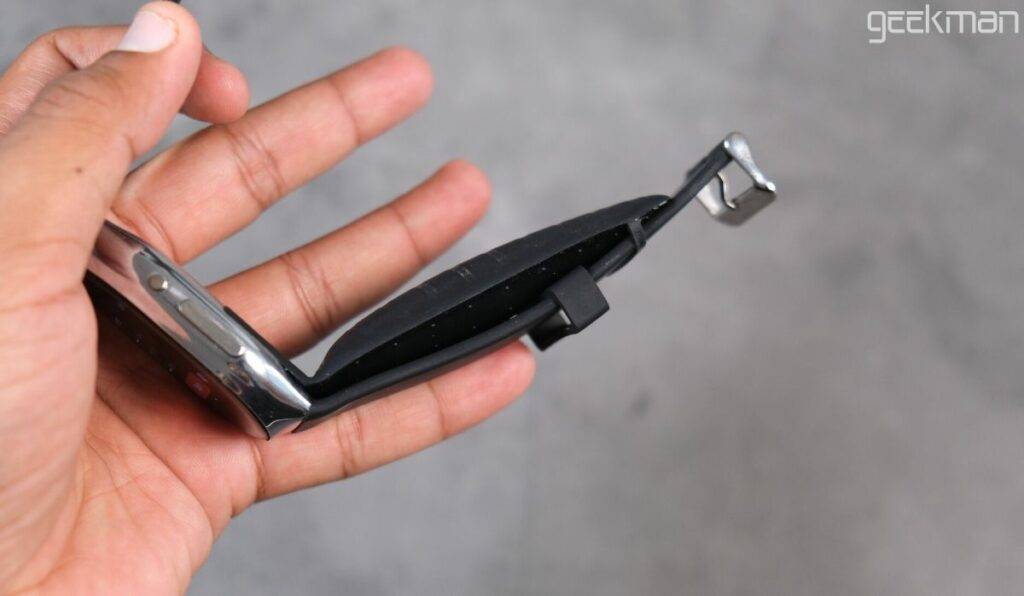 For the comparison, I used a Dr. Morepen Blood Pressure Monitor, the medical grade blood pressure monitor that many hospitals and doctors prefer. The testing result was interesting and satisfying. The BP Doctor Pro's accuracy is very near to the medical-grade blood pressure monitor. Yes, Doctor Pro often shows higher readings, by approx 10 points, but it's OK we have to accept the 5-7% error.
So, yes you can't completely rely on the BP Doctor Pro to accurately tell you your exact blood pressure, but it is ideal while traveling so that you can visit your doctor once a week to get a professional reading.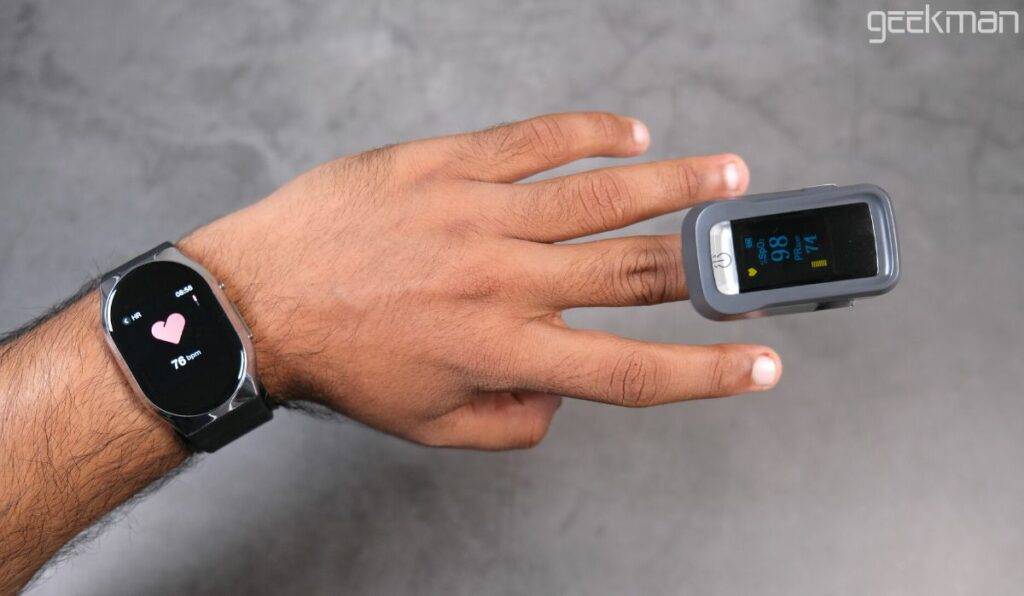 Apart from blood pressure, the BP Doctor Pro also offers live heart rate, heart rate variability (HRV), blood oxygen levels, sleep tracking, and daily step count. During my one-week testing, I checked all these features, and I found that the stats are accurate and trustworthy.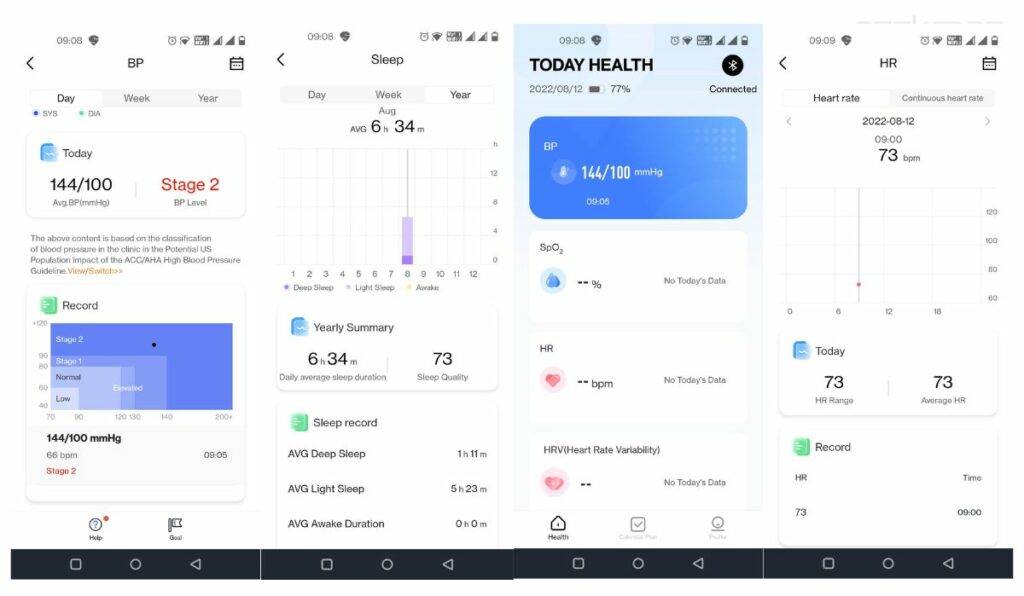 Apart from this, the watch also offers some basic functionality, like a weather report, alarm, message & app notifications. The BP doctor Pro also offers some basic exercise tracking, like Outdoor Walk, Indoor Running, and Outdoor Running. Overall, the exercise modes were not the best and also very limited, so you can call it one of the biggest compromises. The YHE Doctor Pro doesn't have an inbuilt GPS, as well.
Battery
Coming to the battery life, I found that the battery had solidly endured 2-3 days when I enabled the raise-to-wake setting along with full display brightness. During the testing, I also checked my heart rate every 2-3 hours and blood pressure every other day.
Yes, there is no doubt you can extend this time by turning off the wake feature and reducing the screen brightness. The YHE BP Doctor Pro battery consumes around 2.5 hours to get refueled, and I believe it's justified.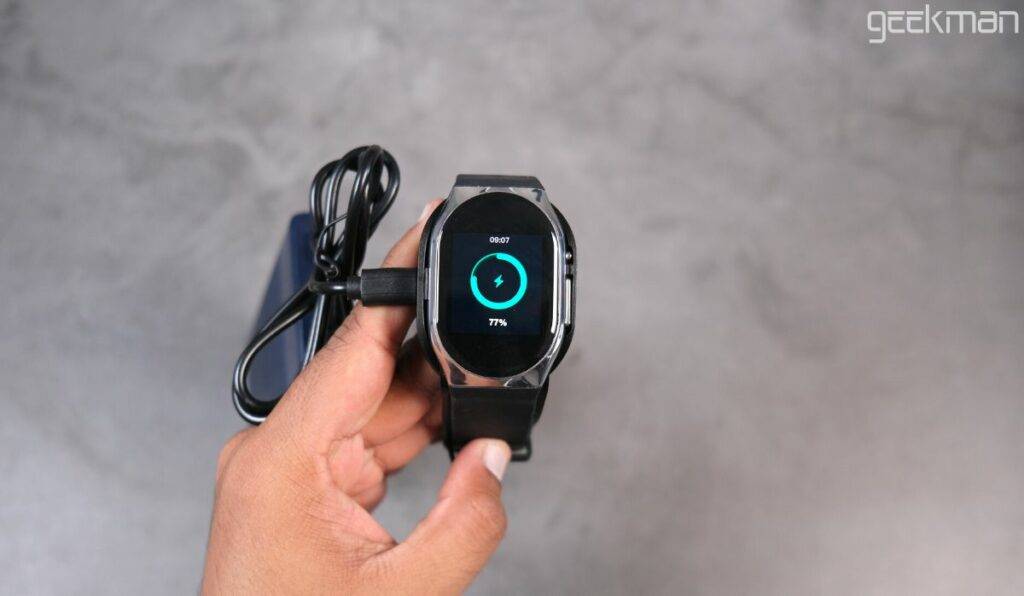 Final Words
With all of that in mind, the question remains, should you buy the BP Doctor Pro? In my opinion, the YHE BP Doctor Pro is a compelling choice for anyone who's looking to track accurate blood pressure regularly.
Yes, the YHE deserves much credit for helping to push this technology into the smartwatch space, and it really convenient to measure blood pressure on the go. But another side of the truth is that buying an old generation Apple Watch, or Android watch (AmazFit/Fitbit) with some good quality desktop blood pressure monitor will provide some extra health and fitness-related features and also cost very less than this one.
With this, I will like to end my review of the YHE BP Doctor Pro. If you have any suggestions or queries, drop them down in the comments, and I will be there to help you out as soon as possible. Thanks for reading.
Also Read: