Geekman Verdict On Serfer SEO
Surfer SEO is probably one of the best cloud-based SEO tools that can assist you with ranking your article to the top by comparing it with top-ranking articles with more than 500 ranking factors.
The Surfer SEO pricing starts for as low as $59 per month if you go for the monthly plan, while for the yearly plan the base plan costs $49 per month. You can either create a customized plan that suits your requirement.
Alongside, there is a 7-days money-back guarantee, which you can avail of if the tool doesn't help you well. The tool is easy to use, and with all the tools it offers you can easily create a piece of content that ranks well.
If you are looking for an SEO tool to help you write SEO optimized articles with the right keywords to rank for, then Surfer SEO is quite a useful tool.
Surfer SEO Pros & Cons
Surfer SEO Detail Review
Writing content that ranks well is all you need to drive traffic to your website. However, writing SEO-optimized content is not as easy a task as it may seem to be. What if I tell you that your article might also rank well if you take the help of SEO tools? Surfer SEO is a popular All-in-one SEO tool that helps you plan your content and write well-optimized content that is easier to rank.
If you haven't heard about Surfer or if you are looking for a guided review to help you with your decision to go for Surfer SEO, then you have made your way to the right review. This review will discuss everything you need to know about Surfer SEO including the pros and cons, features, how to use, price, customer support, and more.
What is Surfer SEO?
Surfer SEO is a tool designed for content creators and bloggers which helps optimize your content for SEO. This tool helps optimize your content to rank at the top of Google. The content you write is analyzed by over 500+ ranking factors, and you get the data points from the top 50 pages. All of the analysis is done within a few minutes, and the process is automatic.
Tip: At Geekman, we also use the Surfer SEO tool.
What Surfer SEO Offer?
SERP Analyzer
With Surfer SEO's SERP Analyzer, you can analyze what Google's result page will look for the keyword you are focusing on. It shows the alternative keyword suggestions that you can include on the page. You can analyze the competition and also help you find link-building opportunities.
The SERP analyzer tool of the Surfer SEO analyzes the top 48 Google search results to help get a better ranking. It analyzes the top results over several factors including word count, page speed scores, meta tags, keyword density, number of headings, alt image text, structured data, character count (for title and meta description), structured data, and various others.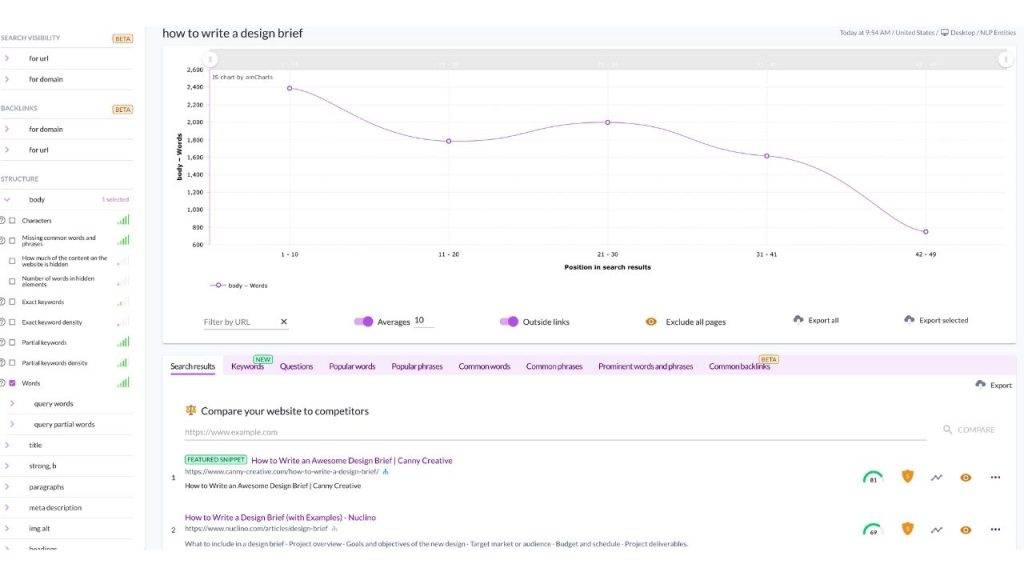 You will be provided with various data including search results, keywords, questions, and several others to help you analyze your content to rank on top. The search result tabs show the website that is ranking for the given keyword.
The keyword tab shows the commonly ranked keywords along with the search volume and the relevancy score. Similarly, there are other sections that will help you optimize the content you have written.
Surfer SEO Content Editor 2.0
The content editor of the Surfer SEO helps you with creating content that ranks on Google. The content editor of Surfer SEO is way more than the basic Word document editor or WordPress content backend.
The content editor creates a content score for the specific keyword. It gives tips and suggestions for writing better, like telling the ideal word count, how many headings or paragraphs should be there, as well as the LSI keywords and how many times you should use them in your content.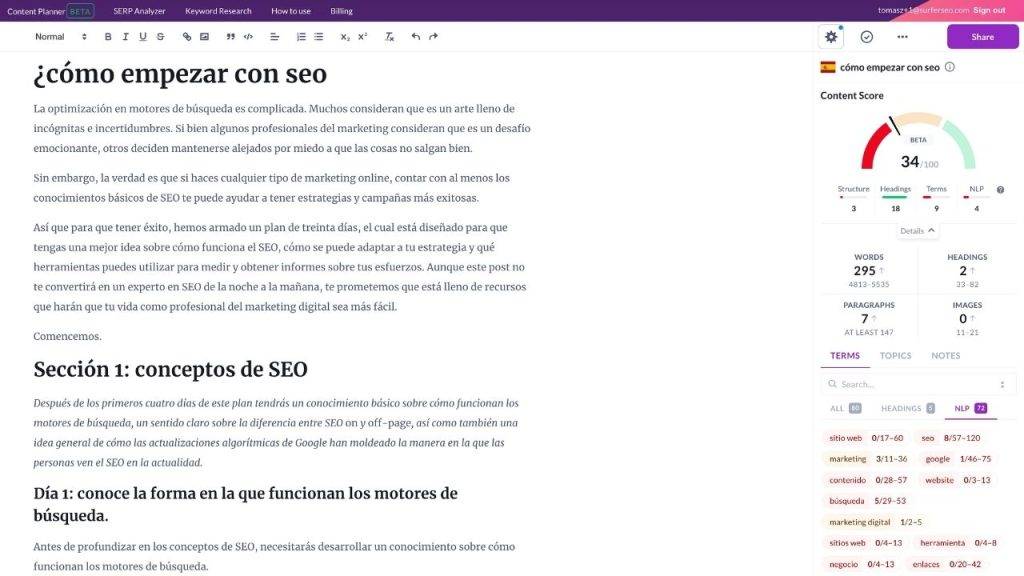 Works with Google Docs
There are many writers who love to write articles directly in Google docs, so they can easily share with others.
Then you'll be glad to know that Surfer SEO also offers a chrome extension that supports Google docs, which means you can write an article directly in Google docs and optimize it with Surfer SEO at the same time.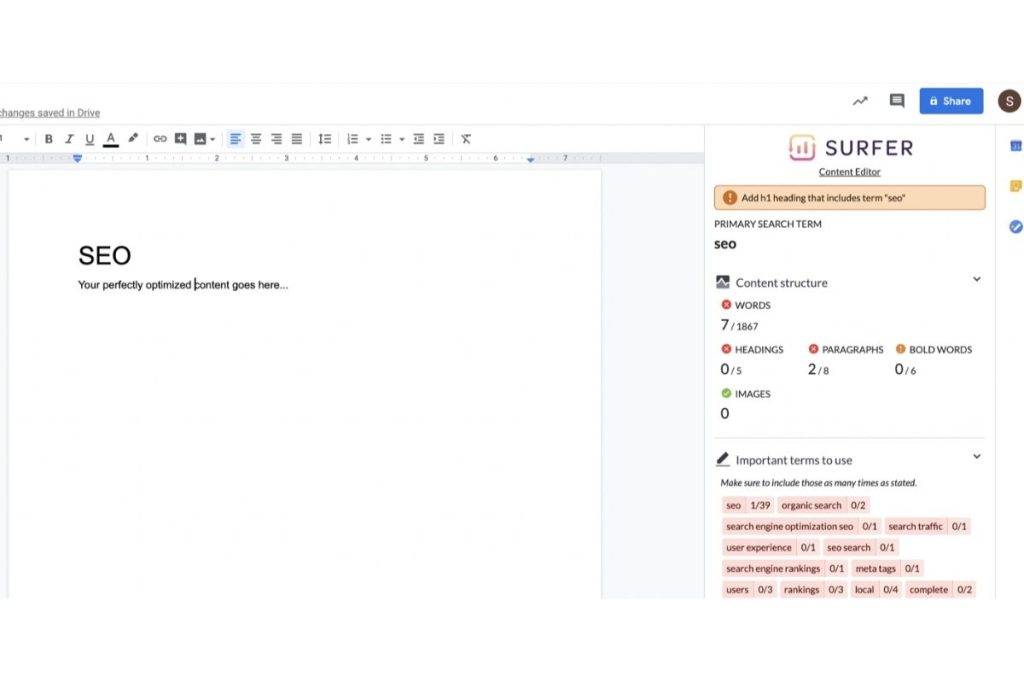 Works with WordPress Editor
If you want to write an article directly in WordPress editor and want to optimize with Surfer SEO at the same time, then don't worry Surfer SEO chrome extension also works with WordPress editor.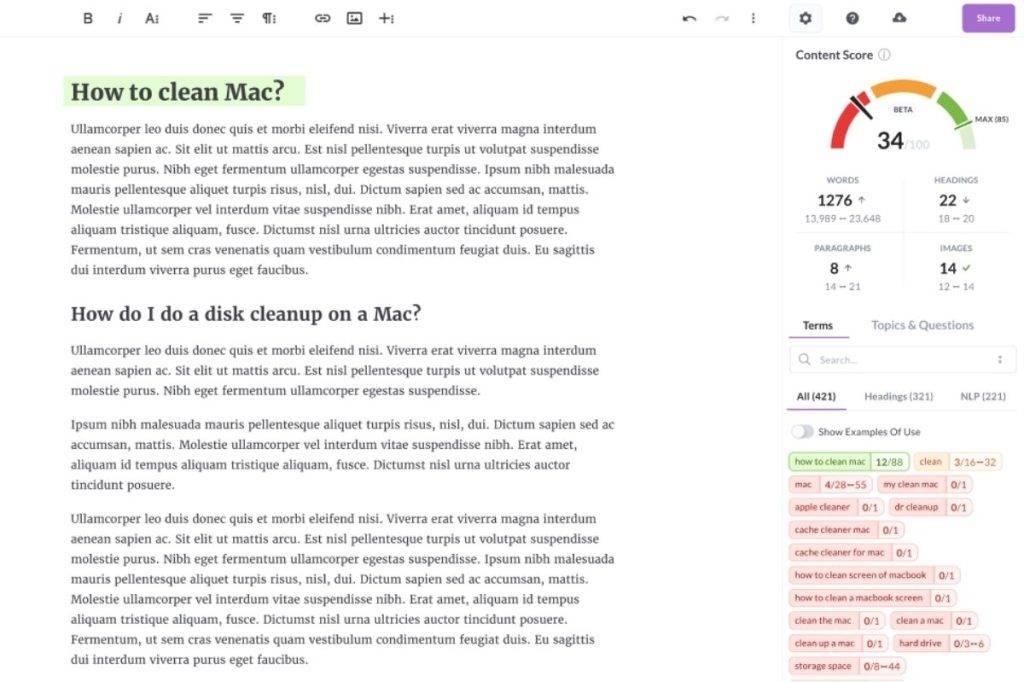 Keyword Research
The in-build keyword research tool is another great feature of Surfer SEO. Keyword research tool lets you find search volume for single as well as multiple keywords.
You can view similar keywords volume and compare them to your primary keyword. This tool allows you to show question-based keywords, and also get keyword suggestions and their volume for specific countries.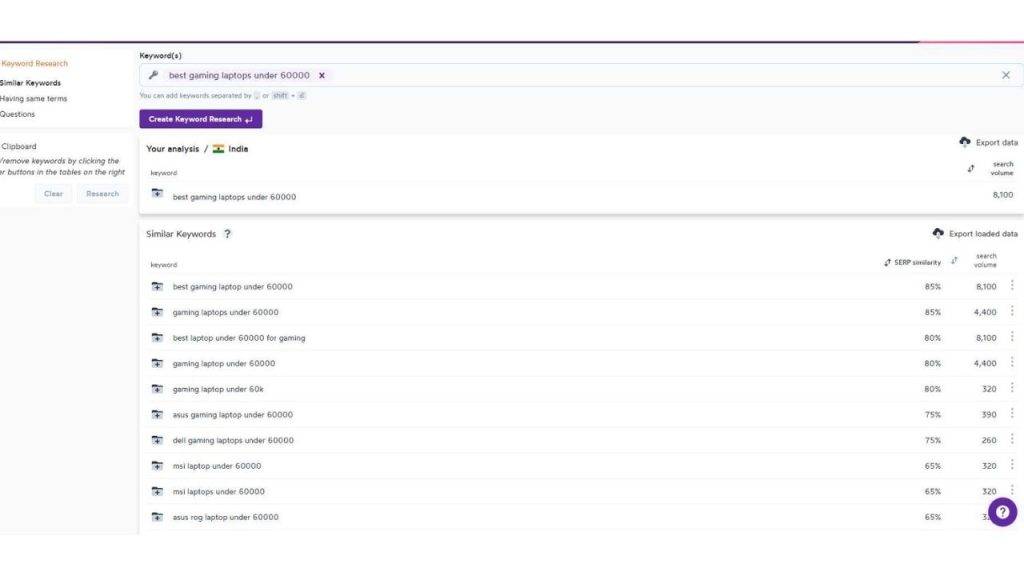 It highlights the LSI keywords that best match your primary keyword. The best part about using the keyword research tool of the Surfer SEO is that it boosts your keyword research process and makes it slightly faster.
SEO Audit
It is important to optimize your content to perform well for your keyword. With the SEO Audit tool, you can analyze how well the article is optimized to rank on that keyword.
The SEO Audit analyzes your existing content and gives you the report of the LSI keywords that you are missing on your page. It also gives you a suggestion for the word count, heading word count, are the images and headers enough, title length, meta description length, and various others.
You also get information on the common backlinks that your competitors have but you are missing.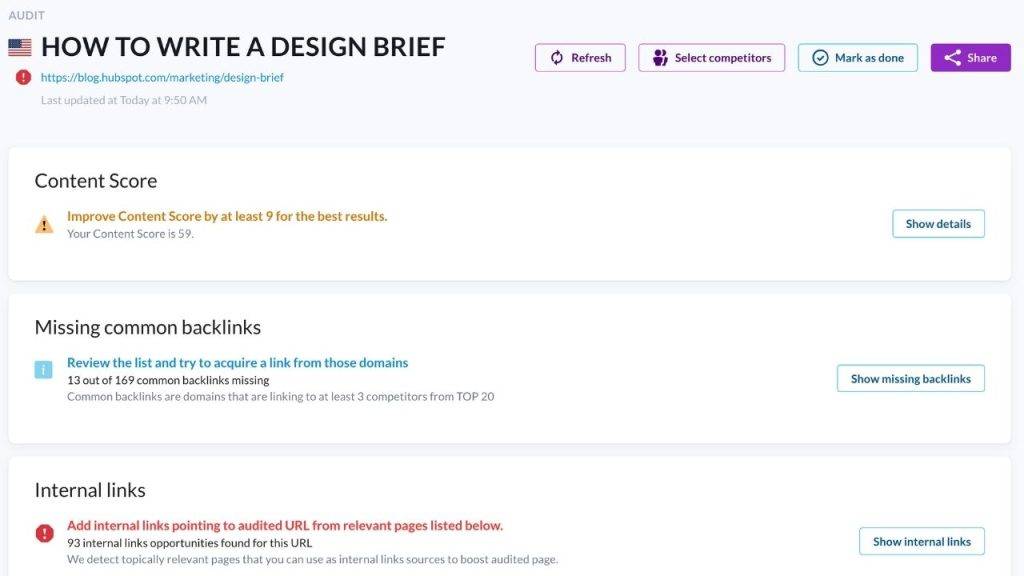 Content Planner
This feature is new and available as the beta feature on the platform. You can enter the topic for the content, and it will show you all the content ideas that you can work on. Selecting a particular topic/content idea will give you detailed information on what to include and what not to.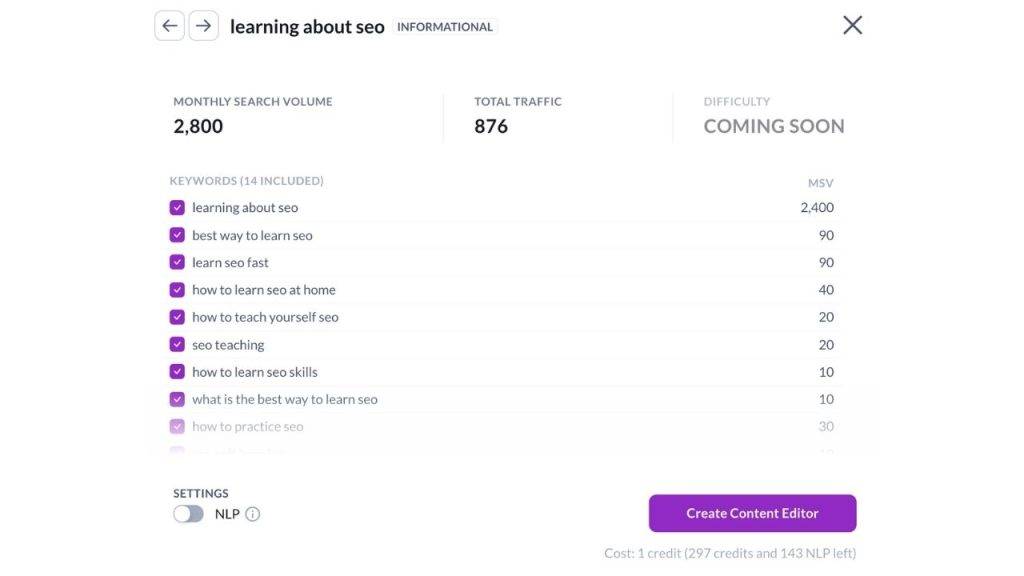 You will get detailed information on keyword volume per article, difficulty score, and much more. Though this feature is in beta mode now, more can be expected from this feature soon.
How To Use Surfer SEO Content Editor, SERP Analyzer Tool, Keyword Research Tool?
SERP Analyzer
Surfer SEO's SERP Analyzer helps you get information for your target keyword and compare your article with top-ranking articles to get valid recommendations. To use the SERP Analyzer Tool, follow the steps given below-
Firstly, open Surfer SEO's SERP Analyzer tool. Here, you will see a search bar, where you can enter the keyword, the domain, or the article URL. If you want to analyze the keyword for the top-ranking pages, then enter the keyword, else if you want to analyze the backlinks, then enter the domain or the URL of the article.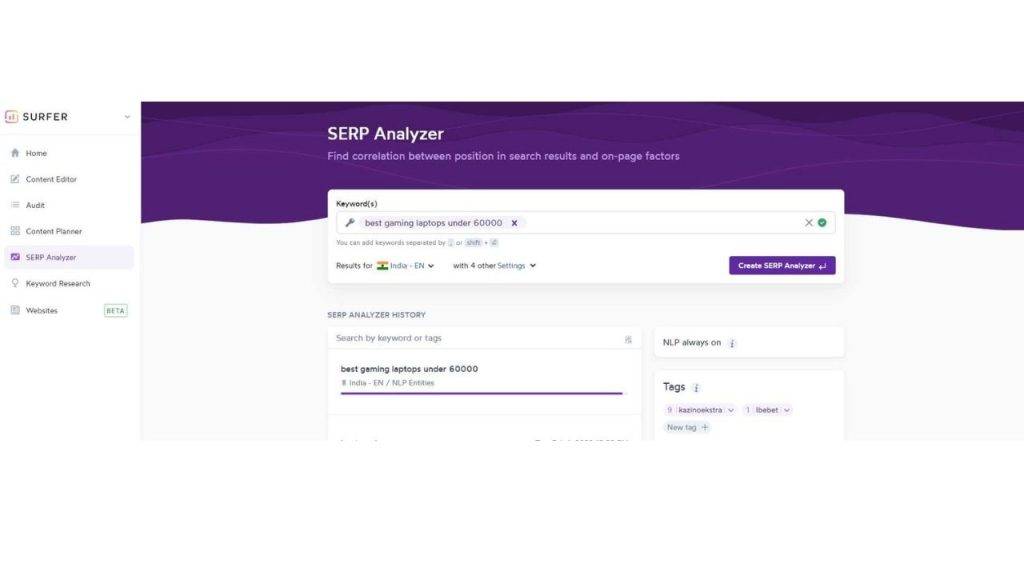 After you have entered the keyword, you can set other options like the device type, type of analysis (full or quick), location, as well as NLP. Click on the Create a query button after you have entered the keyword for which you want to optimize your content.
Next, you will see a graph to help you analyze the average word count you will have to maintain to rank on top. Alongside, you will also see other ranking factors on the left sidebar, like the number of paragraphs, page loading time, partial keyword density, exact keyword in the alt tag description, structured data, and various others.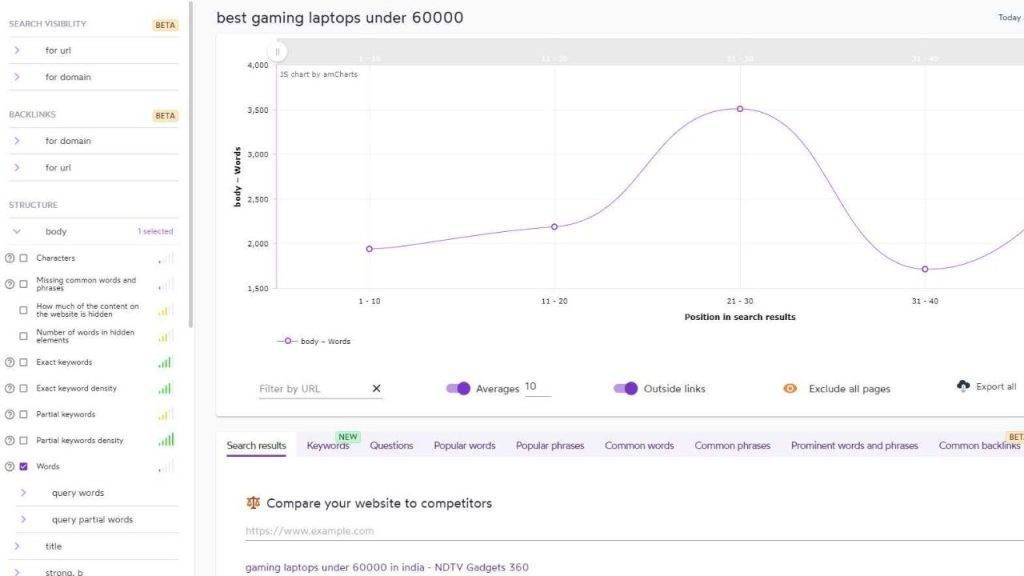 Just below the graph, you will see a list of all the sites which rank for your targeted keyword.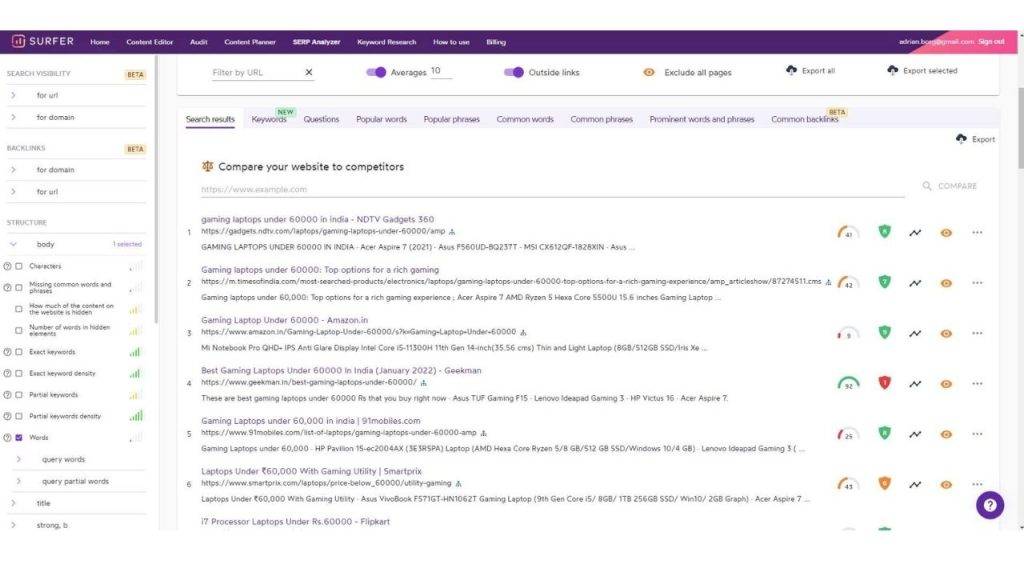 Next, enter your article's URL in the Compare your website with Competitor section. After doing so, click on the Audit button to continue.
This will compare your already existing article and tell you why it is not ranking on Google. You can then optimize your article as per the suggestions given by the Surfer SEO to rank it well.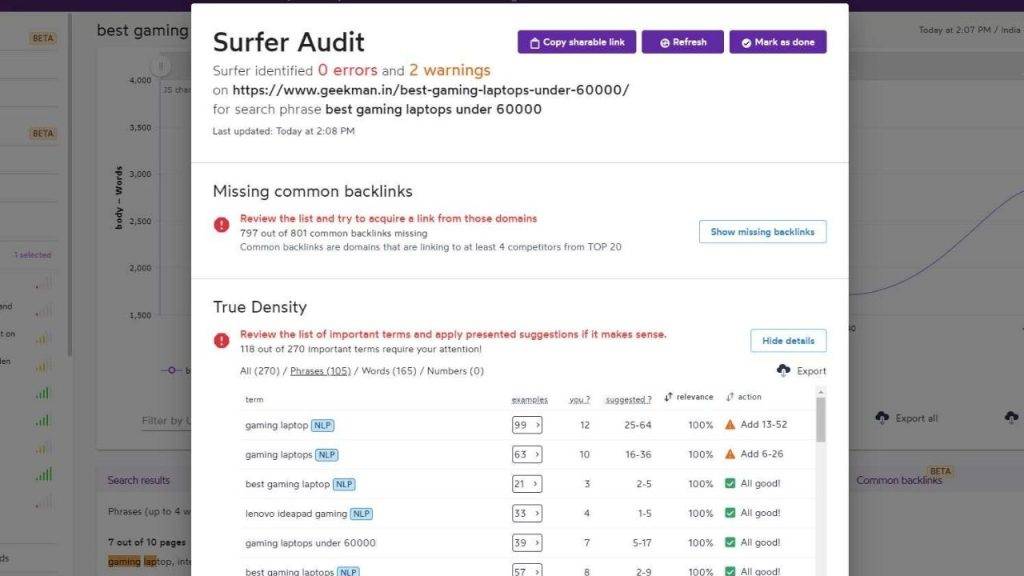 Content Editor
Content Editor tool in Surfer SEO helps you write fully SEO optimized content that your users understand and that ranks well. To use the Surfer SEO content Editor, follow the steps given below-
Head to the Surfer SEO's Content Editor. Here, enter your target keyword for which you want to rank on Google and other search engines.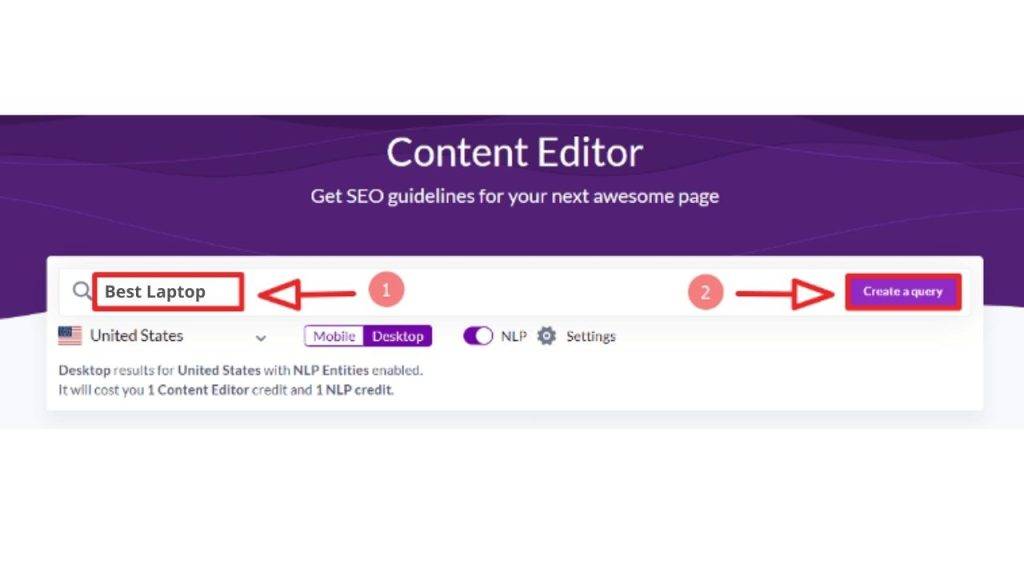 After you have entered the keyword, set additional options and configurations like device type (mobile or desktop), search location, and NLP. Once done, click on Create A Query. Now, you will see this keyword in the history log section. Click on the keyword to continue ahead.
The content editor window will open up. Here you can write your article with the SEO recommendations by your side to help you out. The content editor will show you the important recommendations like target word count, the number of the headings, paragraphs, topics, FAQs, as well as the number of images.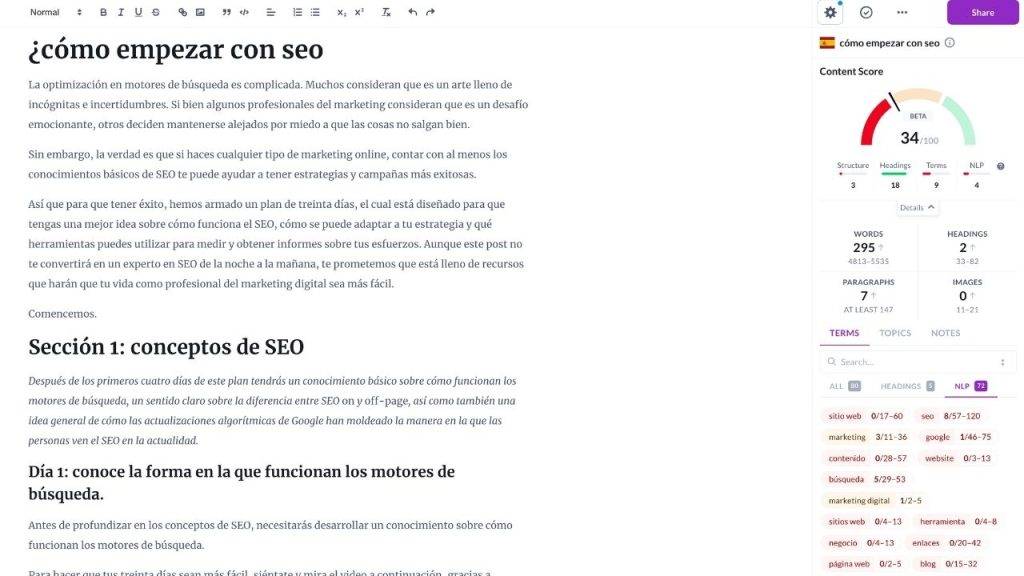 Write your content as per the recommendation, and you will have written a well SEO optimized article for your blog.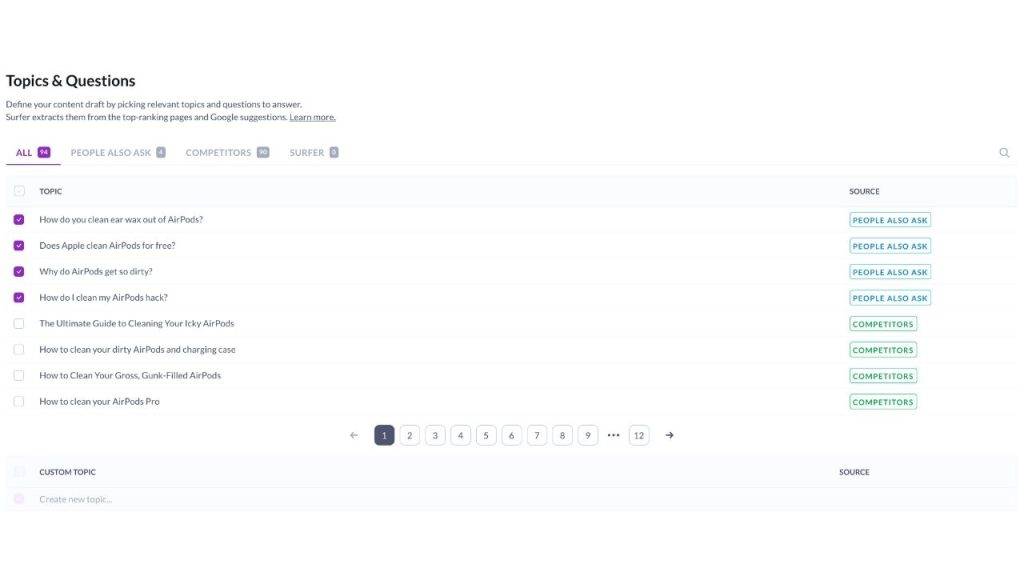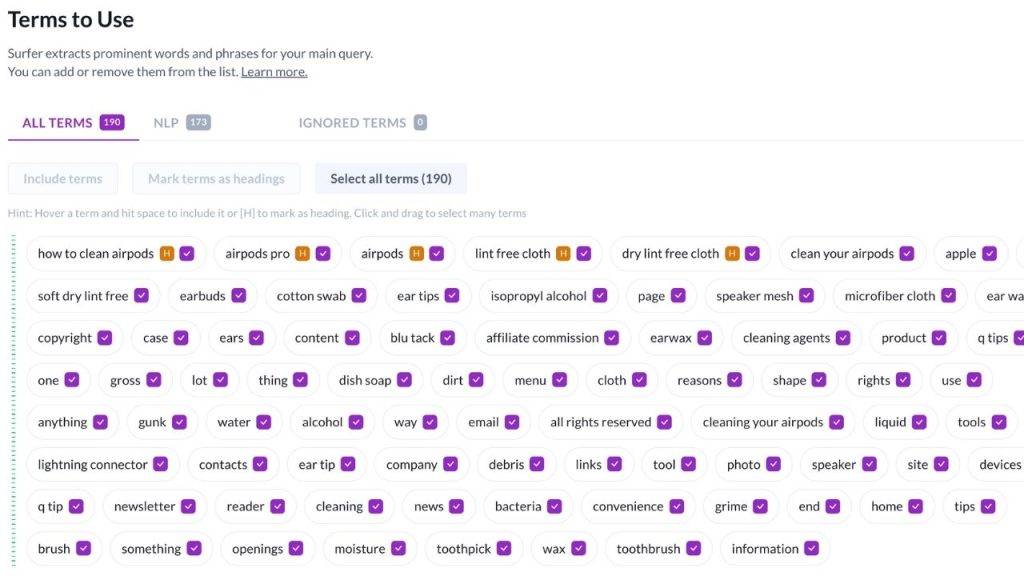 Keyword Research Tool
The in-built keyword research tool of the Surfer SEO makes it easier to find keywords that you can rank on. To use the keyword research tool of the Surfer SEO, follow the steps given below-
Firstly, open the Surfer SEO, and head to the Keyword Research tool from the top menu.
Now, enter the target keyword in the search bar and also select the country to rank, and then click on the Analyze button.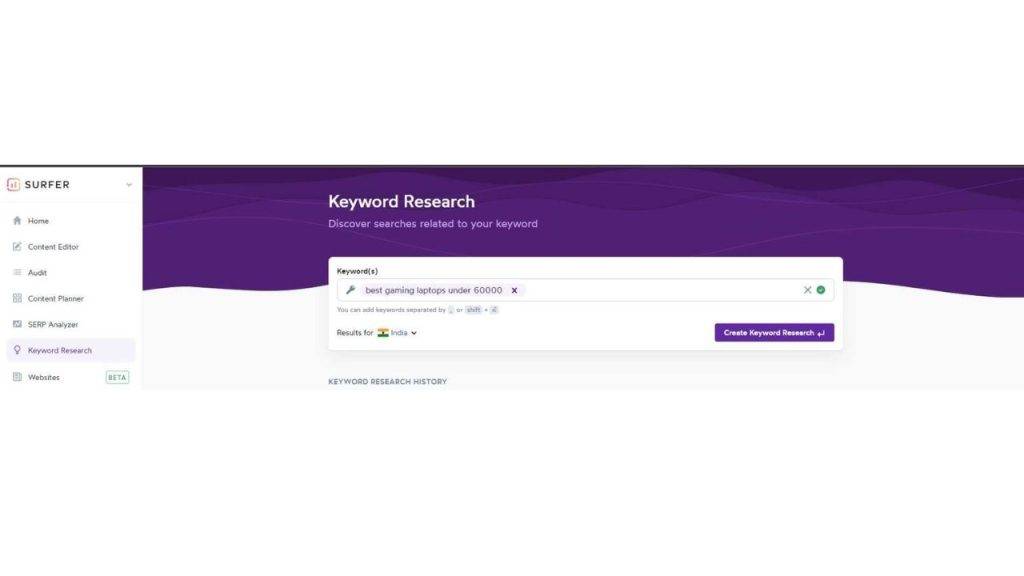 You will now see a list of all the related keywords with the search volume and the SERP similarity data. You can use these keywords to write your content.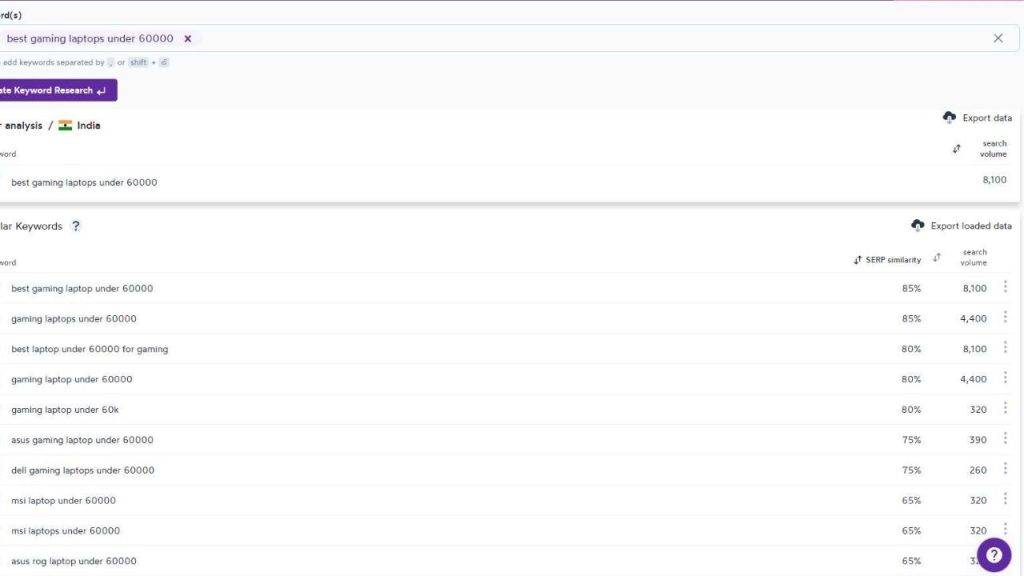 Surfer SEO Pricing 2022
There are currently three plans of the Surfer SEO which includes both monthly and annual subscription. The annual subscription of the Surfer SEO has a 17% discount than the monthly plan. Given below are the plans of the Surfer SEO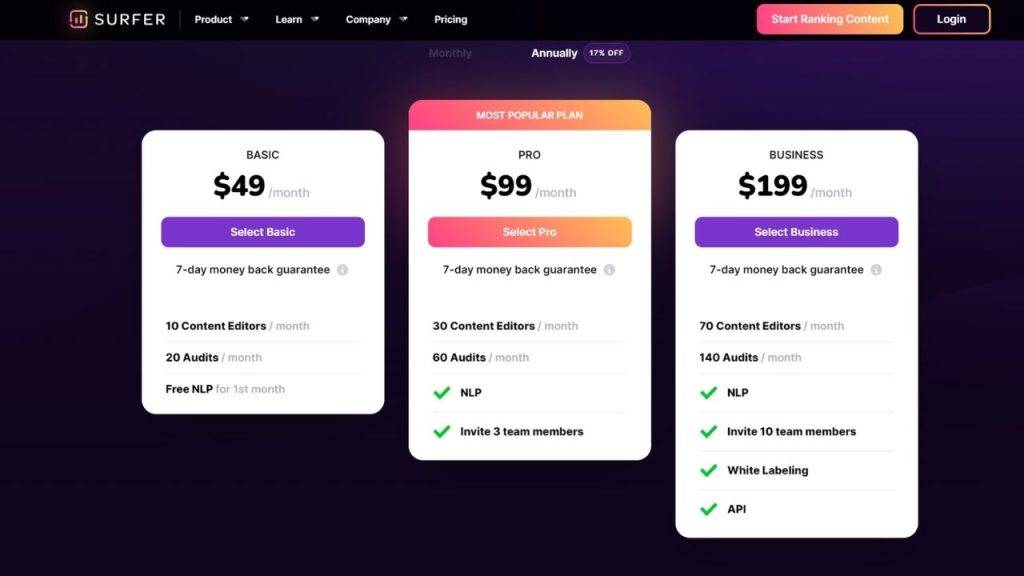 All the plans include the Content Planner and the SERP analyzer. However, if none of the plans suits your requirements then you can talk to the Surfer SEO's sales team to create a customized plan for you that meets your requirements.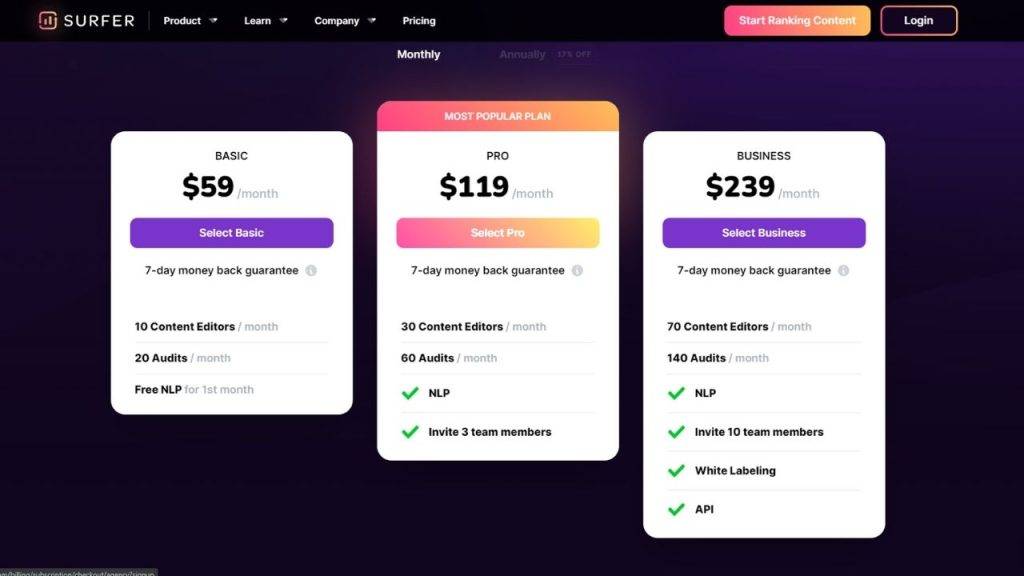 All the plans have a 7-days money-back guarantee. You will get your refund if you are not satisfied with the tool. You can contact the support team through chat or email and the refund will be processed without any questions. If you want you can also extend the money-back guarantee to 30 days by just sharing your feedback with the team.
Surfer SEO FAQ
Does Surfer SEO offer a Lifetime Deal?
The Answer is No, Surfer SEO not offering the lifetime deal.
Is there any coupon and discount deals for Surfer SEO?
Surfer SEO doesn't offer a discount on any of its plans and there are no discount coupons, as well.
Why Use Surfer SEO?
There's not one but many reasons to use Surfer SEO. Surfer SEO helps you write SEO-optimized articles, update your existing articles to optimize them to rank, suggests the word count for the article to rank, helps research the keywords that are easy to rank on, compare your articles with ranking articles, and gives you suggestions. There are many other benefits of Surfer SEO that makes it one of the most preferred SEO tools that you can use.
What Does Surfer SEO Offers?
Surfer SEO offers different tools including- SERP Analyzer, content editor, keyword researcher, as well as a content planner. All these tools combined can help you write content that performs better than your competition.
Also Read: