So, today I'm going to review the Oneplus Nord Buds 2R TWS Earbuds, which are recently launched in the Indian market and also the cheapest TWS earbuds from OnePlus so far. The Buds 2R actually a stripped-down version of the recently launched Oneplus Nord Buds 2, which hit the Indian market about two months ago. The main difference here is that the new Buds 2R doesn't have ANC support. Apart from that, there are a few other minor changes too. Oh, and let's not forget the price difference (approx 800 Rs).
The big question is, how do these earbuds hold up overall? Is it worth shelling out an extra 800 bucks to snag the Nord Buds 2, or should you be eyeing other options in this price range? No worries; you'll have all the answers you need by the time you finish reading this article.
Box Content
OnePlus Nord Buds 2R Earbuds
USB Type-C charging cable
Paperwork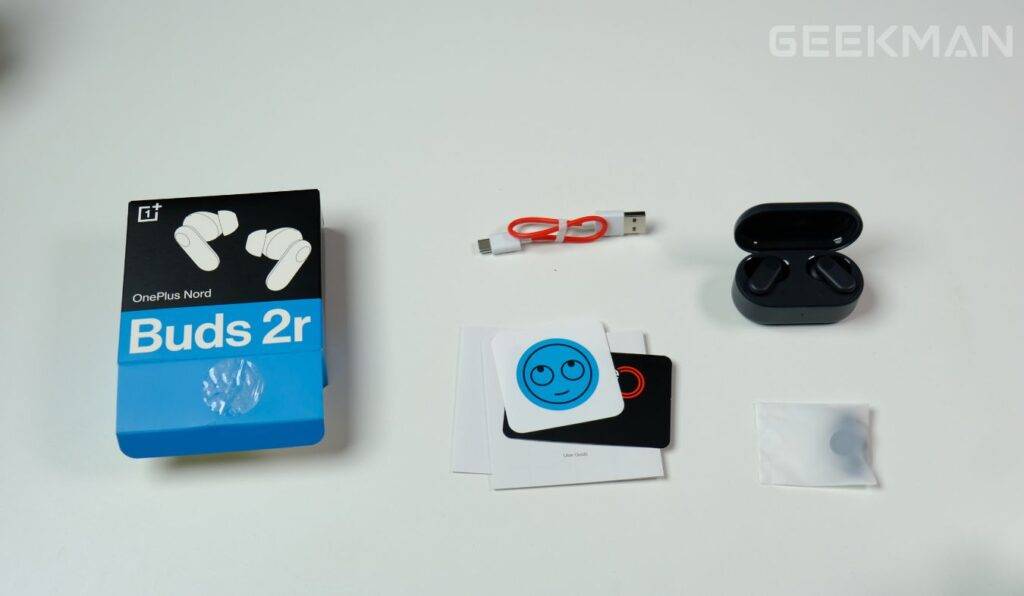 Design & Build
In terms of design, the new Nord Buds 2R looks quite similar to the original Nord Buds 2. The charging case is slightly more compact now; just a little bit, but you can notice it. The color theme is also changed. The Nord Buds 2 came in Thunder Gray and Lightning White with a cool speckled finish on the top, while the Buds 2R has a different vibe – no speckles, just a plain deep gray and a triple blue option. Everything else remains pretty much the same as the Nord Buds 2.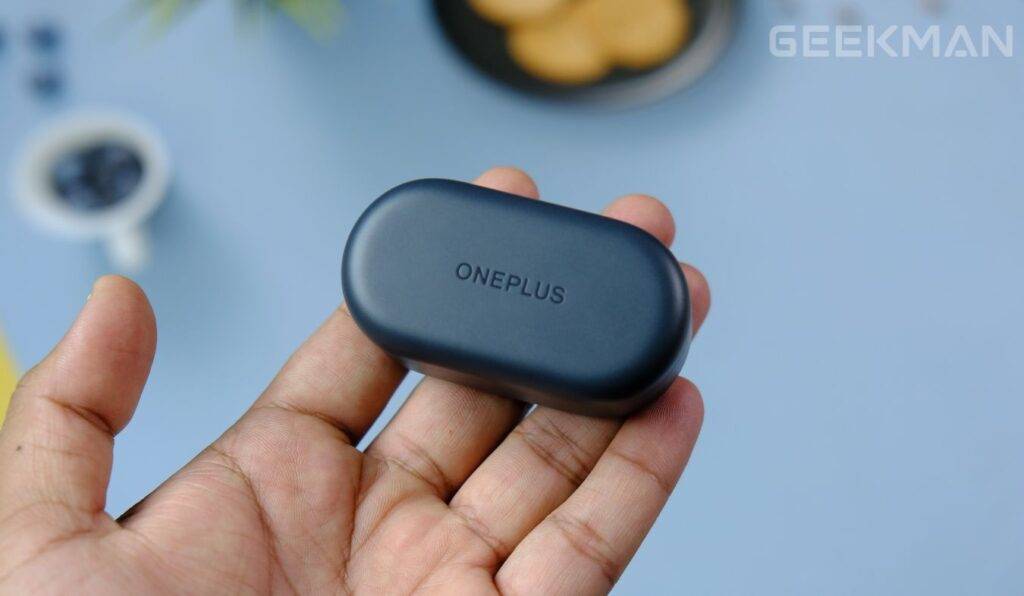 The charging case still has that matte finish on top, giving it a stylish and premium feel. The build quality is solid, and the overall design is compact and slick – which adds to the great in-hand experience. These are super easy to carry around in your day-to-day use.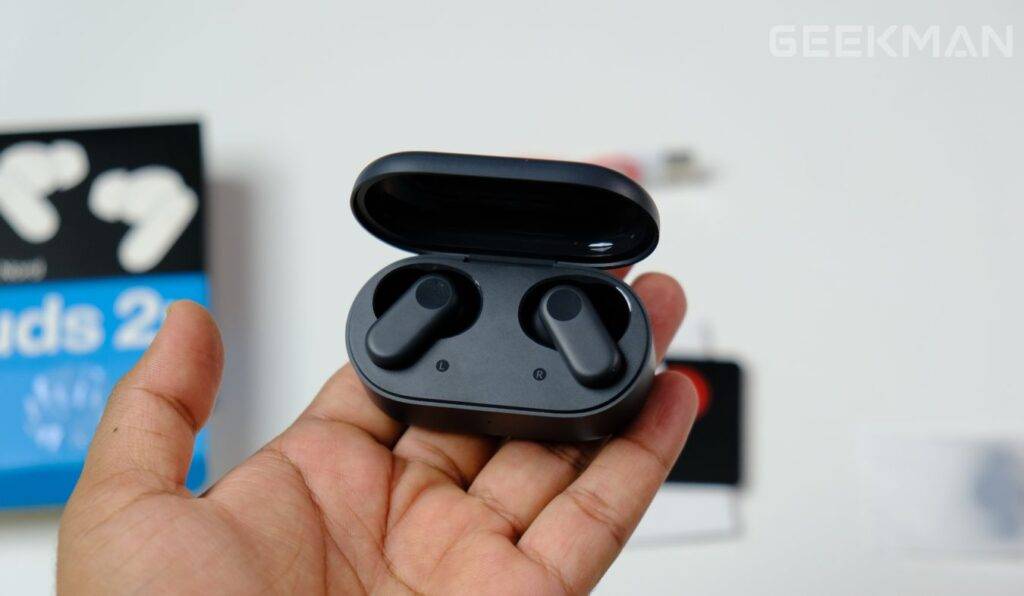 Here's something neat: they've ditched the pairing button (Nord Bud 2 has this button). I'm quite pleased with this update because now if you're pairing with a non-OnePlus phone, you don't need to fiddle with buttons. Just pop the lid, and you're good to go. By the way, the absence of that button has a bonus impact on the connectivity side, which I'll tell you about in a bit.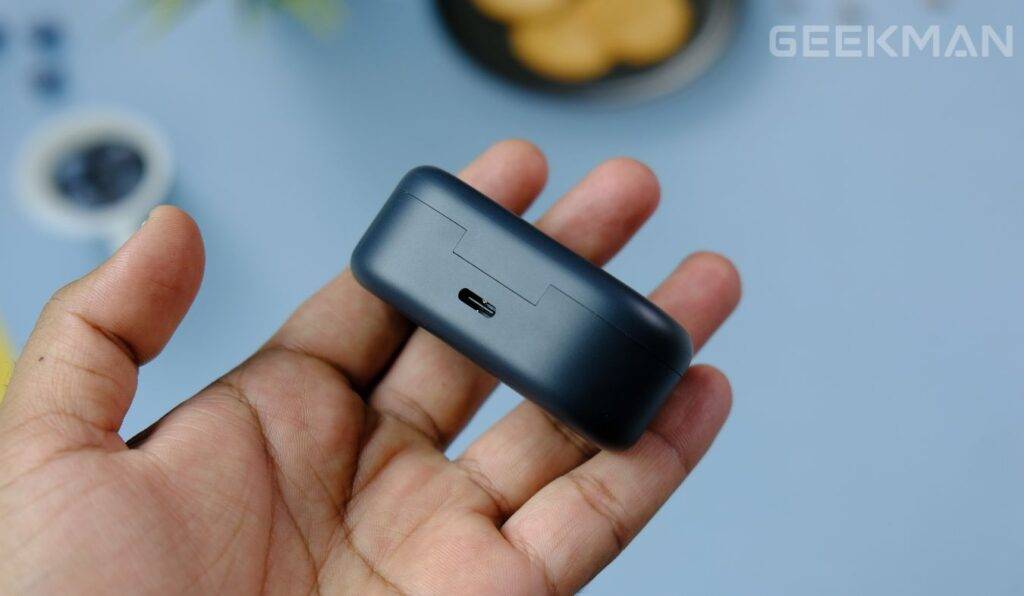 Moving on to the earbuds themselves, the design follows the same tune. The main change? The earbud stems now have this cool curved shape, making them look a tad more compact. The glossy touch area has also shrunk a bit, and they've extended the glossy finishing to the part housing the ear tips. Overall, the earbuds are stylish and sport solid build quality.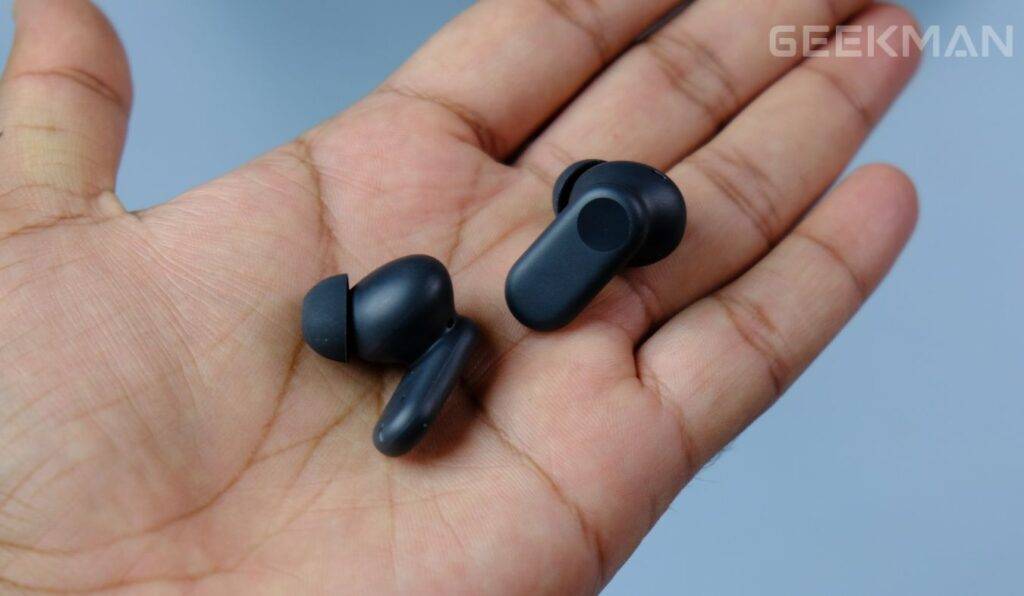 And the best part is, using it is really comfortable. Despite the touch control area being slightly reduced, there's no problem using it. Tapping is easy without any issues, and the touch response is also quite good. Oh, and by the way, you can completely personalize the touch controls through the app.
Comfort
Comfort-wise, there's absolutely no issue with Nord Buds 2R. I've been using them for about 2 days now, and just like the Nord Buds 2, the comfort level here is pretty decent. And you know what makes them comfortable? It's their lightweight build. Each earbud weighs around 4 grams. You can easily use them continuously for 2-3 hours without any hassle. Plus, they fit snugly and securely – I even took them for a spin at the gym today, and I'd say they're a good pick for sports or workouts. The Buds 2R has an IP55 rating too, so they're shielded against light rain, sweat, and dust.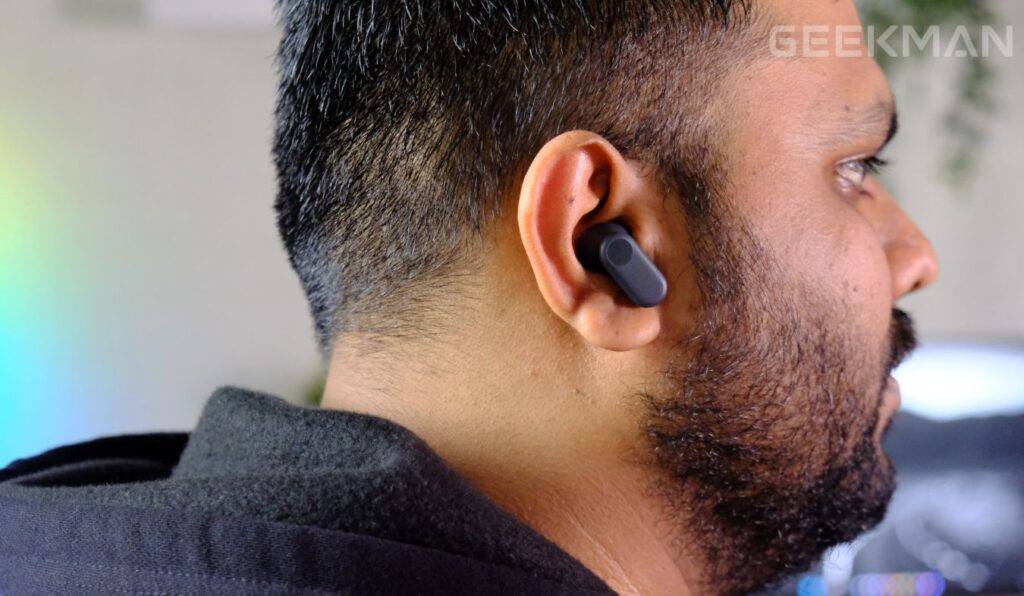 So, when it comes to design, build quality and comfort, the Nord Buds 2R is on point. Especially if we're talking about design and build, it's safe to say that the Nord Buds 2R is probably the best option around the 2000 Rs mark in the Indian market right now.
Connectivity & Features
Let's talk about the connectivity and features. Considering its budget price tag, the Nord Buds 2R manages to offer some options that aren't typically found in TWS earbuds around the 2000 Rs mark. Just like its older sibling, it comes with the latest Bluetooth 5.3, and it supports both SBC and AAC codecs. It even has Dolby support, but keep in mind that it's only compatible with certain OnePlus (+ OnePlus 7) and OPPO phones.
As for connectivity and range, there's no major issue here. However, it lacks Google Fast Pair support, which honestly should've been there. Also, there's no dual pairing support – although it does have OnePlus Fast Pair, so if you have a OnePlus, Realme, or OPPO phone, opening the lid will quickly pair the buds, almost like Google Fast Pair. The OnePlus Nord Buds 2 didn't support Fast Pair with Realme and OPPO phones, but this one does. Maybe it's due to the button feature, or possibly it came with an update later on – hard to say for sure.
Furthermore, if you have a OnePlus, Realme, or OPPO phone, all the settings for these earbuds will be conveniently available right on the Bluetooth setting page. No need to download any application; it's all right there. On the setting page, you'll find three preset audio modes and even an option for custom EQ.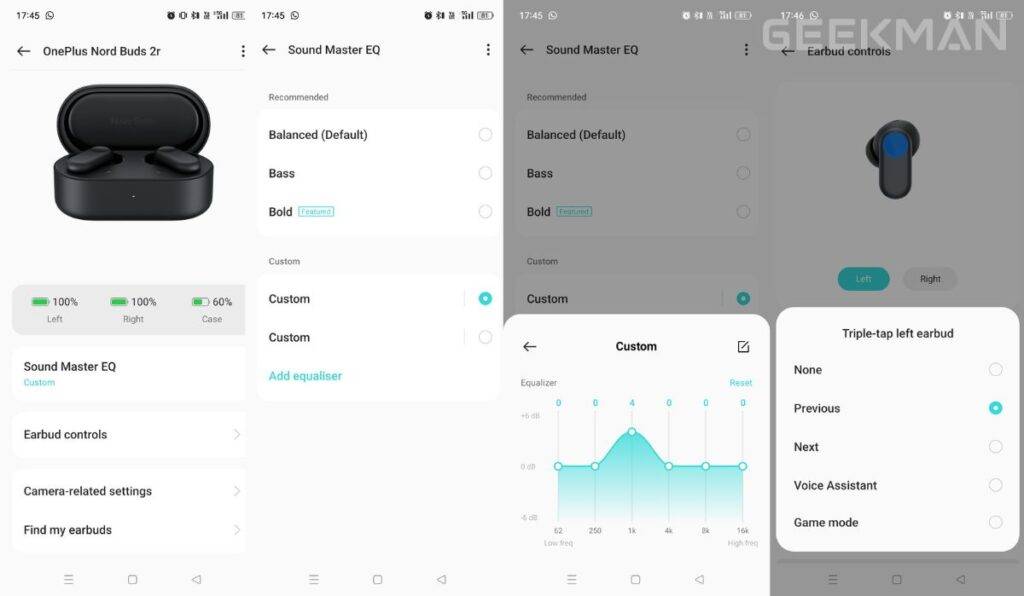 On top of that, there's touch control customization and features like "Find My Buds" and camera control. But here's the deal if you're using a different brand's phone: you'll need to download the HeyMelody app, which is available for both Android and iOS. However, here's a bit of a bummer – just like the Nord Buds 2, the HeyMelody app can't detect these earbuds on iOS. That's a significant downside of Nord Buds 2R.
Oh, and there's another thing: game mode. You can access it through the touch controls or even through the HeyMelody app. But you won't see this option in the settings if you're using OnePlus, Realme, or OPPO phone. However, as soon as you start a game, these buds will automatically detect it and turn on game mode. I tested this feature while playing BGMI Mobile, and I have to say, it worked pretty well. So, for all you gaming enthusiasts out there, no worries – Nord Buds 2R has got you covered.
Battery
Battery backup is yet another plus point of Nord Buds 2R. The OnePlus promises up to 38 hours of playback time with a charging case and 8 hours of playback time with single earbuds. In real-world usage, this claim holds up quite well. In my tests, I got approximately 6 hours of playback time from a single earbud. Based on this, you can expect around 30 hours of playback time from the charging case, which is pretty darn good. And the best part? These buds also support fast charging.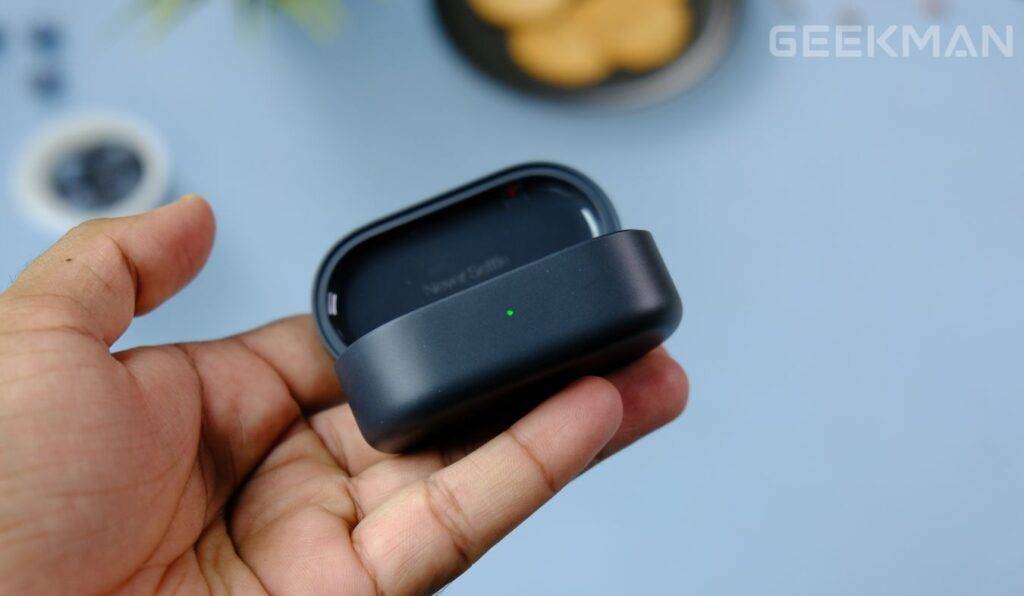 Microphone
Just like the Nord Buds 2, the microphone quality of the Nord Buds 2R is pretty decent too. It captures your voice quite well, and it's also good at reducing background noise. Though the vocal aspect might need a small boost, but the clarity is impressive.
When you're outdoors, you might hear a hint of background noise, but that's par for the course and happens with most TWS earbuds. Overall, the microphone is more than decent. Whether it's for regular calls, online meetings, or gaming chats, you will be happy with the Nord Buds 2R microphone.
Sound Quality
Now, let's dive into the sound quality. The Nord Buds 2R comes with 12.4mm large dynamic drivers, and the overall tuning remains the same as the Nord Buds 2. It delivers quite a heavy bass in its default setting. The bass is so high that the audio might feel a bit uncomfortable on some tracks at high volumes. If you're someone who loves booming bass, this might be right up your alley – you'd find it enjoyable.
However, like me, many people don't prefer such intense bass tuning, so they might not enjoy the default mode as much. For them, there's a "Bold" mode in this earbud that they should try. I tried it, and compared to the other two modes, I found it quite good. The bass is toned down significantly, and the best part is that you can also try the custom EQ option. I'm currently using it and finding it very helpful.
There's a separate "Bass" mode as well, although honestly, nobody is going to feel the lack of bass in these earbuds. It's already pretty abundant, to put it mildly. But still, in this mode, the bass becomes even more intense, something that only a few might prefer.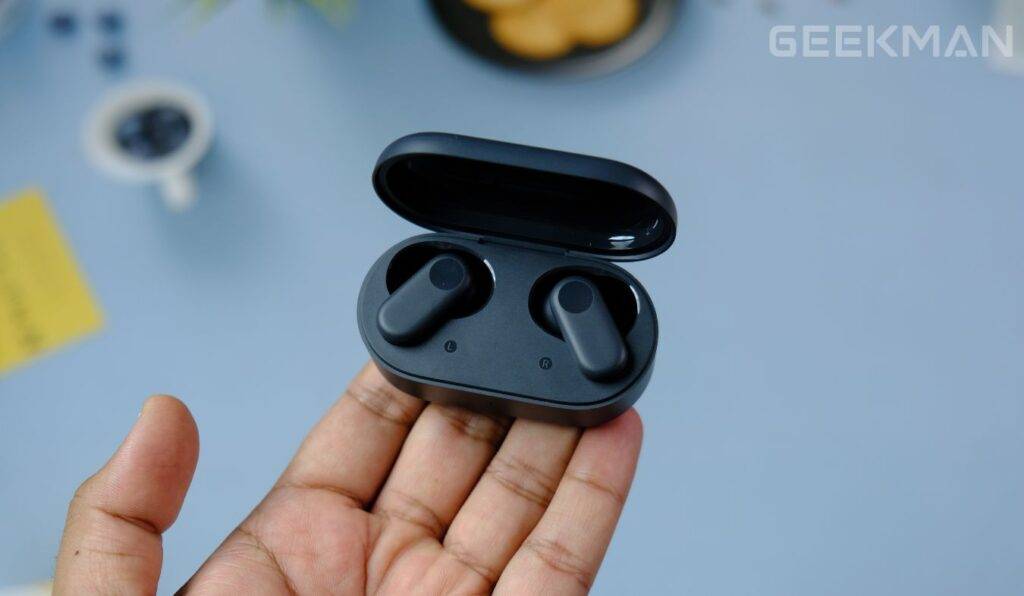 The other frequencies, mid and high, are also quite decent. A noteworthy aspect is that even though the bass is strong, it doesn't overpower the other frequencies excessively, which indicates its good overall tuning. This is quite rare in this budget price range. The mid sound, especially the vocals, feels soft but lacks a bit of depth. Nonetheless, there's a satisfying level of detail, which is a good thing.
The high frequencies are also very decent, but because of the high bass, it doesn't feel very sharp in some music tracks. However, this is quite normal in this price range, considering most budget TWS earbuds with high bass face this issue. In fact, Buds 2 performs well in this case compared to other TWS earbuds in this price range.
In simple terms, its tuning is quite decent, offering good value for its price. It provides a loud and clear output with a significant bass presence. Overall, the Nord Buds 2R delivers an energetic and enjoyable audio output that most people will appreciate. Considering the price, it performs quite well compared to other competitors in this price range.
Nord Buds 2R Worth To Buy?
For the price of Rs 2,199, the OnePlus Nord Buds 2r is a good purchase. It provides reasonably good sound quality, a stylish design, and impressive battery life. While High bass is not everyone's cup of tea, but if you enjoy high bass tuning, then you will love these Nord Buds 2R. No doubt! The Oneplus Nord Buds 2R is the best bass-heavy TWS in this price segment (under 2000-2300 Rs).
Nord Buds 2R vs Nord Buds 2, Compare
There isn't a huge difference in sound quality between the Nord Buds 2 and Nord Buds 2R. However, I feel that the Nord Buds 2 manages the higher frequencies a tad better. So, if you're up for spending an extra 800 Rs, I'd recommend the Nord Buds 2. They're more balanced overall, and you also get ANC (Active Noise Cancellation), which can be a real game-changer.
But let's take a look at the other options out there. For instance, the Oppo Enco Air 3 offers a natural and balanced sound tuning. You could consider Enco Air 3 if you are looking for more balanced & natural tuning. Just keep in mind that the battery life might not be as impressive, and they have a half-in-ear design.
Then there's the Oppo Enco Air 2 Pro, another one with a natural and balanced tuning. But remember, if you're really into heavy bass, the Enco series might not float your boat.
Among the other options under 2000 Rs, like the Enco Bud 2, Realme Air 3s, and Realme Air 3 Neo, I'd still consider this as the better overall choice.
Also Read:
Best True Wireless Earbuds Under 5000