The microsoft developing new security processor Pluton to protect future Windows PCs in partnership with AMD, Intel, and Qualcomm.
This new microsoft security chip is designed to block new and emerging attack vectors that are being used to compromise PCs, including CPU security flaws like Spectre and Meltdown.
Microsoft today announced that it is building a new 'Pluton' security processor for Windows PCs to protect users and protect against threats. The company is developing new processors in partnership with AMD, Intel, and Qualcomm, which means when it is actually available, it should be present in almost all Windows PCs, including ARM-based systems running on the Qualcomm processors such as the chipset 8cx or the SQ1/ SQ2 in the Surface Pro X.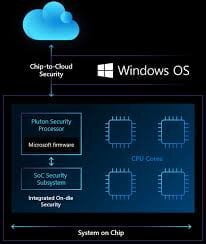 For those who do not know, Microsoft currently uses the Trusted Platform Module or TPM to ensure that the system is protected. However, hackers are discovering new technologies that attack communication between CPU and TPM and steal user data. Pluton appears to be Microsoft's next attempt to create a fixed security solution for Windows.
It's not a new idea, although Microsoft first introduced it on Xbox Back in 2013 and used it to prevent gamers from playing pirated copies of the game on their Xbox One. This chip is also located in the Redmond giant's Azure Sphere of Xbox One.
Microsoft said that in a blog post, Windows devices with Pluton will use the Pluton Security Processor to protect credentials, user identities, encryption keys, and personal data. None of this information can be removed from Pluton, even if an attacker has installed malware or has complete physical possession of the PC.
At this time, Microsoft has not revealed when we can expect to see Pluton chips on Windows computers, but we will keep our ears open for this, so stay tuned.
[speaker-mute]
Also Read:
[/speaker-mute]