A few months back the Xiaomi introduced Its first electric toothbrush ' Mi T300 ' In Indian market with their crowdfunding platform. We already did dedicated review video on that and we found the product is really good, but it's not received too much attention in India, because of the higher price tag of Rs .1299. So, that's why the company quickly bring this ' Mi Electric Toothbrush T100 ' in the Indian market with an effective price tag of Rs.599.
Well, we recently ordered this toothbrush for review purpose and after testing for 3-4 days, here is our quick review of this toothbrush.
"According to various health studies, the electric toothbrush clean teeth and gums much better than a manual toothbrush. Also, users who use electric toothbrush have healthier gums and less tooth decay."
Design & Build
The Mi Electric Toothbrush T100 looks like an ordinary toothbrush except for the big cylindrical part handle. But the best part is that the handle is not very big and thick like most of the electric toothbrushes have. So overall, it very easy to use and comfortable to hold, because of slim and compact design form factor.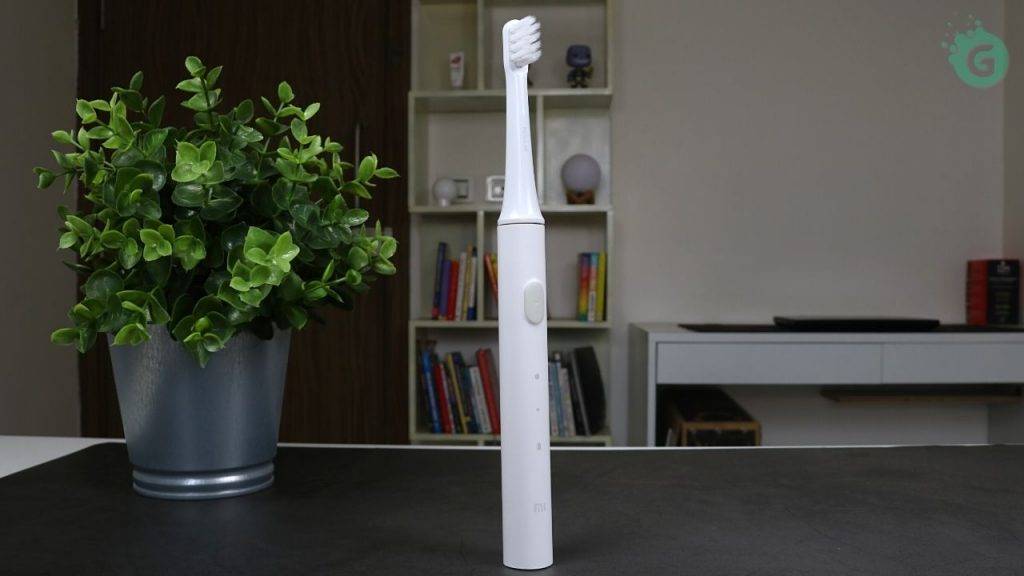 The build quality is also good, not look solid as its older brother Mi T300, but it's acceptable for this price tag. It also has IPX7 water resistance ratings, so that it can be immersed in water for 30 minutes.
The T00 brush consists of two parts – a detachable brush head and the bottom cylindrical head. The detachable head comes in normal regular size and only one provided inside the box. If you want an extra head or just need replacement, you can order it from MI online store or offline store for just Rs.299 for a combo of three.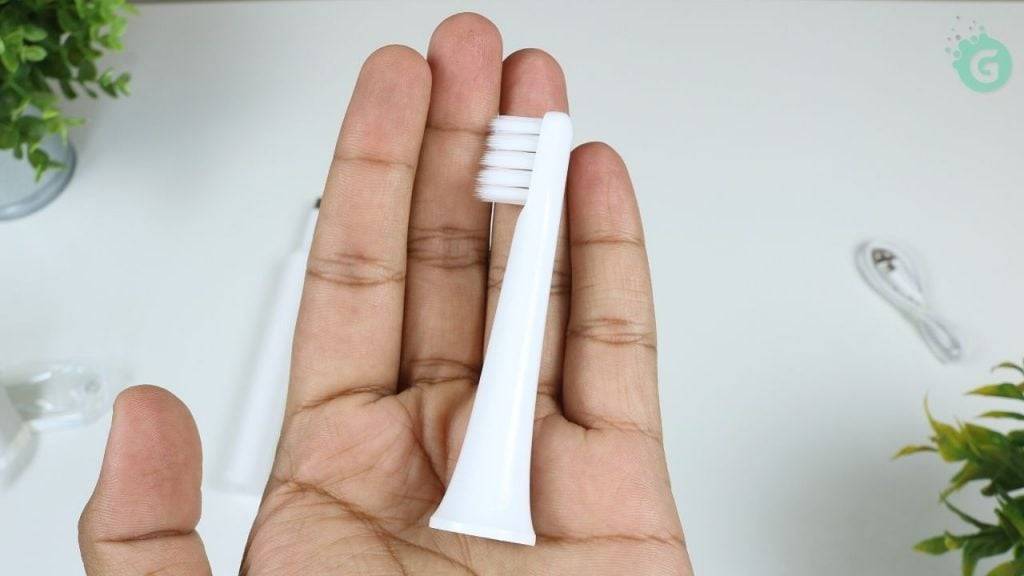 As you can see, the handle features a big rubber made button to switch on/off the brush and to select the modes as well. It offers two different modes — regular and gentle mode (soft and good for sensitive teeth). Also, there is a dedicated led light for battery, which show the remaining battery as well as charging status.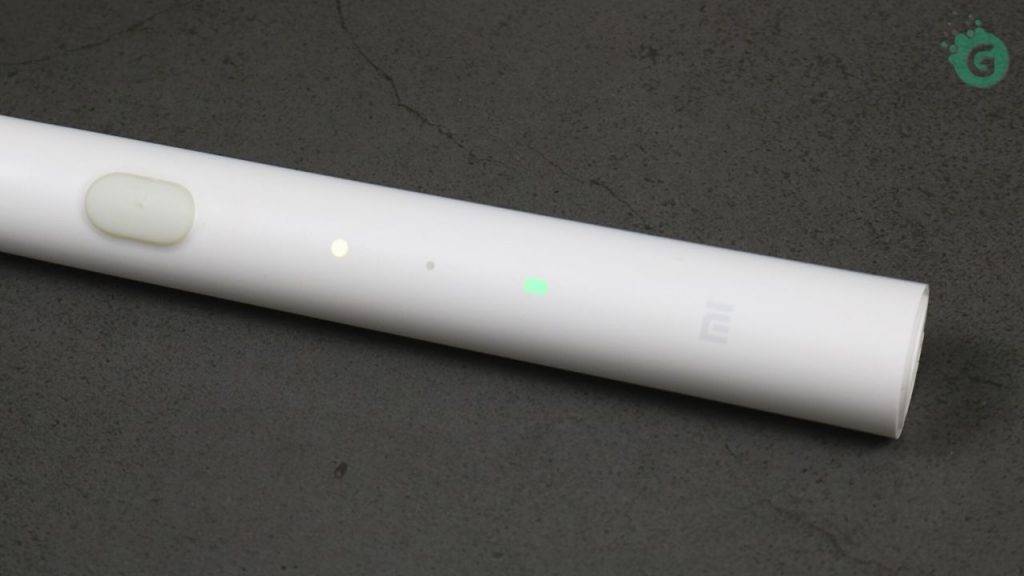 Battery
Coming to the battery, we don't know the better size, but according to the company, it can easily last up to 30 days if you used 2 min per day. Well, it's not a good number but nither bad also. It takes approx 4h to fully charge itself.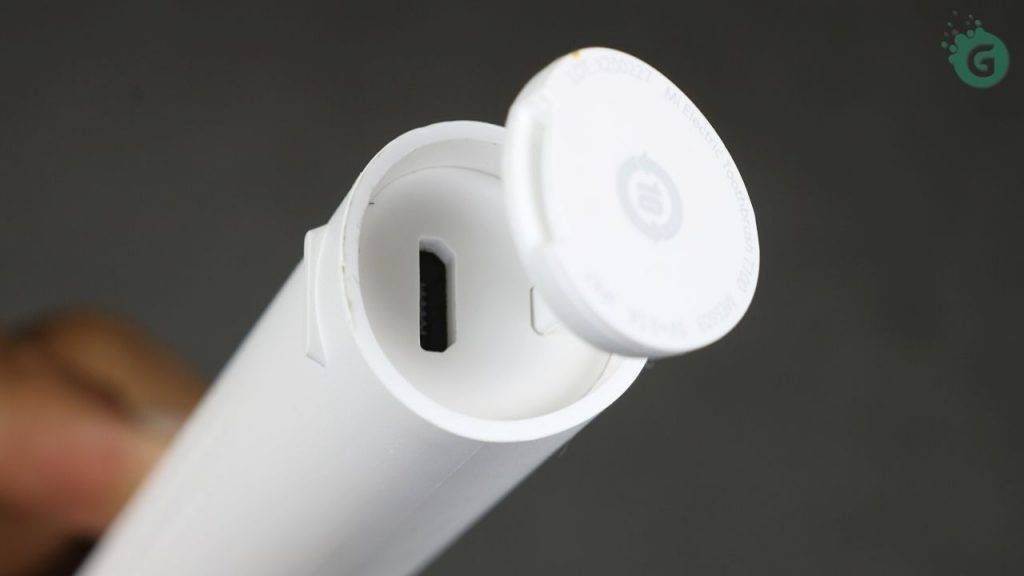 Performance
Now coming to real-word use, I used the Mi electric toothbrush T100 for one week and I am quite happy with the performance, almost same as other sonic electric toothbrushes. But one thing I like to mention is that its compact and small size are the biggest advantages, it's very easy to hold and also very lightweight, so using this brush on daily basis is really comfortable experience.
But because of small size, the pressure factor is not working properly, so you need to apply little bit pressure by your self, which is we can call minor downside of this Mi electric toothbrush.
Otherwise, using this brush is a very straight forward process, All you need to do is apply the toothpaste, hold the brush to your teeth, press the button, and select the mode. To be fair, it takes time to get acquainted with an electric brush but eventually, you will get used to it.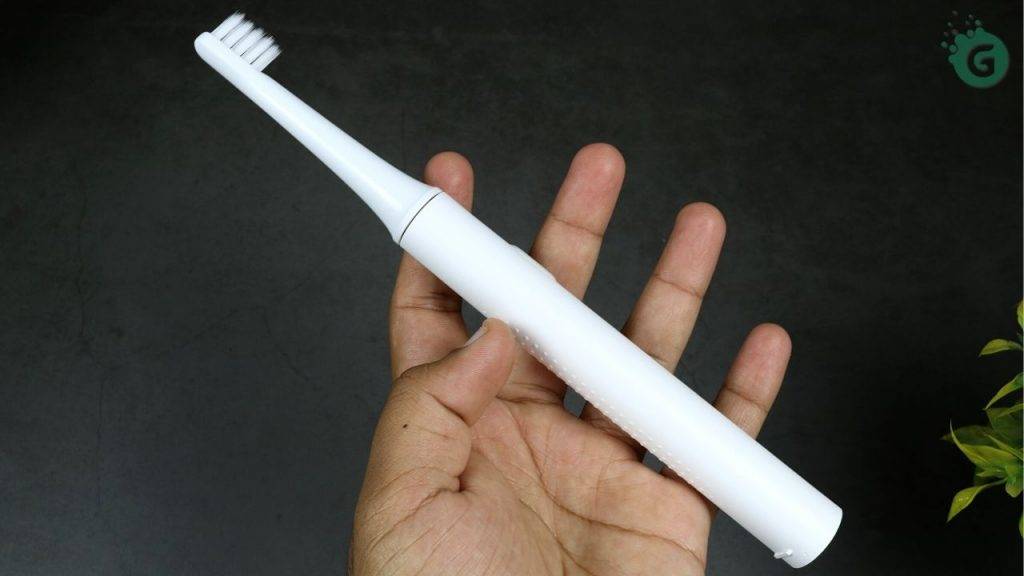 The motor of this brush is so powerful that it spreads the paste in seconds. The brushing process was smooth and ensures easy usage, thanks to the soft brush head. But I felt the vibration is very strong, so if you have sensitive teeth problem then use only soft mode.
Another best thing is that it comes with the same brush cycle as T300 that includes 30 seconds for one side, means after 30 seconds its remind you for side change with small interval, which is really helpful on a day to day use. It saves your time and extra brushing is also not good for teeth. After 30 seconds bruising for four sides, it automatic turn off.
Verdict
At Rs. 599, the Mi Electric Toothbrush T100 is worth to try if you are bored with manual brushing. It offers fun and comfortable teeth cleaning experience and a neat device for those who want to try an electric toothbrush for the first time. The right price tag, small compact size, and good battery life is the biggest highlight of this Mi electric toothbrush.
What do you guys think about this gadget? Do let us know in the comments below!
Also Read: