After discontinued for a short time, Gionee is back in the market with various mobile accessories, including earphones, headphones and power bank. The Gionee recently introduced it's new 20000 mAH power bank ' Gionee PB20K1D ' in the market with a 2.4A fast-charging USB port and 15W quick charge 3.0A USB type C input/output port. Apart from this, there are lots of other interesting facts that I will discuss in this post. But before that I want you to tell one thing is that the Gionee is now Indian own brand and this power bank is fully made In India, so unlike other power banks, this one is 100% made in India power bank.
Design & Build
At first impression, the Gionee PB20K1D will definitely win anyone heart with its stylish design. The long slim design and black colour look really eye-catchy. Yes, we don't have any other colour options, but the black colour goes really good with this design and look quite attractive.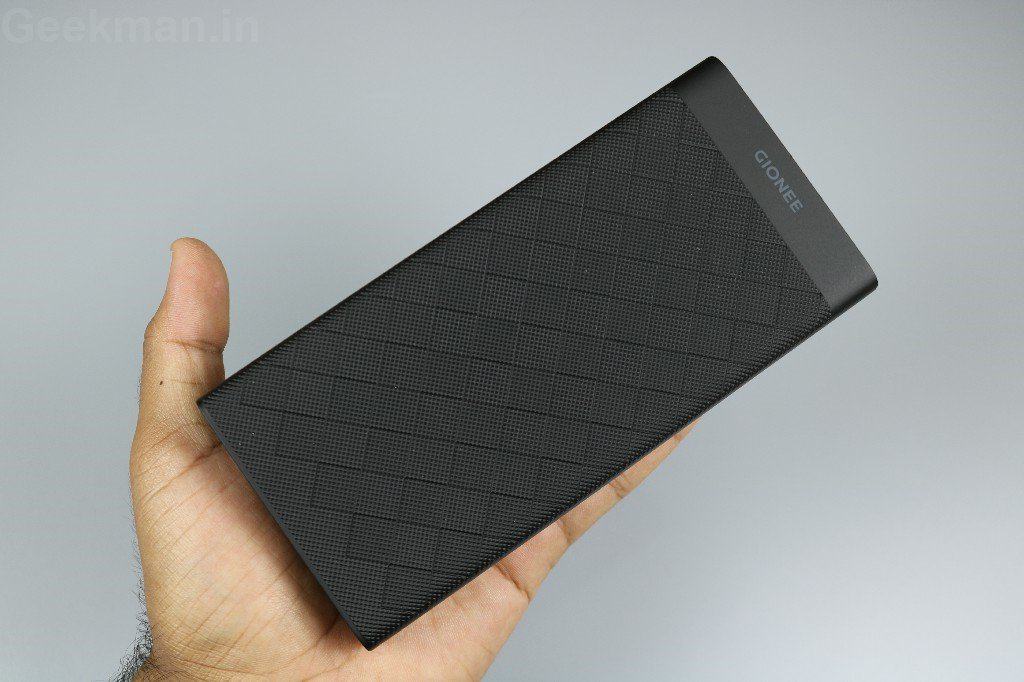 The 20000 mAH is huge and that's why we can't expect the compact size and lower weight here. But still, this power bank looks compact than most of other 20000 mAH power banks in the same price range.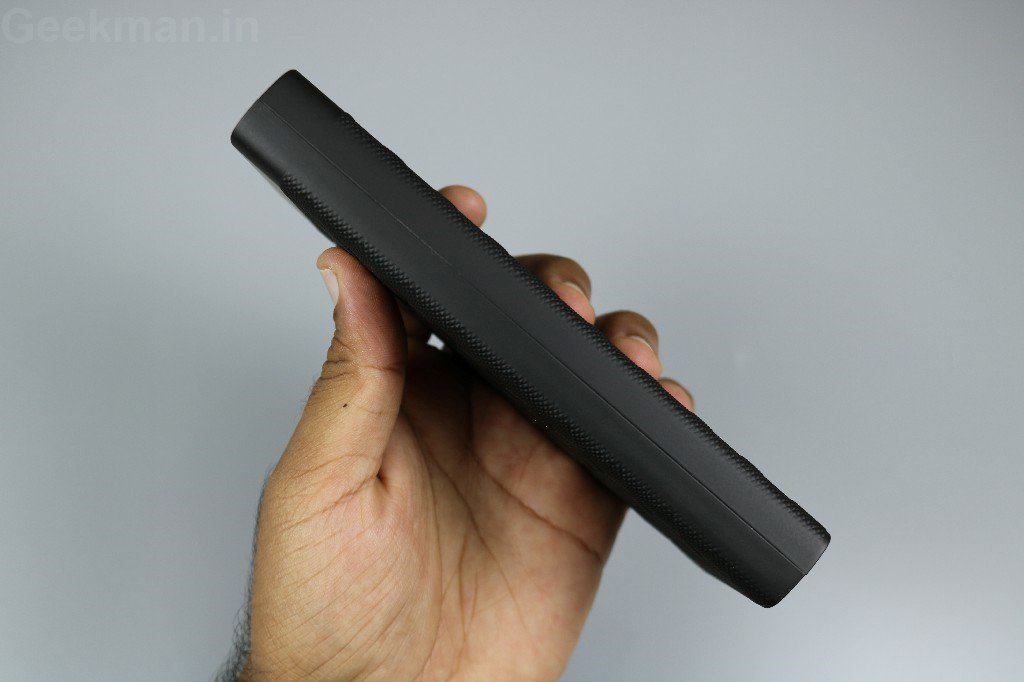 Apart from this, the build quality of Gionee PB20K1D is also good. The company use good quality plastic over here, which will definitely make this power bank to more durable. Another best part is that the nice textured pattern on the top of the case, that looks really eye-catchy. The outer body has matt finish, that offers some kind of rubberized soft filling which give satisfy feal while holding this power bank.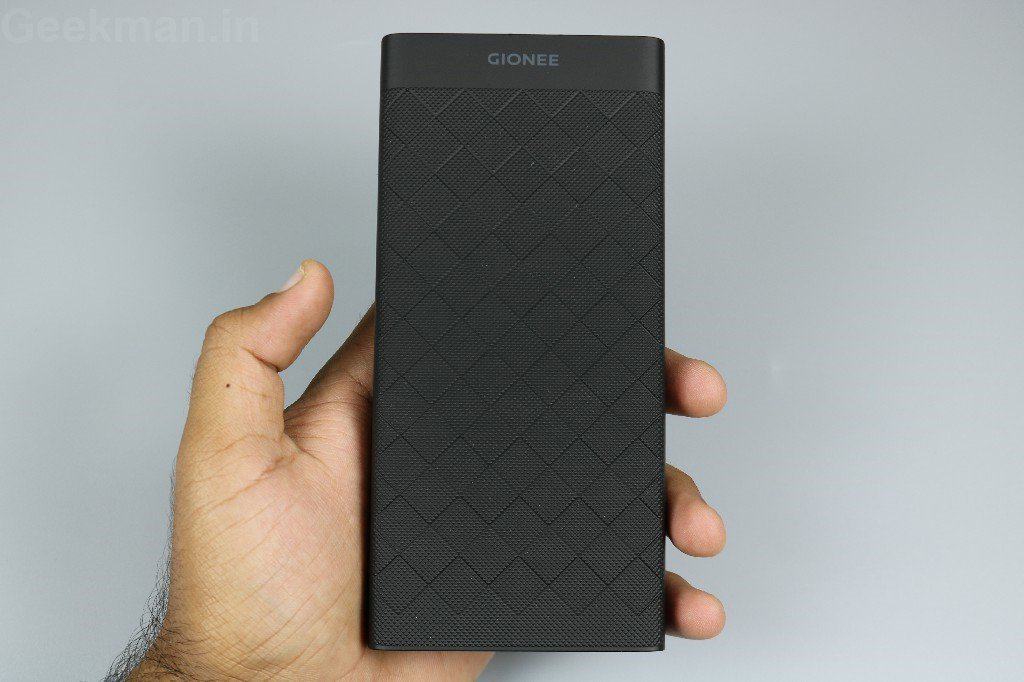 On the top, you will get all the functionality. Here you get two USB output ports, one with 1.0A and another one with 2.4A fast charging support. For the input, there is a standard 5V/2.0A micro USB port and near it, one USB type C port with 15W max 3.0A for input and output both. On the left side, there is a power button and four LED indicator light for battery status and remaining power check.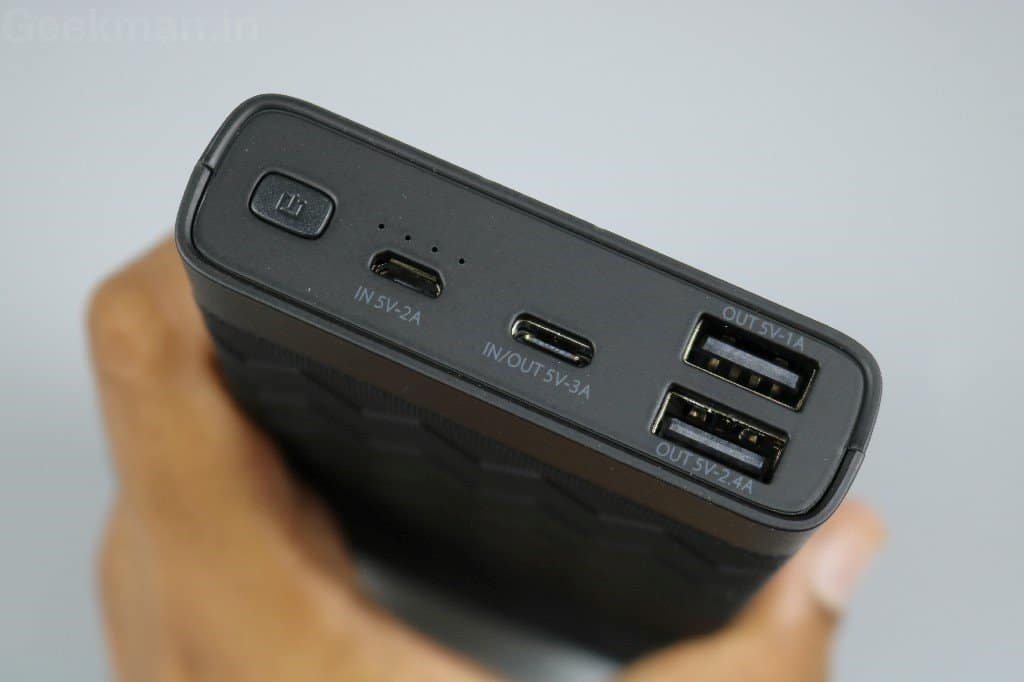 Performance
Now let's talk about charging time. If you charge your 3000 mAH battery-powered phone using 2.4A fast charging port then within 1 hour 40 min your phone will be full charge. Actually, It's the average duration and all the power bank in this price range takes the same time. But if your phone supports USB type C port and you have dual-way USB type C cable, then your 3000 mAH phone full charge within an hour.
As same, if your charge this power bank using USB type C and fast charging adapter, then within 5 hours your power bank will fully charge. Using the normal micro USB cable it takes approx 7-8 hours for a full charge.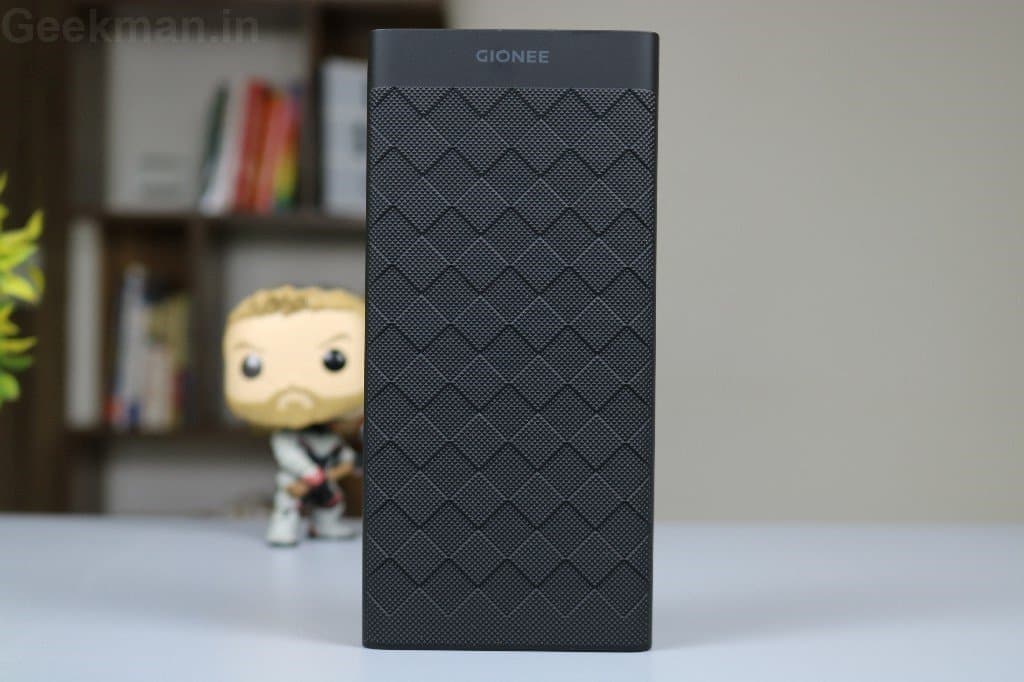 Coming to capacity, the Gionee PB20K1D comes with 20000 mAH lithium-polymer battery, that gives approx 14000 mAH real capacity. And it's decent capacity and almost every 20000 mAH power banks deliver same capacity, including MI power bank.
Final word
Overall, Gionee PB20K1D is a really good value for money power bank, it has a nice good looking premium design, solid build quality, fast charging support and 3.0A USB type C port, which makes this power bank to the one of the best w0000 mAH power bank in this price range. More info please visit my Youtube channel: Geekman.
Gionee PB20K1D Review in Hindi
Buy now