Facebook redesigns Public Pages: Facebook Pages are being redesigned as the social network announced today a substantial shift to the Facebook Page experience for creators and public figures, which comprises a brand new look-and-feel, upgraded navigation, the debut of a dedicated News Feed, a brand new Q&A format for engaging followers along with other insights and tools. This redesign will remove or drop the Like button in the favour of focus on followers.
If you've been following or liking Facebook pages, you must have noticed that the a page contains both likes and followers with different numbers. Now this redesign will be helpful for a direct measurement of how many people a page is currently reaching. This was first reported by TechCrunch months ago that, Facebook is planning to overhaul its pages and it has began to test the updated look with a select number of high-profile individuals including actors, creators, and businesses.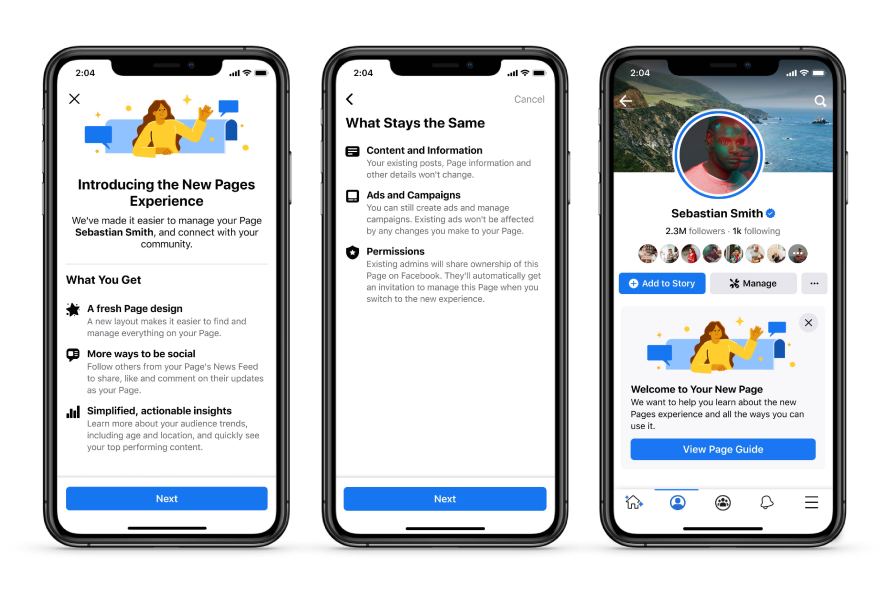 Facebook redesigns Public Pages with simplified layout and Drops Like Button
As mentioned earlier, one of the biggest changes here is that there will be no like button anymore. Many Facebook users had formerly liked a page, but afterwards unfollowed the Page to eliminate its updates from their News Feed as they outgrew their attention. Or they'd like a page as a favor to a friend after receiving a like request, but declined to get its updates.
Facebook currently says followers of a page is going to be the metric in the forefront of their new experience, as it is a much better indication of how many individuals are fans that are receiving updates from the webpage. Facebook is also introducing a new Q&A format that allows pages to better engage with its fans or followers. This is somewhat inspired by the Instagram trend, where creators would take questions from fans and answer them in Stories. In cases like this, however, followers may ask the Page questions about a subject and when the Page replies, those become a pile of questions which people can swipe through to find out more.
This could be particularly helpful for businesses that are looking to answer common questions in a fun way for fans to get to know that a creators they enjoy, among other things. Another noteworthy change is that Pages will obtain their very own News Feed. That means the page itself may take part in discussions as the public figure or the brand, follow trends and interact with their fans.
This dedicated News Feed will also indicate other public figures, Pages, Groups and trending articles to the Page or the public figure to interact with. This comes really handy for followers as when you see a Page, you will see their opinions on others' posts bumped up to the peak of the remarks section, providing them greater visibility, alongside a more visible blue-tick that suggests the Page is verified. The posts they have commented on are also visible in users' News Feeds too. Facebook says that the updated pages will roll out in coming months. Now, this is our take on Facebook redesigns Public Pages, for more posts like this, stay tuned!
Also Read: