The boat is back again with yet another budget-segment smartwatch in the Indian market. The watch is launched with a price tag of Rs. 4,000 but is available now for around Rs. 2,999. Out of the box, the watch promises a lot of exciting features, which sure raises some eyebrows but is the real-life experience or the fun all on paper? Well, let's find out!
We have got our hands on the new Boat Wave Ultima, and in this review, I will be sharing my review of it, so without any further ado, let's get started.
BoAt Wave Ultima Specs
| | |
| --- | --- |
| Display | 1.8 inch HD Display with 550 Nits |
| GPS | No |
| Strap | 22mm, Silicone |
| Water-resistance | IP68 |
| Bluetooth | 5.3 |
| Support | Android 6.0+, iOS 12+ |
| Sensors | 3-axis accelerometer, Optical heart rate sensor, and blood oxygen sensor |
| Battery | Up to 10 days |
| Color | Black, Red |
| Weight | 45G |
Box Content
Let's quickly start with the box contents; you'll get some basic paperwork like a quick starter guide, a magnetic charging cable, and the watch itself. I got the Active Black variant of the watch, but you can easily find the Raging Red and Teal Green variants on the shelf.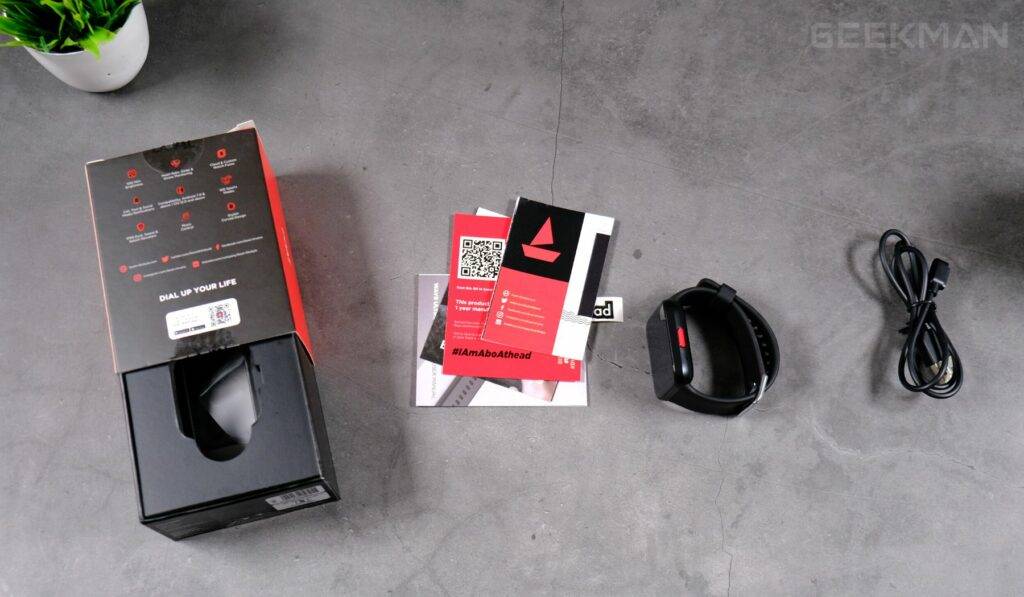 Design & Build
Now coming to the design and build, the watch comes with a square-shaped design which comes with an all-plastic build. The plastic build is not that cheap looking, but it can't be called premium either, it is more on the average side. You get little curves on the top and the bottom of the screen, which Boat likes to call the Curve Arc display and is one of the biggest highlights of the smartwatch. Well, personally speaking, they don't make much of a difference since you are still getting bulky bezels all around.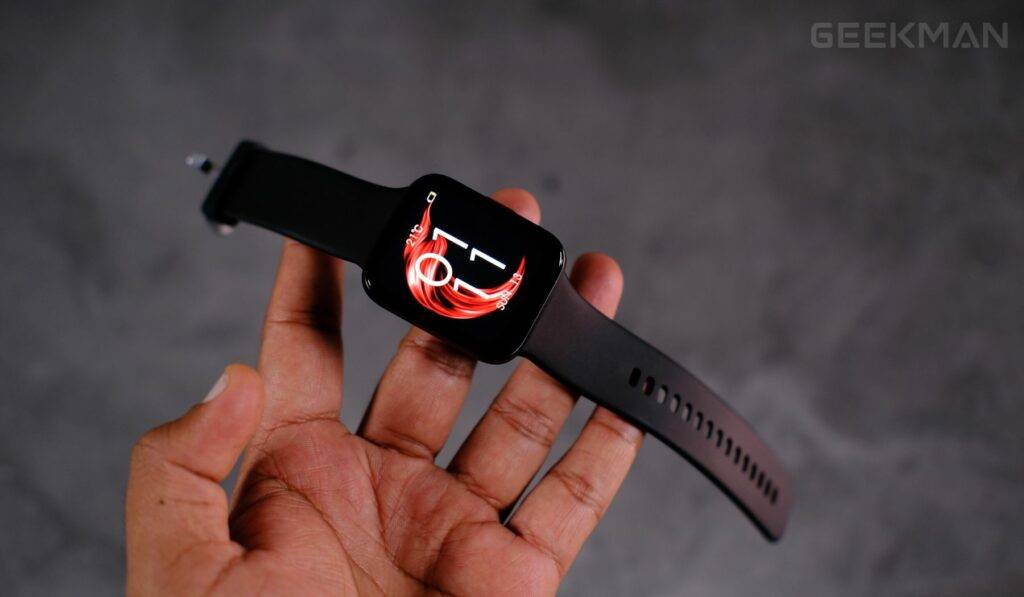 The good thing is that you get an IP68 rating which makes it water-resistant to an extent. The back panel of the watch has a matte plastic finish that is not resistant to scratches, so you may need to take care of it. You get the option to remove the silicon strap belts, which means you can just swap them with some other good-looking options in case these get old.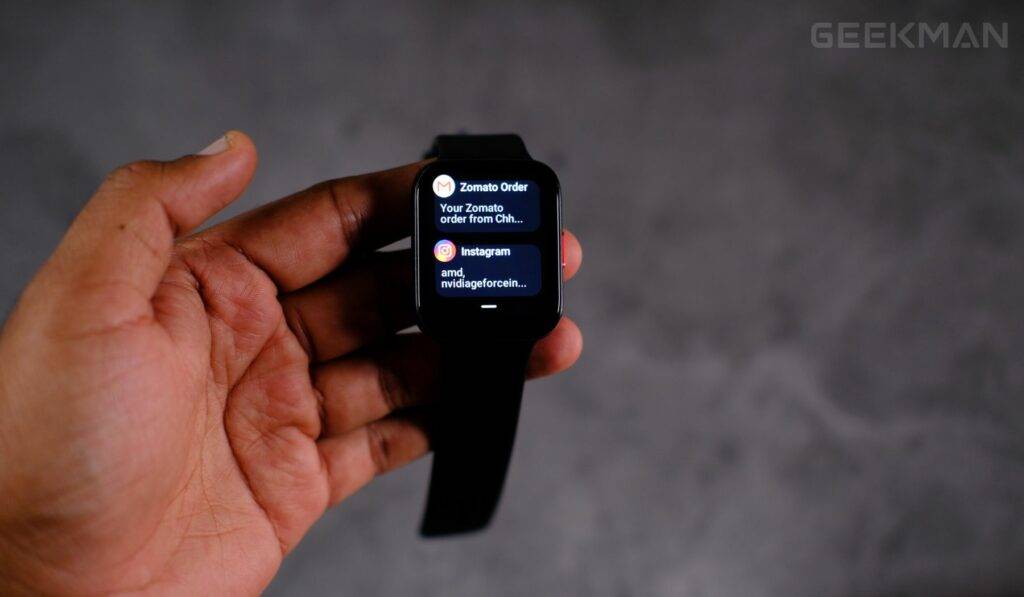 Meanwhile, on the watch's right side, you will get a screen on/off button, which stands out a bit on the Black variant. It is Red on the Black and Red watch variants, but you will get a Green colored one on the Teal Green variant. The multifunction button can also function as a back button and turn the screen on and off.
Overall, the Boat Wave Ultima has an average build with a decent-looking design. You can see a lot of compromises in the build, which is surely a negative point.
Comfort
Now moving onto comfort, the Boat Wave Ultima weighs around 45 grams and is light compared to most other watches in the segment. The lightweight of the watch adds up to a plus point in the comfort segment of the watch. You get soft silicone straps that are quite comfortable and won't bother you with your day-to-day tasks. Additionally, silicone straps also play a crucial role in keeping the watch comfortable. Overall, the watch's comfort is quite decent for its price point.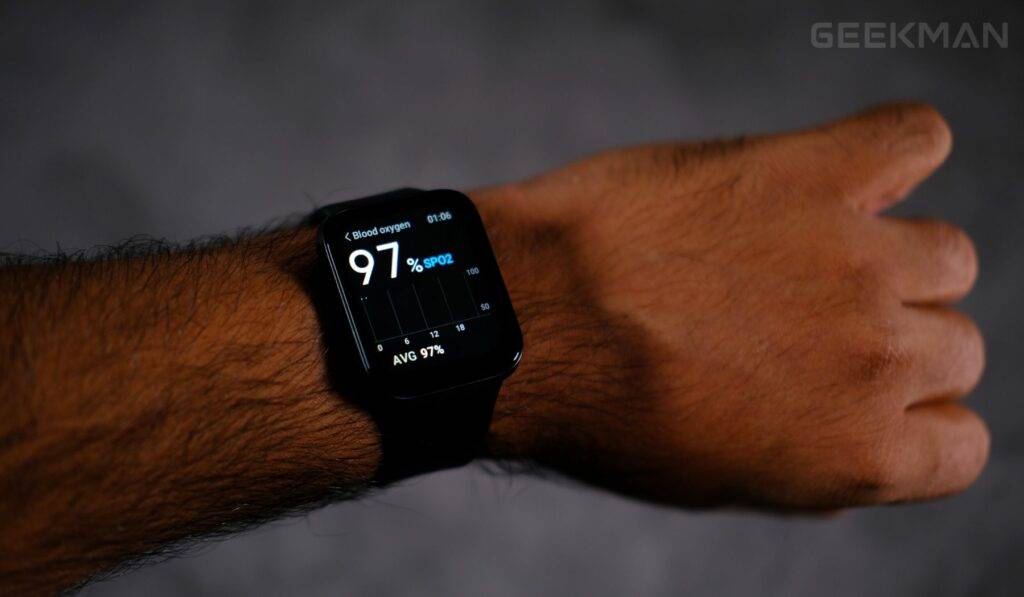 Display & UI Interface
Coming down to the display, you get a 1.8-inch TFT display with a resolution of 240 x 286 pixels and a peak brightness of about 500 nits. The display quality is decent and does a decent enough job when it comes to color production. It has a good amount of brightness on offer, which surely helps when you try to use the watch in bright outdoor conditions.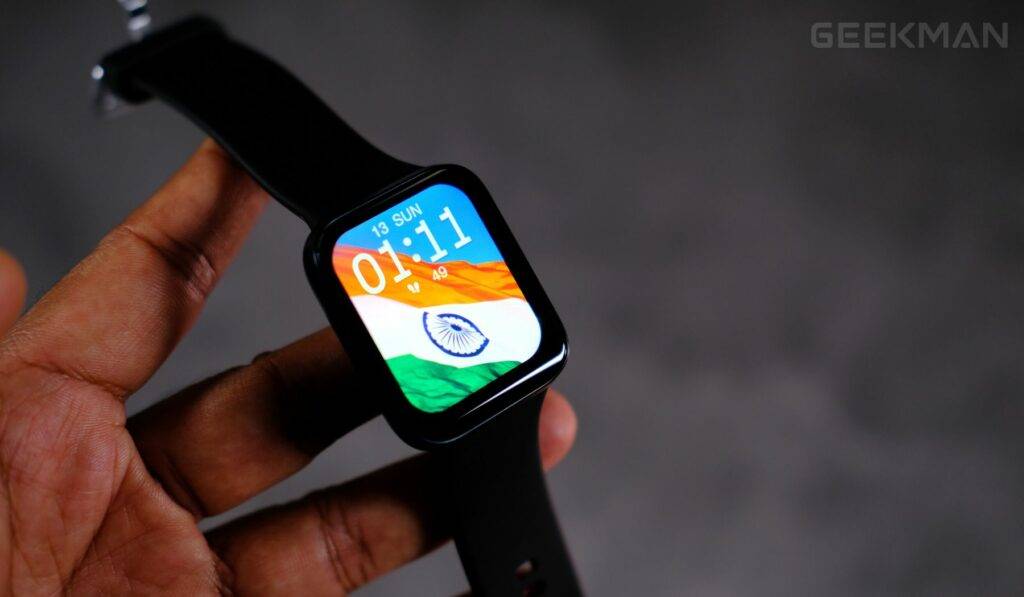 The watch misses out on an ambient light sensor, which means you won't get an automatic brightness control, which I didn't expect at this price point, but there is still a feature called Auto-brightness, which changes the brightness according to the time on the watch. You get a maximum screen time of about 20 seconds and five brightness levels, which is enough for most of the daily usage. You might have confused it with the ambient auto-brightness control, so I wanted to let you know.
Now, coming to the UI of the watch, one major complaint that I have about the UI part is that some of the text seems to get out of alignment, which is a disappointment. Apart from that, the interface works decently. Yes, the UI feels sluggish, but you can only expect a little at this price point.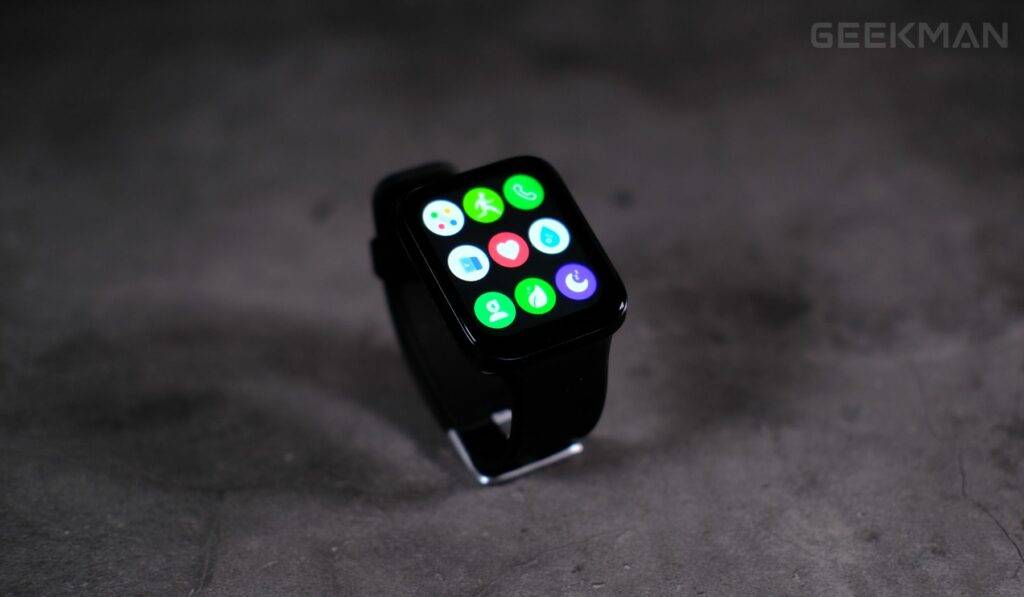 You get four preset watch faces on the smartwatch that you can quickly switch as per your liking. The good part about that is you get plenty of good-looking watch faces on the app, which means you can change the look of your watch whenever needed. You also get an option to set a custom watch face which is a good addition.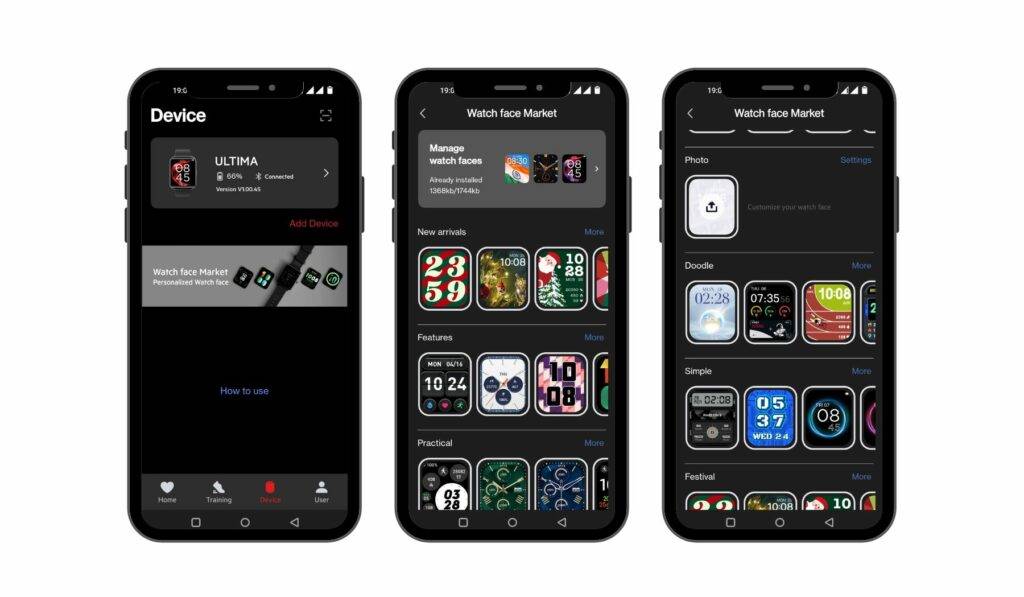 The smartwatch companion app is Boat Wave, which I have tested numerous times in the past but has been improving from time to time. The app works fine without any major issues. It does a good job of synchronizing the data with the smartwatch. Yes, the app needs a UI retouch, and there are a few bugs, but there is nothing major to complain about. Overall, I would say the interface of the watch and the app are average at best.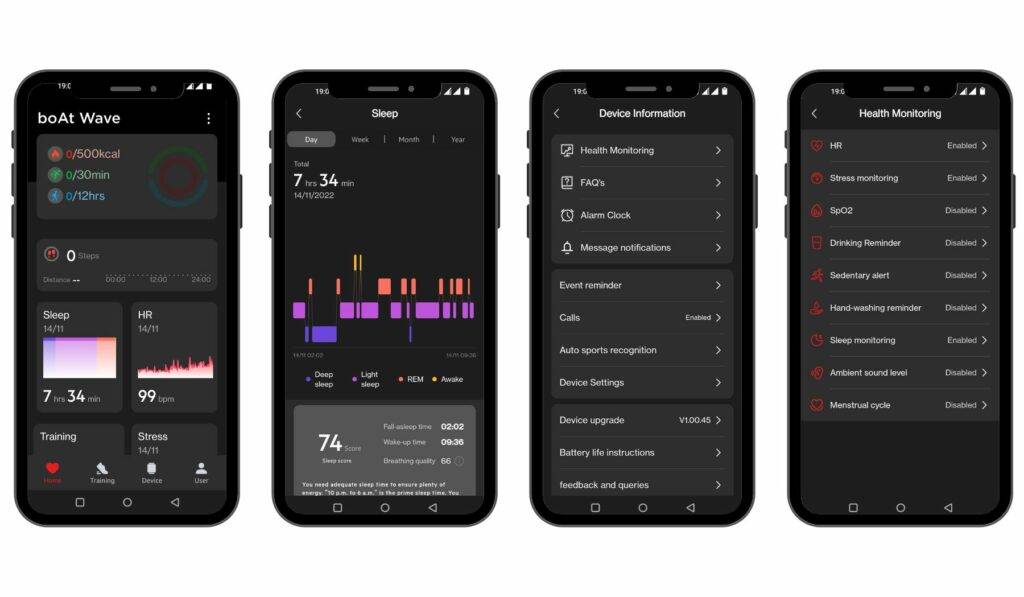 Features
Moving on to the features, you will find it similar to any other budget smartwatch at this price point. You will get features like daily activity tracking, heart rate tracking, SPO2 tracking, and steps tracking along with some other basic features like alarm, music controls, weather, stopwatch, and flashlight. Yes, you get a unique feature, the Ambient sound tracker, which isn't that accurate but does a decent job of detecting the ambient noise levels.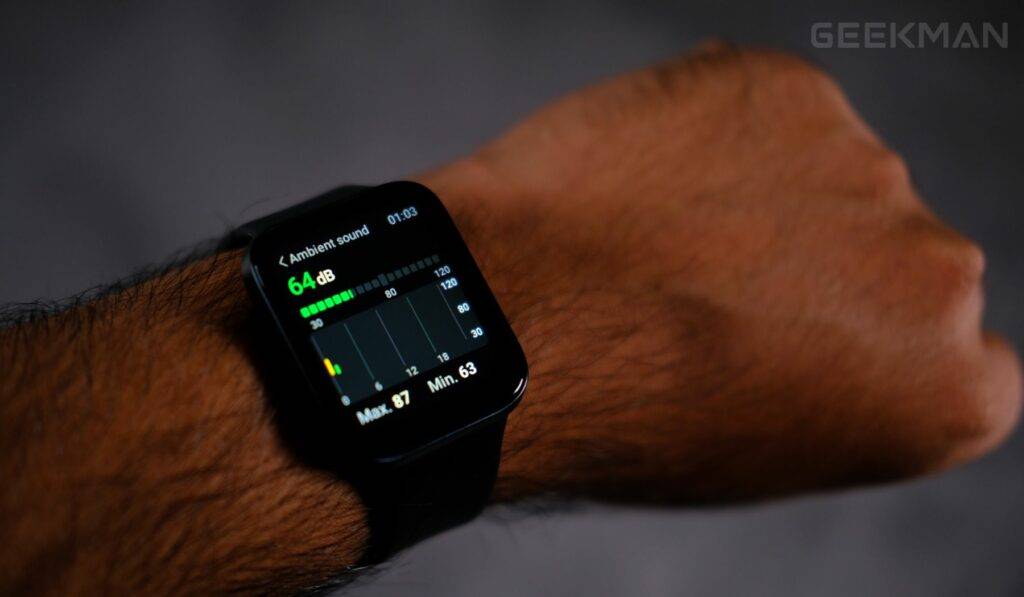 Another key feature of the smartwatch is Bluetooth calling, which means you can make and receive calls directly on your smartwatch. You can pick up an incoming call or make a call from your contacts and dial numbers directly from your smartwatch, which is a good thing. The watch has a built-in microphone and speaker, facilitating calling on this smartwatch.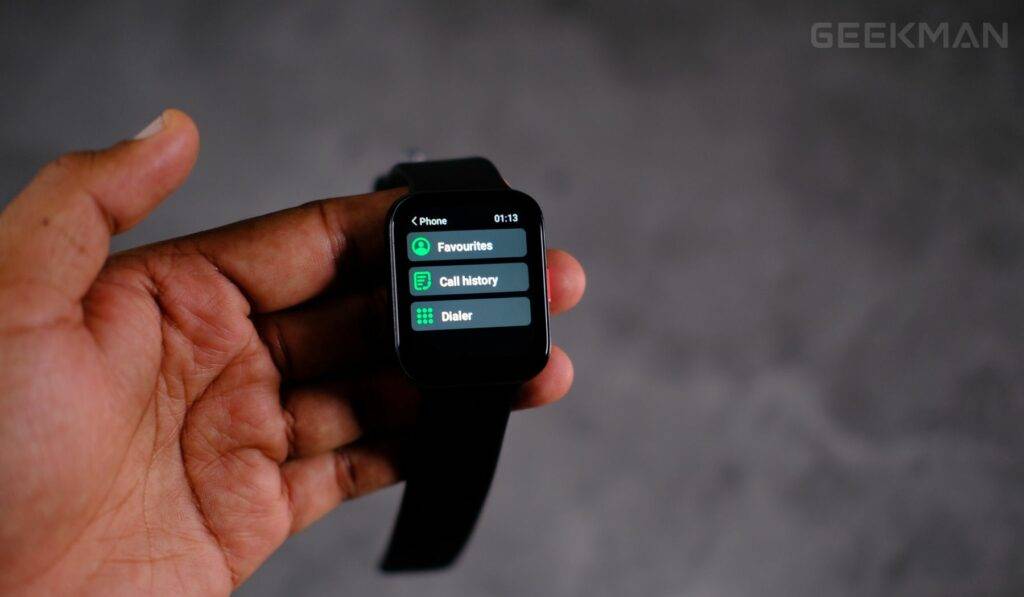 The audio quality of the calls is decent, and the microphone does a decent job as well, which makes sure that you will have a good experience when making calls in the indoor environment. You may find it difficult to make calls in loud outdoor conditions, which is okay since this is a common problem with most other watches in the market.
Accuracy
Now moving on to another important aspect of a smartwatch, the Accuracy. Well, we have tested out numerous smartwatches from Boat in the past, and their performance could have been better in terms of data accuracy. It seems like Boat has made a little improvement over the accuracy part, as the new Boat Ultima is a little more accurate than its other predecessors.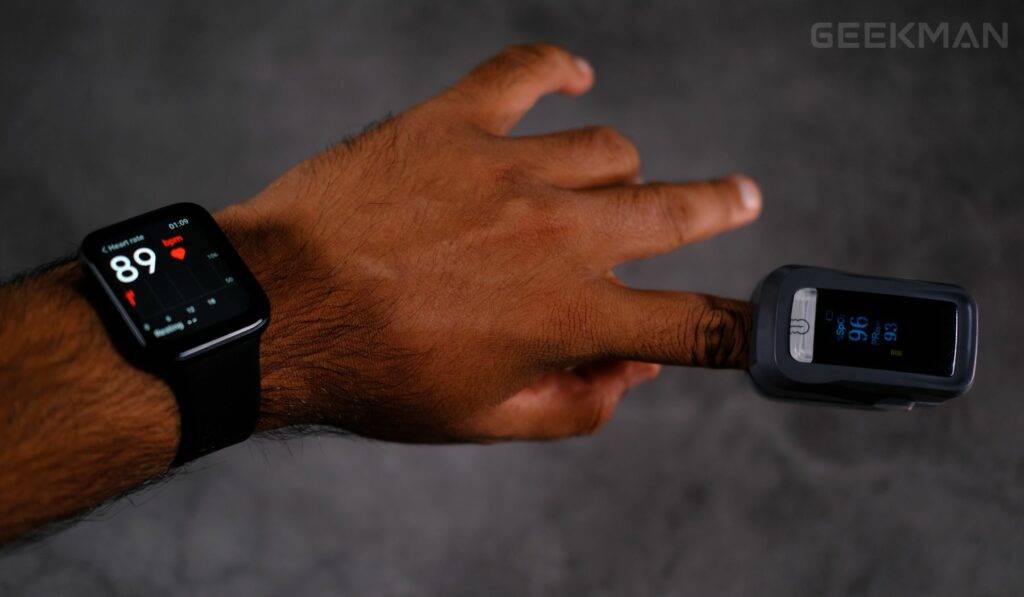 Yes, activity tracking and steps tracking could have been a bit better, but overall, they offer pretty decently accurate results. Features like heart rate tracking and SpO2 tracking work well, and the data seems quite accurate. Although recording the data takes a little while, it is trustable, which is a good thing. Of course, you cannot expect it to be as accurate as other medical equipment, but it sure does a pretty impressive job for a smartwatch.
Other features like sports modes and automatic sports tracking are fairly accurate and are average at best. Overall the accuracy of the watch could be considered decent for its price point.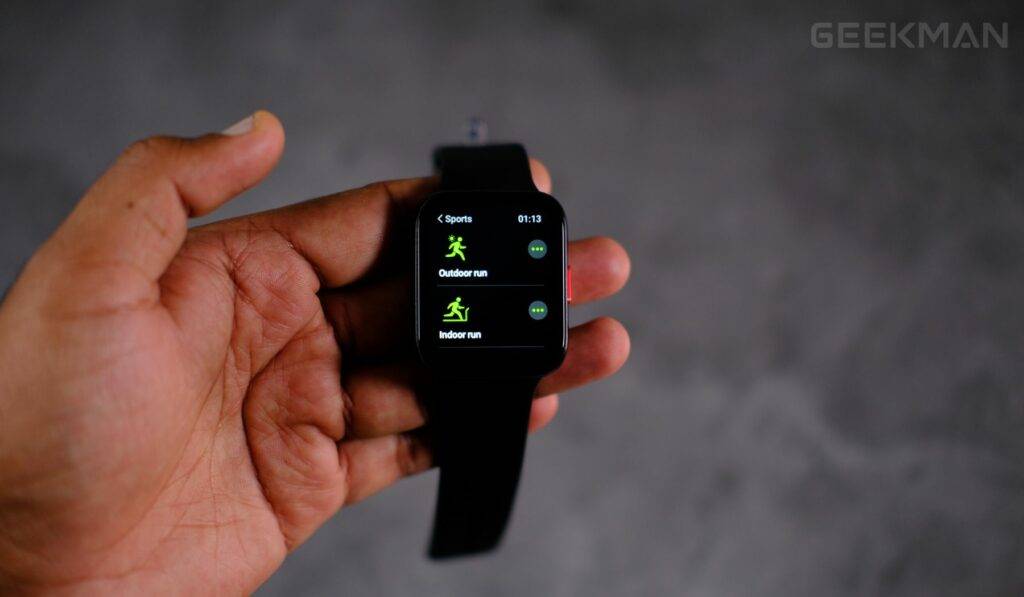 Battery
Finally, coming to the battery backup, you get a 200 mAh battery packed inside of the Boat Wave Ultima says it can last for about ten days on normal use while three days of backup with the Bluetooth Calling feature. On the actual grounds, the backup was quite unimpressive, and the watch lasted for about three days on normal usage, which is quite disappointing.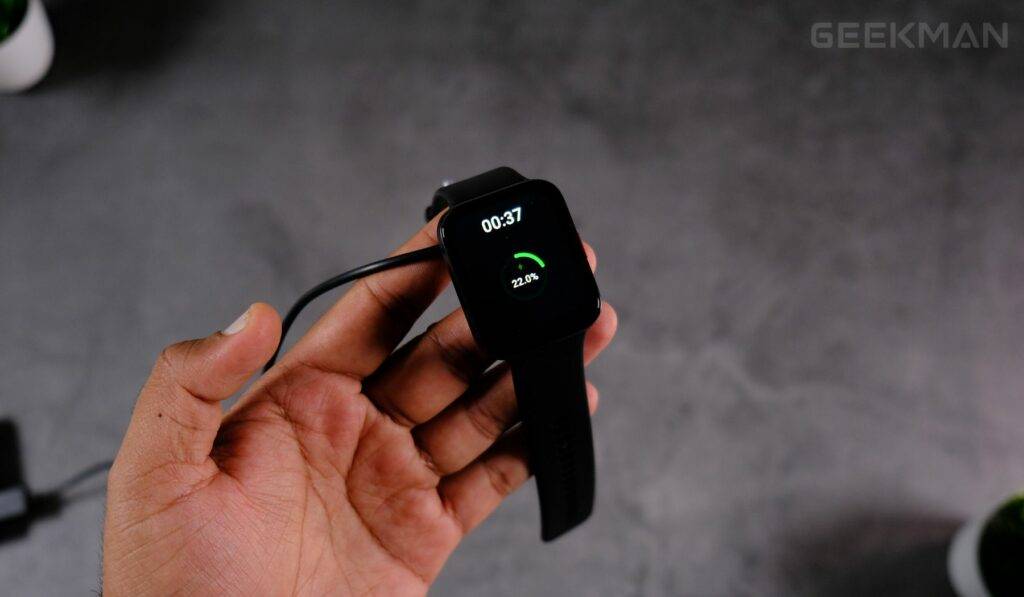 Verdict
Now to the conclusion, is Boat Wave Ultima a good choice worth buying at Rs. 3,000? Overall, the Wave Ultima is a good choice for its price since you get almost all the basic features you would expect from a watch at this price point. I have no complaints about the watch's connectivity, and it also gives fairly accurate tracking, which is surely a plus point. The watch comes with Bluetooth calling, which works quite nicely and could be a good reason for you to pick it.
The battery backup of the watch could have improved a bit, but if you put that aside, the Boat Wave Ultima is a pretty good smartwatch for its price. If you want a watch with a premium build, then you may need to raise your budget a bit and want to go for some other options like Realme Watch 3 Pro, OnePlus Nord Watch, or the AmazFit Bip 3 Pro.
Lastly, if you have any queries or suggestions, feel free to fill up the comments with them. I will get back to you as soon as possible. Thanks for reading.
BoAt Wave Ultima Review In Hindi
Also Read: