The boat is back in the market with a brand new soundbar called the Boat Aavante Bar 1150D. This soundbar comes with a 2.0 channel and offers a sound output of about 80W. The boat offers this at around Rs. 6,000 in the Indian market. This 80W soundbar comes with Boat Signature sound and Dolby Atmos support, which makes it a really interesting choice at this price point.
Today, I will share my experience with this soundbar and how it stands when compared with other soundbars at the same price point. So without any further ado, let's start with the box contents.
Boat Aavante Bar 1150D Specifications
Output
80W (40W x 2),
2.0
Driver Size
5.58.5cm2+2.25inch*2
Connectivity Options
Bluetooth 5.0, 3.5 mm stereo AUX, USB, Fiber optic, HDMI ARC
Frequency Response
55Hz-20KHz
Signal Noise Ratio
60dB
Dimensions
96 (w) x 8 (h) x 8 (d) cm
Warranty
1 Year
Box Contents
We get some basic paperwork in the box, like the user manual and a warranty card. You also get a small remote control along with two AAA-size batteries. The boat also includes an AUX cable which is quite long. They have also included two wall mounting screws, brackets, and a few paddings, which you will need to mount this soundbar onto your wall. Lastly, you will get the soundbar which comes in a single glossy black color.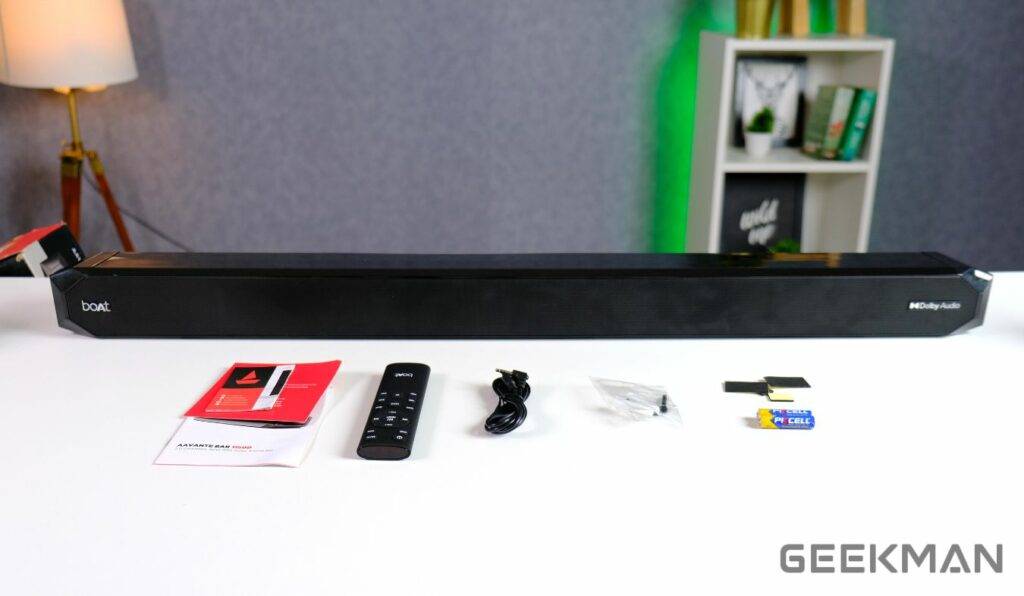 Design & Build
Moving on to the design and build, the first noticeable thing that grabbed my attention was its good-looking design. I have tested out numerous soundbars of this price segment, and the Aavante Bar has got a better design than almost all other similarly priced soundbars. It has got a premium touch to it, which can be felt right when you pick it up. The Aavante bar also wins my heart with its sturdy build, and only a few soundbars at this price segment have impressed me.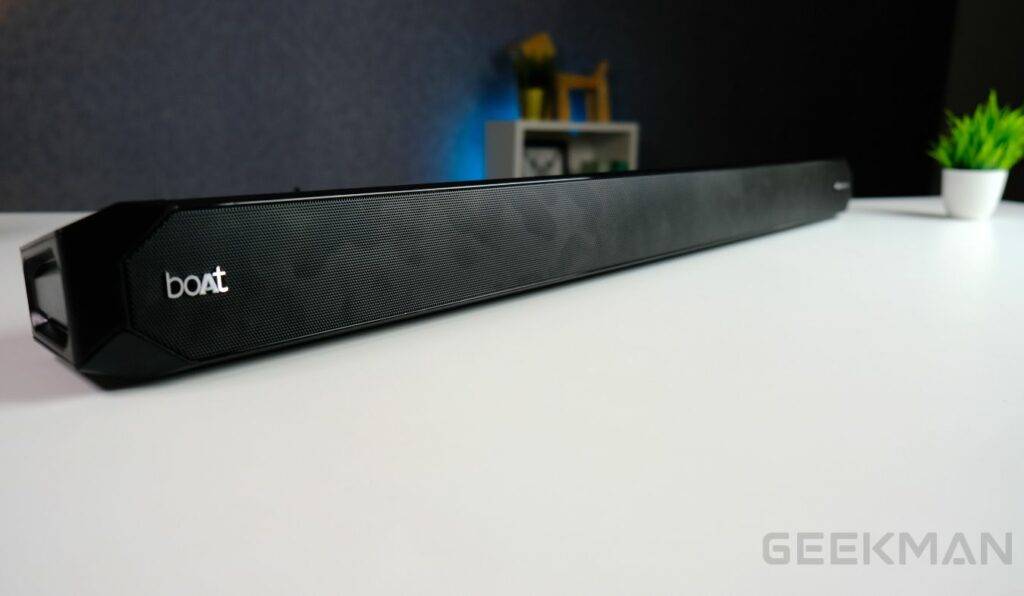 One thing that I want to mention is that it comes with a glossy body that easily collects dust and acts as a fingerprint magnet which means you will need to clean it up every once in a while. The soundbar has a length of about 35 inches and is quite bulky, but you won't be planning to carry it around, so I guess that won't be an issue. You get a metal grille at the front that houses a small screen that tells you about the connectivity modes, volume levels, and a few other information.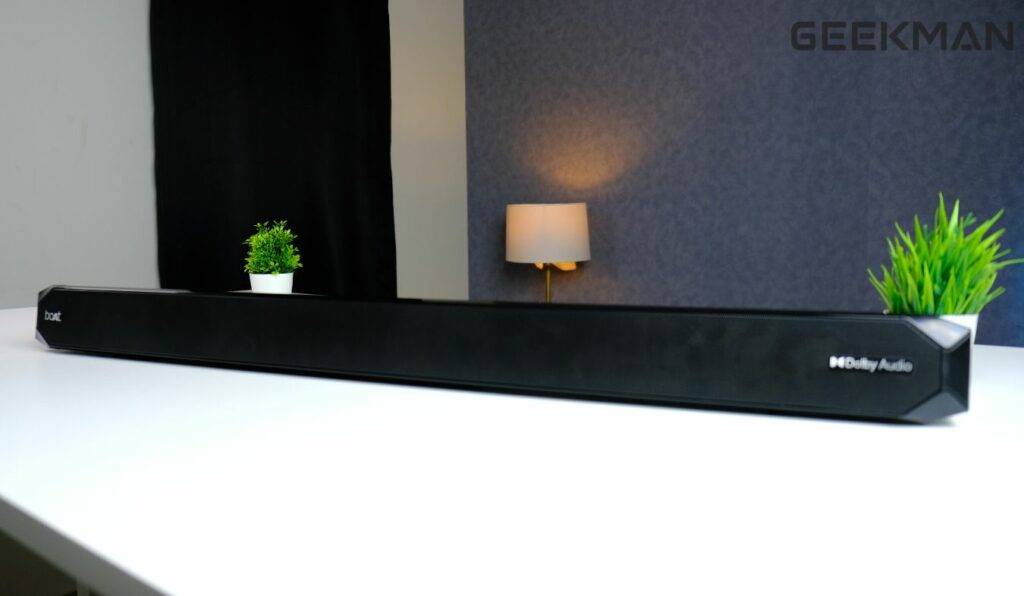 There are 4 physical buttons on the right side of the soundbar, which can be used in case you misplace your remote control. Since we are talking about the remote control, the remote control is quite compact and nicely built.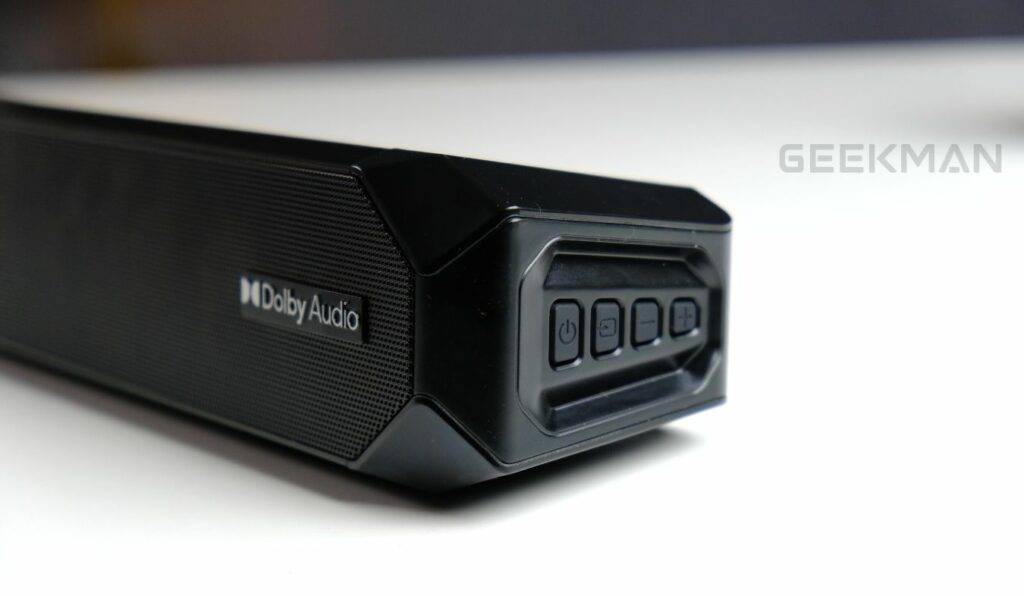 Audio Quality
Now moving on to the audio quality, the Boat Aavante Bar 1150D comes packed with two 2.5-inch drivers, which collectively offer an audio output of 80W. Since this is a 2.0-channel soundbar, you won't get any external or inbuilt subwoofer with it. One of the biggest marketing points of this soundbar is that it comes with Dolby Atmos support which makes the audio experience a little better.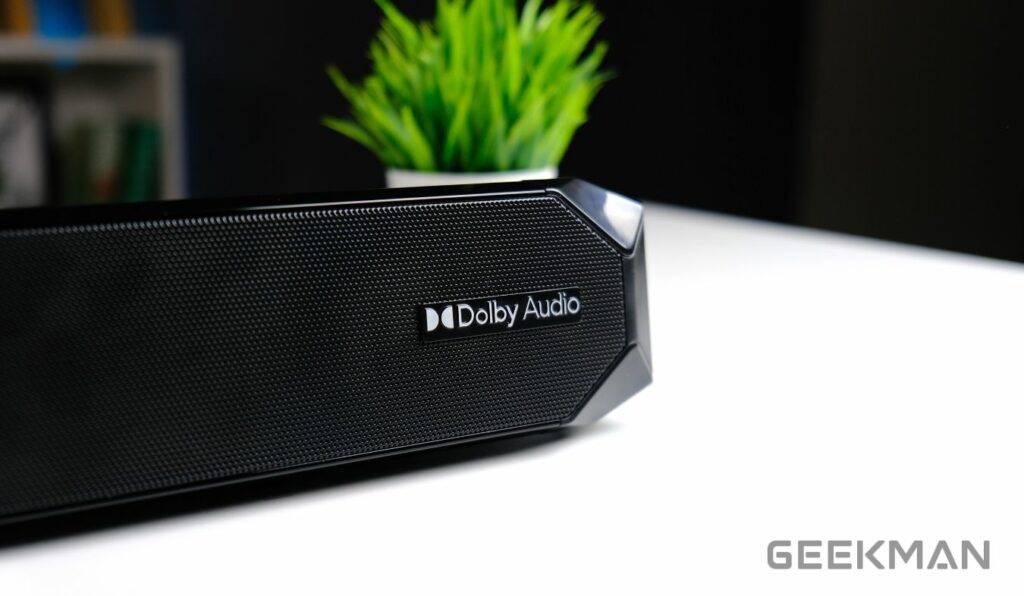 If you know how Dolby Atmos works, you might be aware that you will need a 4.1 or 5.1-channel soundbar to get the most out of it. So if you are expecting something out of the world with the Dolby Atmos on this soundbar, having that on a 2.0-channel soundbar won't make a big difference. Also, you will need to plug in your HDMI cable to use the Dolby Atmos, and your source content should also be Dolby Atmos enabled.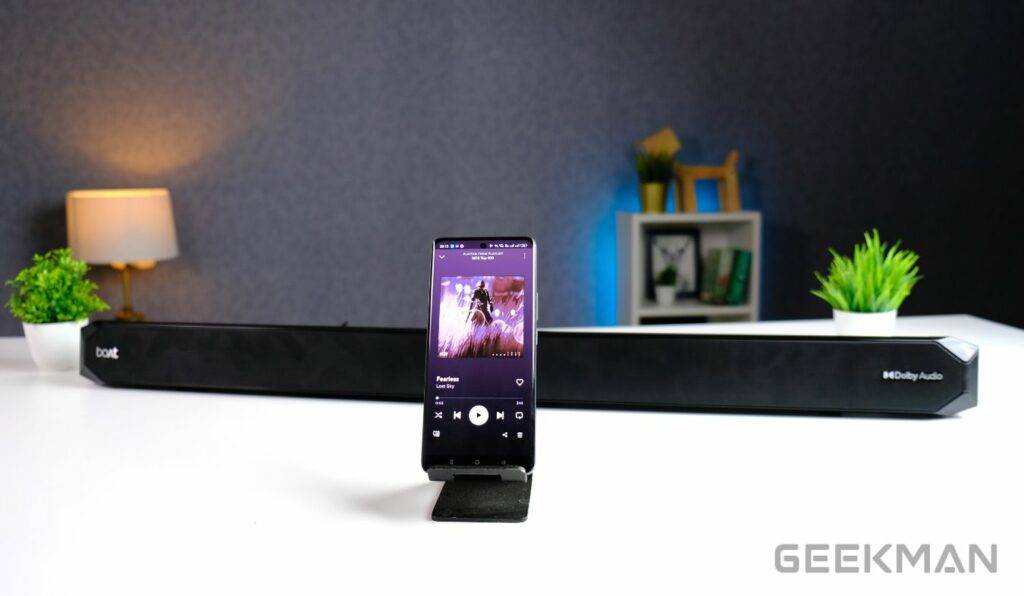 Now coming to the actual sound quality, the Boat Aavante Bar 1150D has got a really good sound output that stays clear even when your audio is pumped up to 100 percent. All the frequencies are very well balanced, and despite not having a subwoofer, the sound does not lack any bass, which is quite impressive. It is very rare to see this good bass response from a soundbar at this price point.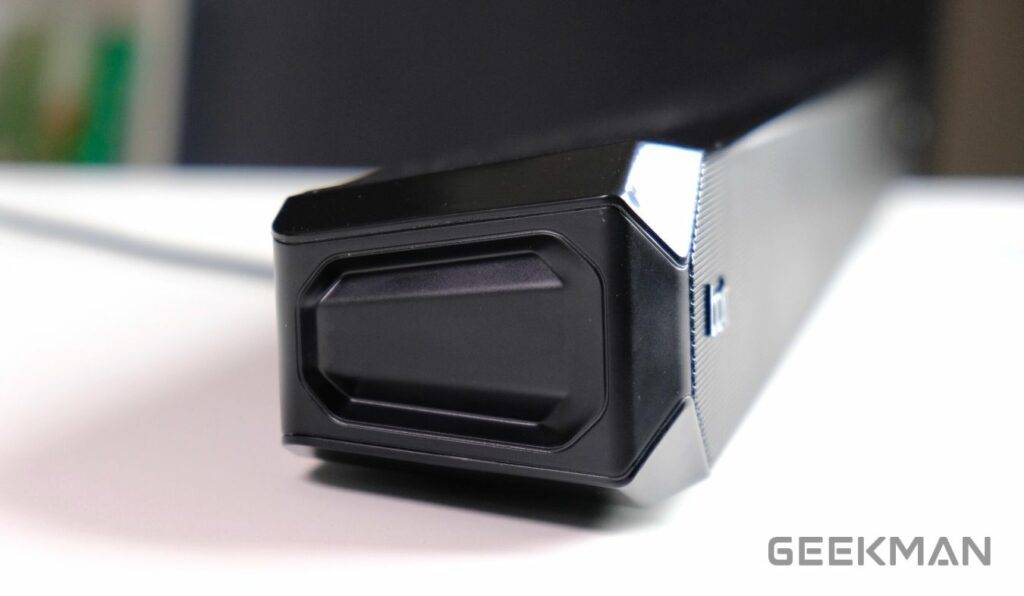 Features
The Boat Aavante Bar 1150D comes with almost all the connectivity modes that you can expect from a soundbar at this price point. You get connectivity modes like Bluetooth 5.0, USB, AUX, Optical Cable, and HDMI (ARC). The Bluetooth works flawlessly on the soundbar, and there are no connectivity issues with it, but it would have been better if it came with the latest Bluetooth support.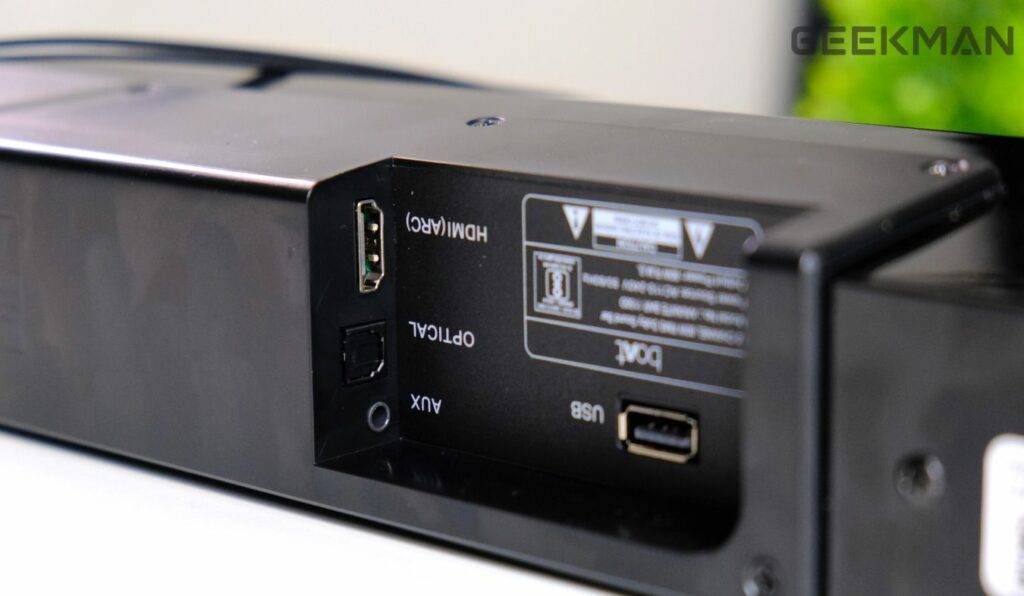 I also tried the HDMI mode, which works without any issues. You can use your TV remote control with the soundbar to change the volume while in HDMI mode, which is a plus point. Another point worth mentioning is that it has 4 equalizer modes that you can quickly change from the remote control. Meanwhile, the remote control allows you to quickly change input modes, volume, bass, treble, and a pair more to connect it using Bluetooth.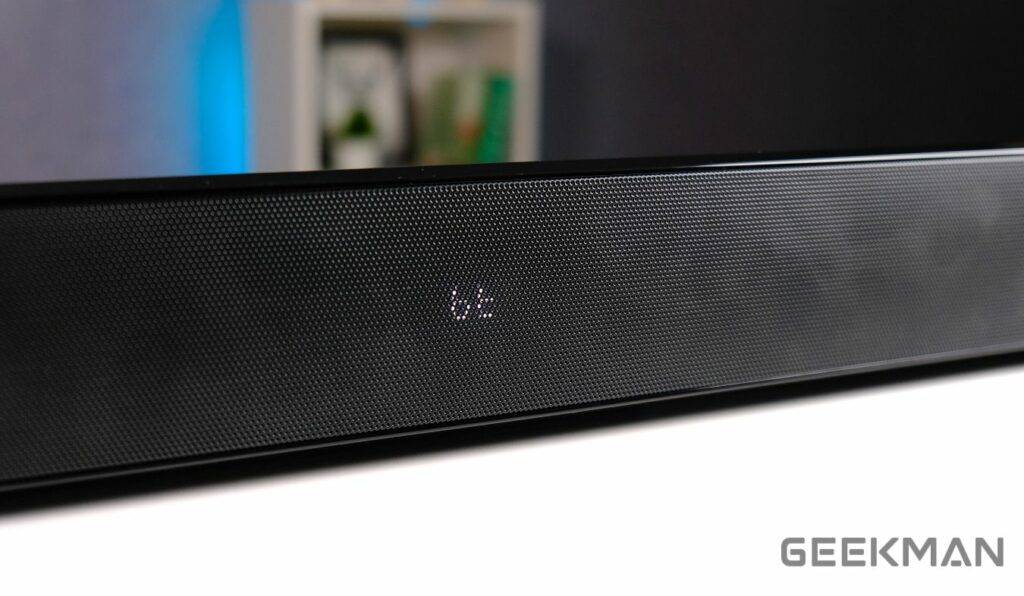 Verdict
Now finally coming to the verdict. Is Boat Aavante 1150D a good investment?
My answer to it would be a Yes! The Boat Aavante Bar 1150D comes with a really good-looking design and has a really good build quality. You get a really great audio output along with Dolby Atmos support which makes it one of the best soundbars at this price point. Yes, I would have expected the latest Bluetooth support with it but we can let that slip as Bluetooth v5.0 works without any issues.
If you are looking for a 2.0-channel soundbar that costs around Rs. 5,000 to Rs. 5,500, the Boat Aavante Bar 1150D is exactly what you are looking for. Meanwhile, if you are a bass head and want more bass then you can choose to go with a 2.1-channel soundbar. There are some really good options from Boat and JBL at around Rs. 8,000. Another good option at the same price point would be the Boat Aavante Bar 1198 which comes with an inbuilt subwoofer.
Finally, if you have any queries regarding this soundbar or have any other general queries, feel free to drop them down in the comments and I will get back to you as soon as possible. Thanks a lot for reading.
Boat Aavante Bar 1150D Review In Hindi
Also Read: