Android Auto users will soon enjoy a redesigned interface for Google Maps, improving the accessibility and user experience while navigating the infotainment system. Google is testing a new left-aligned sidebar layout that groups important buttons together, enhancing navigation controls and providing a more modernized design.
The current Google Maps interface on Android Auto presents certain challenges for users. Critical buttons like map zoom, compass, and voice navigation settings are scattered across the UI and not easily locatable. The settings button, in particular, resides in the lower right corner, making accessing less intuitive. Additionally, these buttons disappear after inactivity, leading to further confusion for users.
The upcoming Android Autoredesign addresses these issues by introducing a left-aligned sidebar with a vertical stack of all the essential buttons. The new layout groups map zoom, compass, voice navigation settings, and the settings button in a logical and easily accessible manner. The settings button, previously located in the lower right corner, is now positioned at the top of the sidebar, while the map zoom buttons remain bottom-aligned. Notably, the map zoom buttons now share a single pill-shaped housing with a horizontal separator, enhancing the overall aesthetic of the interface.
The redesigned Google Maps interface offers a more modernized look and ensures that all essential controls are consistently visible. Unlike the previous layout, the sidebar remains visible even during interaction with the map, allowing users to conveniently access navigation controls, map orientation, directions preferences, and settings. The sidebar is designed to fade in and out of view, making its presence more apparent than floating buttons.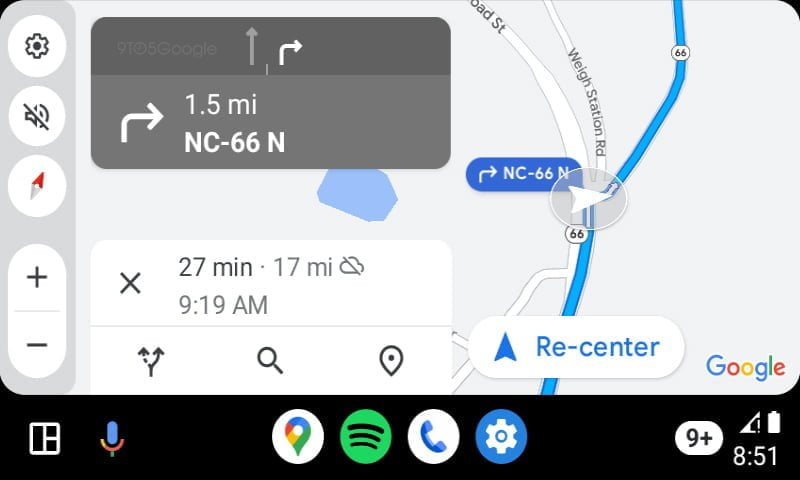 The new interface was first spotted on version 9.9 of the Google Maps app, with version 10 available to beta testers. Google is likely conducting A/B testing to gather user feedback and make further improvements before a wider release. Users can expect the new design to be available in future Android Auto and Google Maps updates.
With the new sidebar interface for Google Maps on Android Auto, users can look forward to a more streamlined and user-friendly experience while navigating. By grouping critical buttons and making them consistently visible, the redesigned interface enhances overall usability and ensures a safer and more enjoyable driving experience. As Google continues to fine-tune the design based on user feedback, the future looks promising for Android Auto users relying on Google Maps for their journeys.
Also Read: