Hello friends, My name is Geekman and today I am going to review 1More IBFree Bluetooth headphones. So, read the full article and know every minor detail about these headphones.
Who Is 1More?
1More is San Diego (California) based company, best known for High-quality audio products. The company's main motive to deliver superior quality headphones at an amazing value to customers. 1MORE was the company who developed popular headphones for Xiaomi, including Mi piston fit.
1More iBfree Unboxing
The packaging provided with 1more IBfree is very well designed, looks like premium smartphone box. Inside there are 2 small boxes. In the first box, you found your headphones and in the second box, you have your earbud accessories and USB cable. Including, different sizes of buds and silicone wings for ears. Once you remove both boxes, you will find the user manual and '1more' branding sticker. More info, please watch unboxing video on my Youtube channel Geekman.
1More iBfree Headphones Specification
Drivers: Dynamic
Ipx4 water resistance
Sensitivity : 105 dB @ 1 mW
Impedance: 25 Ω
Frequency Range: 20 Hz – 20 kHz
Bluetooth Version: 4.1
Bluetooth Range: 10m
Input: 5V1A
Battery: 8 hrs
Weight: 15g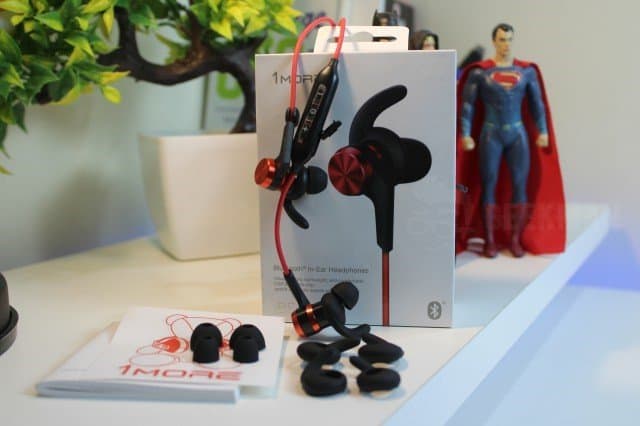 Design, Build & Comfort
The IBfree Specially designed for sporty people like you. It is a neckband-style Bluetooth headphone for an active lifestyle and GYM. You can also use it while travelling, like me. The headphone itself is very stylish with a good colour combination. It depends on the colour you get – Red, Green, Blue, and Gray. I received a red unit and it looks amazing. Basically, The headphone a dual-coloured, that contains the colour you ordered and black.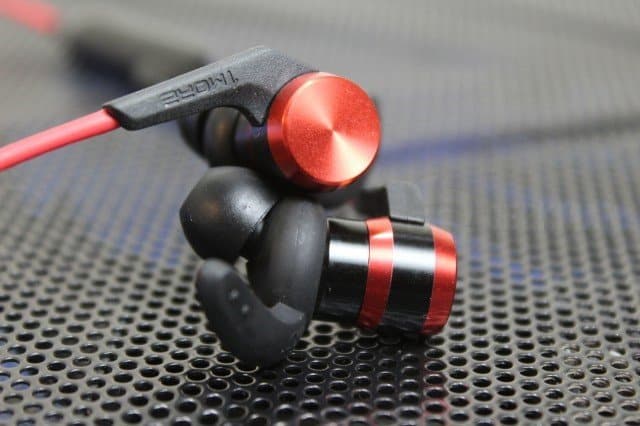 The main modules are large and made of metal (Aluminium). The aluminium build making them seem sturdy and well made. It also has an attractive CD lining textured on the front of modules, that gives him some extra points on the design. The Interesting part, 1More IBfree is IPX4 water resistant, that will stay put during vigorous exercise and won't be damaged by sweat.
The cable is in round shape and made of rubber. I think cable is heavier duty than most I have seen in other wireless headphones. The cable length is ideal, almost 1.5 ft. The inline control pod and microphone compartment, located closest to the right side. A control pod is very close to the right side module and you might be left fumbling to find the correct button. The in-line control pad features a three-buttons for controlling your headphones, call, and music. Along with the buttons, there is a microphone and micro USB charging port. We will be talking about the multifunction button in the next section, for now, let's' talk about comfort.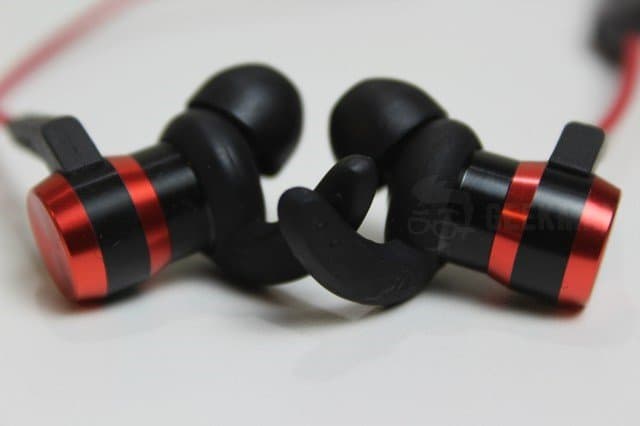 Comfort
I agree the 1more IBfree is comfortable, but not too much. The Earphones require time to perfectly fit in your ears. Once you get them in place they are pretty good. The fins hold them in place during movement and the comply tips provide grip and isolation for the ear. I found the 1More IBfree are completely cover your ear canal, that's why you get amazing sound quality. I don't like silicone tips on these earphones. It doesn't match with Big modules. Another interesting thing, 1More IBfree is very lightweight, only 15g. Wow, that I need most in my headphones. The Noise isolation of this headphone is also good. You don't get any outside noise while listening to your favourite music.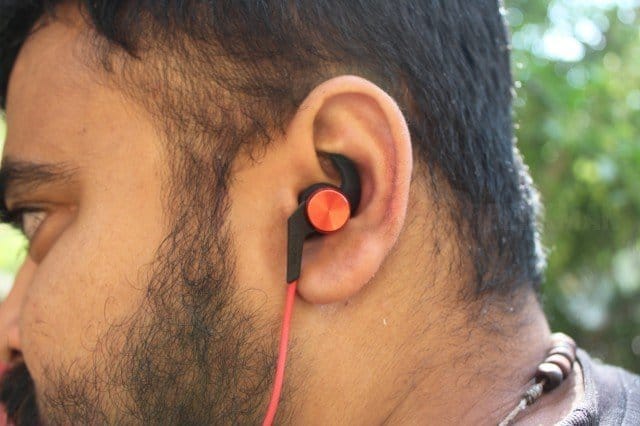 Functionality/Pairing/Range/Battery
You can easily pair 1More IBfree with any device. I tested with my laptop, iPhone 6, and OnePlus 3T. If you face any difficulty in pairing, please watch my 1More IBfree review video. It comes with Bluetooth 4.1 and also supports aptX coding for excellent sound without signal loss. The Bluetooth signal was very strong and I was able to walk about 30 ft away before skips in connection. You also receive voice command about your connectivity status. Including, Connection, Pairing, and Disconnect.
The best part, control pad works for all operating systems, including iOS, Android and Windows.
Power button(Middle): On/off Headphones, Connect/Disconnect Headphones, Answer or Cut incoming calls, Redial the last number using a double press, Play/Pause music track while listening to music, Open Siri/Android Google search using a long press.
Volume +/-: Control volume, change music tracks.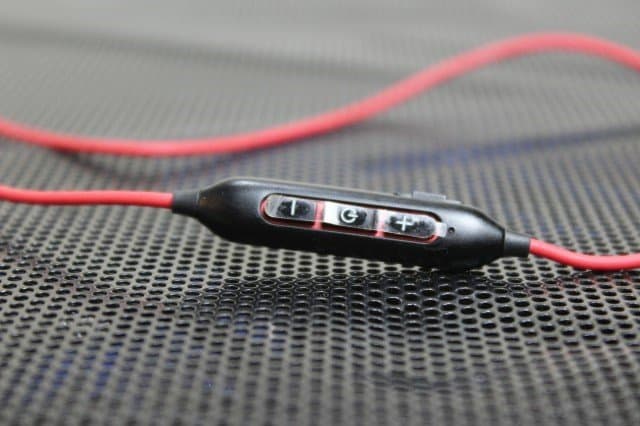 When coming to a battery, I am 100% satisfied. It gives 240 hours of standby time, 10 hours of talk time or 8 hours of playback after 2 hours full charging. Actually, it will also depend on your volume levels. When you turn on IBfree headphones, you get a female voice with the current battery level. Including, "Battery high," "Battery Medium," or "Battery Low" commands. You can also check the battery level on your phone screen.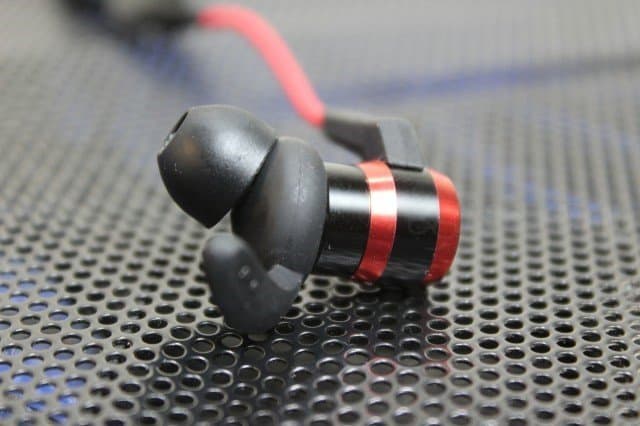 Sound quality
When it comes to sound quality, I say 1More IBFree are simply superb. After All, These headphones have been tuned by Grammy Award-winning sound engineer, Luca Bignardi. I always test my headphones with the same devices and music tracks.
The audio output of IMore IBFree is very clear and relaxed. The headphones deliver a solid bass response, especially sub-bass. Overall, Bass output is average. But definitely very clear and deep. On the other hand, the mids/vocal line and highs/treble sound are very upfront and sound lush. The Vocal sound is very enjoyable with these headphones. The interesting thing, sound quality does not distort while playing at high volume. So, you can say these headphones have V-shaped sound quality.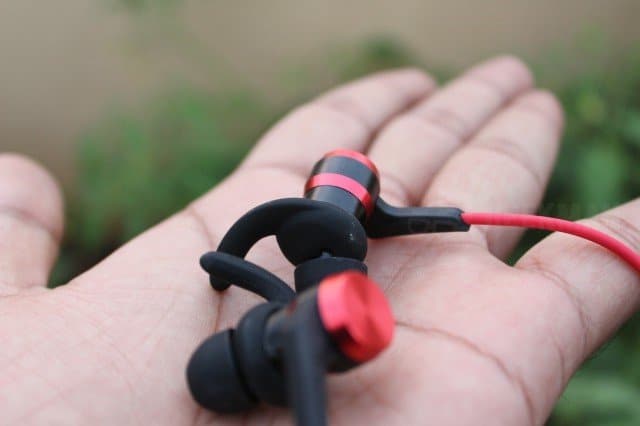 Final word
Overall, I am 100% satisfied with the design, build and sound quality of these headphones. Overall, it comes with good quality Vocal and treble sound. The Bass quality is decent but still, I don't recommend these headphones for true Bass lover. If you want music on the go without wires, then IBfree is a good option for you. I don't have any complaint about these headphones, except the Price tag. I think 1more IBfree is a little bit costly. But what is your opinion about this headphones, please tell me in the comment section.
Buy now