Today, Xiaomi launched its latest 10000 mAh Mi Pocket Power Bank Pro in India with 22.5W Ultra-fast charging support. The new power bank is made of PC + ABS material, making it lightweight, yet strong and durable. It has Type-C and Micro-USB charging input support, which comes with three output ports and supports two-way fast charging.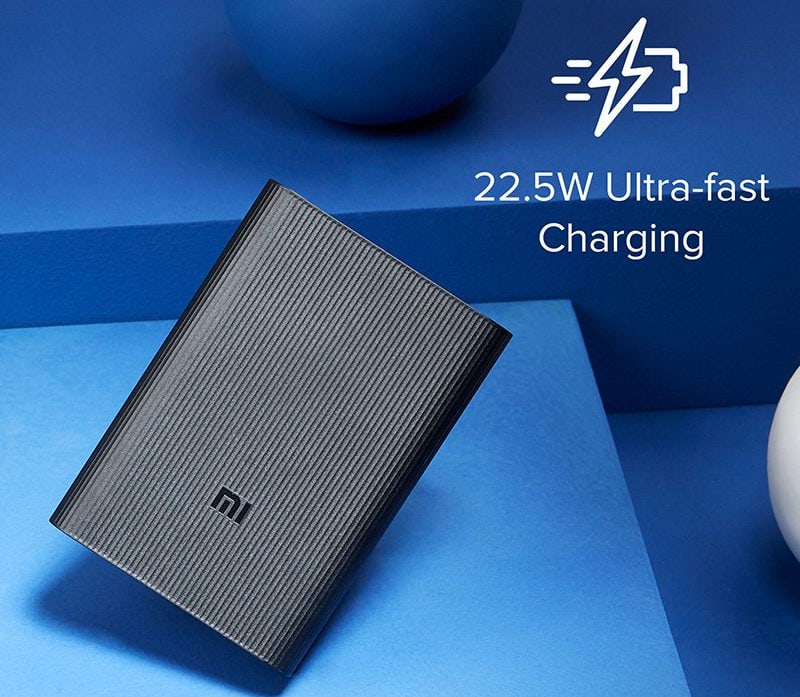 The price of the Mi Pocket Power Bank Pro in India is Rs. 1099 and it will come up in Black colour and will be available at Mi.com and Mi Homes.
This new power bank enhanced safety and security, with 12-layer success chip protection and a low-power charging mode that allows consumers to charge devices such as Bluetooth headphones, earbuds for fitness, or smartwatches.
Highlights of 10000mAh Mi Pocket Power Bank Pro
Material: Power bank has made up of PC + ABS material
Comes with 5V-3A / 9V-2.5A – 22.5W USB Type-C input and the / 5V-2A / 9V/2A micro USB input, It can be fully charged in about 3.8 hours with 18W charger, about 6 hours with 10W charger
For the Single USB-A output for fast charging it has 5V-2.4A / 9V-2.5A / 12V-1.85A – 225W , 5V-3A / 9V-2.5A / 12V-1.85A Single USB-C output, 5V/3A (Triple port)
Dual USB-A port, USB Type-C, Micro USB port, four LED lights and a button
Comes with the Protection of 12 Layers Advanced Circuit
It has the low power mode which will be activated when the user will press the power button twice, This mode is for the charging devices like Mi Band and Mi Bluetooth Headset
Dimensions of Power Bank is 90 x 63.9 x 24.4mm
Also Read: