The SJCAM C300 is a portable action camera. The camera is incredibly small and lightweight, and it comes with a wide array of accessories in the box. This little action camera promises 4K image quality, dual displays, a battery life of up to 6 hours, and similar features to a GoPro, all at a price that's just half of what you'd pay for a GoPro. But does that mean we can recommend it? Let's find out.
Variants & Price
Firstly, here, you'll find the SJCAM C300 in two parts. The smallest part is the main camera unit. The other part is for an extended battery, a second display, and a battery grip for vlogging.
Now, if you don't need the extended version, you can simply drag it out of your cart. There are actually two versions of the SJCAM C300, so you can choose any of them according to your requirements. The price difference isn't much, just around 2000 to 2500 Rs (20-30$). So, I recommend going for the variant with the extended grip.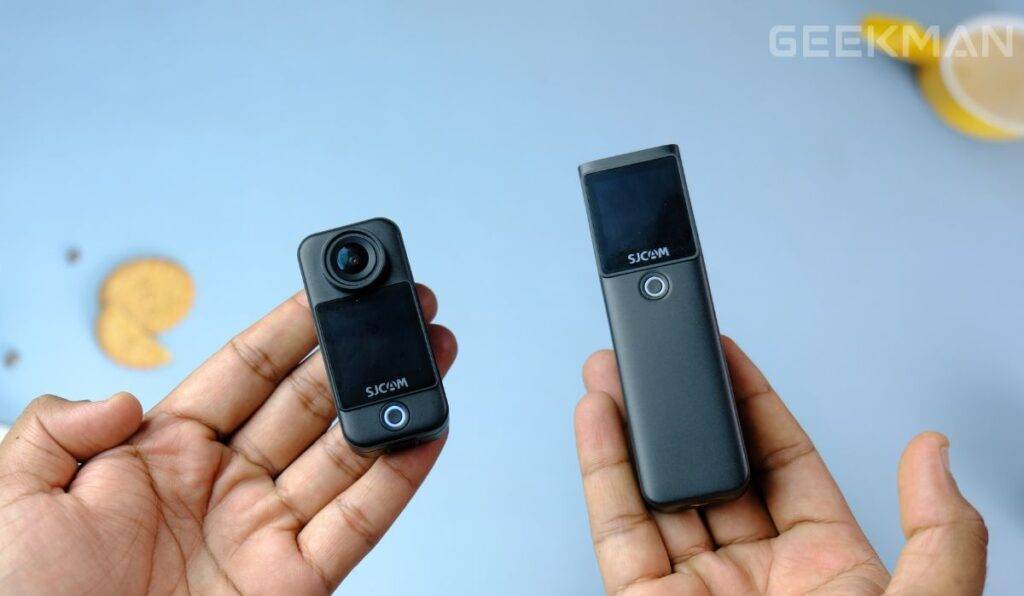 Why, you ask? Well, because it not only offers an enhanced in-hand experience but also packs a 2800 mAh extended battery that can easily give you 5-6 hours of recording time. Plus, you get two displays, which makes regular recording and self-vlogging a breeze. Of course, both displays don't work simultaneously, but that's not really necessary. You can press the button twice to switch between them as needed.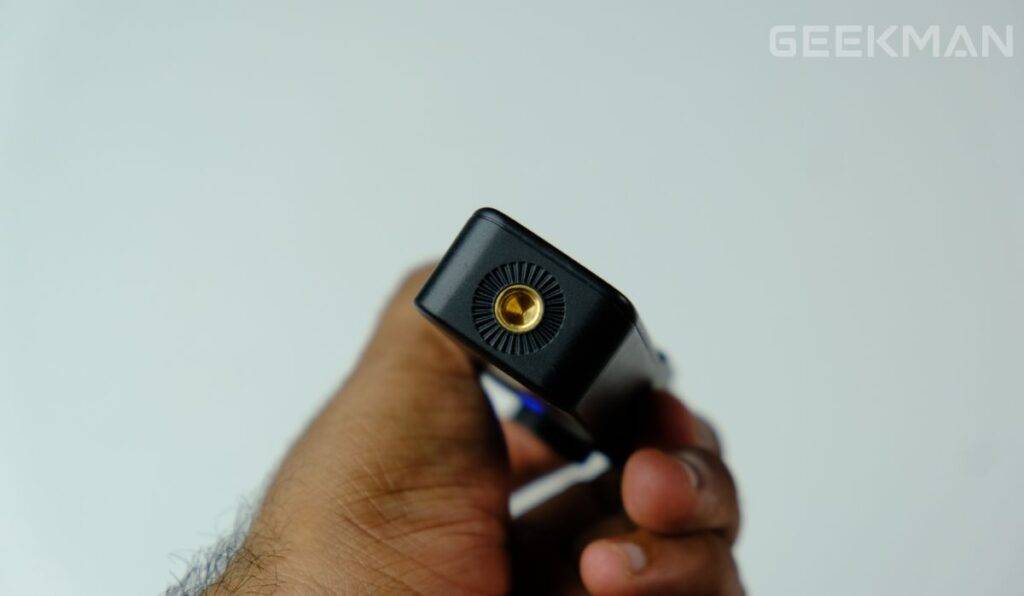 Apart from that, you'll also find a standard-sized female tripod screw in the extended part. So, if you want to attach it to a selfie stick, tripod, or any other equipment, it's a straightforward process.

SJCAM C300 Specifications
Colors
Black, White
Form Factor
Monoblock
Sensor
Sony IMX335
Stabiliser
6-axis gyroscope
Video Recording
4K (38402160) 30FPS
2K (25601440) 60/30FPS
1080P 120/60/30FPS
720P 120/60/30FPS
Photo Resolution
20MP, 16MP, 14MP, 12MP, 10MP, 8MP, 5MP, 3MP, 2MP
Video Mode
Slow motion
Motion detection technology
Video lapse
Car mode
Photo Mode
Timed shooting
Burst mode
Quick shooting
Photo lapse
Screen
1.3 inches, HD, touchscreen
Microphone
Yes, Single
Battery
1000 mAh, 2800 mAH, removable
Storage
MicroSD up to 128GB
Viewing angle
154 degrees
Digital Zoom
8 times
Waterproof
30m waterproof with case
WiFi
2.4/5 GHz
Weight
31g
White Balance
Automatic/Sunlight/Cloudy/Tungsten lamp/Fluorescent/Underwater
Media Format
MP4, JPG
Encoding format
H.264/H.265
USB interface
Type-C
Other Features
Webcam, Dashcam, Livestream, Vertical Video
Box Content & Accessories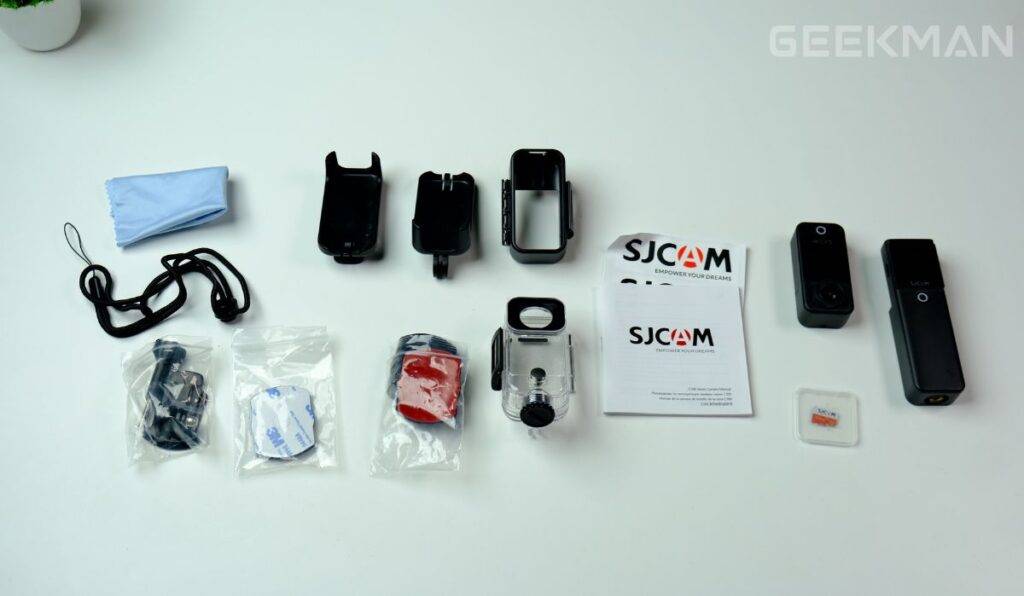 Now, Let's talk about the other box contents and accessories. Firstly, there's some paperwork – the usual stuff. Then, there's a USB Type-C cable for both charging and data transfer.
Now, the camera unit itself isn't waterproof, but fear not! There's a waterproof case included in the package. With this case, you can take the camera underwater up to 30 meters, which is pretty awesome.
Moving on, there are three types of mounting clips. The first one is a full-frame case mount, which is the one most people prefer for outdoor use. Then, there's a half-frame clip, also known as a base back clip and a back clip mount. The back clip mount allows you to attach the camera directly to your t-shirt or jacket, which comes in handy for POV (point of view) style videos.
In addition to those, you'll also find a base mount and a screw. There are two mounts, one flat and one slightly curved, which are perfect for attaching the camera to a helmet, bicycle, motorbike, or even a car bonnet. They've even provided two extra stickers for good measure.
But wait, there's more! You'll also get a wipe cloth, a big lanyard, and a generous 64GB MicroSD card in the package.
Optional Accessories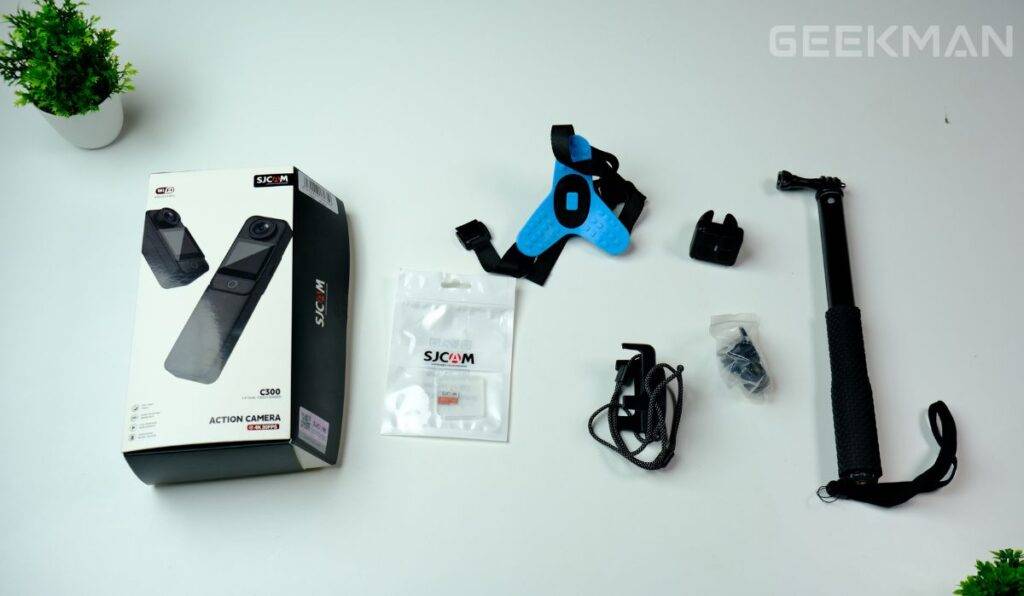 Apart from that, you can buy several additional accessories separately. One of my favorites is the magnetic mount, which is incredibly useful for POV videos and even for tracking shots when creating blogs.
Plus, there's a wireless remote that you can either wear on your finger or attach to your bicycle or selfie stick. This remote lets you control the camera remotely for functions like turning it on/off, starting and stopping video recording, and taking photos.
And if you're into cycling or making moto vlogs, there's an option to buy a helmet strap belt separately. Also, there's a selfie stick available, which is a bit above average quality-wise and a good choice for vloggers.
So, there you have it, a complete action camera package with all these goodies to enhance your camera experience!
Appearance
Now, let's talk about the appearance of the SJCAM C300. It's quite compact and small; in fact, I believe it's the smallest action camera with a display. I know the Insta360 Go 3 claims to be the world's smallest action camera, but not when you consider the display, so the SJCAM C300 wins this title for now.
What I really like about it is its compact and lightweight design, making it super easy to mount anywhere. In fact, sometimes people don't even notice it.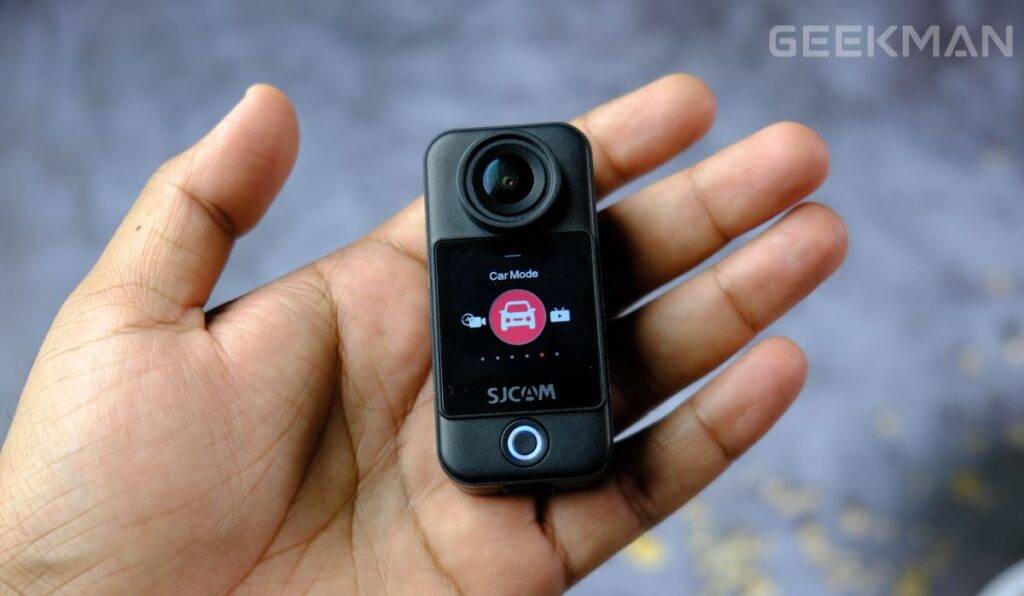 So, if you're like me and prefer not to draw too much attention when using a camera in public places, but you still want to capture your vlogs or vacation trips, then SJCAM C300 could be your ideal option. Its small size helps it blend in, and even when you attach the extra battery part, it still maintains a compact feel. I think using it with that additional grip enhances the overall experience, making it easier to use for longer durations.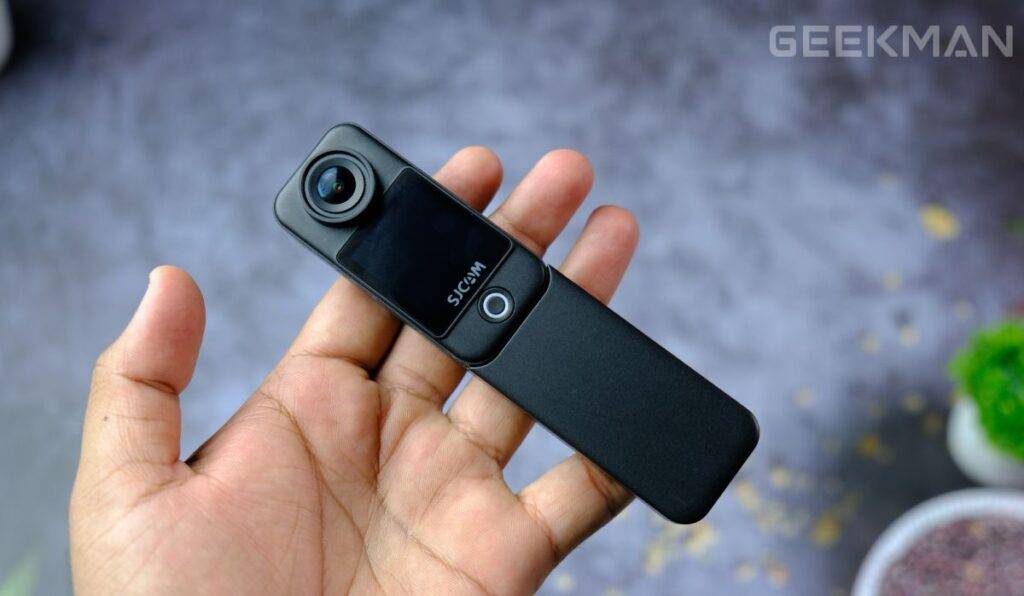 Oh, and I almost forgot to mention that the C300 also comes in the white color option. So, if black isn't your style, you have another color option to choose from.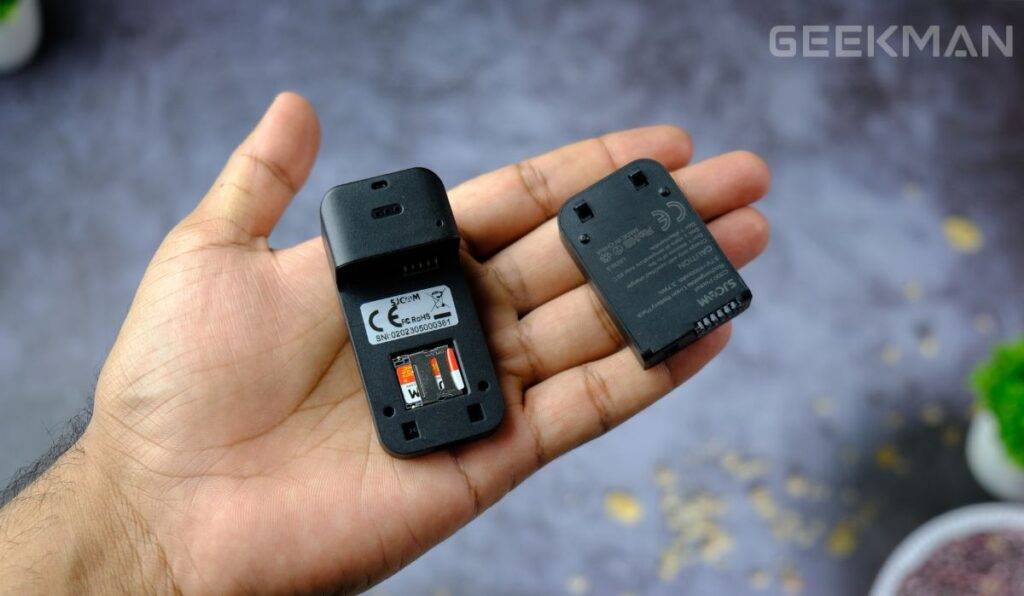 Now, some of you might be wondering where the SD card goes. Well, it's located behind the removable battery part. It supports storage up to 128GB, which, in my opinion, is more than enough for your storage needs.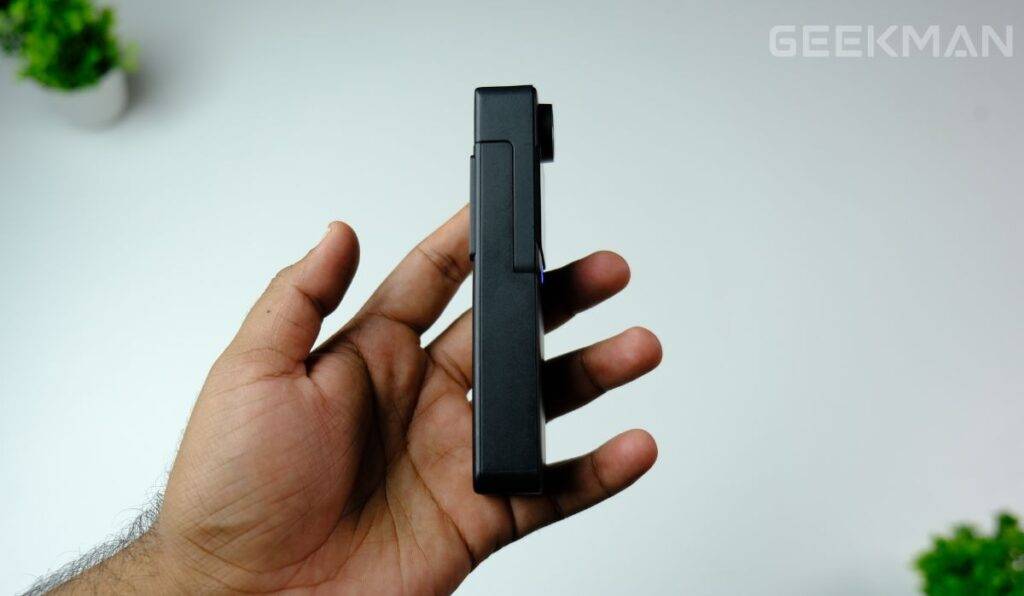 Display
One of the most convenient features of the C300 is the dual display. Having two displays can be incredibly useful, especially if you're into vlogging or similar activities. You can easily switch between the displays with just two button presses, which is a significant advantage of this SJCAM C300.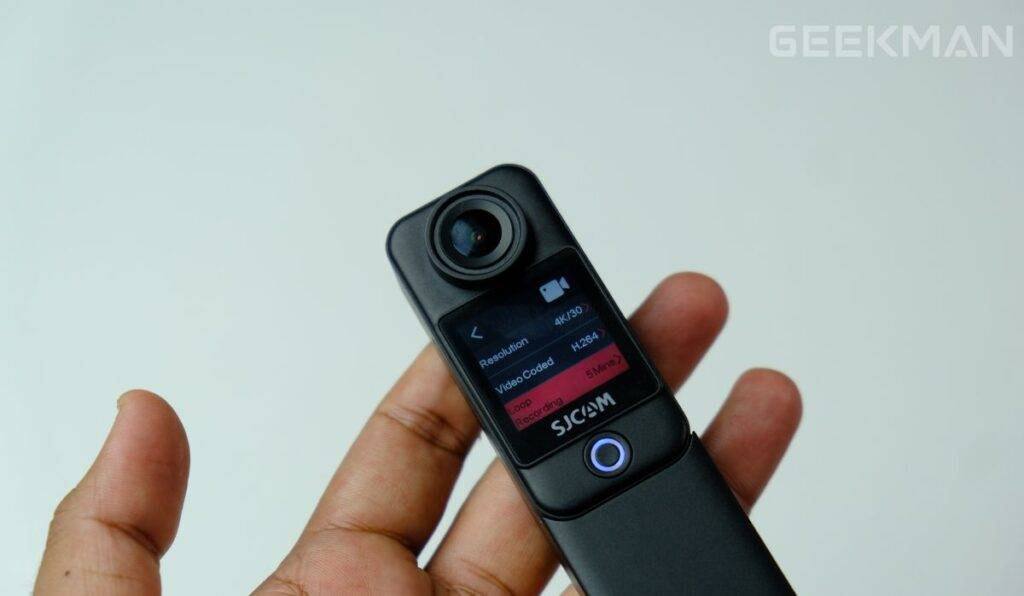 Now, let's talk about the quality of these displays. Both displays are 1.3 inches in size and are touchscreens. They respond well, and you won't experience any noticeable delays when using them. Considering the size of the displays, the quality is quite good.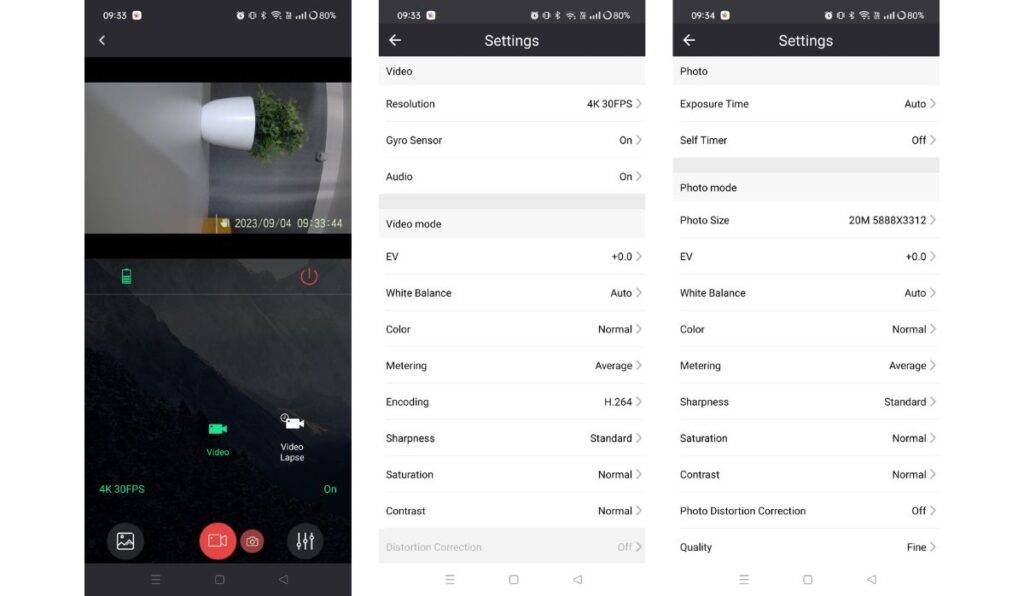 The best part is that even if you're not too comfortable with the smaller display, you have the option to connect the camera to your Android or iPhone via Wi-Fi. From there, you can control the entire camera. Connecting process is a breeze, and the SJCAM camera app is user-friendly. It provides access to all the camera controls, making it quite convenient. I think using the app to control the camera is even more convenient than relying solely on the displays.
By the way, using this action camera directly from its display is a breeze, thanks to its easy-to-use user interface. The only minor drawback is the smaller display size, which might not be everyone's cup of tea, including folks like me who prefer a larger screen.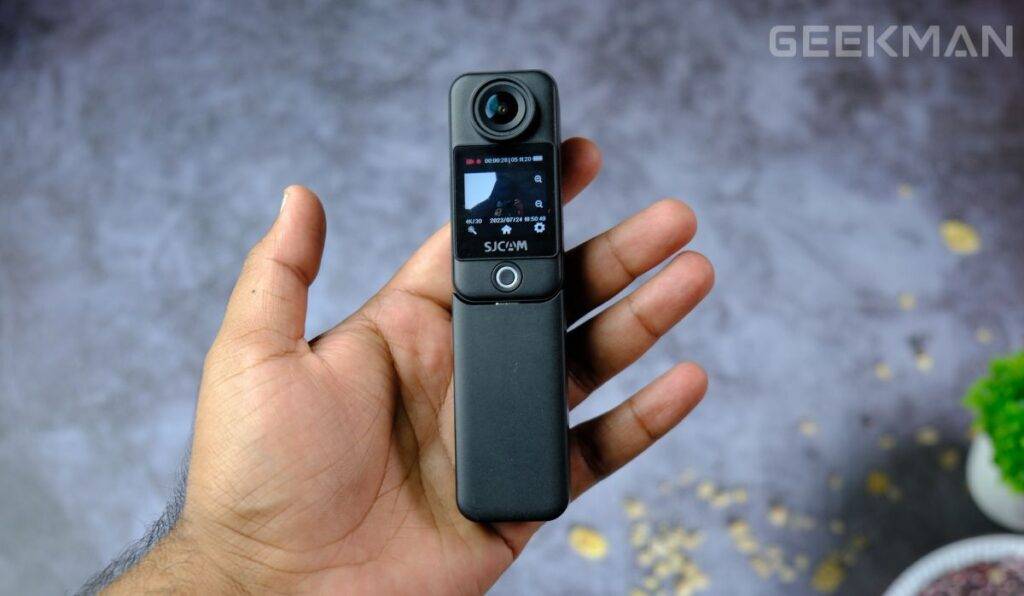 However, the UI (user interface) is well-designed. You can access all the options by simply swiping from the top or bottom. Three on-screen buttons give you quick access to all the camera modes and settings. So, even though the display is smaller, navigating through the camera's features is quite straightforward.
Features
This SJCAM C300 offers a total of 5 modes for various functions. It includes photo mode, video mode, video lapse mode, and even a slow recording option. In addition to these, it has some versatile features, such as car dashcam mode and live broadcast mode.
In the dashcam mode, it can automatically turn on when your car starts and off when the engine stops, but keep in mind that your vehicle needs to have the necessary aux connections for this to work seamlessly. Otherwise, you'll have to operate it each time manually.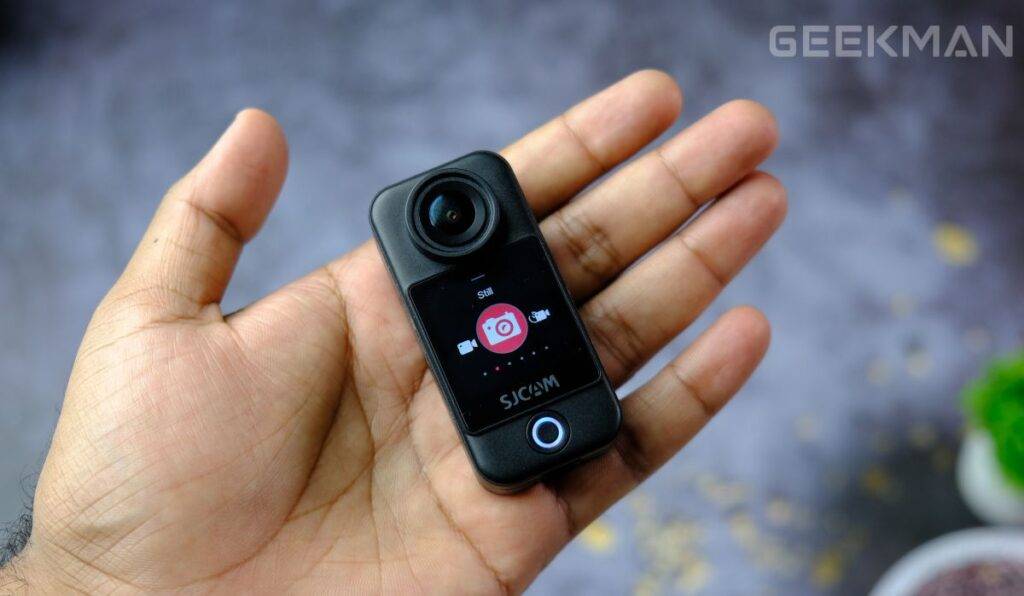 It's important to note that this camera isn't a professional-grade dashcam, so you shouldn't expect it to capture vehicle license plate numbers with great clarity or provide detailed footage. However, considering its price range, it still manages to deliver decent quality.
Play the video for dashcam demo
One aspect that pleasantly surprised me was its performance in low-light conditions, especially during the night. In fact, it outperformed some action cameras that cost twice as much.
After that, you'll need to use its SJCAM app to use it in live broadcast mode. You can use this app directly from your phone to live stream on platforms like Instagram and Facebook, just like you would with a webcam.
And yes, you can also use it as a webcam for your computer without downloading any drivers or software. Just plug in the provided cable, and as soon as it's connected, you'll see options on your screen for storage or a PC camera. Select a PC camera, and you can access it as your default webcam on Windows or other streaming software like Zoom, Skype, and more.
Now, when it comes to stream delay, there is a little delay, but it's not significant. It will be minimal, so you won't face problems using it as a webcam.
Moreover, there's also a vertical video option available. So, if you want to shoot videos for platforms like Instagram Reels, you can activate this setting. It saves you the hassle of editing later on. Do keep in mind that in vertical mode, it only supports a maximum resolution of 1080p. Still, it's great to have this vertical mode option right at your fingertips.
Now, let's dive into the primary video and photo modes. First and foremost, the SJCAM hasn't explicitly mentioned which processor and sensor they've used in the C300. Budget action cameras typically don't disclose these details, but based on the quality, the C300 might have the Sony IMX335 sensor. The video recording capabilities are impressive, with support for up to 4K at 30fps, which is a key selling point of SJCAM C300. Additionally, you can shoot in 2K at up to 60fps and 1080p at up to 120fps.
Play the video for video samples
What's noteworthy is the inclusion of 6-axis gyro stabilization. Usually, in this price range, you'd find action cameras with 4-axis stabilization, so having 6-axis support is definitely an advantage. However, it's important to note that the stabilization only works up to 60fps; it doesn't extend to 120fps.
Play the video for video stabilization samples
Overall, the stabilization works decently well. I'll show you footage with and without stabilization to give you a better idea of the difference. In my opinion, it performs quite well, especially considering the price point. But there's one thing you might not have noticed in your footage during normal walking scenarios. However, you might notice a slight drop in frames at certain points when using stabilization while cycling, driving, or off-roading. It's not significant, but it's worth mentioning. I understand my expectations might be a bit high given the price, but my job is to provide you with all the details, and I've done just that.
I found the overall video performance of the SJCAM C300 quite promising, especially in daylight and good lighting conditions. However, as you probably know, action cameras tend to struggle in low light and nighttime settings, much like other action cameras in this price range. In such conditions, its performance can be described as average.
But when it comes to daylight, I must say the C300 really shines, and it can be considered quite good for its price range. In my experience, I've rarely seen this level of quality in action cameras within this price bracket. The videos it captures are vivid, detailed, vibrant, and natural in color.
I didn't have many opportunities to test its dynamic range because the weather has been mostly cloudy due to the ongoing monsoon. However, I did manage to test it 1-2 times, and it delivered a decent dynamic range in the video.
I've also taken some photos with the SJCAM C300, and it supports a range from 2MP to a maximum of 20MP. Like the videos in daylight, the quality of the photo is quite decent, with good detail.
Play the video for Photo samples
What's even better is that this camera offers a variety of advanced settings for photos. You can adjust the color, noise control, contrast level, and brightness, use the group selfie timer, and even switch to burst mode. This means you have the flexibility to fine-tune your settings according to the environment you're in.
Overall, the camera provides decent quality for both videos and photos, and the range of advanced settings allows you to make adjustments as needed.
Microphone
Now, let's talk about the microphone quality. This C300 has a single microphone located at the backside, just next to the speaker. I think it would have been better if two microphones were on both sides. This is because when we shoot ourselves with this camera, the microphone is facing away from us, which can lead to slightly lower voice clarity and picking up more background noise.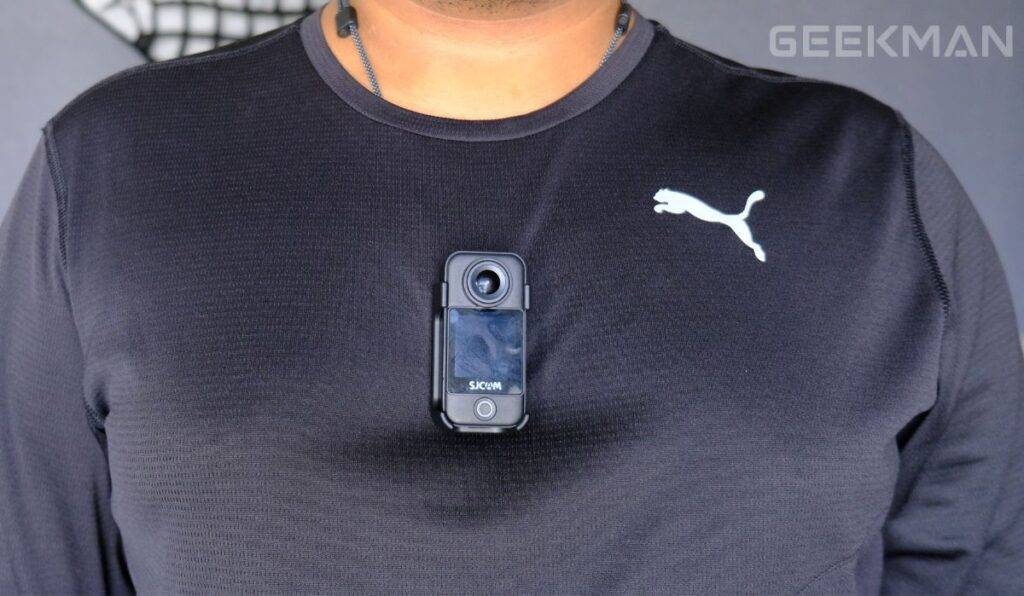 However, in regular video shooting, when the microphone is facing us, it captures clear and natural sound. It doesn't pick up too much background noise, which is good news.
So, if you're not primarily focused on vlogging, the built-in microphone should suffice for your needs. But if vlogging is your priority, you may want to invest in a USB Type-C external microphone. You can use a USB Type-C external microphone with this camera. I can't comment on the quality since I don't have one at the moment to test.
Battery
Now, let's talk about the battery. The C300 pocket version has a 1000mAh battery, while the C300 boasts a 2800mAh battery. Combining them gives you a total of 3800mAh. The SJCAM claims you can get up to 6 hours of HD recording with both batteries combined, but based on my one-week test, I'd say you can expect around 3-4 hours of running time.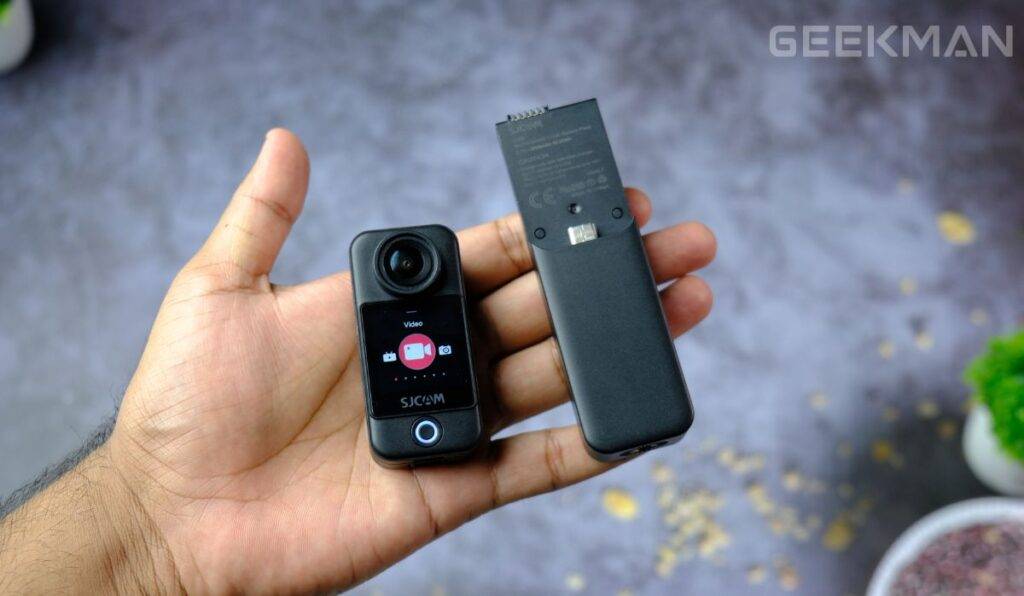 What's impressive is that it charges fairly quickly. Considering the typical battery backup issues that plague action cameras, where you often need to carry 2-3 extra batteries, the SJCAM C300's battery backup is quite decent.
Should You Get SJCAM C300?
So, overall, the SJCAM C300 is definitely a good action camera and offers great value for money. Its video and image quality is decent, and it comes with a variety of multi-use modes. You can use it as a dashcam or webcam, and it even has a vertical mode. It offers many other features and advanced settings as well.
What's essential is that it comes with plenty of accessories, making it a comprehensive package. Whether you want to capture your adventures or sports activities on a budget, this action camera is a solid choice. If you're a beginner in vlogging, it can be your ideal choice.
In fact, you might not find a better package at this price point. So, that wraps up the full review. I hope this review has been helpful to you. If you still have any questions, feel free to ask in the comments below. Additionally, you can check out our list of the best action cameras.

SJCAM C300 Review In Hindi
Also Read: