The security camera market is a rapidly growing industry, exponentially, we may add. The reason behind this is a rise in hostile elements and crime these days, which affecting families and businesses both. While there are a number of options when one goes on the lookout for a security camera. You can buy a normal CCTV security camera setup or buy a Wi-Fi security camera. Well, the Wi-Fi security camera is a good option over the standard CCTV camera in many cases, including the price and security features.
However, if you are in the market for an easy-to-use and features reach Wi-Fi security camera, the Kent CamEye HomeCam 360 is a quality option at a reasonable price. There are three main reasons to choose this security camera over others. First, KENT is a very popular and reputed brand in the Indian market, best known for water purifiers and home appliances. So, we can expect good after-sales service from them. The second reason is that the camera is a' Made In India' product, while most competitors are not.
The third and last reason is that this 360-degree security camera offers many smart features at an affordable price tag (approx.2999 Rs). It can record video feed at up to 1080P resolutions and offer quick access using Wi-Fi connectivity via a dedicated app. It also offers a 360-degree rotation, two-way talking, and many other features that are worth discussing. So, let's look at the product and its features in a little more depth.
Box Content
Kent CamEye HomeCam 360
5V power adapter and charging cable (approx 2m)
User manual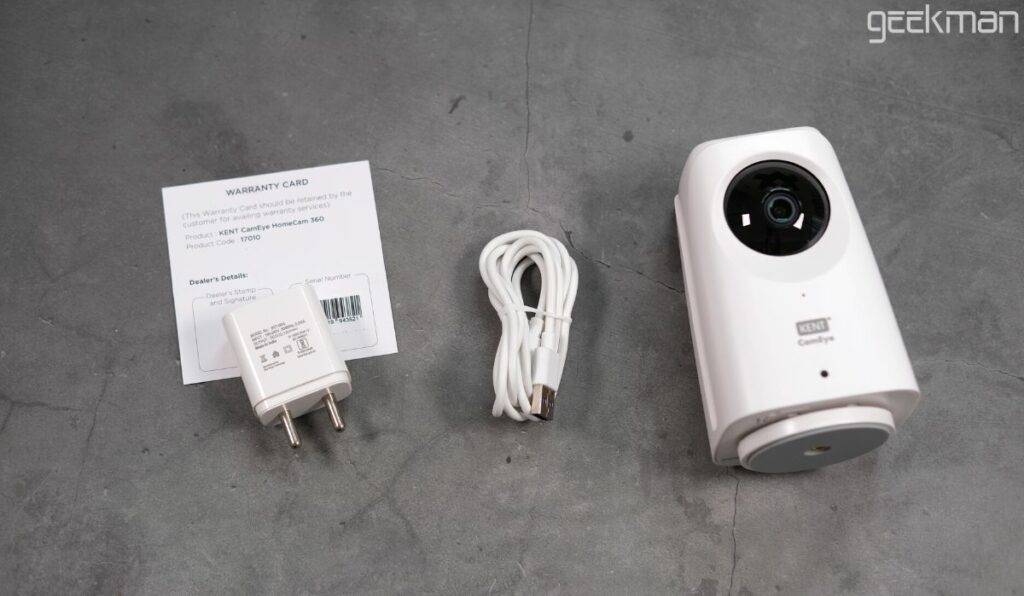 Design & Build
The Kent CamEye HomeCam 360 has a clean and attractive design and looks almost like a small robot. The camera lens is crafted in a spherical shell with a human eye-shaped cutout that allows the camera lens to tilt up and down. Overall, the design and build quality of the camera is really good and justify the price tag. Under the camera section, there is a Kent branding along with a microphone and LED status light.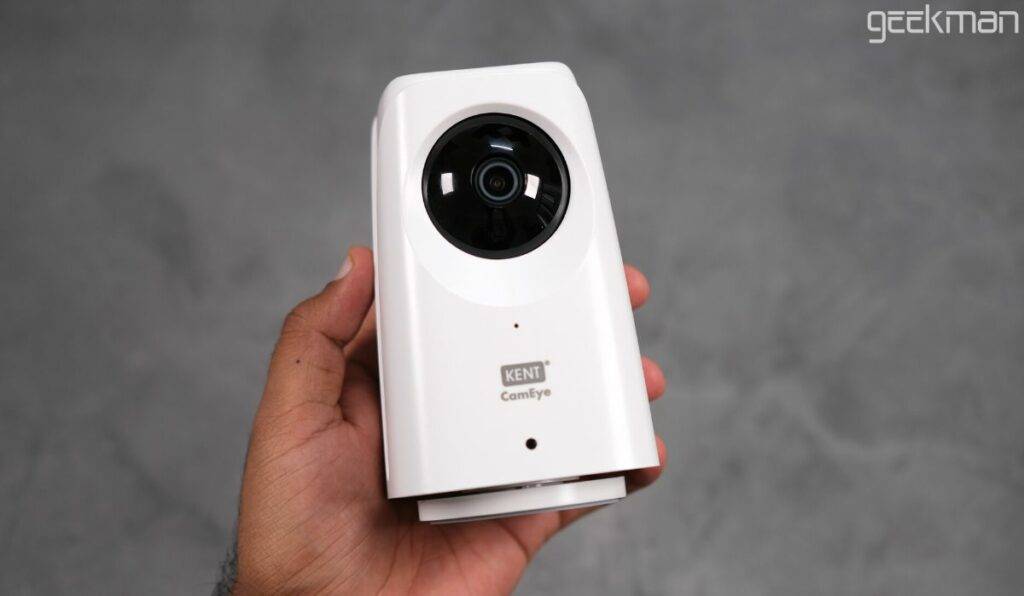 It has a motorized separate plate at the bottom, which helps the camera in rotating 360-degree with ease. The plate rotation is smooth, and the camera does not make any noise during the calibration process or in everyday use.
Apart from this, the plat also has an open space for fitting a screw so that you can mount the camera on a wall mount tripod or anywhere you want to. If you want to mount this camera on the wall like a standard CCTV camera, then you can buy a separate wall mounting kit (399 Rs on Amazon) with a 10ft cable.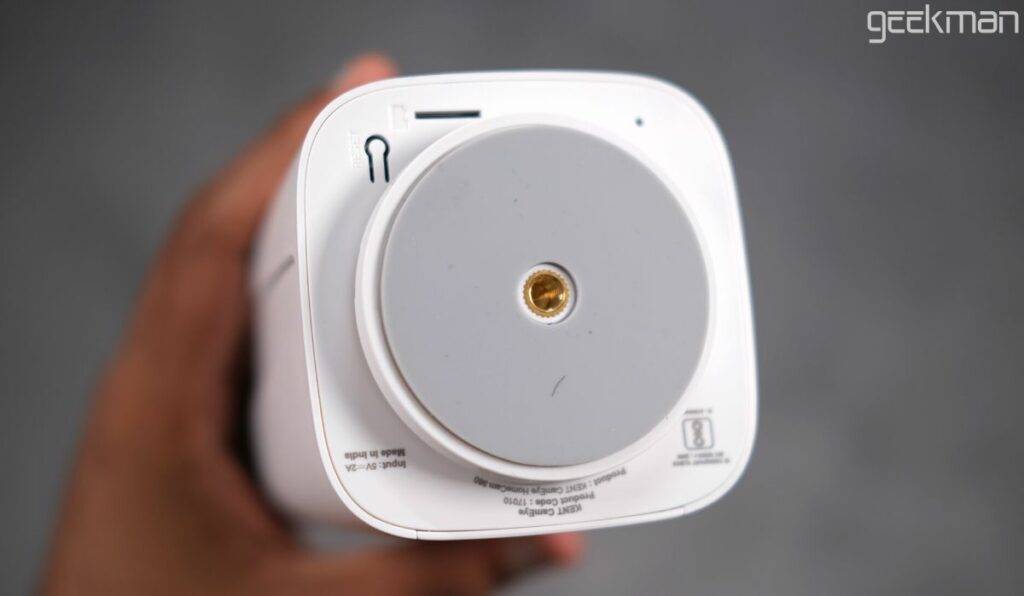 At the bottom section, you'll also find a reset button and a Micro-USB port. The MicroSD card slot is also present there that supports up to 128GB capacity cards. On the camera's backside, you get a speaker with a big speaker grille. Overall, the body of the Kent CamEye HomeCam 360 is very compact and light. Thus, you can hold it using one hand without any hassle.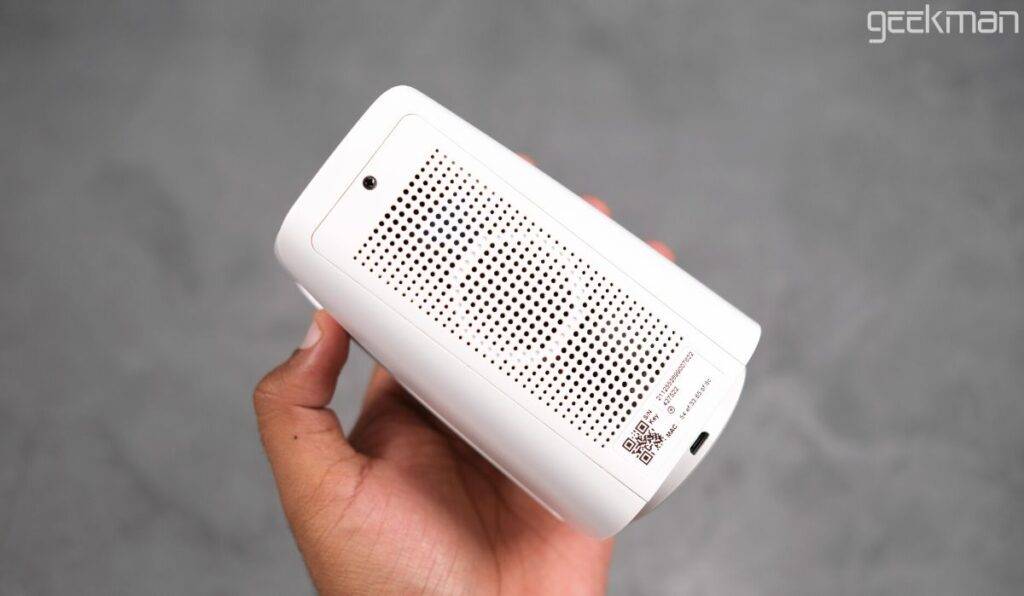 Features & Performance
The Kent CamEye HomeCam comes with a 2MP sensor and is able to record video at full HD (1920 x 1080 pixels) resolution, and the quality of the pictures and videos recorded are generally detailed. Noise does creep into the footage when the camera switches to night vision, but it's minimal and, as such, can be neglected.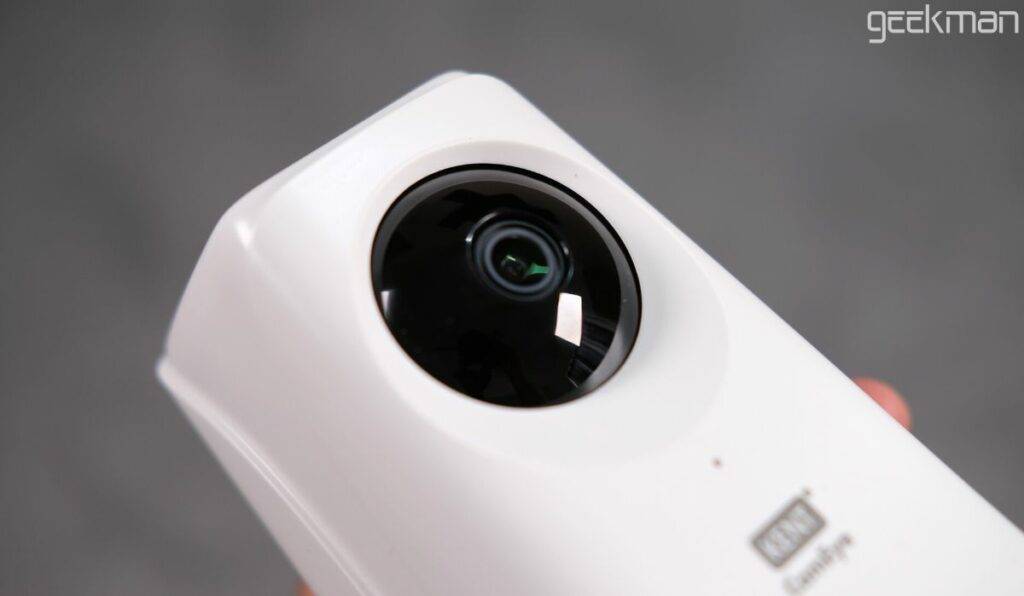 The 1080P footage captured by the camera was sharp and detailed in most conditions if the movement was occasional and slow, but quick movements did cause some artifacts. But it isn't a big issue as there was still detail in faces and small objects. Yes, If you have a slower internet speed, then you can also reduce the resolution to HD or SD.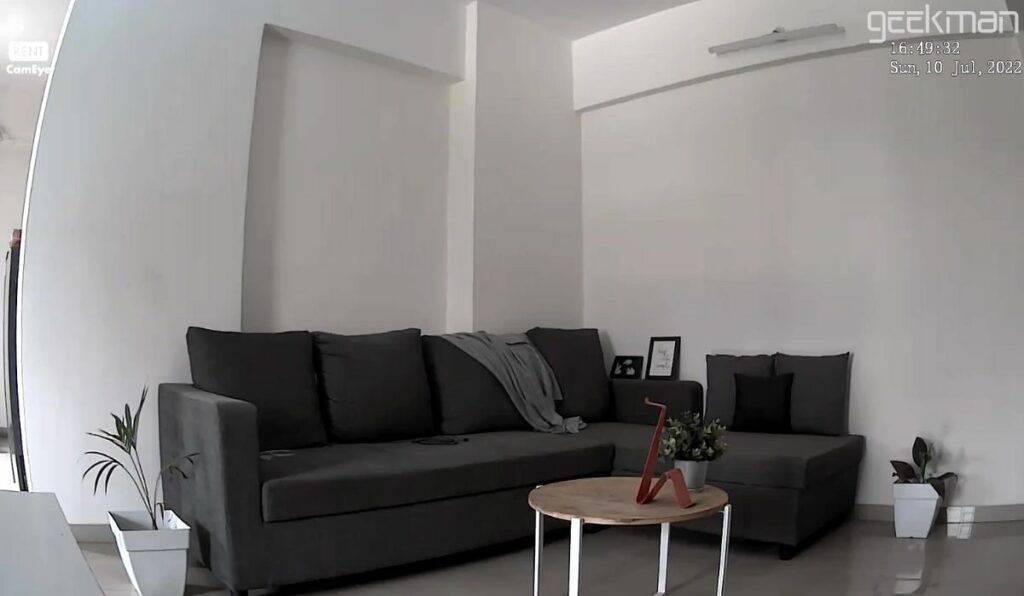 The camera also offers an auto/manual night vision mode, which means you can track what's happening even in the dark. I was impressed with the night vision footage from the camera, as even in pitch darkness, the CamEye HomeCam was able to make out the scene and record it.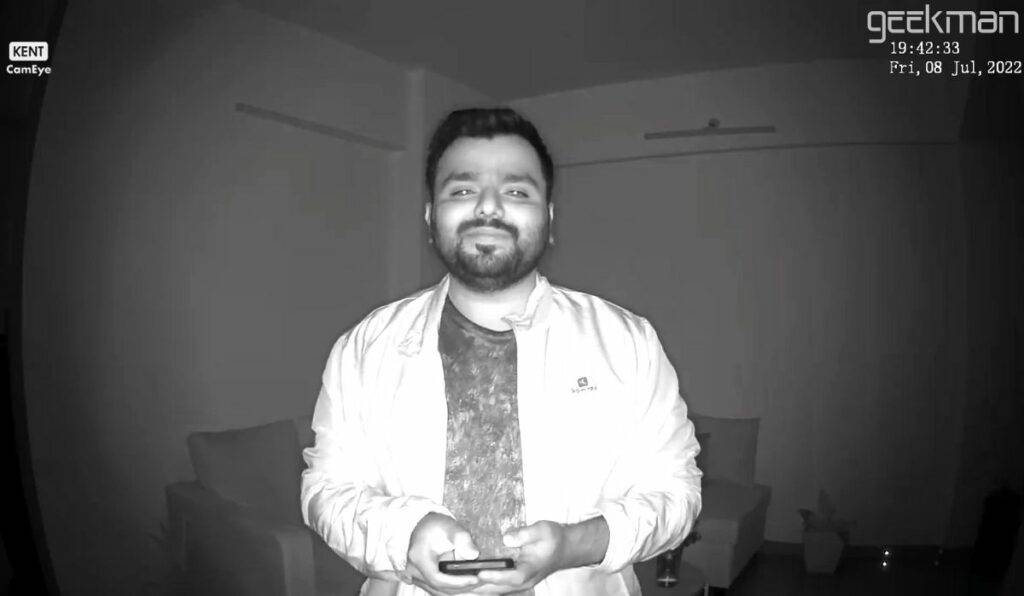 Imagine if you could scare a thief who's broken into your home via a security camera? The Kent CamEye HomeCam 360 provides us with that option as well. Using the two-way calling feature, a remote user can broadcast audio through the camera, which in our opinion, is not such a bad thing.
The Kent Cameye can also detect motion and noise and send alerts straight to your phone. This motion and noise detection feature records a 12-second video clip from the moment the sensors were triggered. A log of all such motion and noise detection alerts, along with the recorded clips, can be accessed by tapping on the "Monitoring" option on the app. This is indeed one of the distinct features of this security camera.
It also offers an AI motion tracking feature, as well. So, if you have a pet or a small kid at home, then you remotely monitor their activity in the room using automatic AI traking. Of course, you can also record that particular event. The Kent Cameye also offers separate AI human detection alerts, which help if you have any pets in your house.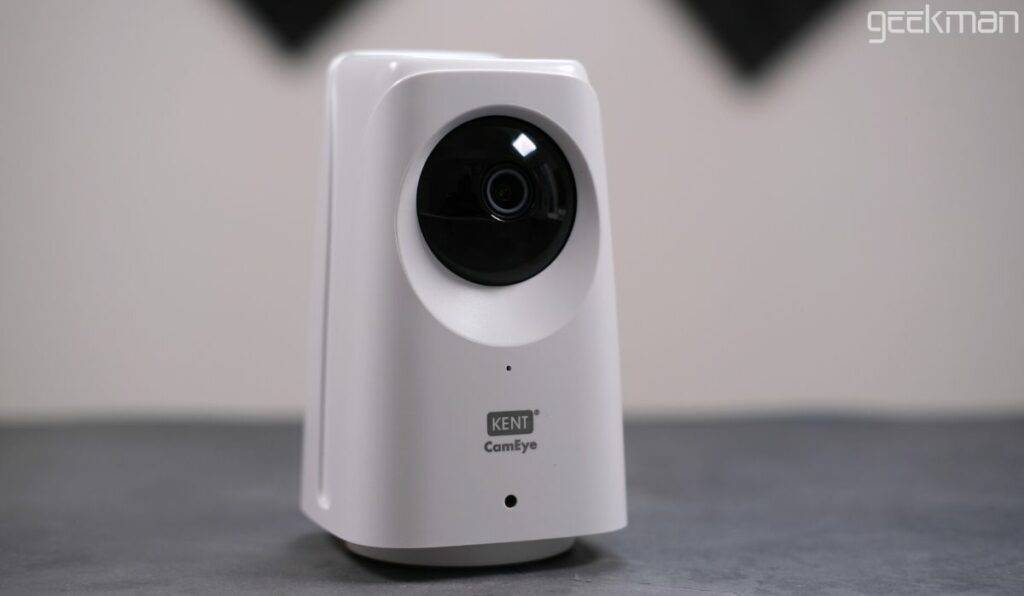 During my testing, I found the motion and noise traking are very efficient and responsive. It can detect noise as minimal as a door/window opening and closing. Other than that, the camera can pan 360 degrees and tilt 65 degrees to cover all the bases. During my testing, I placed this camera in my drawing room (15 x 16), and It easily covered the entire room with its wide viewing angle lens and 360-degree rotation.
Kent Cameye App
For the security camera to work and for you to make the most of it, the Kent CamEye app is the first place to go. The app is available for Android and iOS phones. After downloading and launching the app, it guides us through the setup process. The setup and connectivity process is straightforward and easy, so I think there is not any need to explain the entire process here.
Like other Wi-Fi-enabled home security cameras, the Kent CamEye HomeCam works with an app that allows users to monitor the video feed, control the camera, change the setting of the camera, access stored footage and more. Apart from this, you can activate the speaker and microphone, take a snapshot to save to your phone, and more.
The Kent CamEye app on your phone will give you smart alerts with 12-second videos of what is happening. Further, It also allows 24/7 video recording (like CCTV), which you can store on a microSD card, or you can also store in the cloud storage.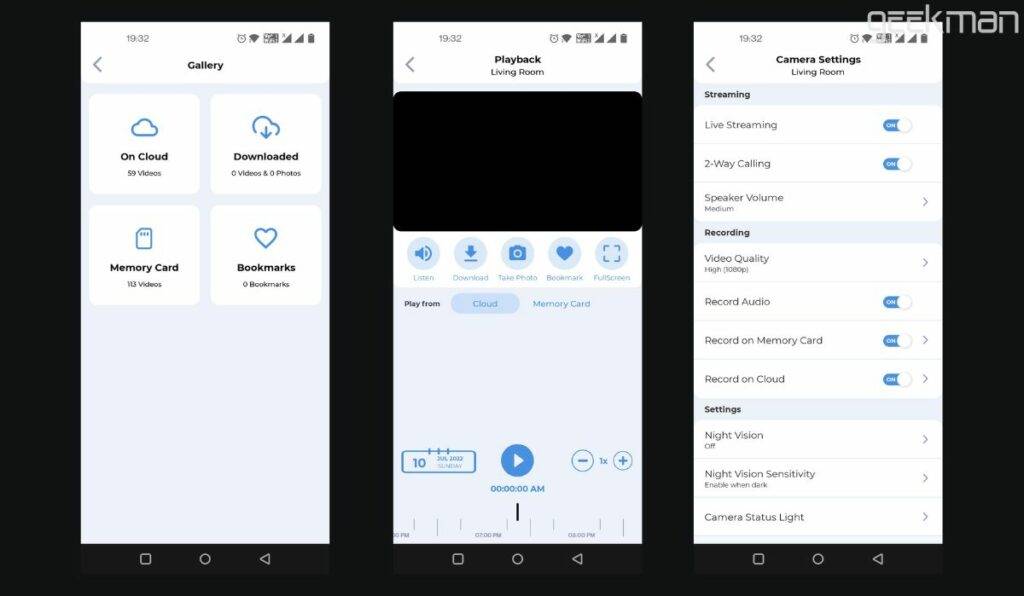 For that, you must take a company-paid plan to record everything in the cloud. Yes, you also have a free plan which allows you to record a 12-second alert clip on the cloud for seven days. Additionally, all other functionalities, including memory card recording and playback, live streaming of the video feed in real-time, two-way talk, and privacy mode, are available even if you aren't subscribed to a paid plan. But you have to buy the premium plan for 24/7 cloud recording and up to 7 days of storage.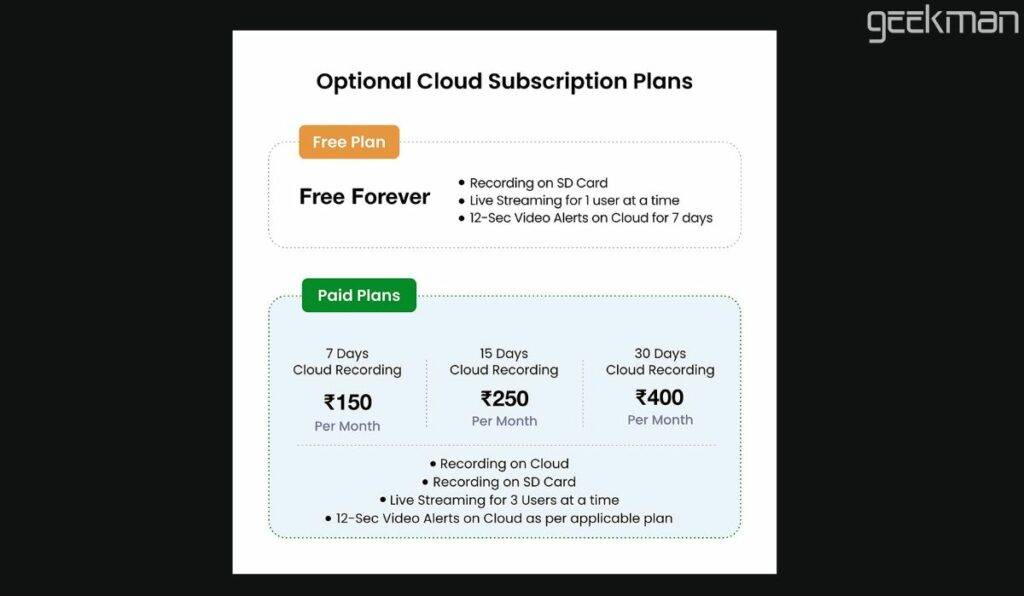 Coming to the privacy setting, the camera won't have any physical privacy Sutter to cap, but you have some useful privacy-related options in the app. Further, there's an intruder alarm that will go off whenever there's some suspicious activity in the surveillance area. It is also possible to link the Kent CamEye HomeCam 360 to your Amazon Alexa account, which allows you to access the video feed from within the Alexa app or on an Alexa-enabled smart display such as the Amazon Echo Show 10.
Kent CamEye HomeCam 360 Worth Buying?
Extremely affordable, the Kent CamEye HomeCam 360 has many features for the price. Now, we agree that there are many options in the market, but what makes the Kent CamEye HomeCam stand out is the easy-to-use features, cloud storage, and decent video quality.
It's well priced and is definitely worth considering for your home and shop security needs.
Kent CamEye HomeCam 360 Review In Hindi
Also Read: