A pair of true wireless earbuds is much better than ordinary wired earphones. Even low-budget earphones make you look more stylish and trendy person. True wireless earbuds free you from the struggle of wires, and if you are a music lover or spend most of your time with earphones, then wireless earbuds will help you in a different manner.
With a good quality TWS, you can enjoy your favorite music during a workout or other activities without worrying about wires. We have bought some of the best Earbuds under 1000 Rs with all their specifications and features. All the earbuds here have great competition with each other. I bet you will not regret your decision if you buy any of these.
+12500 Happy Buyers, Every Month. We update this list weekly so that you will get the latest and best earbuds from the Indian market. Still, if you need help, we are available 24/7 on our YouTube channel, Facebook, and Instagram.
These are the best Earbuds under 1000 Rs for this month.
---
boAt Airdopes 141
Overall Best Choice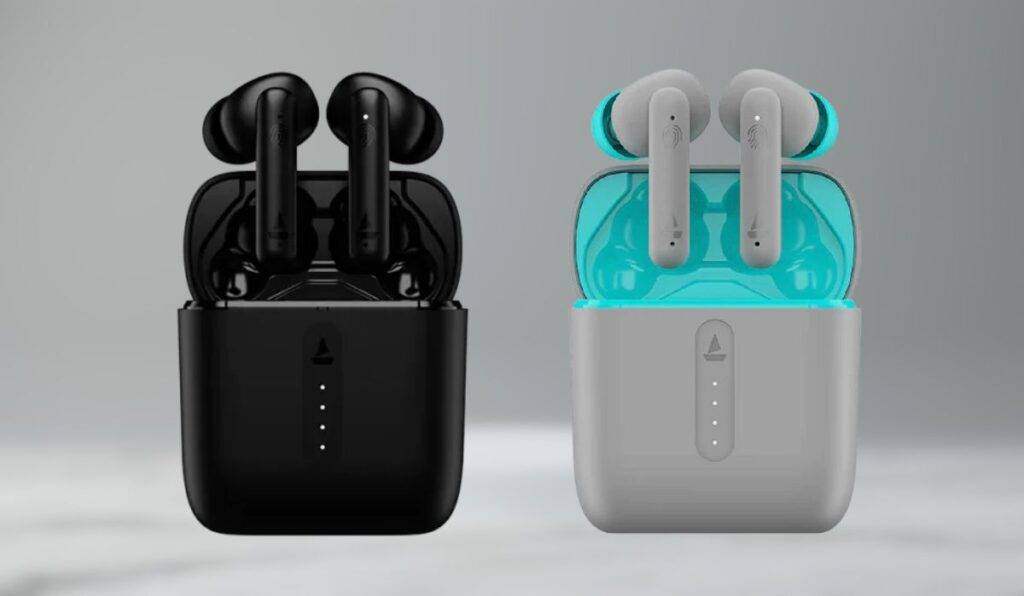 The boAt Airdopes 141 is currently the best-selling TWS earbuds in the budget price range, and it's not just because it's affordable. The main reasons are decent sound quality, a visually appealing design, excellent comfort, and a reliable microphone and battery life. These attributes make it a value-for-money product that is difficult to find under 1000 Rs.
Design-wise, the boAt Airdopes 141 has a simple yet stylish look while maintaining a decent build quality that justifies its price point. However, its standout feature is its lightweight build and remarkable comfort, ensuring a comfortable experience even during extended usage periods. If you want a more comfortable experience, you can also check boAt Airdopes 131, which features a half-ear design. Nonetheless, the Airdopes 141 offers the best combination of features between the two models.
The Airdopes 141 features a long stem design and performs well in terms of microphone quality. It captures loud and clear voices with minimal background noise. Comparing it to round-shaped earbuds, the microphone performance is noticeably better on the Airdopes 141.
Regarding the most important aspect – sound quality, the Airdopes 141 doesn't disappoint. Equipped with 8mm drivers, these TWS earbuds deliver loud and surprisingly clear audio output. Even at high volumes, distortions are minimal, which is a commendable achievement at this price point. True to boAt's signature tuning, the bass is slightly emphasized, while the mid and high frequencies are decent. The high-frequency range doesn't shine as brightly and is not very detailed, but considering the price, finding such a well-balanced tuning is quite challenging. Overall, the sound quality of the Boat Airdopes 141 offers an enjoyable experience.
If you have already decided to purchase a TWS earbud under 1000 Rs, I highly recommend considering the boAt Airdopes 141. Its sound quality, design, comfort, microphone performance, and battery life make it a compelling option. In conclusion, the boAt Airdopes 141 is an impressive budget-friendly choice that will satisfy the needs of most users.
Show more +
Lowest Price (Update: 30 min ago)

Half-Ear Design

---
Noise Buds VS104
Runner up choice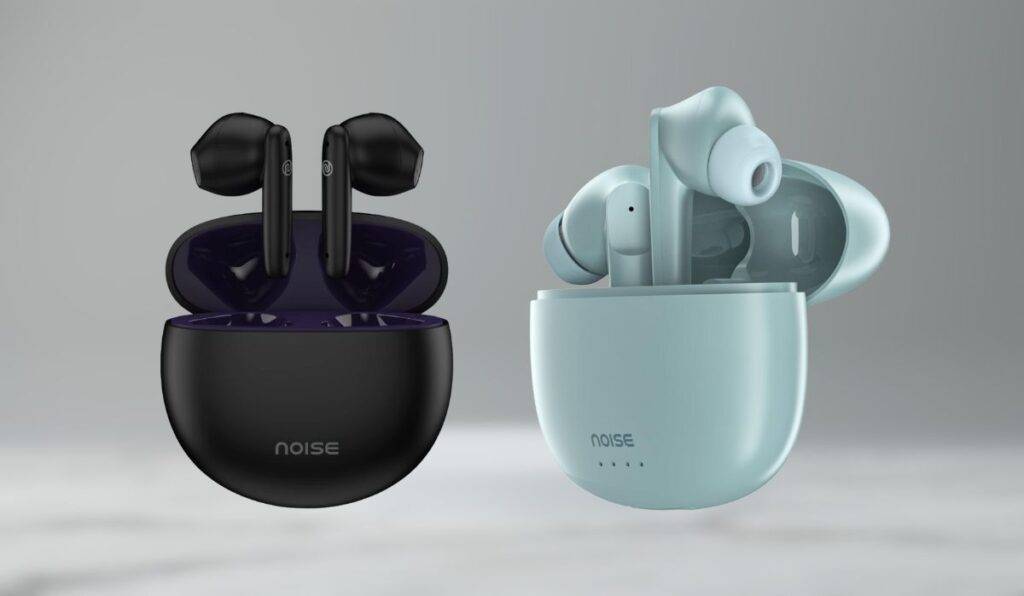 The Noise Buds VS104 is the second-best option on our list of best earbuds under 1000 Rs due to its decent sound quality, good microphone performance, and comfortable design. The earbuds are available in 2-3 different color options, including Mint Green, Charcoal Black, and Snow White. In terms of build quality, this TWS Earbuds impresses with its sturdy construction.
One of the standout features of the Noise VS104 is its lightweight design and half-in-ear shape, coupled with soft silicone ear tips. These elements ensure a secure and comfortable fit, allowing users to enjoy their music for extended periods without discomfort. The steam design and the four microphones combination offer good quality microphone performance, making it an ideal choice for those prioritizing clear and crisp calls.
The sound quality on the Noise Buds VS104 is impressive, comparable to previous boAt TWS models. The 13mm large drivers deliver a noticeably louder output, thanks to which the audio experience is more immersive. The bass is well-balanced, providing the right amount without overpowering other frequencies. The mid and high frequencies are decent, though the overall detail might be slightly lacking, but it's OK; we have a price barrier.
In addition to sound quality, the Noise Buds VS104 offers some other great features. It boasts an IPX5 water resistance rating, providing protection against sweat and light rain. The dedicated low-latency gaming mode ensures a seamless gaming experience. Furthermore, the earbuds feature the latest Bluetooth 5.2 technology, ensuring strong connectivity and providing a decent battery life. With up to 30 hours of playback time with the charging case and 3-4 hours on a single charge, the VS104 is well-suited for real-world use.
Overall, the Noise Buds VS104 delivers on its promise of impressive sound quality, good microphone performance, and comfortable fit. With its IPX5 rating, low-latency gaming mode, and long battery life, it offers a well-rounded package that justifies its price.
Show more +
Lowest Price (Update: 30 min ago)
---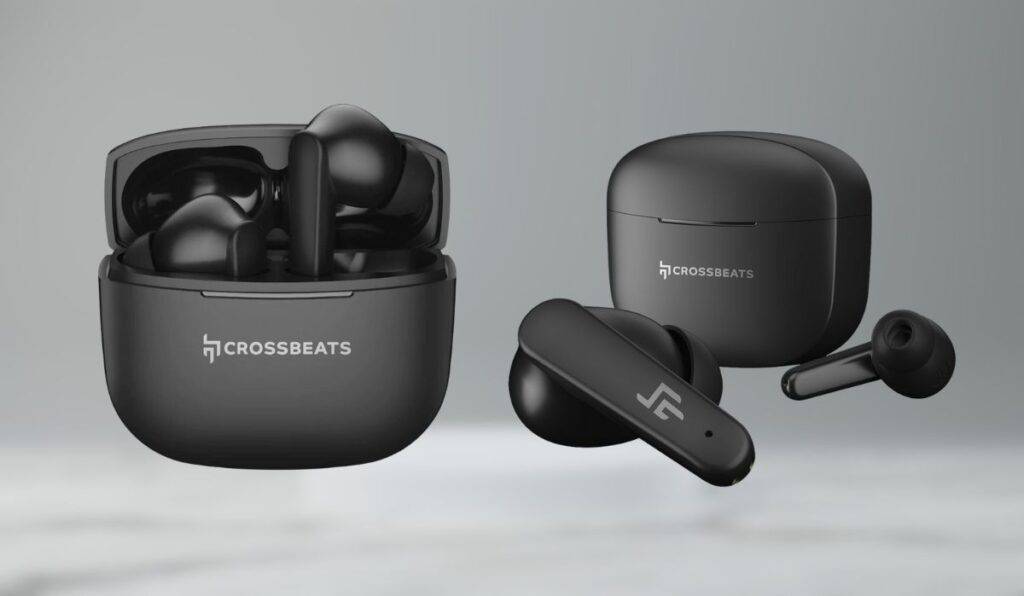 The Crossbeats Neopods 300 is another budget-friendly option that offers impressive features at just 999 INR. Although slightly bulky, the matte finish charging case is still portable enough to carry in a pocket or bag.
The cham-shaped earbuds have a sleek look and feel with a matte finish on the front and a glossy back. One standout feature of the Crossbeats Neopods 300 is the comfortable fit provided by the included ear tips. The earbuds also offer decent noise cancellation, blocking out around 85% of background noise. This enhances the listening experience and adds to the earbuds' versatility for music and gaming purposes.
Regarding features, the Neopods 300 has the latest Bluetooth 5.3, which provides a stable and efficient connection. It also has an IPX4 rating, making it resistant to sweat and light water splashes. The 13mm neodymium drivers deliver excellent sound quality with good bass. The earbuds offer balanced sound output, clear vocals, good instrumental separation, and punchy bass. The loudness is impressive, with minimal distortion.
The touch controls on the Neopods 300 are responsive and easy to use. It also has a low-latency gaming mode with a 40-50ms latency promise. This makes them suitable for mobile gamers who require accurate audio synchronization.
Regarding call quality, the Crossbeats Neopods 300 performs decently for indoor calling. However, outdoor performance suffers as background noise and activities can be captured during conversations. Vocal clarity could also be improved for better call quality.
Overall, the Crossbeats Neopods 300 True Wireless Earbuds offer impressive sound, good build quality, and a range of affordable features. With their comfortable fit, touch controls, and gaming mode, they cater to a wide range of users. While the call quality and outdoor performance may not be perfect, these earbuds still provide excellent value for money.
Show more +
Lowest Price (Update: 30 min ago)
---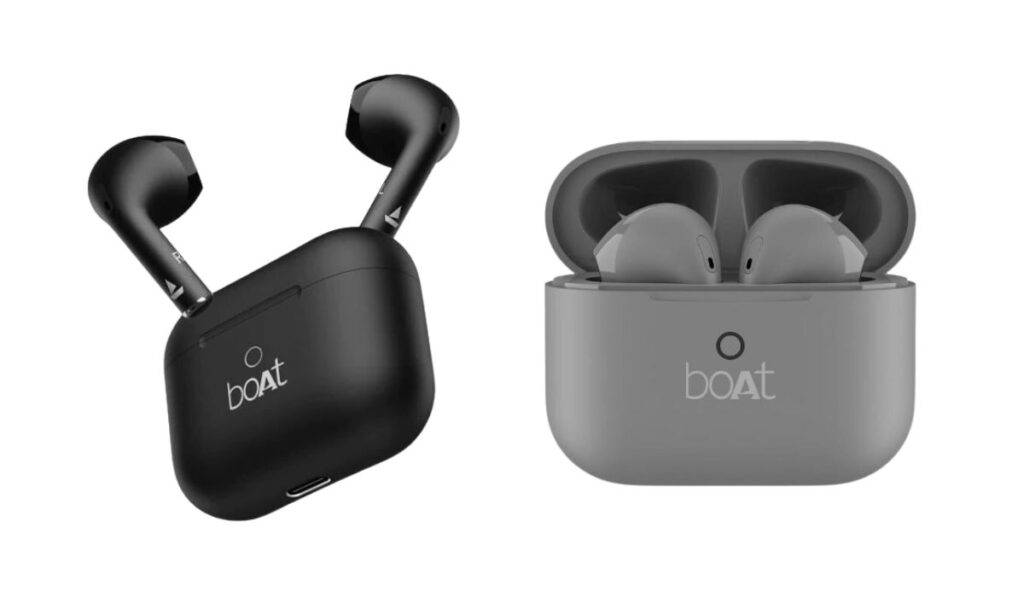 The boAt Airdopes Alpha is our next choice on the list of the best earbuds under 1000 Rs. With a price tag of Rs.999, these earbuds promise too many things. The boAt Airdopes Alpha comes in a compact and minimalistic case with a matte finish. The matte finish gives the patient an elegant look and makes it less susceptible to scratches and smudges, keeping it clean for longer. The case is remarkably compact and lightweight, weighing around 30 grams, making it convenient to carry in your pocket or hold in your hand.
Moving on to the earbuds themselves, they have a matte finish stem with a silver lining. The earphones are designed in a fixed-fit style, meaning you cannot change the size of the ear tips. However, thanks to their compact design, they easily fit in your ears and provide a secure fit that is perfect for workouts. But I like to add that this design is not for everyone. With a weight of around 3 grams, you won't even feel like you're wearing them for an extended period. Despite their compact size, they deliver impressive sound quality with decent bass, making them suitable for watching movies and enjoying audio content.
One of the standout features of the Airdopes Alpha is their squeeze-based touch controls. You can play or pause your music with a single squeeze, while a double squeeze lets you skip tracks. Squeezing the left earbud three times activates Google Assistant, a unique and convenient feature at this price point. Similarly, squeezing the right earbud three times activates "beast mode," enabling a low latency of 50ms, making them ideal for gaming.
The battery life of the Airdopes Alpha is good, allowing you to use them for up to 35 hours on a single charge. Additionally, with just a 10-minute charge, you can get up to 2 hours of battery life. They also hold an IPX5 rating, ensuring sweat resistance and making them suitable for gym use.
Show more +
Lowest Price (Update: 30 min ago)

---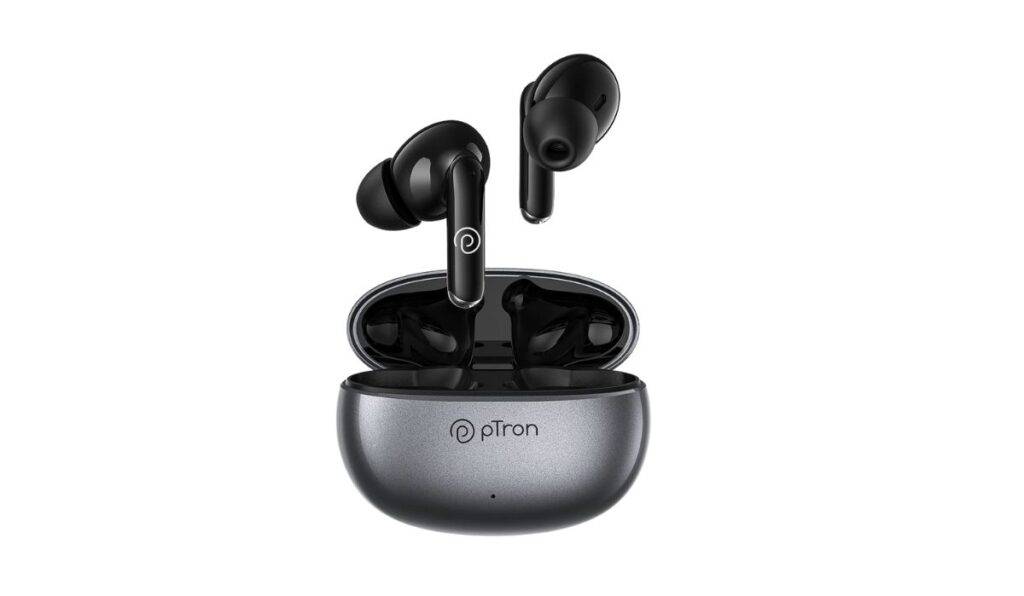 The Zenbuds Evo X1 is a new addition to the market, offering a compact and casual design at an affordable price. These earbuds are priced at just Rs. 1000 and aim to provide a decent audio experience. The Zenbuds Evo X1 earbuds are compact and lightweight, making them comfortable for long durations. Considering the price, the build quality is decent, with a polycarbonate matte finish that gives them a sleek and modern look. The in-ear design provides a snug fit, making them suitable for workouts and outdoor activities.
One standout feature of the Zenbuds Evo X1 is their Bluetooth 5.3 connectivity, offering a seamless connection with your smartphone. The IPX4 rating ensures sweat and water resistance, making them suitable for workouts or outdoor use. Additionally, these earbuds come with a low-latency feature, which is beneficial for day-to-day gamers.
The Zenbuds Evo X1 earbuds come equipped with 10mm audio drivers, delivering a good audio experience for the price. The vocals and trebles are clear and well-defined, and the bass quality is impressive, producing a satisfying low-end response. The overall audio output is decent and enjoyable, especially when listening to podcasts, movies, or music tracks with a balanced mix. It's important to note that while the audio quality is good within this price point, it may not match higher-end earbuds priced at Rs. 1500-2000.
The Zenbuds Evo X1 earbuds boast a large battery capacity, providing an impressive 50 hours of total playback time with the charging case. The fast charging option is convenient, allowing users to gain approximately 4 hours of music playback with just a 10-minute charge. The earbuds themselves can sustain around 4-4.5 hours of music playback at 70-80% volume, which is commendable for their price range.
Show more +
Lowest Price (Update: 30 min ago)
---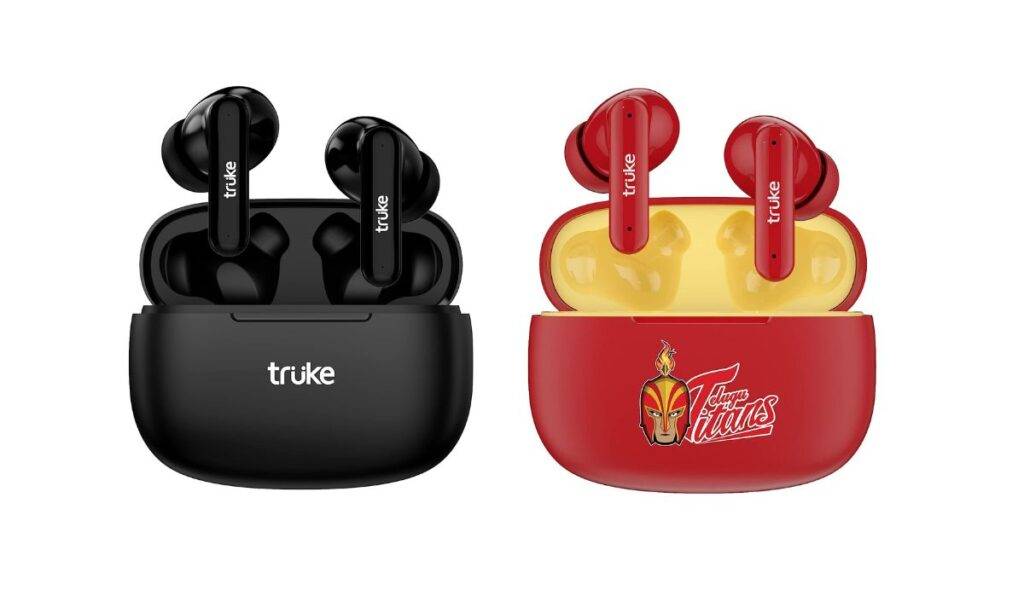 The Truke Air Buds Lite is our last choice on the list of best earbuds under 1000 Rs. The Truke Air Buds Lite comes in a compact and glossy earbud case featuring a basic plastic build. The earbud case is pocket-friendly, making it easy to carry around. The earbuds have a stem-shaped design, secure fit, and good passive noise cancellation. They are lightweight and suitable for heavy workouts and activities. Overall, the design and build quality of the TRUK Air Buds Lite are good for their price range.
The TRUK Air Buds Lite also offers Bluetooth version 5.1 and IPX4 water and sweat resistance. They feature 10mm dynamic drivers, in-ear detection, dedicated gaming mode, and AI-powered noise-canceling microphones for improved call quality. The battery life is around 8-10 hours at 50-60% volume, and the case can charge the earbuds approximately four times. These specifications make the TRUK Air Buds Lite a strong contender in its price segment.
The TRUK Air Buds Lite offers impressive sound quality, clear vocals, and a balanced output. The 10mm dynamic drivers deliver a good amount of loudness, ensuring an enjoyable music experience. The bass quality is also noteworthy, providing a powerful and boosted response. The 3D surround bass effect enhances the overall impact of each beat, allowing users to fully immerse themselves in their favorite tracks.
The TRUK Air Buds Lite's call quality is decent for indoor and outdoor environments. There might be background noise and a slightly thick voice during crowded places or heavy traffic situations. However, the call quality is satisfactory for normal outdoor conditions, and conversations can be easily understood.
Overall, the TRUK Air Buds Lite True Wireless Earbuds provide exceptional value for its price point. With its compact design, reliable build quality, impressive sound, powerful bass, and dedicated gaming mode, these earbuds suit casual users and gamers alike.
Show more +
Lowest Price (Update: 30 min ago)

---
Wings Phantom 260
Best Gaming Earbuds Under 1000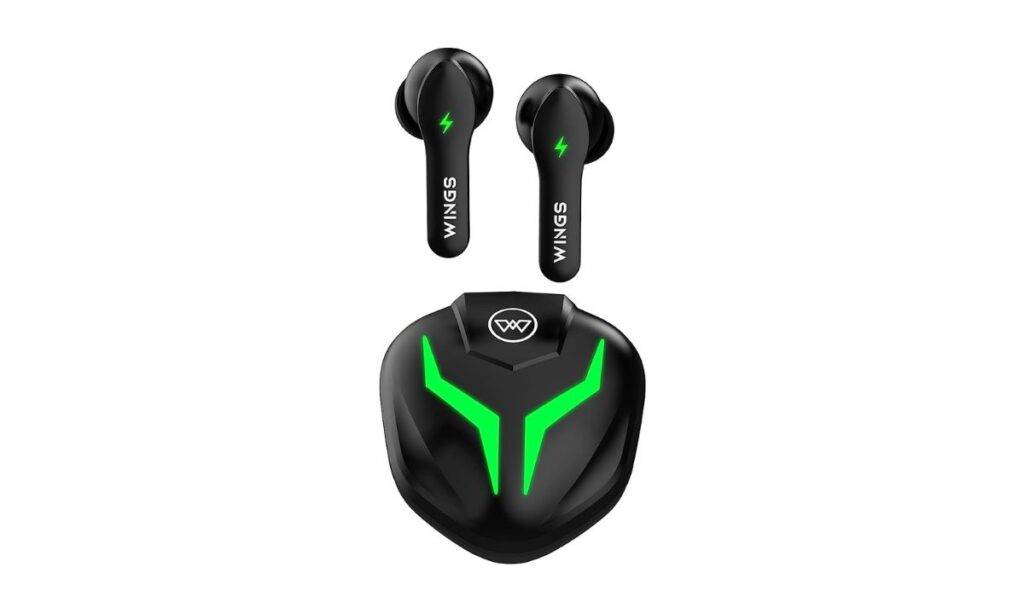 The Wings Phantom 260 TWS Earbuds are a budget-friendly option for gamers. The charging case has a sturdy plastic body with a green LED light on the case, which adds a nice touch. However, some users have reported quality issues with the earbuds, including loose parts and cheap plastic construction.
Comfort and fit are where the Wings Phantom 260 excels. The gaming earbuds fit snugly and comfortably, even during extended gaming sessions. This makes them an excellent choice for gamers seeking long-lasting comfort.
Regarding battery life, the brand claims up to 30 hours of playback with a 90-minute charge for the case and 8 hours for the buds. However, our testing found that the battery life is slightly lower, especially during gaming sessions. Expect around 4 to 5 hours of gameplay with maximum volume.
On the plus side, the earphones connect quickly and easily to devices thanks to Bluetooth 5.3 support. The microphone quality is acceptable for coordinating and communicating during gaming sessions. You can communicate with your teammates clearly without significant issues.
Sound quality is commendable, especially for gaming. The low latency provides an immersive experience, enhancing directional audio cues and making it easy to locate enemies. The treble is well-balanced, resulting in clear and crisp audio. However, these earbuds are not recommended if you are primarily focused on music playback. The Wings Phantom 260 produces decent sound but lacks the depth and richness of dedicated music earphones.
In conclusion, the Wings Phantom 260 TWS Earbuds are recommended for budget-conscious gamers. They offer a comfortable fit, low latency for an immersive gaming experience, and decent microphone quality for gaming coordination. However, if your priority is music playback, other options on the market may provide better sound quality. Overall, if you are on a tight budget and looking for gaming-oriented TWS earbuds, the Wings Phantom 260 is worth considering.
Show more +
Lowest Price (Update: 30 min ago)

---
These were some of the best TWS earbuds under 1000. You could find a large range of earbuds in the market, most of which don't provide a good grade quality and will make it harder for you to choose one. So we have listed some with the best quality. You can compare them and decide which one to choose according to your needs.
Apart from this, if you have any doubts or queries, you can contact us for more info, and we will be happy to help you.
Also Read: