You can't compete against your opponents if you don't have good gaming peripheral support. Talking about gaming peripherals, a good quality gaming keyboard is among the most important ingredients for a gamer to have an advantage over their opponent. No doubt, skills matter the most, but what do you do with top-notch skills if you don't have the back of a good keyboard that can respond to commands instantly?
With that said, I am here with the list of best gaming keyboards under 5000 that you can get installed on your gaming PC and shock your enemies with your instant reflexes. So let's quickly start our list with the keyboard, one of the biggest market leaders right now, the Logitech G213 Prodigy.
+2700 Happy Buyers, Every Month. We update this list weekly so that you will get the latest and best gaming keyboard from the Indian market. Still, if you need any help, we are available 24/7 on our YouTube channel, Facebook, and Instagram.
---
These are the best gaming keyboards under 5000 in India that you can buy right now
---
Logitech G213 Prodigy
Best membrane keyboard under 5000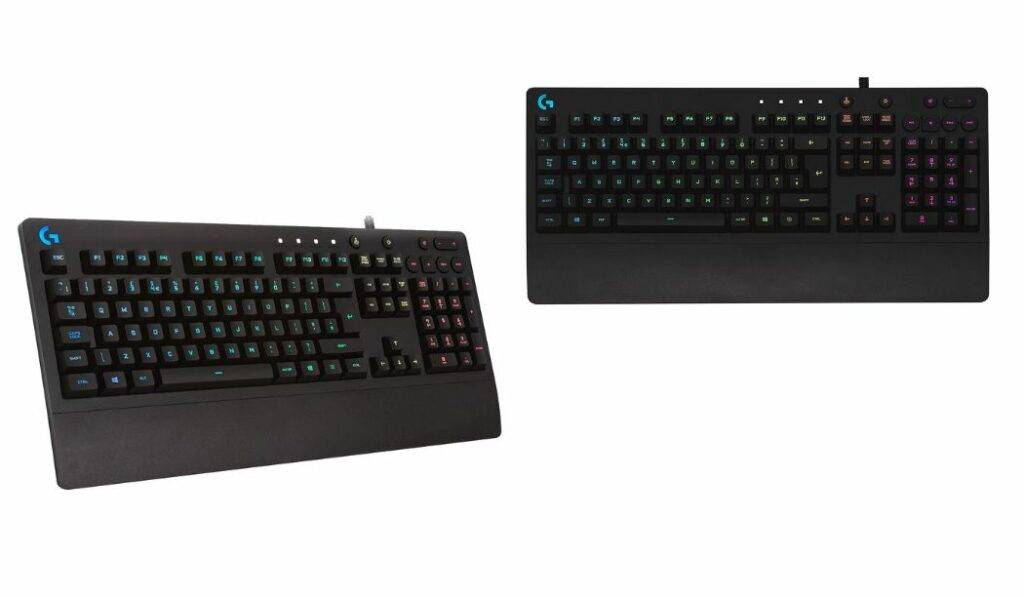 The Logitech G213 Prodigy is an entry-level gaming keyboard that is easily available in the Indian market for under Rs. 4,000. It is a membrane keyboard that comes with rubber-dome switches, and before you ask me what a membrane keyboard is doing on the top of this list, well, this keyboard is loaded with a list of features that make it stand out among the rest of the keyboards of its league.
The rubber dome switches have a low actuation force, making typing on them enjoyable. The top right corner has a bunch of dedicated media controls, meaning there is no need to use multiple or function keys to access them. Although these keys feel a bit mushy, I would have absolutely loved it if they had added a mechanical feel. It has the gamer's favorite game mode that disables some keys, like the Windows key, so they do not mess up your intense gameplay. It also supports anti-ghosting, ensuring that all keys get registered all the time.
The main keyboard frame is made up of a durable grade plastic, which feels quite durable. The rubber dome switches also make the keyboard spill-resistant, so a few accidental spills will not take your keyboard away from you. Logitech has Included a braided cable with it, which will surely add some extra life as the cable is one of the most fragile parts of a keyboard that easily breaks.
It has RGB backlighting that is divided into 5 different zones that you can easily customize using the G Hub software. You also get some preset effects that you can choose from the same software. As mentioned, it has 5 different zones, which means you cannot customize individual keys, which is fine considering the price point it is being offered on. You can easily turn RGB lights on and off with a single press of a button that is placed on the top of the keyboard. It
Coming to comfort, the keyboard has an inbuilt palm rest, which gives a good amount of support to your wrists and, in turn, enhances the overall typing experience.
Overall, the Logitech G213 Prodigy is a decent gaming keyboard with all the necessary features you would expect from a gaming keyboard. It has multiple lighting schemes with nice and big keys that offer an overall good gaming experience.
Show more +
Lowest Price (Update: 30 min ago)
---
RK ROYAL KLUDGE RK61
Best wireless/wired mechanical keyboard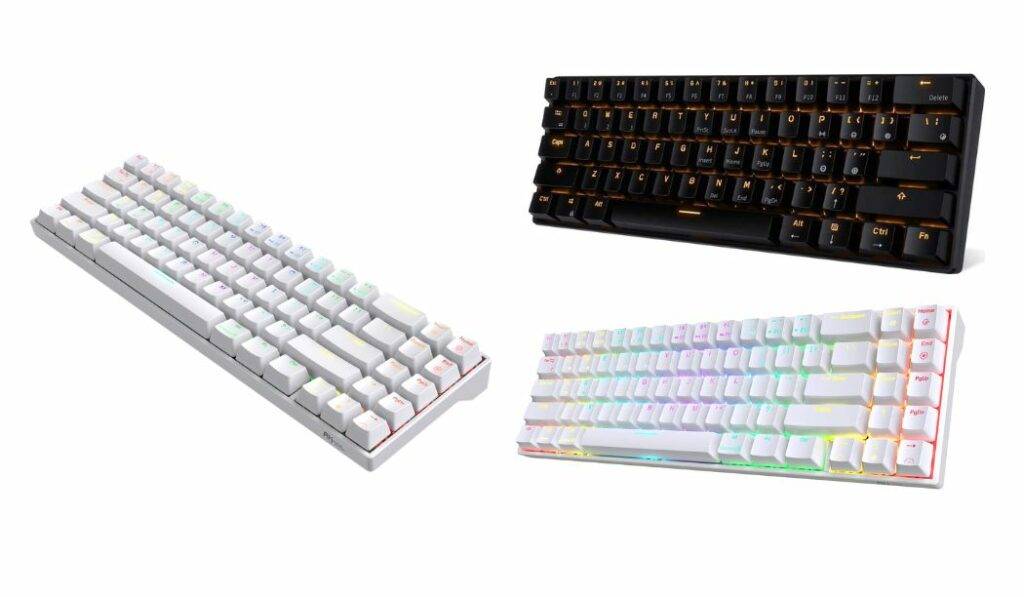 The next keyboard on our list is Rk Royal Kludge Rk61. It is a 60% compact mechanical keyboard, so only the necessary alphanumerical keys are present in this keyboard. Despite being this cheap, the keyboard hosts an elegant look with wide sets of functionality.
The company has kept two colors for the standard keyboard, each matching the keyboard's color. The Royal Kludge Rk61 keyboard comes in white and black variations. The white version features blue backlighting with individually lit keys that can get bright, while the black wireless version has orange backlighting. Other versions of the keyboard are also available with RGB backlighting.
It features a plastic frame with a metal base plate that feels quite sturdy. Four rubber feet are beneath the keyboard, which holds the keyboard in its place during the gaming sessions. The keycaps feel cheap but, overall, are solid for typing. As for the ergonomics, the keyboard is compact and lightweight, but the wrist rest is not present on this keyboard, which can cause wrist pain during long hours of usage.
As for the typing experience of this keyboard, it is a good one. The keyboard has 3 variants of key switches: Brown, Red, and Blue. The switches provide tactile feedback, but the keys themselves feel wobbly when typing, degrading the overall typing experience.
You can customize the backlight and brightness settings through the hotkeys available on the keyboard. The keyboard also offers wireless compatibility through Bluetooth. But if you want to avoid the slow response during gaming, you can use it wired through a USB-C cable. Overall, this keyboard is perfect if you're getting into gaming and don't want to spend a big purse.
Show more +
Lowest Price (Update: 30 min ago)
RK61

New Version: RK71 (Recommended)

---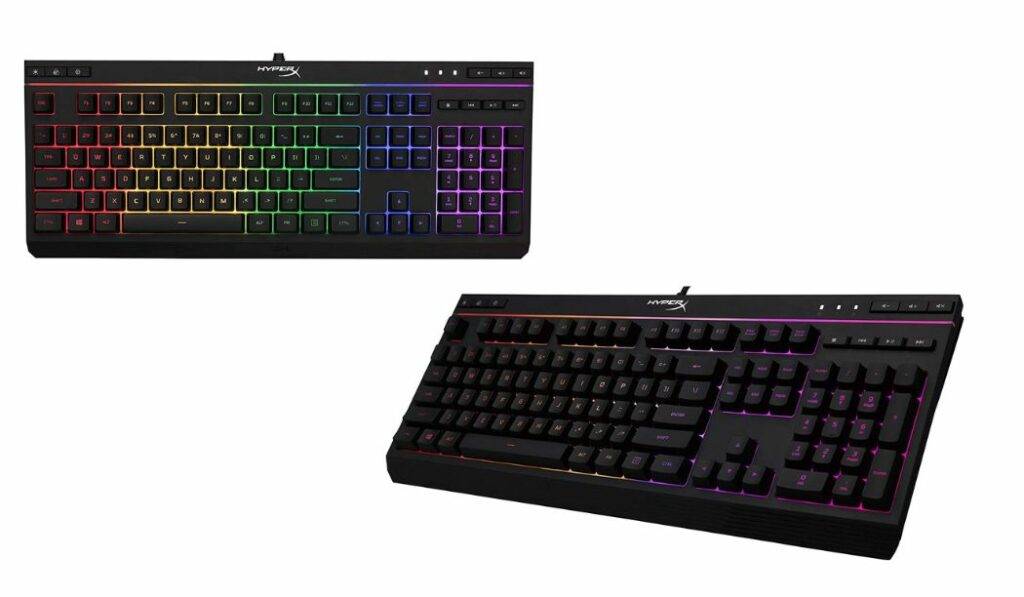 The HyperX Alloy Core is our second choice on the list of best gaming keyboards under 5000 Rs. HyperX is a big name in the gaming industry, especially for its gaming keyboards. One such gaming keyboard is the HyperX Alloy Core, which will not fail to impress you with what it offers. Just like the G213 Prodigy, it is a membrane keyboard with a full-sized layout, and it has some similar features to the G213 Prodigy with some extra handy buttons, which we will talk about in a while.
The HyperX Alloy Core has a solid plastic frame and a braided 1.8-meter-long cable that makes it feel pretty well-built, and I can assure you that it will last for some time. It has media controls in the top right corner; meanwhile, some lighting controls come in handy in the top left corner for day-to-day usage. It has the same gaming mode button as the G213 and is placed next to the lighting controls.
Coming on to the RGB lighting, the Alloy Core supports 6 lighting presets and 5 lighting zones, which you can only toggle using the lighting controls on the keyboard. I know it's a little disappointing not to see some software support with it, but I think it's fine for the price tag, and if you put the software aside, the lighting is really good-looking, and some of the brightest looking RGBs I have tested in this price segment.
It also spills resistance to the extent that it makes you safe from a few liquid splashes. It uses membrane dome switches just like the Logitech G213 and has a similar typing experience. The typing experience is not what most gamers would prefer, as it is more on the spongier side. However, if you are a new gamer and want to start your journey with something that rightly fits your pocket and gives you features, you would expect from a gaming keyboard that this could be a good choice for you.
Show more +
Lowest Price (Update: 30 min ago)

---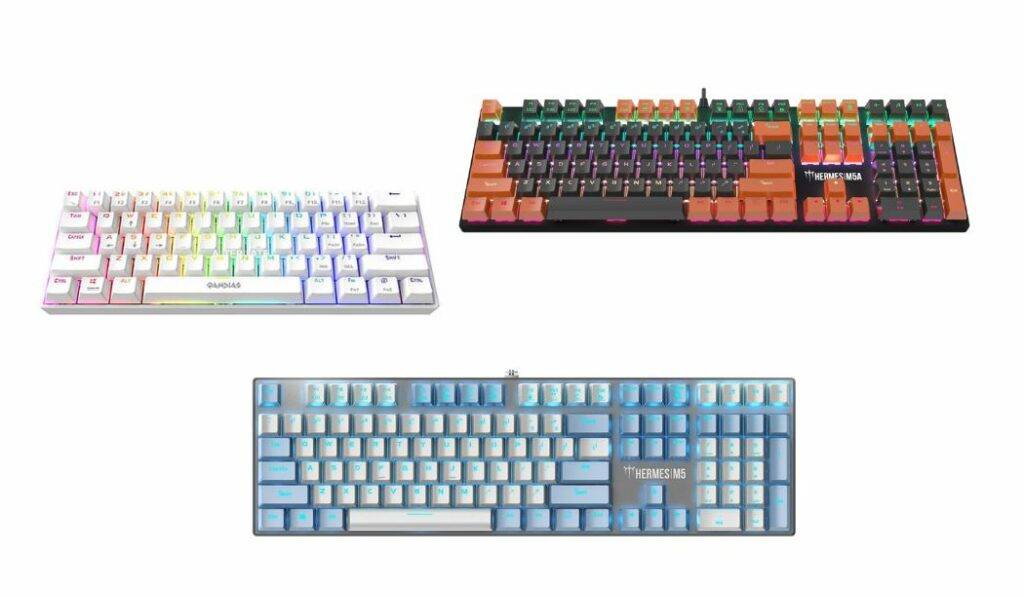 Our next keyboard is a mechanical gaming keyboard, and I know you have been waiting for it. The Gamdias Hermes E3 follows the 60% form factor, which means no separate numeric keys and media controls. But what you get in exchange is a pure tactile feel with the click of every single key and some extra space on your desk.
The Gamdias Hermes E3 has been specifically made with portability in mind, which can also be easily seen in its design. Gamdias has done a good job by including a USB Type-C connectivity, which makes it easier for you to plug out the keyboard in case you need to clean it or take it to a different place. It also comes in handy if the cable breaks down, so you can get a new one and are good to go.
Gamdias has offered a complete plastic build with this keyboard, which feels quite durable and sturdy. Meanwhile, the keycaps are also well-built and nicely placed. Since we are talking about the keys, let's quickly discuss the key switches as well. The Hermes E3 uses Ortemo Blue Switches, rated for 50 million clicks. These switches are known to offer a pleasant typing experience with tactile feedback similar to the Cherry MX blue and are considered good cheap alternatives to them.
Apart from that, the E3 has all the basic features that a gamer would need, like a polling rate of 1000 Hz, anti-rollover, and anti-ghosting, along with the game mode to disable the Windows key during your gaming sessions. And now, coming to the RGB effects, the Gamdias Hermes E3 comes with 19 RGB presets that you can choose directly from your keyboard. Honestly, getting this amount of RGB presets at this price point is rare. I know you want to ask if the software can customize these RGB lighting. Well, unfortunately, the answer is no, E3 does not come with any software support at all, so you will need to choose from the presets only.
Overall, the Gamdias Hermes E3 is a good choice for those who want a portable, neat, and, most importantly, mechanical keyboard for their daily gaming needs. Yes, you have to go through the hassle of using multiple function keys and stick with the preset lighting, but if you are fine with it, this could be one of the best picks for you under Rs. 5,000.
Show more +
Lowest Price (Update: 30 min ago)
Red Switch
Blue Switch
Full-Size Blue Switch
---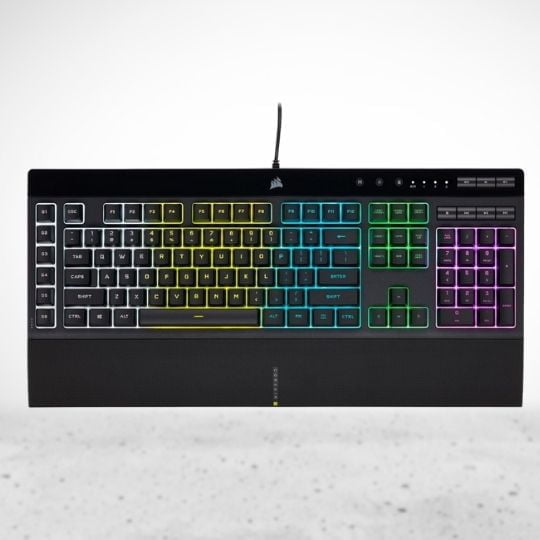 Now, we are moving on to the next gaming keyboard on our list, which is the Corsair K55. Corsair is not a new brand in the market and hence needs no introduction at all. Their keyboards are well-built and are loved by gamers, and the K55 seems to follow in their footsteps. The K55 is a membrane keyboard with rubber dome switches and comes with all the perks of a gaming keyboard.
The keyboard is mostly made of plastic, but the build quality is pretty good and solid. However, it has glossy plastic at the top, which acts as a fingerprint and dust magnet. The good part is that it has dedicated media keys at the top right corner, making controlling media easy. Meanwhile, on the left-hand side, you will see 6 macro keys that can be programmed as you like, which is one of the things that really comes in handy during games.
Now, coming on to the typing experience, the keyboard feels like most of the membrane keyboards out there in the market. The keystrokes are not tactile and feel a bit mushy, which is expected from a membrane keyboard. The keycaps are well-placed and made out of plastic, but they feel stable when pressed. It also has a detachable rubberized wrist rest, which offers a basic level of support to your wrists.
Moving on to the RGB lighting, this keyboard also has zonal backlighting divided into three lighting zones. You can easily customize them by using the keyboard or with the compatible software called the ice. This software offers many customizations, like setting up macro keys.
Overall, the Corsair K55 is a perfect gaming keyboard for those who want a membrane gaming keyboard with some cool perks like extra programmable function keys, zonal RGB lighting, and dedicated media controls. If you have been using a mechanical keyboard, this keyboard may disappoint you a bit, but for someone who wants to start their gaming journey, this one could be a pretty good choice.
Show more +
Lowest Price (Update: 30 min ago)

---
Redragon Kumara K551 & K552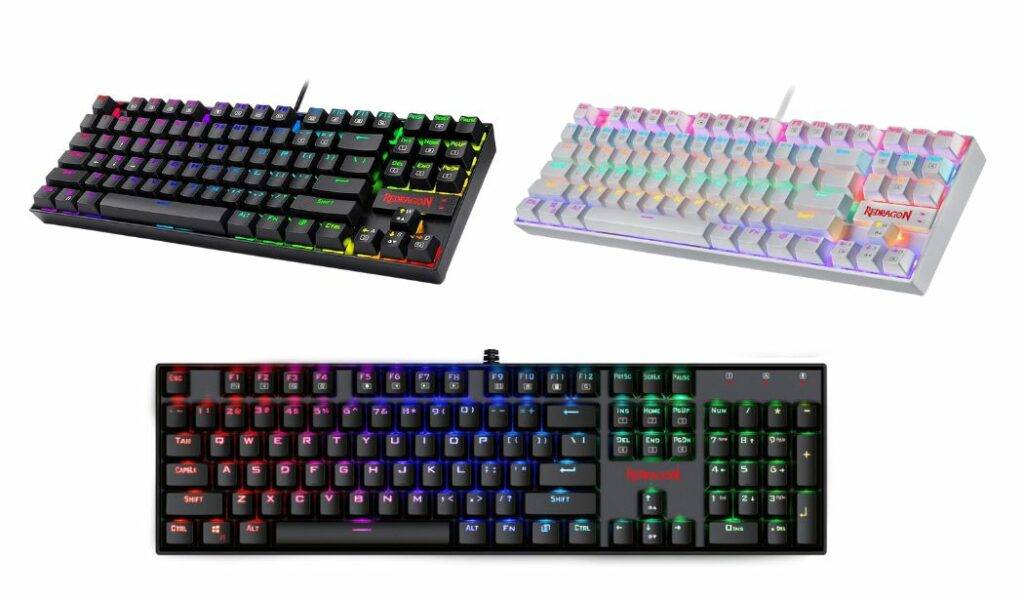 The Redragon K551 is another Indian-branded full-sized mechanical keyboard with two variants: the Outemu Blue and Outemu Red. These two variants allow you to choose what best suits your liking, which is good.
The keyboard has a completely plastic build, but it feels pretty solid and heavy in the hands. It comes attached to a USB Type-A cable, which is not a braided cable, but looking at the thickness of the cable, I can ensure that it is not going anywhere for a while. The good part is that the company ships it with some extra key switches, a key puller, and a keycap puller, which is pretty surprising for a keyboard at this price point.  
Even though it is a full-sized keyboard, you don't get dedicated media control keys, which is a little disappointing, but it is okay considering the price it is being offered. Although you can still change media using the function keys. The typing experience is also quite good with it and is exactly what you would expect from Outemu switches. 
Moving on to the RGB, you get 5 preset effects that you can quickly toggle from the keyboard itself. Although you cannot customize the lighting effect, you do not get any software support with it, which is fine for its price point. There is another model with the same name that gives you static RGB lighting with no other effect, which is a little cheaper than this variant, so you can also choose it to save some of your cash. 
Overall, the Redragon K551 is a decent mechanical gaming keyboard with good build quality, and you can go with it if you want a full-sized mechanical gaming keyboard and do not care much about RGB lighting.
Show more +
Lowest Price (Update: 30 min ago)
Full sized
60%
---
HUO JI Mechanical Keyboard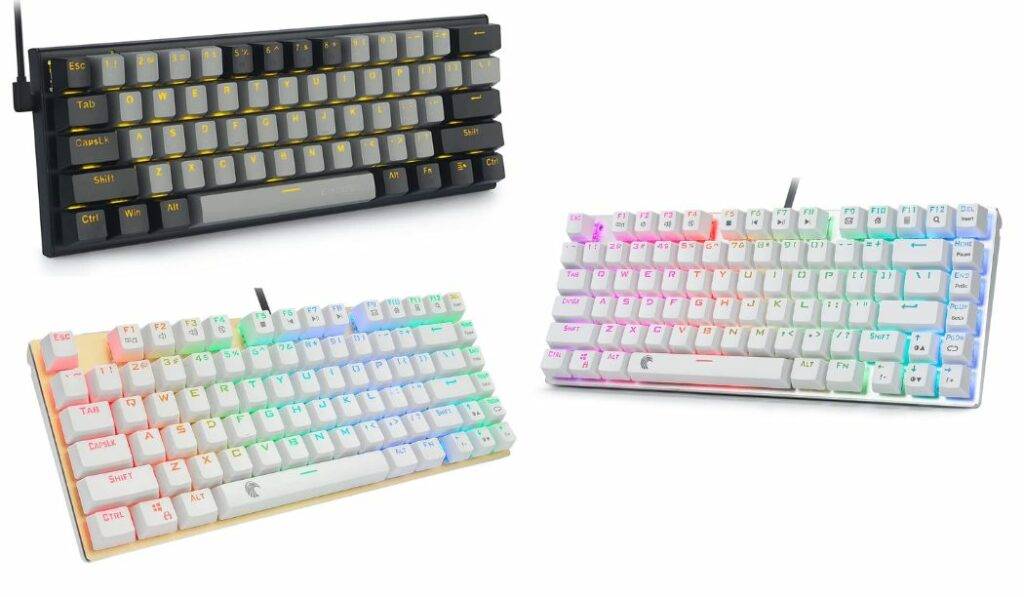 Moving on to the next keyboard in the best gaming keyboards under the 5000 list, we have the HUO JI 60% Mechanical Gaming Keyboard. It is a compact keyboard designed for gamers and typists who value a minimalistic setup. This keyboard is designed with a 60% layout, which means it only has 60 keys, leaving out the function row, navigation keys, and number pad.
In terms of design and build quality, the HUO JI Mechanical Gaming Keyboard has a durable aluminum frame, making it lightweight and a base of plastic. The keycaps are made of ABS plastic and are double-shot, which means they are more durable and resistant to fading. The keyboard has a sleek, modern look that complements any setup.
The typing experience on the HUO JI Mechanical Gaming Keyboard is good. The company has claimed to be as good as the Cherry MX switches, which is false. The keyboard uses mechanical red, blue, and brown switches. The keys give off tactile feedback and do not produce much noise. The keyboard also features N-key rollover, which ensures that all key presses are registered, even when multiple keys are pressed simultaneously.
The HUO JI 60% Mechanical Gaming Keyboard offers easy access to a calculator, email, web browser, volume, and media controls. The keyboard also features 9 lighting presets, but someone looking to make custom presets will not be happy since there are no custom lighting options.
The keyboard may feel cheap for someone with more premium keyboards, but the HUO JI, Mechanical Gaming Keyboard, is a great option for amateur gaming and day-to-day typing. Those looking for a cheap compact keyboard with a good typing experience should purchase this one.
Show more +
Lowest Price (Update: 30 min ago)
---
Redragon K530 Pro
Another best wireless gaming keyboards under 5000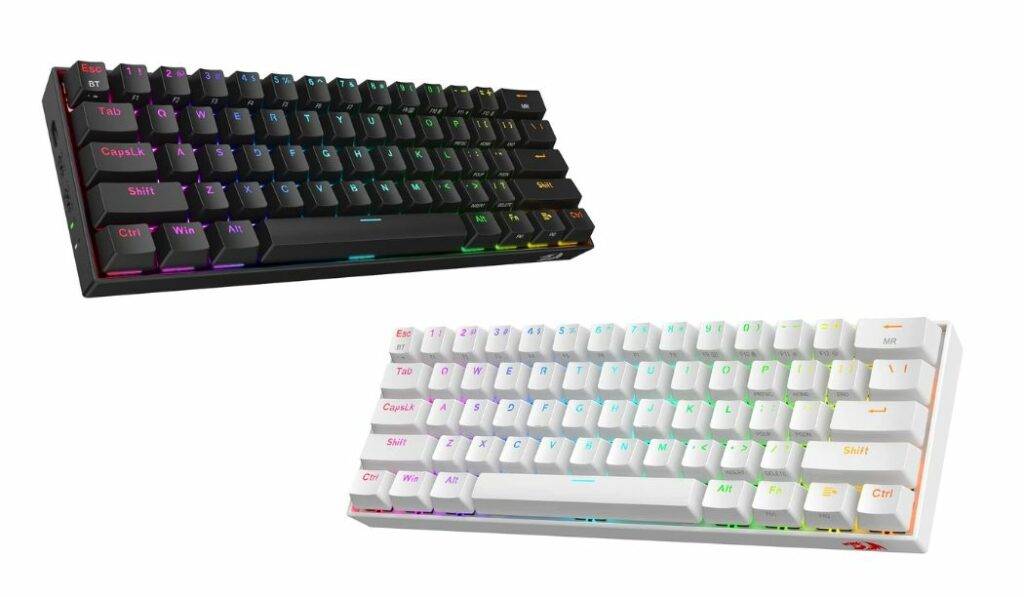 Redragon is quite a popular brand in the budget section of the Indian gaming market. With the Redragon K530 Pro, the brand has entered the 60% wireless space. Considering the price, this one has tons of features, but something must be degraded to keep the price down.
The Redragon K530 pro feels solid and sturdy with the use of high-profile ABS plastic in the main frame of the keyboard. It comes in black-and-white color options and features a standard layout 60% board design. You can change the keyboard's angle with a small stand at the back of the board. The white backplate reflects the light perfectly, which provides an even distribution of backlighting.
The Redragon K530 keyboard comes with an Outemu-style box brown switch and is hot-swappable but only with other Outemu-type switches. The brown switches produce that rattle sound, but its stabilizers feel wobbly and loose. The top of the keycaps have a painted texture that may wear over time, while the sides are smooth and glossy. This keyboard's typing experience is a compromise to achieve its feature set and price point.
The Redragon K530 pro can be wired or wireless with Bluetooth 5.0 connectivity and can be paired to 3 devices simultaneously. The input lag is noticeable when using the keyboard in Bluetooth mode, so you should use it wired during gaming. To control and customize the keyboard functions and RGB lighting, you can find the software for this keyboard on Red Dragon's official website.
Redragon has done a nice job on this keyboard with the overall features. One place they are lagging is the typing experience, but you can't ask for much at this price point.
Show more +
Lowest Price (Update: 30 min ago)
---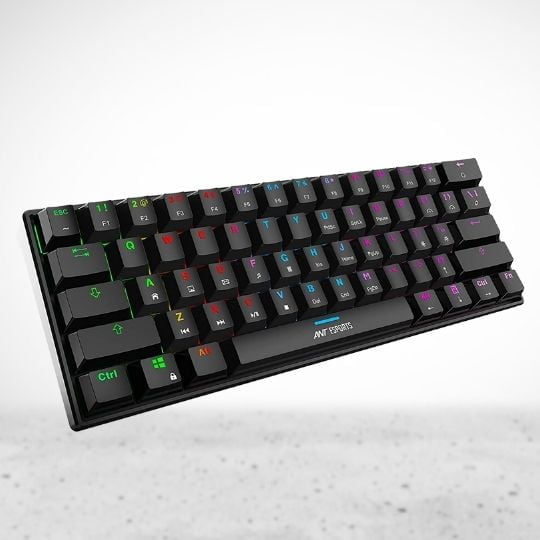 Finally, we have the Ant Esports MK1300 Mini, another mechanical gaming keyboard with a 60% form factor that comes from an Indian brand, Ant Esports. These keyboards also come in the Outemu Red Switches variant and Outemu Blue Switches variant. The fun fact is this keyboard is the most affordable keyboard on our list but still manages to secure a spot on our list, which is pretty impressive.  
The keyboard has a complete plastic build and feels decently solid. The design is slightly elevated, which makes it easier to type on. It comes with a USB Type-C cable that can be removed and reconnected whenever needed, which means if this cable gets broken, you need to buy a cable replacement rather than replacing the whole keyboard. The fully braided cable has gold-plated ends, which I can ensure would easily last for a few years.
The RGB has 5 zonal RGB lighting, which, honestly speaking, looks pretty cool. Yes, before you ask, there are no software support or customization options either, and you should not expect them at this price. We get 14 preset light effects that you can easily change from the keyboard itself.
Moving on to the typing experience, the Ant Esports MK1300 Mini performs similarly to the other keyboards with the same switches. Yes, the build quality is not as good as the other keyboards on our list, and the letters on the keycaps would not be there after a few months of regular usage, but apart from that, the typing experience is pretty acceptable.
So, if you are on a tight budget and want a 60% form factor keyboard, the Ant Esports MK1300 Mini could be a perfect choice. This keyboard cannot stand head-to-head with the other keyboards on our list in terms of build or features, but it justifies its price.
Show more +
Lowest Price (Update: 30 min ago)
Red Switch
Blue Switch
---
With the last product on my list, I would like to end Geekman's list of best gaming keyboards under 5000 Rs. This list will be updated occasionally, so you can keep this page bookmarked and re-check it out sometime later. 
If you think I missed any product or if you have any suggestions, feel free to write them down below in the comments, and I will get back to you as soon as possible. Thanks for reading.
Also Read:
FAQ
Which is the best under 5000 Rs: Mechanical Vs. Membrane?
The choice between the membrane and mechanical gaming keyboard should be based on what you need from your keyboard. If your primary use is gaming or spending lots of time typing work, you should use a mechanical board.
The feedback on mechanical keyboards is fantastic and much better than the membrane. But the mechanical keyboard is also a little bit noisy and more expensive than the membrane keyboard. The mechanical keyboard offers a much smoother typing and/or gaming experience thanks to the support for full key rollover.
If you're on a budget or you're planning on typing only every once in a while, a membrane is a way to go. The membrane gaming keyboard is more affordable and still provides a good typing experience, although the lack of key rollover makes them poor choices if you type fast or play games (FPS games).
Which Mechanical Switch is Best?
Our budget is restricted at 5000 Rs, so here we only discuss the Red vs Blue vs Brown.
Red Switches: These are linear switches. It means that the keys require less force to press, but you don't feel or hear when the key is registered. The gamers like the red switches because they respond faster and they require less force to hold down a button.
Blue Switches: These are called clicky switches. With a blue switch, you can hear a click when a keystroke is registered. It's ideal for typing, programming, or playing strategy games. With blue keys, you feel exactly when you register a key, and you don't need to press the key all the way. It makes your fingers less tired from typing.
Brown Switches: It's a tactile switch and it compromises between red and blue switches. The brown switch work silently but noticeable bump when you reach the actuation point. A brown switch also offers resistance when pressed all the way. it makes it a good choice if you both type and game a lot.
What do I need to consider before selecting the gaming keyboard?
– Price
– Keyboard Size
– Comfort
– Mechanical Vs. Membrane
– Switches
– Wired Vs. Wireless Gaming
– N-Key Rollover, Anti-ghost
– Pooling rate
– Macro/Media/Programmable Keys
– Keycaps