Android games have improved a lot over the years. In the early stage of android games, runner games and arcade games were at the top of the charts. But now, the gaming landscape has changed with the dominance of multiplayer games that offers real-time co-op or PVP. An online multiplayer game is the best way for any game studio to attract a larger audience of players. Due to this, most games nowadays have a multiplayer element in them.
Playstore is now flooded with many multiplayer games, so one may want to know which is the best among all those games. We have fished out some of the best android multiplayer games. So let's get on the list.
These are the best Android multiplayer games.
---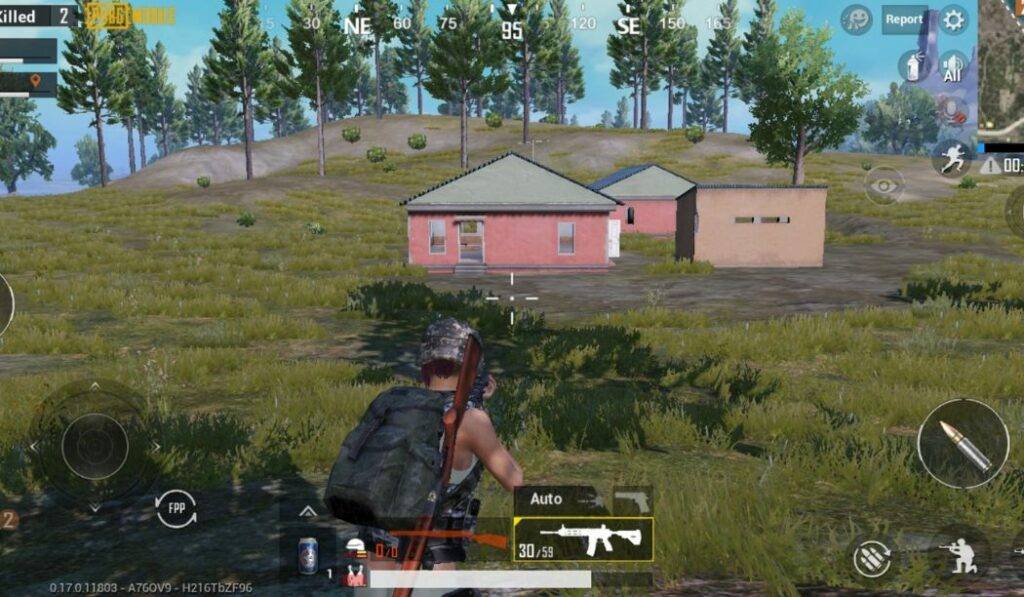 This game doesn't require an introduction. Since it completely dominated the mobile gaming market in 2019, most may be familiar with this game. In terms of mobile battle royale games, Pubg Mobile has surpassed all other games in its category.
Like most battle royale games, In Pubg mobile, you drop on an isolated island, loot, kill enemies and remain the last man standing to win the match. Pubg is still pretty popular due to its constant event updates and battle pass feature. Pubg deserves first place on this list cause it reshaped the online gaming scene on smartphones.
---
Since the sudden boom of Among Us in 2020, it has drilled its foundation into the gaming industry with such unique gameplay. Once you play this game with you're people, you might start having trust issues with those peeps.
In Among Us, players are divided into Crewmates and Impostors. The Crewmates' objective is to complete tasks on a spaceship while trying to identify the Impostors, who are trying to sabotage their work and kill them. If a Crewmate discovers a dead body, a meeting is held to discuss and vote on who they believe the Impostor is. The game has gained widespread popularity, leading to the creation of numerous trends and memes.
---
The COD Mobile is our third choice on the best Android Multiplayer games list. If you're into first-person shooters, you have got a check out Call of Duty Mobile. With a variety of classic Call of Duty maps and new modes like battle royale, there's plenty of content to keep you entertained. After the huge success of Pubg mobile, Call of Duty: Mobile was launched to compete with Pubg.
Personally, I think the 5v5 deathmatch is the best game mode cause it's more entertaining with the options to choose different guns, melee weapons, operator skills, and unmanned weapons. So if you're looking for adrenaline-fueled action on the go, give Call of Duty Mobile a try.
---
Looking for a fun way to brawl with your friends? Then you should check out Brawlhalla. It's a 2D fighting game that can be played on PC and mobile devices. It is similar to Super Smash Bros and offers 50 unique characters and a variety of weapons
to use in combat.
Despite being a 2d game, the game offers amazing visuals and effects, which are commendable. The game also features different modes, such as ranked matches, casual matches, and tournaments. It is free to play and a fun option for those looking to engage in multiplayer battles with friends.
---
Check these games:
---
Freefire came out around the same time as Pubg. Some see this as Pubg Mobile's competition. Each match has 50 participants in the game, and each team competes to be the last team standing on the map.
The game offers various maps and weapons for players to use, as well as a selection of characters with special abilities. Freefire doesn't offer graphics as good as Pubg but what it offers are gun skins that provide unique perks. You can even choose a character that has its own unique skill, and they also offer crossover characters from anime, series, movies, etc. If you're looking for an action-packed game that doesn't require a lot of graphics power, Freefire might be a good choice.
---
The COD Mobile is our sixth choice on the best Android Multiplayer games list. Anyone who plays racing games on a smartphone knows the popular Asphalt racing game series. Asphalt 9: Legends is the latest installment in this series from Gameloft. The game comes with beautiful real-life cars, amazing tracks, and realistic graphics.
In the game, you can race with online competitors or play single-player in different game modes. You can choose cars ranging from sleek sports cars to beefy off-road vehicles. You can also customize your ride with decals, paint jobs, and performance upgrades. If you're a fan of racing, then Asphalt 9 is one of the games to check out.
---
If you know Supercell, the developers of Clash of clans and Clash Royale, then you surely know how good their games are. Brawl Stars is one of the newer game offerings from Supercell. Like other Supercell games, this one also does not disappoint.
In this game, you'll team up with other players in a 3-man squad and compete in a 3v3 battle inside various game modes such as heist, touchdown, gem grab, etc. You can choose a character from this game's barrage of "brawlers". Each brawler has its unique ability, so players can choose anyone that matches their preferences.
---
After the success of Pubg mobile, more and more major pc title games have started to make their way to the smartphone market and capture a huge audience. One such game is Apex Legends: mobile.
In this game, you'll team up with other players in a three-man squad or solo and try you're best to remain the last man/squad standing on a massive sprawling map. The game offers a wide range of characters, each with a unique ability. The graphics of this game are visually pleasing, with detailed characters and breathtaking environments. If you're someone who is into battle royale games, then you should definitely check out apex legends.
---
Do you know one of the most popular pc games, Minecraft, also has a mobile version? If not, well, you know it now. Minecraft Pocket Edition, or the mobile version, is a popular sandbox game that allows players to build, explore and survive.
Minecraft allows you to completely shape your world however you want by allowing you to mine any resources in the surroundings and craft various things out of it. In the vast endless world of Minecraft, you can explore forests, deserts, oceans, mountains, and even the underworld. If you want to test your building skills and check your creativity level, then you should definitely play Minecraft.
---
If you're a fan of football games, then you might know Fifa football games; well, Dream League is the equivalent of Fifa but for mobile. Dream League is a game where you can build your dream football team filled with your favorite and best players.
In the game, you start your team from scratch, play through different matches, collect different players, and make your perfect lineup team. Along with participating in standard matches, Dream League also allows players to take part in different tournaments, events, and many more. If you want to shoot some balls around, you should try out dream league.
---
Do you want to take part in a war full of tanks and explosions? The World of Tanks is the game to play. It is the pocket version of a popular tank-based game on the pc. It's a lot of fun and has a ton of depth, making it perfect for strategy fans.
You can choose a tank you like in the game and join an epic 15v15 battle against other opponents online. You must develop a strategic plan with your team to ambush enemy tanks and emerge victorious. Each tank in this game has its unique stat and playstyle, so you must play with different tanks to find the right one.
---
If you want a taste of Dota but on a mobile, then you'll surely love Mobile Legends. It is a popular multiplayer online battle arena game. The game is easy to pick up and play but difficult to master.
You'll team up with four other players in the game and battle it out with the enemy team on a wide map. One of the best things about Mobile Legends is the huge roster of characters, or "heroes," to choose from. Each hero has their own unique abilities and playstyle, so you can mix and match to find the perfect combination for your team. With its huge player base, this game is also competitive and has a good esports scene.
---
Stumble Guys is a mobile game developed by MediaTonic and published by Devolver Digital. It's a fast-paced and chaotic game that's similar to Fall Guys but designed for mobile devices.
Players choose a cute character in the game and compete against other players in a series of obstacle course rounds. The goal is to reach the final round and come in first place. The maps feature challenges like navigating spinning poles, disappearing platforms, and walls. The fun and hectic nature of the game has made it popular among mobile players. If you're into fast-paced obstacle games, you should check out Stumble Guys.
---
Supercell is back on the list with clash royale. Anyone who plays clash of clans has surely checked out Clash Royale too. This one might be the most strategic of all the games from Supercell.
In the game, you'll collect and upgrade various cards featuring Clash of Clans troops, spells, and defenses. You'll then duel other players online, using your cards to attack and defend in real-time battles. Along with standard 1v1 mode, you can also play in tournaments, events, and many more.
---
Last Day on Earth: Survival
The last game on our list of best Android Multiplayer games is Last Day on Earth: Survival. It is a popular mobile survival game that puts you in the shoes of a survivor in a post-apocalyptic world. You'll need to scavenge for resources, and craft items and build a shelter to survive.
In the game, you must fend off hordes of zombies and other dangers as you try to stay alive. One of the best things about Last Day on Earth is the variety of gameplay elements. In addition to survival and exploration, you can also engage in combat, gather resources, and build your base. There's always something new to do, and the action is fast-paced and intense. Overall this game is perfect for keeping you entertained for hours and testing your skills against the undead.
---
Also Read:
Best Android Multiplayer games?
For now, PUBG & BGMI, COD: Mobile, Among Us, and Garena: Freefire are the best multiplayer games for android users.
Best android multiplayer games to play with friends
Many Multiplayer android games can be played with friends; some popular options include racing games like PUBG Mobile, COD: Mobile, Among Us, Garena: Freefire, strategy games like Clash of Clans, and creative games like Minecraft. Other popular choices include the games like Asphalt 9: Legends and Apex legends: Mobile. These games offer exciting gameplay and are perfect for having fun with friends.
World best multiplayer game for android?
It's subjective to say which is the "best" Android Multiplayer game as it depends on personal preferences. However, some highly popular and critically acclaimed multiplayer games for android are considered some of the best in the market. Games like PUBG Mobile & BGMI, COD: Mobile, COD: Mobile, and Clash Royale: offer intense and engaging gameplay for players to compete against each other. Minecraft is also great for those who enjoy creating and building games. Strategy games like Clash of Clans and racing games like Asphalt 9: Legends are popular among players. Among Us is a game that recently gaining a lot of popularity. The game allows players to play with friends and even strangers in a virtual space.