The noise just launched its latest neckband style earphones 'Flair' — the first-ever pair of neckband Bluetooth earphones in the country with touch control. At the price tag of Rs. 1,799, the Noise claiming quite a lot with these earphones. I've used the Noise Flair for a few days now and here's are my full review. In this review, let's find out how good is the neckband Earphone for its pricing and how well it stands against the competitors – like OnePlus Bullets Wireless Z, Oppo M31, and Boat Rockerz 255 Pro Plus. Let's go!
Please note, the product is made in china
Box Content
The headsets come packed inside a hard carton box – inside the box, all the items are well distributed with the secure placing. Overall, its packaging is also given in a way that offers a premium feel while opening the box.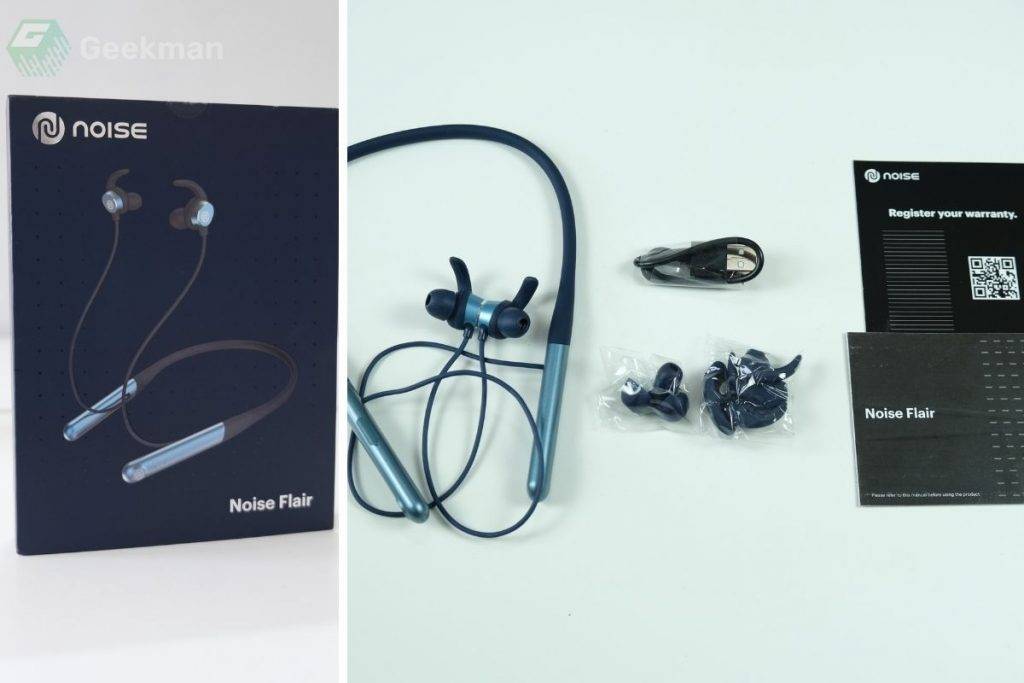 Noise Flair Earphones
USB Type-C charging cable
2 pairs of eartips
2 pairs of earfins
Manual and warranty card.
Design and Build
In terms of design, the Noise Flair looks like every pair of neckband earphones. It has the same rubberized finish that you'll find on a lot of Bluetooth Earphones, the same, thin cable extending to the earpieces themselves, and two heavier pieces of metal on either side of your neck, carrying the battery and Bluetooth 5.O module, microphone, and control.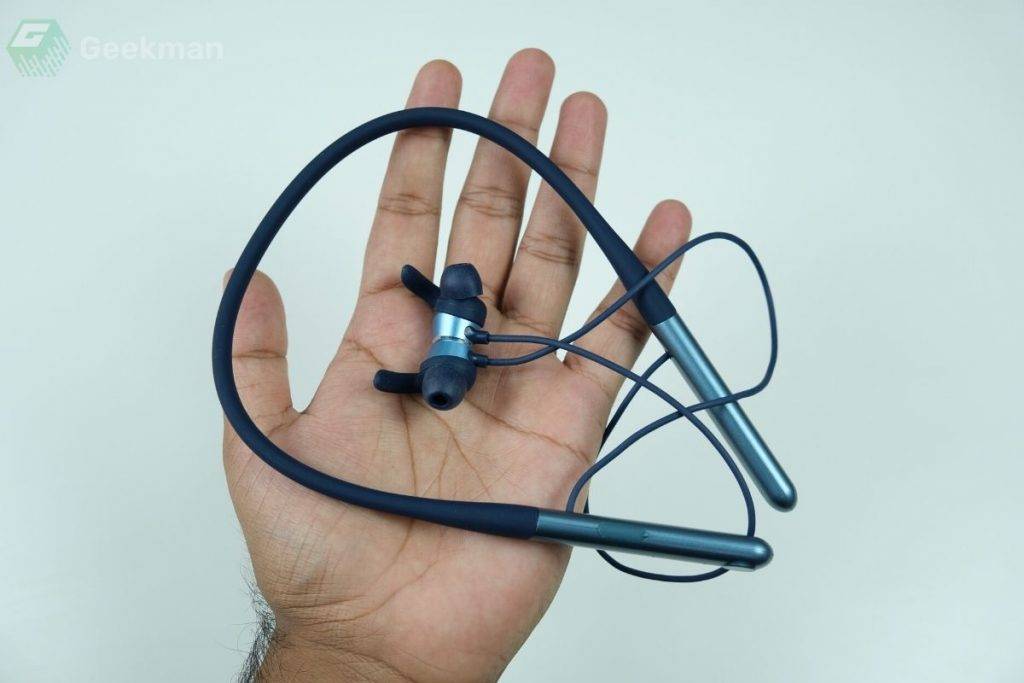 But one thing I really want to mention, the thick and puffy neckband looks really good and it feels a lot better to the touch. I don't confirm the build material but I think it's artificial silicon, whatever, it looks nice and also feels sturdy. Not just neckband the entire earphones look good with a solid premium-looking build, and even though it's definitely nowhere near what you'll get on expensive neckband Bluetooth earphones, it's actually better than what you'll find on most neckbands earphones in this price range, which is awesome.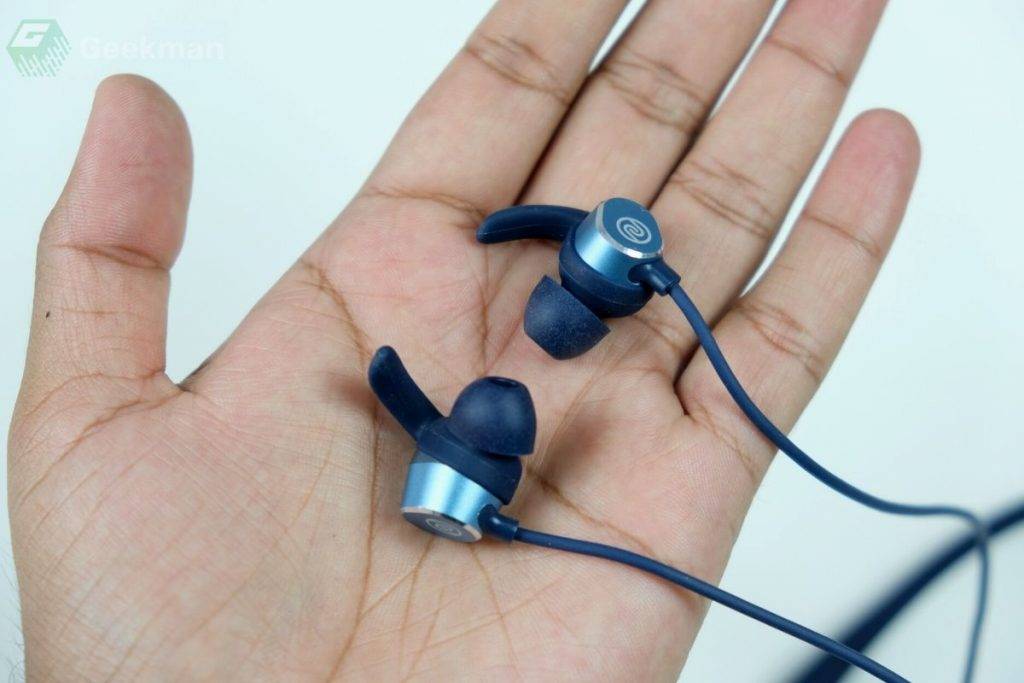 Fortunately, the thin connecter wire is also well built. The earpieces are made out of aluminum and they also look good and well-built. Yes, it looks a little bit big and bulky, but don't worry they are very comfortable to wearing and also provide tight secure feating.
Now, let's take a quick overview, the backs of the side of the earpiece magnetic that snap together when not in use – It also has some smart control which I will explain later under the usability section.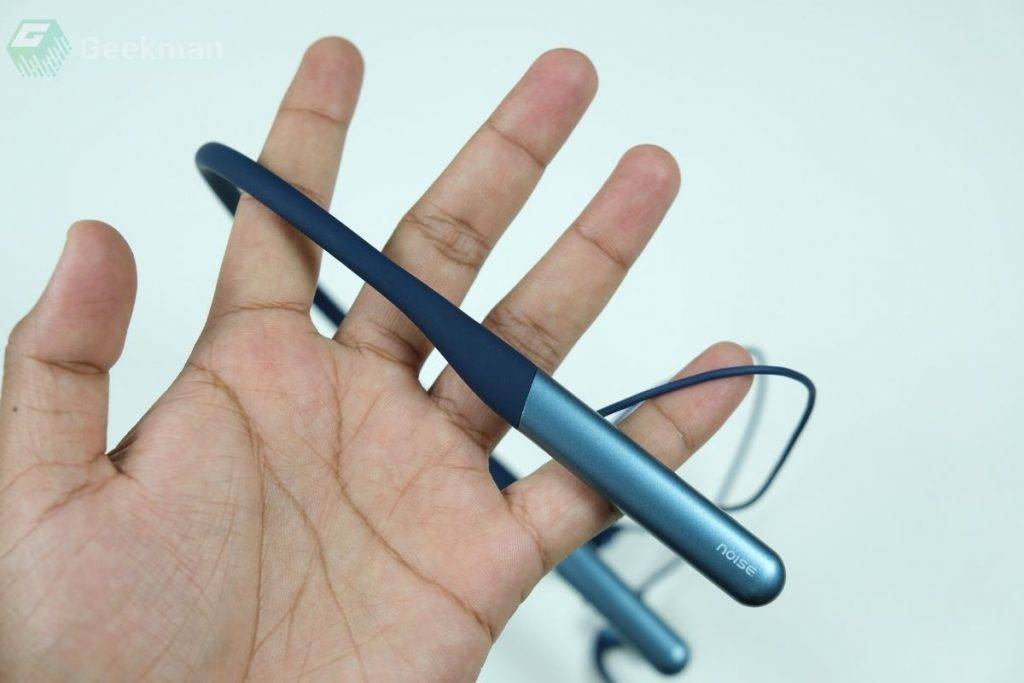 The right side of the neckband is totally empty, which hosts the battery. The left part has a one-touch sensor, USB Type-C cable, small LED light, and microphone. As you can see, it looks very clean because we don't have any physical buttons over here.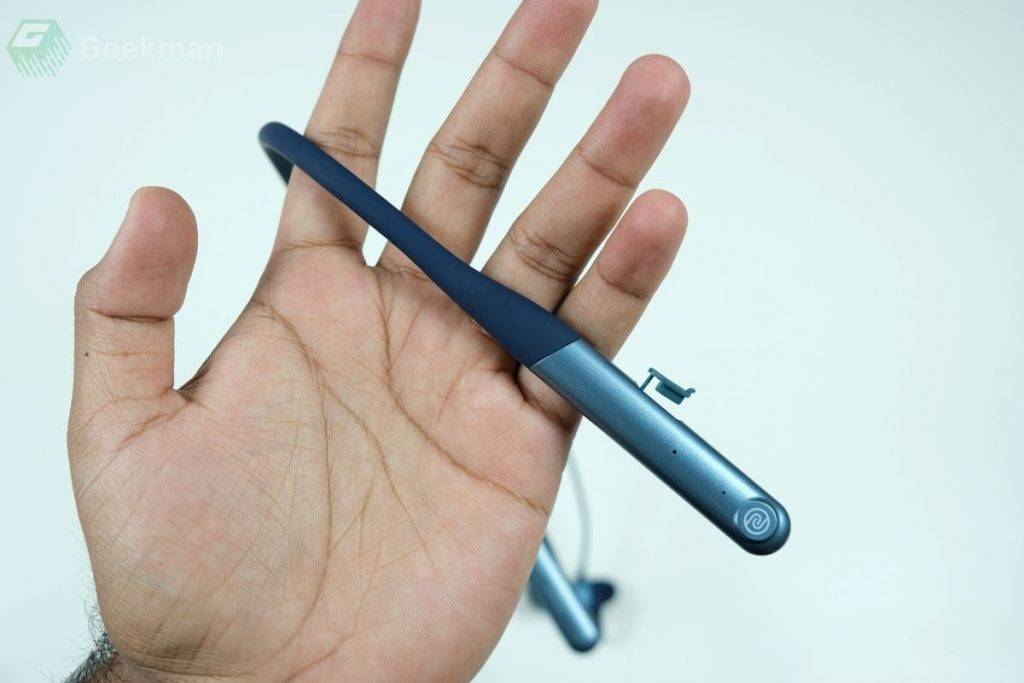 Coming to the touch control, it works really well. The touch is quite responsive and compared to the traditional button is quite easy to use. The placement of the button is also perfect. You can control the music, incoming calls, and voice assistance using this single-touch control (all the information provided in the user manual). Yes, you can't control the volume, but it's not a big thing or drawback, because these days most of the TWS earbuds are also not offering volume control.
The only thing I don't like about the earphones, as too much focus on branding (Noise team if you reading this article then point out this). Overall, I don't have any bold complaints about design and build.
Comfort and Fit
Talking about the comfort and fit of these neckband Bluetooth earphones, the Noise Flair didn't let me down. The puffy and thick neckband is very comfortable to wear. T
The earpieces are comfortable, and thanks to the 120-degree tangle ear tips and fins they never once fell out of my ears unless I wanted to take them off. Try as I might, the Flair gets a pretty firm grip inside the ear and stay in place. Yes, the neckband is a little bit bulky because of the metal build, but don't worry it will not hurt the overall comfort.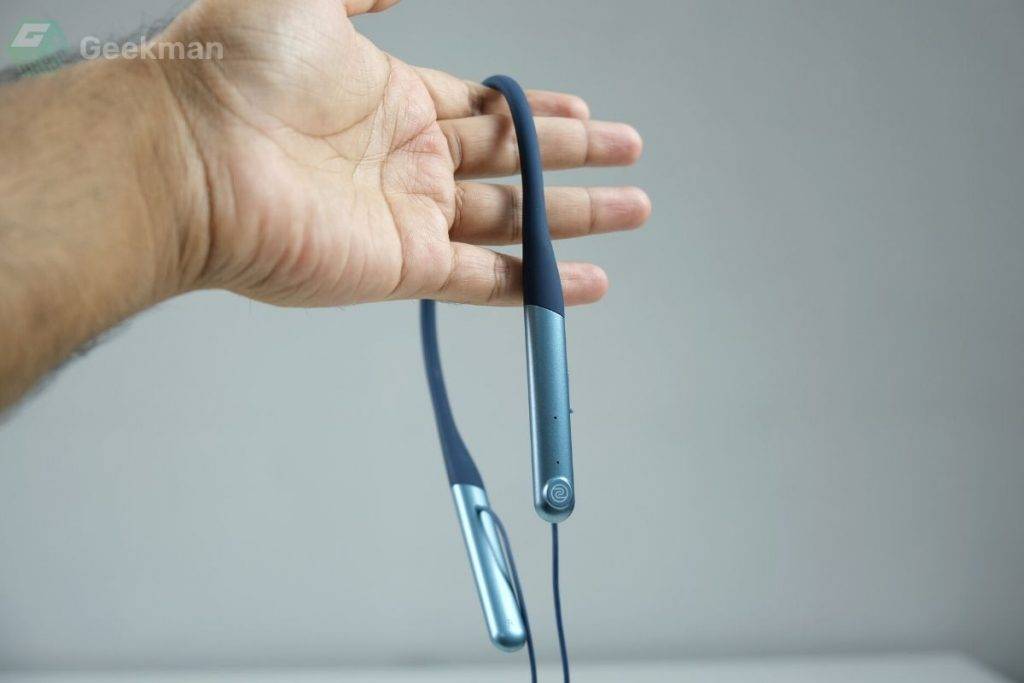 Connectivity
On the connectivity side, the Noise Flair us Bluetooth 5.0 which is fine, and pretty much a standard on Bluetooth headsets in this price range. However, the one thing that's missing here is support for the APT-X codec, so even though the audio quality on these neckband earphones is amazing. It would've been much better had these neckbands support aptX. Plus, it would've helped with Bluetooth stability as well.
But don't worry, without support for APT-X, the Noise Flair maintains a good strong and stable connection with the device, and the claimed 10m of connection distance is almost to the point.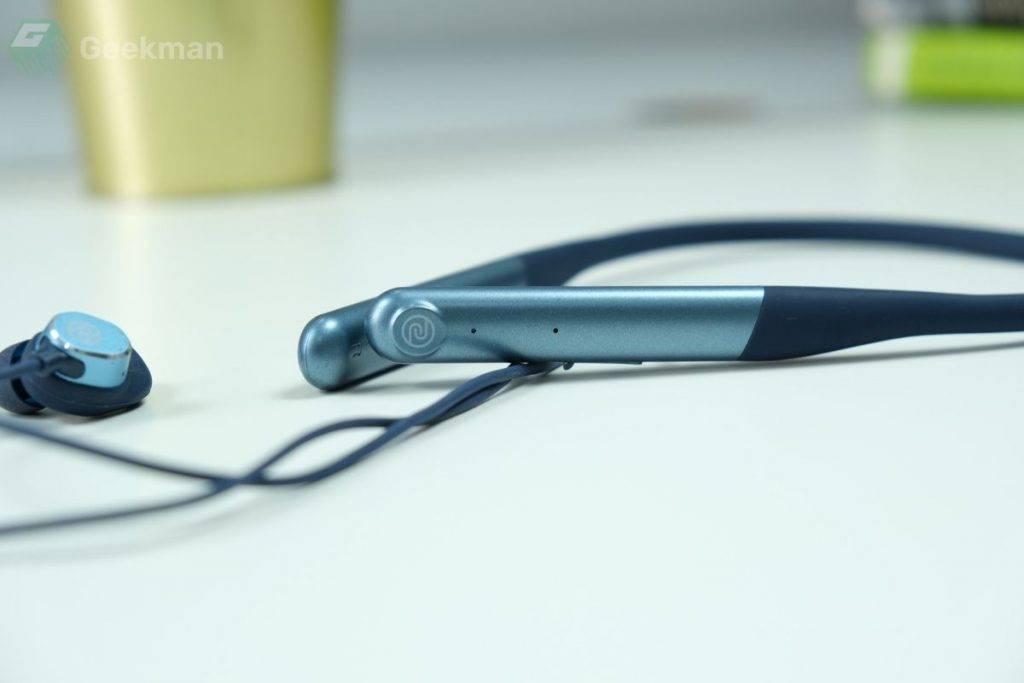 Battery Life
The Noise did not mention the battery size but claims last up to 35 hours of continuous playback, however, in my testing I found the results are quite good. With a full 100% charge to start with, the Flair lasts around 23-24 hours playing music at around 80% volume.
The earphones also support fast charging with USB Type-C and if there was one claim I found to be completely true, it was the 8 hours playback on a 10-minute charge.
Usability: Magnetic Control & Swiftcaller
When it comes to usability, the Noise Flair is pretty great. The stylish design, good build material, and touch sensor make your use very easy. The earbuds magnetically latch on to one another ensuring that the cables don't get all tangled up when you're not using the headsets and they're simply hanging around your neck.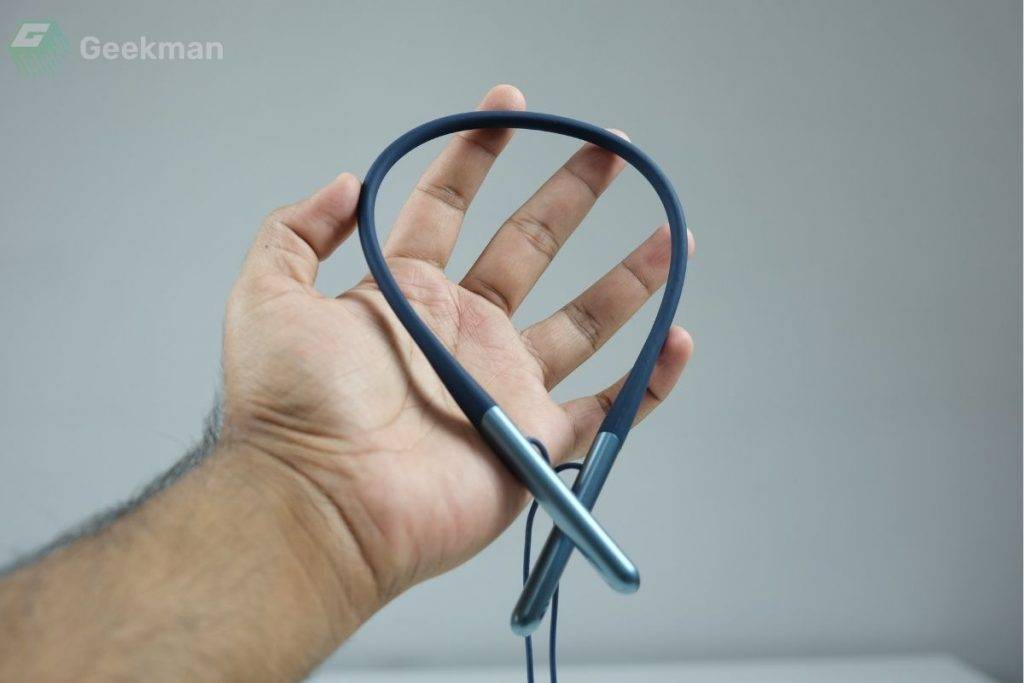 However, magnetic earbuds aren't just for handy cable management. No, they also work as an on/off switch, whenever you remove the earphones and snap them together, the earphones are turned off, separating the earbuds automatically turn on the earphones and paired with the last device. This same method also applies while incoming calls, if the headsets are hanging around your neck and that time if you have an incoming call on your phone, then simply separate the earbuds the phone call will automatically receive without touch your phone. Additionally, the headsets also offer Swiftcaller technology, so whenever you have an incoming call on your phone it will vibrate.
Microphone
According to the brand, the earphones have a dual microphone setup and Qualcomm ENC support for better quality, but I do not completely agree with both statements. Yes, the microphone quality is decent and works really well in indoor use, but in outdoor use, it catches a huge amount of background noise. Let me clear my point, the overall microphone is decent and very similar to other offerings in this price range, I didn't find any extra advantage of two microphones and Qualcomm ENC.
Sound Quality
Coming to one of the most important aspects of any pair of earphones or earphones you'll ever buy — the audio quality. Honestly, I tested many noise earphones before, and I wasn't impressed with their sound quality. But the Noise Flair sounds better than my expectations.
The overall audio output is decently loud, the best part is that the volume is not too high, so you will not feel any uncomfortably at even high volume. What's more, audio from the Noise Flair doesn't distort even at maximum volume, which is an issue I've observed in a lot of other, similarly priced Bluetooth earphones.
Coming to the detail, the bass note is deep and punchy as well, which makes these headphones great for listening to bass-heavy music. The bass note is not high, which we have often seen in budget Basshead headphones, so you don't get overpowered treble and vocal sound here. Yes, I found the treble note is not very clear or mute in some music tracks, and you will easily feel it.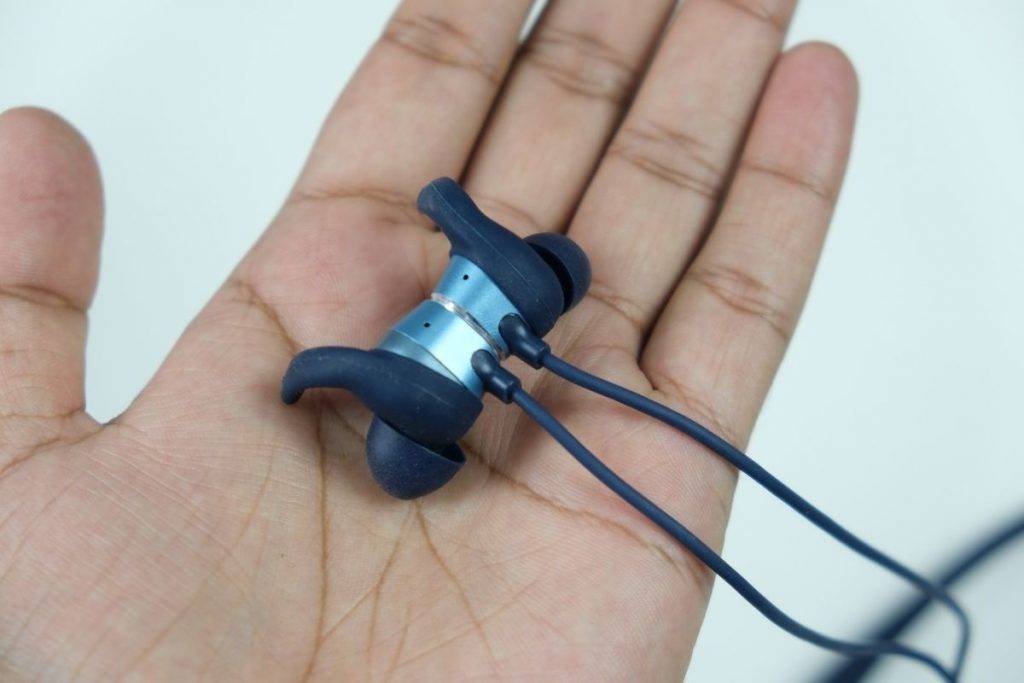 Personally, I really like the sound quality of these Bluetooth earphones. Even when compared to the other two really great Bluetooth earphones out there right now — the Realme bud 2 Wireless, andboAt Rockerz 225 and 330 the Noise Flair can easily hold their own. True, the bass is heavier on the boAt Rockerz 225 and 330, but extra bass always responsible to kill other sound notes.
If you are a fan of balanced audio., like me, then Oneplus Bullet Z and Oppo m31 are still the best options under 2000 Rs. For more info please check our buying guide section.
Final Words
All things considered, the Noise Flair are honestly a pretty amazing pair of Bluetooth earphones in their price range, with features such as the ones they have. At Rs. 1,799, they might seem pricey at first, but they bring a ton of features you'll not find in Bluetooth earphones in the same price range. The decent bass reach sound quality, stylish solid build, touch control, and amazing battery life worth buying these earphones.
That said, these aren't the only neckband earphones you can consider. The OnePlus Bullets Wireless Z, OPPO Enco M31, and Boat Rockerz 225 Pro & 230 are another solid option to check out, especially if you want more balanced audio quality or bass. However, at Rs. 1,799 the Noise Flair are definitely worth a look-see and it will definitely get placement on Geekman's list of best Bluetooth Earphones Under 2000 Rs. For more info please check the full review video on our Youtube Channel Geekman.
Also Read: