Washing machines are one of the most used gadgets in the household. Because washing machines can save you lots of time daily and wash clothes within a few minutes. So, making your life more easy and comfortable. Here I'm gonna show you a list of best washing machines under 10000; automatic and semi-automatic based on features like RPM, capacity, spin motor, wash programs, build quality.
In the list of best washing machines under 10000, there are two types of washing machines that fit in the budget and provide the best value for money i.e Fully automatic with top load and semi-automatic. Now a basic difference between fully automatic and semi-automatic is that semi-automatic comes with two different tubs for washing and drying. On the other hand, the fully automatic washing machine has only one tub for washing and drying.
These are the best washing machine under 10000, Semi-automatic and Fully Automatic
Onida 6.2 kg Fully automatic
Whirlpool 7 kg 5 Star
Haier 6 kg
Samsung 7.2 kg & 6.5 kg
Lifelong 6.5kg & 8.5kg Semi-automatic
LG 7 Kg Semi-Automatic
---
1.Onida 6.2 kg Fully automatic top load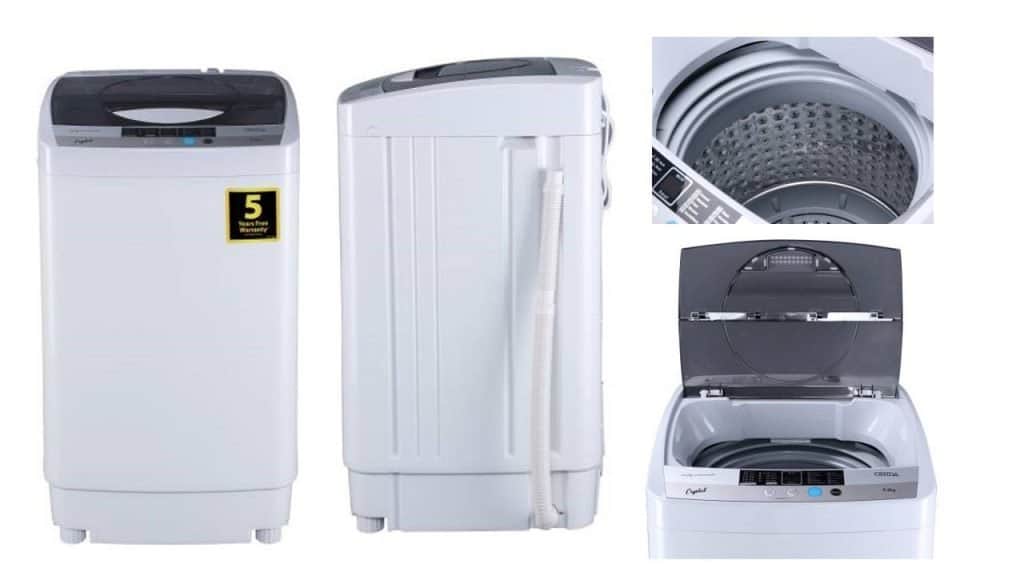 This Onida fully automatic washing machine is my first choice on this list. It is one well-crafted budget fully automatic machine in the Indian market. It's available in three different capacity, 6.2 kg, 6.5 kg, and 7kg, you can buy any one of according to your requirement. I know, the price of this machine is not justifying the title of this post, but 11,500 is not very far away from 10000 Rs, and this one is the only automatic machine you can buy around 10000 Rs. It is priced way lower than other 6.2 kg top load machines from big brands like Samsung and LG.
The stylish and compact design of this machine will definitely go very well with your beautiful home. The unique advantage of this budget fully automatic washing machine is its steel drum. This is one of the only few semi-automatic washing machines which comes with a durable steel drum.
The pulsator washing technology and 10 different washing program offer you hand wash type clothing experience with just one click. It also has a powerful motor with 700RPM speed for powerful water-flow action so your clothes are ensured a thorough wash and fast drying.
The Onida 6.2 kg washer comes with 10 different wash modes. Similarly, special features include LED display, Auto-restart, anti-rust body and shockproof, child lock, auto power-off.
Main Highlights
Specification
Lowest Price Buying Options:
6.2KG
6.5 KG
7KG
---
2. Whirlpool 7 kg 5 Star Semi Automatic Top Load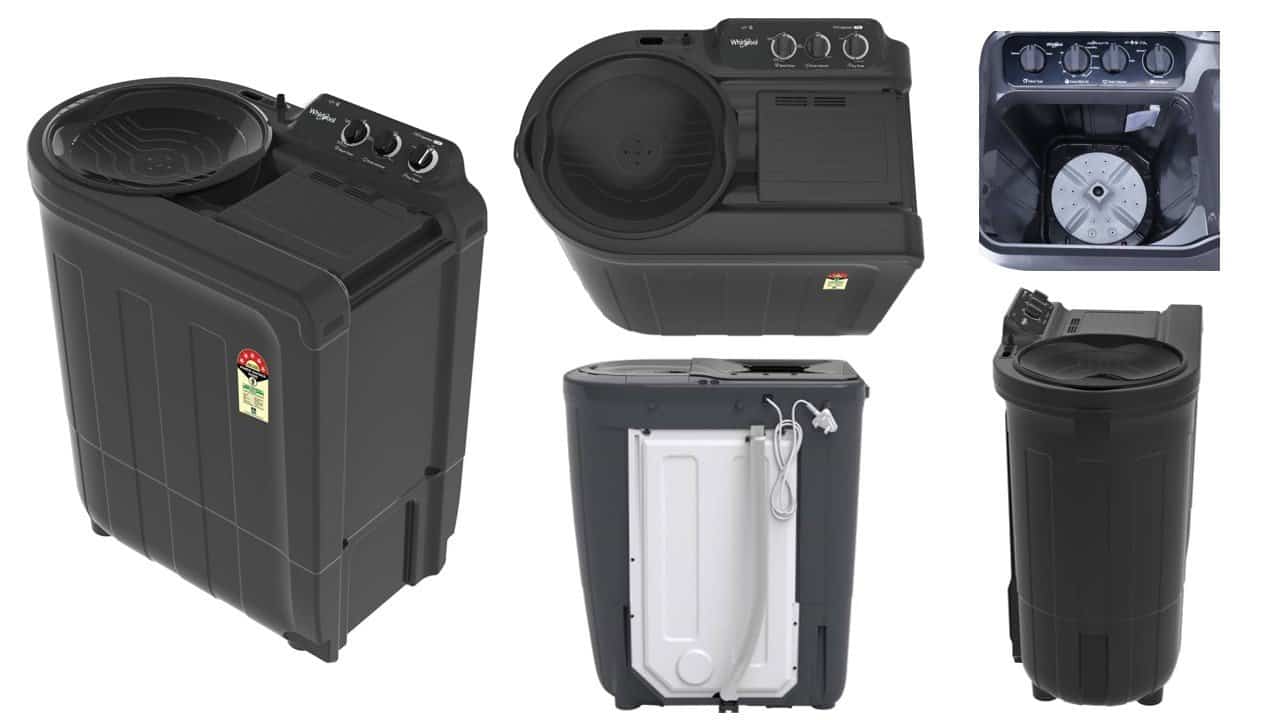 This Whirlpool's five-star energy efficiency rated semi-automatic washing machine is one of the best selling machines in this price range, right now. Because of five-star power rating, powerful 1400 RPM speed, and top-notch build, this washing machine is ideal for a typical Indian family.
It is available in three capacity variants of 6kg, 7kg, 7.5kg with black and white colour options. You can go with any of these variants according to your requirement and family size. In other words, 6kg is great for a small family (3-4 persons), 7 kg capacity is good for a medium family(4-5 persons) and 7.5 kg is good for a large family(8-9persons).
This washing machine comes with an impeller washing method that provides perfect motion to remove dirt very quickly and easily. Another best part is that it has a stock technology, which removes even the toughest of stains with ease by letting your clothes soak for up to 25 minutes. In addition, It also has an In-built collar scrubber for removing dirt and stains from the collars. Additional features include 3 wash modes, auto restart during power cuts, waterproof panel, and super soak.
Main Highlights
Specification
Lowest Price Buying Options:
7.5KG
7 KG
6KG
---
3. Haier 6 kg Fully Automatic Top Load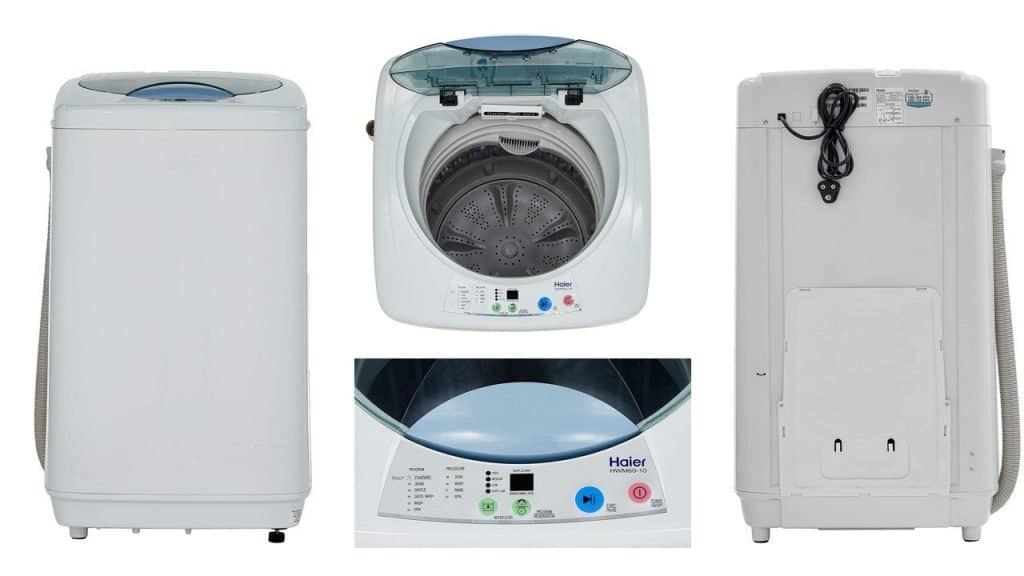 This Haier fully automatic washing machine is my third choice on the list of best washing machine under 10000 Rs. This top load fully automatic washing machine offers you all the basic features, that one middle-class family requires. I personally use this washer form the last three years, and I am quite happy with the performance. With a capacity of 6 kg, it highly enough for bachelor and medium-size family.
The washing machine has a good build and feels solid. It's not very noisy or generates any extra vibration. It has 6 different easy wash programs for different kinds of load and cloths, including- quick and gentle wash, standard, wash, spin, and jeans. For easy controls, you have touch buttons and multi-segment LED display on the top. Overall, if you need a decent fully automatic top load washing machine under 10000, then this is a great option.
Main Highlights
Specification
Lowest Price Buying Options:
---
4. Samsung 6.5 kg Semi-Automatic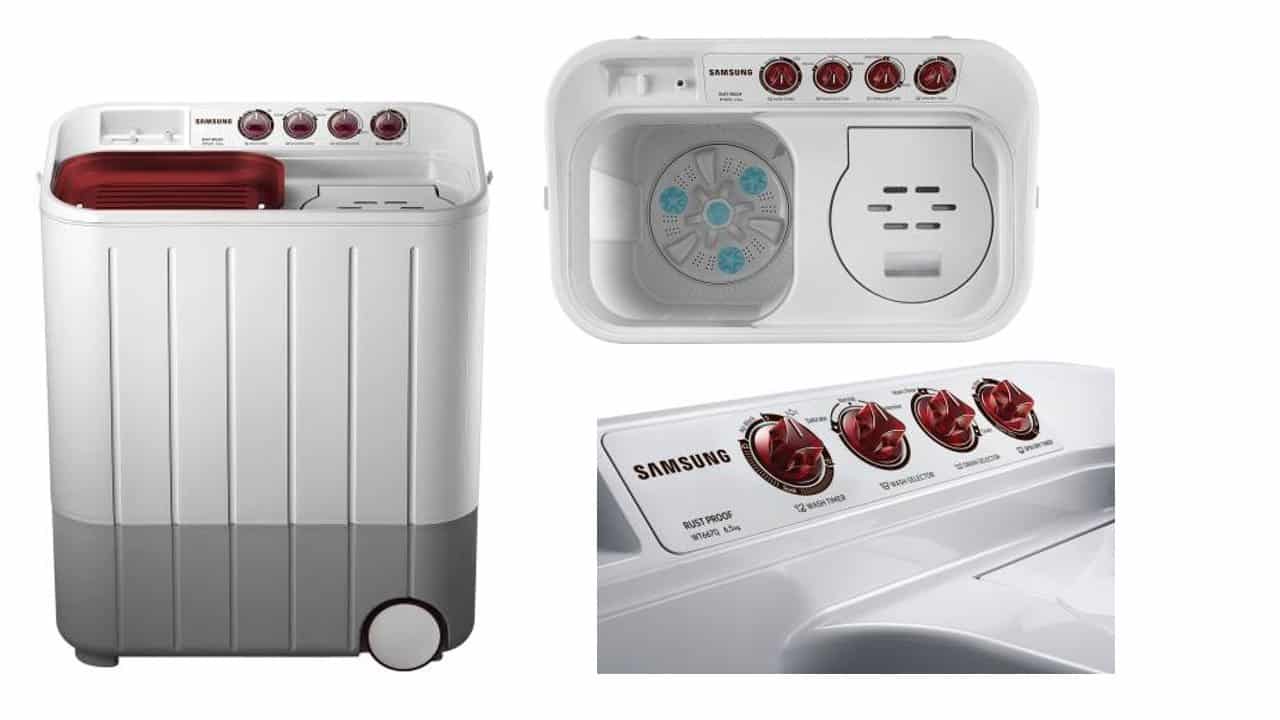 Samsung is a household name familiar to almost all the Indians in one way or the other. We Indian trust Samsung, more than any other electronics brand.
This Samsung semi-automatic washing machine Packed with a lost of impressive features, like double storm wash, inbuilt scrub board, Air Turbo drying, and Sock method. It comes with plastic made a big size drum with a combo of an inbuilt scrubber and a powerful 1400 RPM motor, which gives you a great wash quality. Apart from this it also has a dual jet system that uses horizontal and vertical currents of water to move the clothes around the drum. As a result, your clothes won't come out tangled or twisted after they are washed.
It comes in two capacity variants of 7.2 kg and 6.5 kg, you can buy any of this according to your family size. I highly recommend you to buy 6.5 kg, because this one is the most preferable capacity by most of the Indian buyers.
The best part is that the machine rated with a 5-star energy rating, so no worry about the extra electricity bill. On wash modes, Samsung semi-automatic washer includes 3 three wash modes such as normal, intensive, and delicate. These all three wash method include sock feature, which quite helpful to remove the heavy strain. It also comes with a dedicated wash tray, dust-free body, and wills will for an easy move.
Main Highlights
Specification
Lowest Price Buying Options:
6.5KG
7.2 KG
---
5. Lifelong 6.5kg & 8.5kg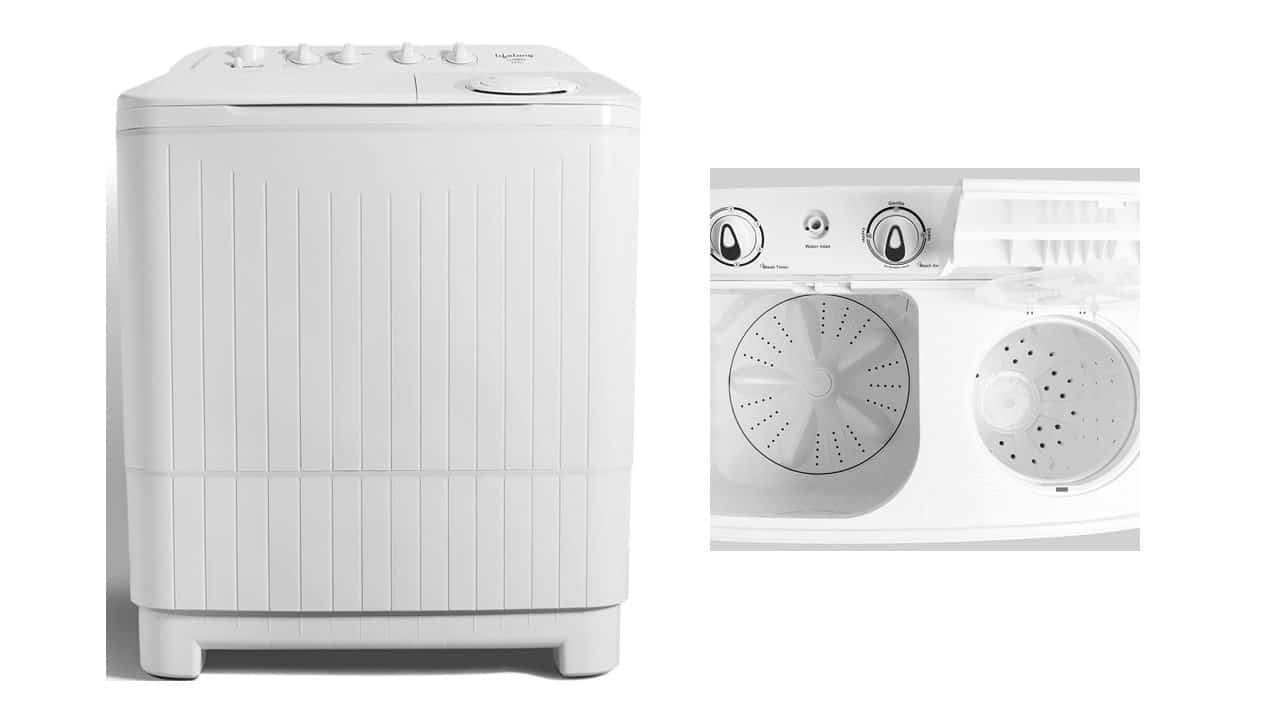 Lifelong semi-automatic washer with top load is the best budget-friendly washing machine on the list. But provides a decent performance rate and best suitable for bachelors. This washing machine features chrome knobs, 5 wing pulsator that ensures quick and great quality washing. This washer has an anti-rust plastic body. It comes in a washing capacity of 6.5 kg(idle for bachelors/couple) and 8.5kg (great for a family of 5-6 members). The lifelong semi-automatic 8.5kg washer has 3 washing modes: gentle, normal, strong and 6.5kg washer comes with 2 washing modes: heavy and gentle. However, some special features include powerful motor, Buzzer, Water Inlet, Water-proof and shock-proof panel. It runs on a powerful motor with a maximum spin speed of 1300 RPM(higher spin speed helps in faster drying).
Specification
Lowest Price Buying Options:
8.5KG
6.5 KG
---
6.LG 7 Kg 4 Star Semi-Automatic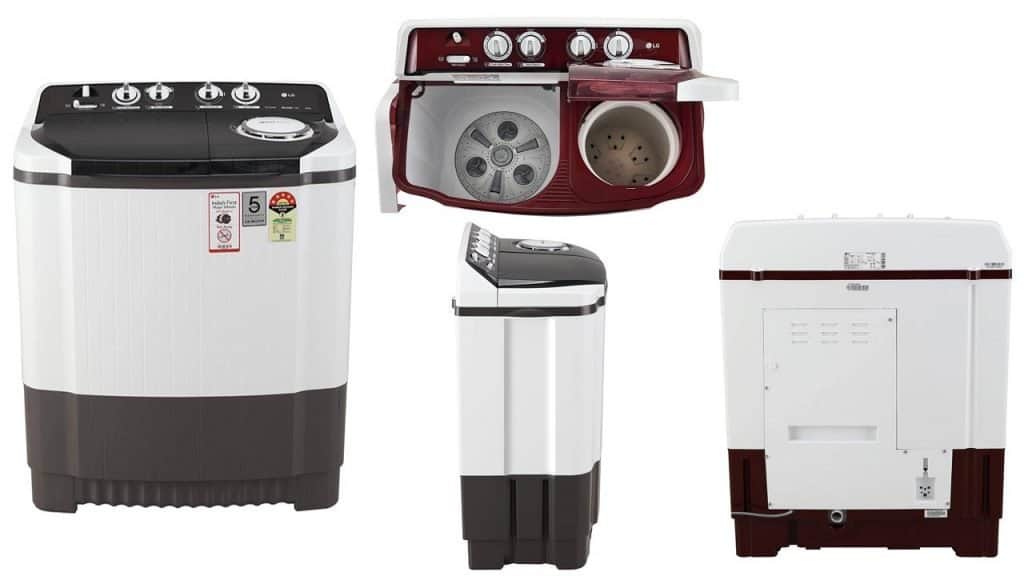 This LG washing machine is my last choice on the list of best washing machine under 10000 Rs. It has a capacity of 7 kg (good for large families). In body features, tub material is made of plastic with wheel support. LG semi-automatic washer works on a normal pulsator wash method with a maximum spin speed of 1350RPM. LG top load semi-automatic washer is present in grey and white colour. This washer comes in 3 wash modes i.e gentle, normal, strong. It gives a collar scrubber which results in better wash quality. So, special features are pretty decent like spin tub capacity 5.5 kg, rat away feature, Wash timer 15 minutes, Wind jet dry, rust-free and spin shower.
Specification
Lowest Price Buying Options:
8 KG
10 KG
---
[intense_promo_box size="small" background_color="#f8f8fb" border_left="3px solid #707070″]Best Smart TV Under 15000 Rs[/intense_promo_box]
[intense_promo_box size="small" background_color="#f8f8fb" border_left="3px solid #707070″]Best Laptops Under 20000 Rs[/intense_promo_box]