When it comes to gaming, not all people necessarily need to own a full-fledged gaming setup to enjoy gaming. Many people prefer laptops to a gaming setup cause it is more economical, and you can game anywhere with a gaming laptop. In addition to being portable, gaming laptops also contain powerful graphics cards and processors to support games.
With the gaming laptop market getting crowded with different brands, one may need clarification to choose the good one. That's where this list comes to help. If you're looking for an affordable gaming laptop, you don't need to search anymore. Hand-picked by our experts, listed below are some of the best gaming laptops under 50000 in India.
+5200 Happy Buyers, Every Month. We update this list weekly so that you will get the latest and best gaming laptops from the Indian market. Still, if you need help, we are available 24/7 on our YouTube channel, Facebook, and Instagram.
These are the best gaming laptops under 50000
---
MSI is one of the renowned laptop brands. With this, MSI has spread its wings in every price segment of gaming laptops. If you're looking for a budget MSI gaming laptop, then MSI Bravo 15 will serve you well.
For its price, The MSI Bravo 15 delivers good performance in the GPU segment. This laptop's AMD Radeon RX 5500M graphics card can easily run any game you throw. Most games run at stable frames per second when the graphics are set at low to medium. So, playing in low to medium-graphical settings for long gaming sessions is recommended, rather than bumping the graphics to the max.
The MSI Bravo 15 boasts an AMD Ryzen 5600H processor, which can boot up whatever apps you want without hiccups. On the Artificial Geekbench 5.4 benchmark, the Msi Bravo 15 scored 6,676 points. As a result, you won't experience lag even when you open multiple apps and Chrome tabs.
As for the display, the screen supports a 144hz refresh rate, which is a major pro if you're a competitive gamer since it helps to sustain higher fps. With a 15.6-inch 1080p IPS panel, the Msi Bravo 15 has 67% sRGB coverage, which is particularly impressive compared to other laptops in the list. The brightness of this laptop is okay, and the screen looks dim compared to other laptops.
One thing that is surprisingly good about the MSI Bravo 15 is the keyboard. MSI has provided a full set of keyboards with Numpad included. The keyboards span the whole device, and the keys feel tactile, which is a plus. As for the trackpad, it is responsive and similar to other gaming laptops.
The laptop itself feels bulky and chunky at a weight of 2.35kg. It's not sleek, but you'll have no problem carrying it. Whereas for looks, the geometric patterns on the front may please some people looking for more gamer aesthetics. The MSI BRAVO 15 may lag in some aspects, but the primary performance is solid for the price.
Show more +
Lowest Price (Update: 30 min ago)
AMD R5-5600H + RX 5500M

Optional: i5 11th Gen + GTX 1650
---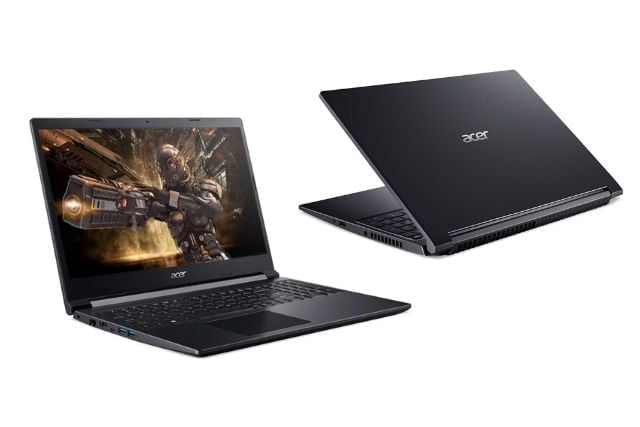 The Acer Aspire 7 is our second choice on the list of best gaming laptops under 50000 Rs. The Acer Aspire 7 may not look like a gaming laptop, but it feels like one. With the Nvidia GeForce GTX 1650 in Acer Aspire 7, you can easily play any AAA title games you want. With the right graphics configuration, this laptop can run most games at smooth fps. Most people will prefer Nvidia's graphic card over the AMD one, which is why this laptop will appeal to many people.
Aside from gaming, the Acer Aspire 7 features an AMD R5-5500U processor. The Hexa-core processor with 8GB RAM can handle daily tasks without hiccups. This laptop is loaded with bloatware which may annoy many users since nobody likes the software they won't use.
The Acer Aspire 7 looks more like a normal laptop than a gaming one, so someone looking for gaming aesthetics will be disappointed. As for the keyboards, they are backlit with Numpad and feel soft & clicky, nothing special. The speaker in this laptop sounds clean and doesn't distort at full volume.
With a 15.6-inch 1080p LG panel, you'll get good color and contrast from any angle. Its matte finish will keep distracting reflections at bay, which is good since it's not very bright. The device has an sRGB color coverage of only 53%. The screen refresh at 60hz is a con if you're a competitive gamer.
With its black and various shades of grey, Acer's design isn't very unique, but the plastic case appears to be sturdy and of great quality overall. If you're looking for a more casual look that packs the power to get the work done, Acer Aspire 7 is the way to go.
Show more +
Lowest Price (Update: 30 min ago)
AMD R5-5500U

Core i5 10th gen

---
Best Laptops Under 50000 Rs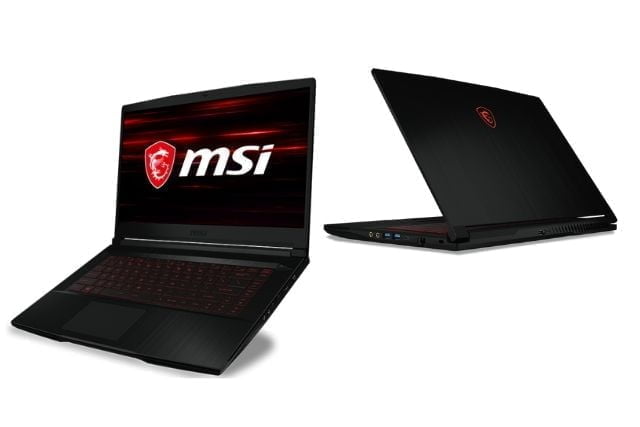 Moving on to the next gaming laptop on the list, MSI is back on the list with Msi gaming GF63 thin.
The Msi gaming GF63 thin features an Nvidia GeForce GTX 1650 like Acer Aspire 7. Although the GTX 1650 is mainly designed for casual gaming, it can handle difficult games on low settings. With the graphics kept balanced, most games can run an average of 35 to 60fps, which is quite good considering the price. One thing to note is the fps will stagnate during long gaming sessions.
The GF63 Thin includes an Intel Core i5-11400H processor, 8GB of RAM, and 512GB NVMe SSD. The apps operate smoothly, but you may notice some lag while switching between multiple apps. The 8GB RAM is standard in gaming laptops, and most games require 8 GB RAM to operate. In a test of Geekbench 5, the GF63 scored 1,471 points in single-core and 6,119 points in multi-core, which is on par with the competition.
At 1.86kg, the Msi gaming gf63 is lightly weighted. The MSI's body is made primarily of plastic, with the lid and palm rest being pressed aluminum. The body's strength is average, and you will feel some torsion while bending the corners of the screen. The MSI dragon shield logo on the lid adds extra elegance and gives you a feeling of importance.
The Msi gaming gf63 thin has a 15.6-inch display with a 1920 x 1080 resolution and a 60 Hz refresh rate. The GF63 Thin 11SC's screen covers 42.5%, which is close compared to others in the list but needs to be better. Moreover, if you want to be competitive, this display could be better for esports. It can only display 60 fps because of its 60 Hz refresh rate, which is insufficient for the game to appear perfectly smooth.
The keys in the keyboard rattle and provide short, sharp feedback. Furthermore, the keyboard layout is straightforward, but the Numpad is missing. The GF63 Thin 11SC should be avoided if you value laptops that provide a comfortable typing experience.
Show more +
Lowest Price (Update: 30 min ago)
i5-10500H
Optional (best): i5-11400H
---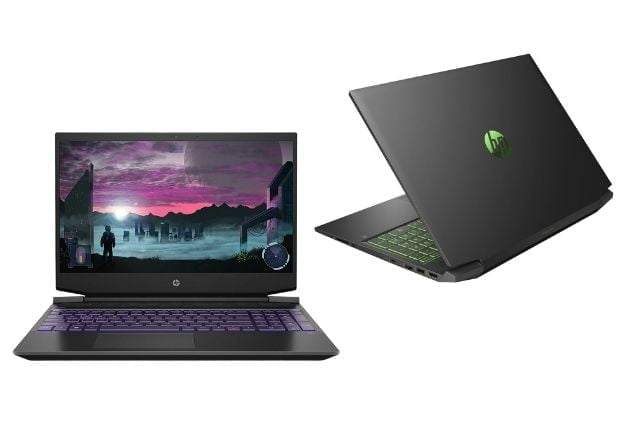 The HP Pavilion is the final choice on the list of best gaming laptops under 50000. HP has many laptops in its Pavilion lineup, covering the market from entry-level to high-end prices. A good example of value for money is the HP Pavilion.
Hp pavilion features a GTX 1650 graphics card similar to others on the list. As mentioned previously, the GTX 1650 is more opted for casual gamers, but most games run fine with low graphical configuration. As tested, it topped out at 117fps on ultra graphics and 55fps on Far Cry with the same settings. That tells the more demanding games like GTA V, CS: GO, Valorant, etc., can easily run on this Laptop.
One of the main highlights of the HP pavilion is the 15.6 inch 1080p 144hz display panel. When the graphics aren't cranked up to the highest, this Laptop can push over up to 100fps in some games. That's where 144hz becomes necessary since it avoids screen tearing and ensures a lag-free experience during those high fps gaming sessions.
The HP Pavilion's Ryzen 5 5600H processor aids in pushing better frame rates in those games. This processor can perform several jobs outside of gaming, with six cores, 12 threads, and a maximum boost rate of 4.2GHz. It handles routine activities like having a lot of Chrome tabs open, transcoding 4K films, and working in Microsoft and Adobe Suite software with ease.
As for the Keyboard, the mechanical-like keys on the HP Pavilion offer you a nice snap, and the keys are very low profile. The keyboard is a full set one with Numpads included. The keyboard seems unusually high-end for a cheap laptop, but we're not upset about it. The trackpad is responsive and doesn't offer anything special.
HP has kept the design almost similar to other pavilion laptops. The Laptop contains some gamer aesthetics here and there, but overall looks sharp. At 1.98kg, the HP pavilion is lightweight and doesn't look bulky. The screen feels flimsy if you put some pressure on it from the corners. Overall, this gaming laptop gets the job done regarding gaming and daily usage.
Show more +
Lowest Price (Update: 30 min ago)

---
Also Read: