Get Verified on Twitter in 2023: For the past few weeks, we have seen some reports about Twitter relaunching its verification program. For those unaware, Twitter stopped its verification process in 2017 following the outrage over verifying the profile of white supremacists. Although the social media giant had confirmed relaunching its verification program in January 2023, it did not happen. But the recent evidence indicates that the new process for Twitter Verification is just around the corner.
Researcher and reverse engineering expert Jane Manchun Wong revealed various features making their way to Twitter. One such feature that has caught everyone's attention is the company's new verification form. Wong has shared the screengrabs of the entire verification process. While Wong is not associated with Twitter, the process above is confirmed by multiple sources.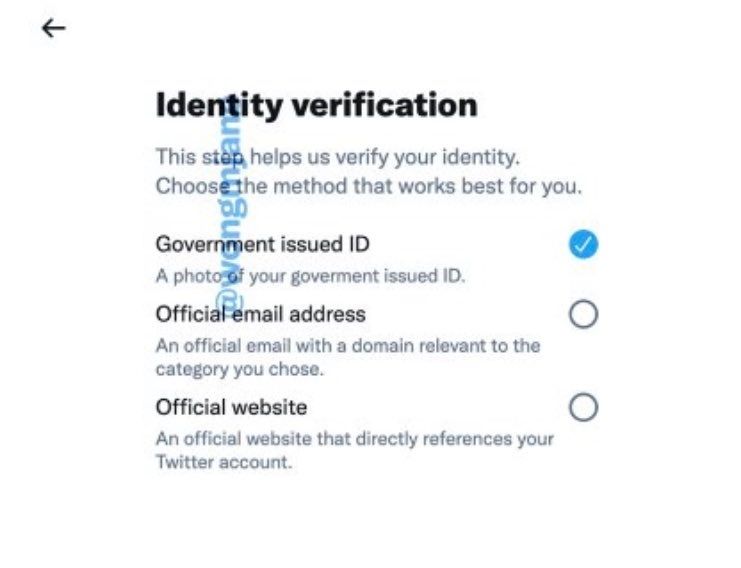 The most exciting thing about the new verification process is that you no longer need to upload a government-issued ID. Instead, you will get to choose from the official email address or website, making most real accounts eligible for verification.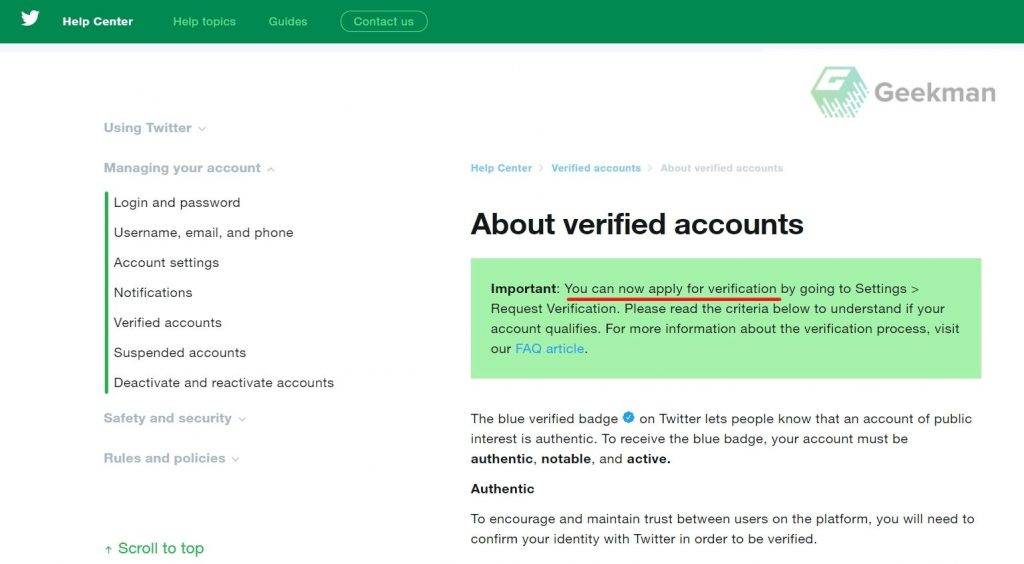 While everyone eagerly awaited the new verification process, Twitter took it to its official blog (web archive) last night, confirming the open verification process. While we at Geekman tried to find the new form, we did not find it anywhere. Wong confirmed in another tweet that "It doesn't necessarily mean the new verification program has officially opened, but it's close to open." But within a few minutes, Twitter retracted the "You can now apply for verification" box and reverted it to the old one.
But, from where we see it, Twitter verification is just around the corner, and it might restart anytime now. Now, if you are wondering how to get the blue tick verification on your Twitter, follow the below-mentioned process.
How to Get Verified on Twitter in 2023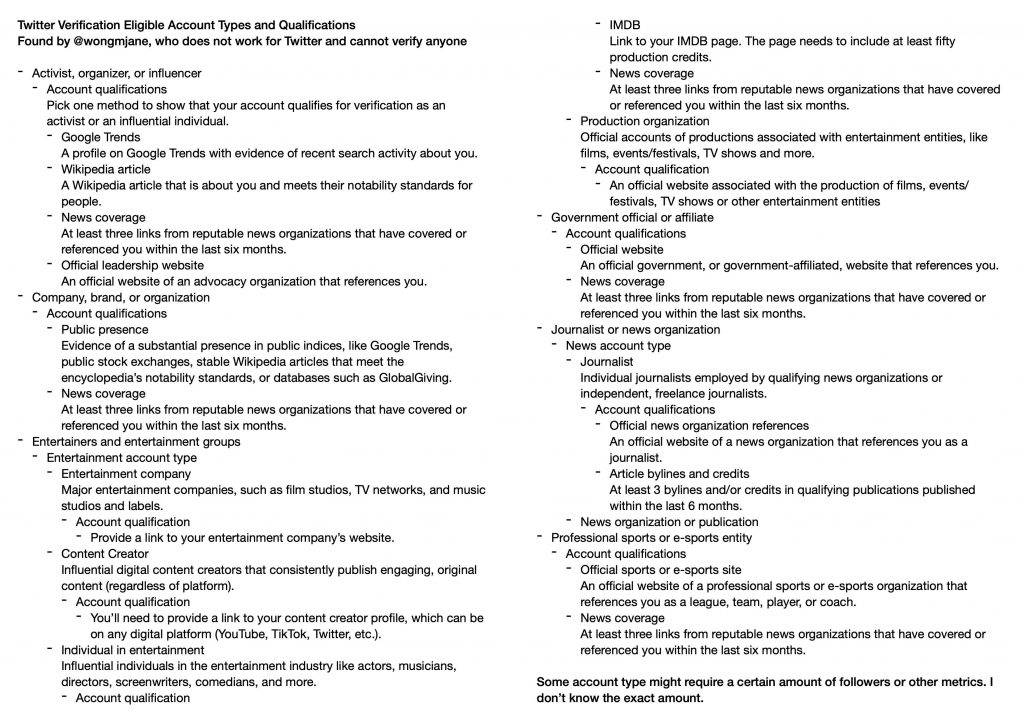 Before you start, make sure that your profile is public. Your Twitter handle must include your real name and birthdate, and your Bio must contain basic information about you. For brands or organizations, a similar thing goes. The organization's name and website address are mandatory. For personal and business/organization accounts, you will need to use a real photo or your logo as a profile picture. With that said, let us dive into getting blue-tick verification on Twitter in 2023, shall we?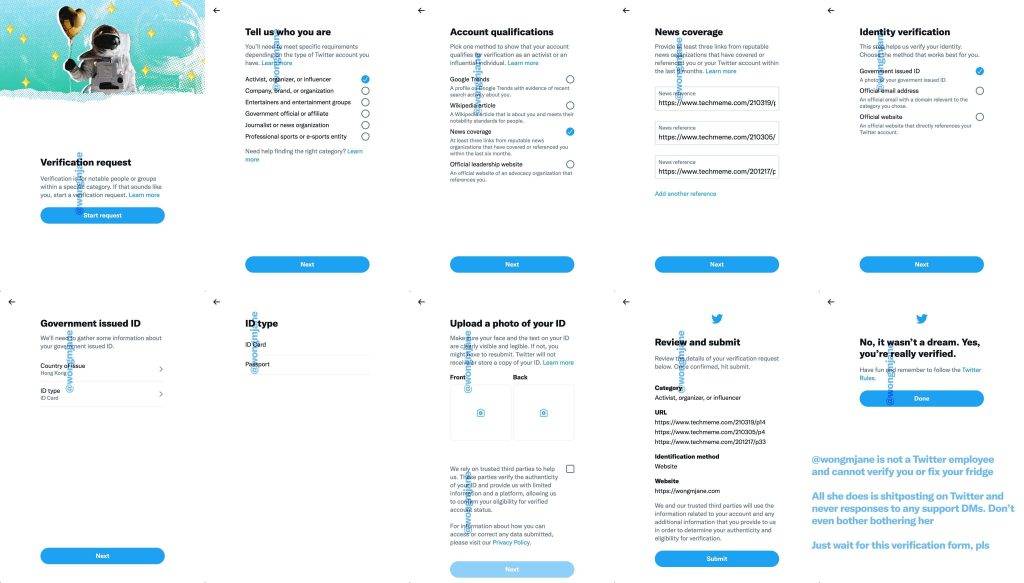 Open Twitter on the web or Android/iOS and navigate to the Settings page.
On this page, you can find the Request Verification option. Click and choose that option.
Now, you will get to see the Verification request page. Click and choose the Start Request button.
In the Tell us who you are section, you will have to choose the category which suits you the best. Selection of the category could be a one-time thing. So choose carefully.
Next up, Account Qualifications. Here, you must pick one method and prove that your account qualifies for verification. This is an important step. You can select the News coverage option if you are a journalist or media person and your works are featured in reputable news publications. Or if you are an entrepreneur and got your PR articles done in major publications, choose the Official leadership website. If you have a Wikipedia article on you, go ahead with that option.
In the next step, you must verify your identity. As mentioned earlier, you need not upload the government-issued ID anymore. Instead, you will get to choose from the official email address or website.
Lastly, you can review everything and click on Submit.
You shall be notified or informed of the status in a few seconds. That is it. This is how you can Get Verified on Twitter in 2023.
Also Read: